DIY Video Studio is supported by its readers who use the affiliate links or ads on this site. As an Amazon Associate, I earn from qualifying purchases. Thank your support if you use any of the links.
Shure, a pioneering and respected name in the audio industry, is breaking down barriers to professional audio for owners of home studios with their latest innovation – the Shure MVX2U Digital Audio Interface. This game-changing single-channel XLR to USB signal adapter, or converter, opens new horizons for creators, streamers, podcasters, and musicians. They can now use professional XLR microphones to record or stream directly to a computer without the need for a separate audio interface or mixer and phantom power supply. It offers them the opportunity to create exceptional quality audio without any complexity in their setup.
What is the Shure MVX2U?
The MVX2U is an evolution of the renowned X2U XLR to USB signal adapter, designed to empower creators with a seamless transition from traditional XLR microphones to USB connectivity. The MVX2U is a compact and discreet digital audio interface that can redefine your audio experience with its integrated software, providing direct access to the ShurePlus MOTIV Desktop app.
It eliminates the need for complicated setups, offering users a hassle-free way of using professional-level microphones with their computer recording software.
Shure MVX2U XLR-to-USB Digital Interface with Headphone Jack, Integrated…
LIVESTREAM READY – XLR to USB connectivity with Auto Level Mode right out of the box.
DYNAMIC & CONDENSER MICS – Up to 60dB of Gain and 48v of Phantom Power means you can level up any…
HEADPHONE MONITORING – Zero-latency Audio Monitoring and Playback via built-in 3.5 headphone jack.
FUTURE PROOF YOUR AUDIO SET UP – In App updates mean you never lose out on the newest features and…
Last update on 2023-09-15 / Affiliate links / Images from Amazon Product Advertising API
Shure MVX2U standout features
A standout feature of the MVX2U includes its ability to deliver up to +60dB of clean gain. So, it effectively is also an inline mic preamp, catering perfectly to microphones like the iconic Shure SM7B. A mic that is notorious for having a low output signal. The MVX2U is capable of letting the Shure SM7B achieve that crisp, warm broadcast tone that it is famous for.
Additionally, the device provides phantom power of up to +48V, to support the use of condenser microphones, further expanding its versatility.
With powerful Digital Signal Processing (DSP) onboard, the MVX2U brings unparalleled customization and simplicity to condenser and dynamic XLR microphones from various manufacturers. That's correct, you're not stuck with just using Shure microphones, the MVX2U will work with any XLR microphone.
Out of the box, the MVX2U comes with Auto Level Mode and phantom power turned on by default. It effectively functions as a virtual audio engineer by dynamically adjusting the gain in real time for consistent audio level output. So instead of having to worry about levels, creators can focus on what they do best and get on with their content creation.
Staying in Control with the MOTIV desktop app
Although the interface can be used in Auto Mode, so it takes care of the technical aspects of the recording, you don't have to let everything happen automatically. You can stay in control by using the ShurePlus MOTIV Desktop app. It allows users to fine-tune the preset settings to create a tailor-made audio experience.
For a more hands-on approach, the Manual Mode of the MOTIV Desktop app for full control of the sound. Access advanced features like EQ, limiter, and compressor presets, catering to a wide range of creative preferences.
Firmware updates
Because the hardware in the Shure MVX2U is software-driven, Shure will be able to provide regular firmware updates. This is great news for creators since it will ensure the device remains up-to-date and match the evolving user needs.
The MVX2U's compact form factor is reminiscent of an inline preamp. Like the Triton Audio FEThead, but black. It is sleek looking, lacking the external controls of the older X2U. Those are unnecessary since everything can be controlled from your computer.
Using the Shure MVX2U
In use, the MVX2U can be plugged directly into the base of an XLR microphone. Or, if you need a long cable run between the microphone and computer, the MVX2U can be plugged into the end of the mic cable. The device then connects to the computer using a USB-C cable.

The device also incorporates a 3.5mm headphone socket, allowing latency-free monitoring of the performance and playback. The image above shows, on the left, the XLR connector that plugs into the microphone. On the right, you can see, from top to bottom, the USB port, 48V phantom power indicator LED, and 3.5mm headphone socket.
MVX2U announced
Announcing the product on the Shure website, Sean Sullivan

, Associate Director of Global Product Management, said, "The MVX2U is the most convenient and powerful solution for users looking to convert their XLR microphones to USB at this price." He added, "The integrated software is designed to be approachable to anyone."
So, whether the user is an experienced professional or someone starting out as a home content creator, the device should be easy to use.
The MVX2U Digital Audio Interface is supplied with a 1m USB-C to USB-C cable.
Main features summarized
Connect any XLR microphone to a desktop or laptop
Windows and Mac USB-C to USB-C connectivity
Intelligent DSP with Auto Level mode for consistent audio output
Auto or manual control using ShurePlus MOTIV Desktop App
Future-proofed with updatable firmware
Manual Mode includes Gain control, Limiter, Compressor, EQ, & your saved presets.
Provides phantom power of up to 48v
Audio signal gain of up to +60dB gain for low-output mics
Headphone 3.5mm jack for zero-latency monitoring and playback.
Plugs directly into the microphone or mic cables
What's in the box?
Shure MVX2U digital audio interface
1m USB-C to USB-C cable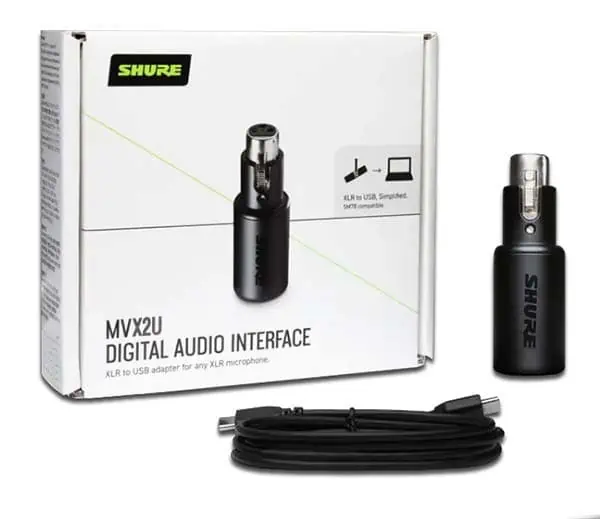 Summary
Anyone wishing to elevate their audio game while keeping the setup simple, or use a professional XLR microphone while on the go, should look at the MVX2U. It's now available on Shure.com and select retailers.
To use the MVX2U, simply plug the device into the XLR microphone or the mic's XLR cable, and then connect it to your computer using the supplied USB-C to USB-C cable.
Can you help? If you liked this article, please share it.
It will mean a great deal to me if you share this post because a few seconds of your time will seriously help my blog grow. The share buttons are below the "About Author" section.
Thanks. 🙂
Source: Shure Microphones

Recent Posts