We're an affiliate: We hope you love our articles and the products we recommend! Just so you know, when you buy through links on this site, we may earn an affiliate commission. Thank you if you use our links, we really appreciate it!
When considering buying my Deity D3/D3 Pro mic, and even once I had bought it, I had a lot of questions I wanted to be answered. Now that I've uses these mics, and looked around the internet, I've created a short FAQ on the V-Mic D3 & D3 Pro microphones.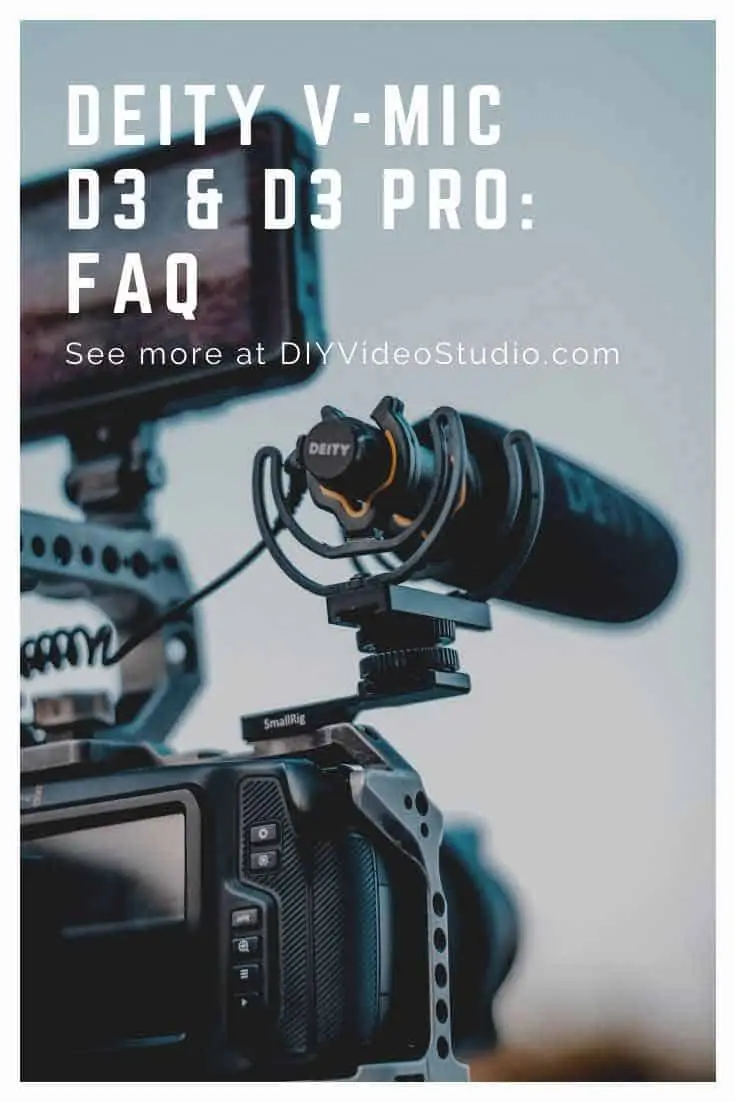 Deity V-Mic D3 & D3 Pro: A Brief FAQ
As I continue to use the V-Mics I'll add to the existing list.
How do I adjust the gain on a Deity D3 Pro shotgun mic?
Use the Gain Adjustment Knob on a D3 Pro mic to adjust the gain. The gain adjustment knob on the D3 Pro is a step-less gain dial. It allows the user to change the microphone gain by up to +20dB above the base level.
The circular know has been subdivided with markings going from 0 to 10. Each division on the dial is equivalent to a change of 2dB. However, being a step-less or analog control, it is possible to dial-in any gain increase from 0 to +20dB rather than being restricted to preset steps within that range.
What is the low-cut filter for on the Deity D3 Pro?
The D3 Pro includes a low-cut filter, in fact, you have two settings. You can roll-off frequencies below 75Hz or frequencies below 150Hz.
When the mic is on and you press the low-cut button once you'll see the 75 LED lights up and now you have a low-cut of 75 Hertz. If you press the button a second time the 150 LED lights up and the low-cut roll-off is now 150Hz. When both low-cut filter status LEDs are off the low-cut filter is disabled.
Having two levels of a low-cut filter is a handy feature to have since in some circumstances you may not need to filter out frequencies below 150Hz.
Ideally, you don't want to lose any of the sounds you are recording. But you might want to turn on the low-cut filter if you are recording somewhere that has a lot of low-frequency rumbles. That might be traffic rumble from a nearby street, roadworks, fans, and AC units.
The other occasion when you might consider using the low-cut filter is when recording outdoors in light wind. The foam windshield will not stop anything but the lightest of wind blasts but activating the low-cut filter can remove some of that wind noise. However, getting a dead cat for your microphone would be a better option when shooting outdoors.
Note that although the 150Hz low cut filter will remove more wind noise than the 75Hz filter, it will cut into the lower range of the human voice. This will be more apparent in male voices since they tend to be lower than female voices.
Why does my Deity D3 Pro mic turn off after 15-min?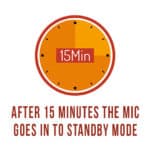 If you bought an early version of the D3 Pro you'll find that the microphone switches itself off after being in standby mode for 15 minutes.
This can be really annoying on a video shoot, and a potential disaster if you are not using headphones to monitor your audio.
Deity removed this feature from the D3 Pro around early summer 2019.
Can I replace my Deity V-Mic D3 and D3 Pro TRRS Cable?
The TRRS cable on the D3/D3 Pro mics can be replaced.
The coiled cable that comes with a D3 or D3 Pro microphone is a TRRS to TRRS cable. Don't worry if it gets damaged or lost. You can replace it with another TRRS to TRRS cable, whether it's coiled or not. In fact, if you don't intend to use your D3 or D3 Pro with a smartphone you can go old school and get a TRS cable instead.
Are the Deity D3 and D3 Pro compatible with all devices?
When you plug the V-Mic D3 or D3 Pro into the 3.5mm microphone jack of a recording device the microphone's microprocessor shakes hands with the device. In most instances, this means you won't need any adapter cables, although there are some exceptions.

Here is a list of devices that are INCOMPATIBLE.
Late-model iOS devices will require the Apple Lightning to 3.5 mm Headphone Jack Adapter.
Google Pixel 2, 2 XL, 3, and 3 XL require a USB-C Headphone Adapter.
GoPro Hero 1, 2, 3, 3+, 4, 4+Black, 5 Black, 5 Session, and 6 need a USB to microphone adapter.
Sony FS5 / FS5 ii, FS7, Z90, Canon XA-10, XA-11, XA-15, XA-20, XA-25, XA-30, XA-35, C100, C300, and C500 require the D-XLR adapter.

However, note that the lists suggest some devices are compatible whereas several users have reported some issues. One such problem is the Zoom H1n. Using the supplied TRRS cable the microphone may not appear to register with the device. One solution is to pull the cable out of the H1n slightly. However, it appears swapping the supplied cable for a third party TRS cable

solves the problem. This is also the case for some Tascam recorders; Blackmagic BMPCC, BMPCC4k, Micro Studio Camera 4, and Micro Cinema Camera; Olympus E-M1X, E-M1ii, E-M1, E-M5ii, E-M5iii, and E-M10ii cameras.
If you wish to connect a D3/D3 Pro to a Zoom H4n pro use the D-XLR adapter and turn on the phantom power.
Use these links for Deity D3

and Deity D3 Pro

compatibility tables on the Deity Microphones website.
What is the Deity Mics recommended V-Mic D3 wind protection?
Rycote 7cm Classic-Softie (19/22)
Reinhardt Whisper W100
Reinhardt Windsock 50-100
BOYA BY-P80
BOYA BY-T80
Bumblebee WindKiller Small
Movo WST100


Movo WS-G80

My personal favorites is the Rycote Classic Softie, it works exceptionally well. I also have the MOVO WST100 for my Deity V-Mic D3. It performs reasonably well, but not as well as the Rycote classic softie, however the MOVO is somewhat cheaper than the Rycote Softie.
My kit bag also includes a Rycote 18cm Classic-Softie (19/22) that I use on a Sennheiser ME66. This softie will slip onto the D3 and D3 Pro but being over-long it isn't suitable when using the microphones on my camera. However, when mounted off-camera on a boom arm above my subject the Rycote 18cm Classic-Softie performs well, cutting any wind noise. It also has the effect of fooling onlookers into thinking I'm using a much longer shotgun mic.
What is the Deity Mics recommended V-Mic D3 Pro wind protection?
Rycote Classic Softie 12cm (19/22)


Rycote Super-Softie (19/22)
K-Tek AIRO AWRVM1
Reinhardt Whisper W130
Reinhardt Windsock 50-130
BOYA BY-P120
BOYA BY-T120
Auray WSS-2014
Bumblebee WindKiller Medium
Movo WS160
How long does the Deity D3 Pro Internal Battery last?
The internal Lithium-Ion battery on the V-Mic D3 Pro has a capacity of 320mAh. That is sufficient to run for 51hrs and a standby time of 74hrs.
Can I swap out the internal battery?
The Deity D3 Pro internal battery cannot be removed, unlike the internal battery on the Rode Videomic Pro Plus.
How do I charge my D3 Pro microphone?
The battery is charged using the supplied Type-C cable, connected to a 5V/1A (or higher current) USB charger. A full charge takes less than 2hrs. The charging socket is located on the side of the microphone tube, to the left of the audio-out socket.

While charging, the power/status LED flashes between red and green. When fully charged, the LED remains lit green.
How do I know when the D3 Pro needs charging?
If the battery power is low on a Deity D3 Pro mic the power/status LED will turn a solid red.
How long will the D3 Pro battery last?
I have found guidance online that suggests that a Lithium-Ion battery will last about 500 charge cycles or about 3 years, whichever occurs first.
It is too early to judge the performance of the battery in the D3 Pro. What I can say is that I have devices with lithium-ion batteries that are much more than 3 years old and perform well. Therefore, I have no concerns that a D3 Pro will fail to work after just 3 years.
What users may experience is a reduction of useable battery capacity. But considering you can expect 51 hours of battery life out of the box, a reduction of battery capacity over time should not be too much of an issue.
When a connected camera or recording device is turned on, the D3 Pro mic will wake from standby mode. To save battery life, the mic will automatically go to sleep (standby), when the connected camera or recording device is turned off.
What can I do if my Deity D3 Pro internal battery fails?
If the Deity D3 Pro shotgun mic's internal battery fails after the warranty period has expired, the mic can still be used with external power using the D-XLR connector.
The D-XLR connector

can convert 12-48V Phantom Power down to 3V 'Plug-in Power' and power the Deity's V-Series of microphones.
What is the frequency response of the Deity D3 and D3 Pro?
The frequency range of the Deity D3 and D3 Pro is 50Hz to 20kHz. Each microphone contains the same 14mm pre-polarized capsule which delivers a flat natural frequency response.
These microphones have a distinct lack of a bass boost that some other mics seem to incorporate. In effect, the two Deity V-Mics deliver a more realistic recording of the original scene.
What is the D3 and D3 Pro Length & Weight?
Diameter: Both the Deity D3 and D3 Pro have a diameter of 21mm.
Length: The Deity D3 is 150mm long. The D3 Pro is 189mm long.
Weight: Deity D3 net weight 125.8g (shotgun 48.4g). D3 Pro net weight 143g (shotgun 78g)
Where can I find manuals for the Deity D3/D3 Pro shotgun microphones?
Source: Deity Microphones

Tosh Lubek runs an audio and video production business in the UK and has been using the Canon EOS R since it was released in the Autumn of 2018. He has used the camera to shoot TV commercials for Sky TV, promotional business videos, videos of events and functions, and YouTube creator content. He has also won international awards for his advertising and promotional work. You can meet by visiting his "video booth" at HashTag business events across the country.
Recent Posts