DIY Video Studio is supported by its readers who use the affiliate links or ads on this site. As an Amazon Associate, I earn from qualifying purchases. Thank your support if you use any of the links.

First and foremost, even though the Fifine K669D is a budget microphone, it is not a bad microphone. In fact, considering the low price, it's very difficult not to recommend it to a beginner or a creator on a low budget.
When most people experience problems, it's not because the mic is faulty, although if it is, Fifine offers a limited 1-year warranty. The most common issue is the inexperience of users in setting up and using a microphone.
In this article, I'll go through 12 ways you can make the Fifine K669D microphone sound better and less prone to picking up background noise. The microphone already has the capability to sound good, you just need to help it deliver.
FIFINE XLR Dynamic Microphone, Vocal Podcast Microphone with Cardioid…
[Stable and Upgrade Voice] XLR microphone with stability and anti-interference ability upgrades your…
[Noise Shielding] Having a low noise floor, vocal dynamic microphone is good at blocking out…
[Studio Audio Performance] Worked with SPL of 120dB, the XLR dynamic microphone takes in high energy…
[Sturdy and Metallic] The metal build quality of voice over microphone feels solid and…
Last update on 2023-08-25 / Affiliate links / Images from Amazon Product Advertising API
Tip 1: Speak into the end of the microphone
The Fifine K669D is an end address microphone, so you need to speak into the end, as you would with a handheld microphone. If you have previously used the K669B condenser microphone, or perhaps a Blue Yeti, those are side-address condenser microphones. Quite literally, you speak into the side of those mics. But with the K669D you'll need to change your mic technique and speak into the end and not the side.
Because this microphone has a cardioid polar pattern, it is less sensitive at the side of the mic capsule than directly in front. Therefore, placing yourself in the wrong position, relative to the microphone, will make a massive difference to the sound quality.
Tip 2: Get close to the microphone
Although the microphone can pick up your voice from two or three feet away, that does not mean that the audio will sound good. You need to get closer. The mic's user guide states you should be 1.5 to 4 inches from the mic, which is known as a close-mic technique.
There are three reasons for this. First, many microphones exhibit something called the proximity effect. By getting close to the end of the K669D microphone you'll get the best frequency response from the microphone. Your voice will be clearer, and the extra bass will give it a warmer tone.
The next reason is that if you are closer to the mic, your voice will appear louder, so you can turn down the gain on your audio interface. The benefit of this is that by turning down the gain, you'll be making any background noise much quieter, and make them inaudible.
Finally, if you are far from the microphone, the direct sound of your voice reaching the mic will be mixed with echoes of that sound caused by reflections from the walls, ceiling, and floor in the room. This makes your voice sound distant and lacking in clarity.
Tip 3. Record in a quiet location
Some rooms are noisier than others. You need to find a location where the background noise is as low as possible. Ideally, it should be silent, although this might not always be possible in a domestic or work environment.
Don't forget that what might be a noisy location at certain times of the day, can be quiet at others. So, if possible, schedule your recordings at those quiet times.
Tip 4: Move the microphone away from your computer
Microphones with thin cords and 3.5mm jacks can suffer interference and be a source of noise, especially if the cable is long. However, XLR cables, the type you will need to use with the Fifine K669D, are designed to be low noise, even over long distances. So, you don't have to record beside your computer just because that's where your audio interface is located.
If the corner of your room, or perhaps in the next room, provides a better recording environment, use a longer XLR cable so you can record there.
Tip 5: Use a closet as an improvised voice booth
When I set up my production business I didn't have a voice booth, so I had to find somewhere in my house to record voiceovers. The place I found that worked best was my bedroom closet or wardrobe. I was able to hang a duvet to deaden sound reflections from the wall and the hanging clothes on either side of me also helped.
The DIY closet voice booth doesn't look pretty, but it will make a huge difference to the sound quality of your voiceover recordings.
Tip 6: Know the polar pattern of your microphone
The Fifine K669D has a cardioid polar pattern. What that means is that it is most sensitive directing in front of the end. It's a little less sensitive to the sides, and it's least sensitive behind the microphone. You can use that knowledge to your advantage.
If you have a source of noise in your room, position your Fifine K669D so the rear points towards the noise. That could be your computer, a refrigerator, or an open window. Whatever it is, set up the mic so the rear, where the cable plugs in, points in the general direction of the noise.
Tip 7: Add some acoustic treatment to your room
If you want to make your recordings sound better, you must make your room sound better. In other words, you want to deaden the sound reflections and reverberation in the room.
Apply some acoustic treatment to the walls and make sure there's a carpet, or rugs, on the floor. You don't have to cover all the walls in foam acoustic tiles, but just need enough to break up the sound reflections between the flat reflective surfaces in the room.
Done well, your recordings will lose the background echo or reverberation that you probably don't even notice day to day, but you will hear it in the background as soon as you listen back to your recordings.
Tip 8: Put your Fifine K669D mic on a boom arm or microphone stand
Using a proper mic stand instead of the tripod stand that's supplied with the Fifine K669D will make a big difference to the quality of your recordings. Not only will you be able to place the microphone exactly where you need it, but you'll also be able to prevent the mic from picking up knocks and bumps.
Microphone Arm Stand, FIFINE Suspension Boom Scissor Mic Stand with Heavy…
UPGRADED DESK CLAMP of MIC STAND- In comparison to other versions, this metal desk clamp is built…
ANGLE ADJUSTMENT-The suspension boom arm stand provides 180° up and down rotation adjustment. The…
DURABLE METAL MATERIAL-Made of sturdy metal, the mic arm stand is attached with strong and elastic…
FOLABLE AND PORTABLE-The arm stand can be folded to save more desktop space. You can also take the…
Last update on 2023-08-25 / Affiliate links / Images from Amazon Product Advertising API
Tip 9: Get a shock mount for your Fifine K669D
Shock mounts are designed to mechanically isolate the microphone from the boom arm or mic stand and are in two parts. The inner part of the shock mount holds onto the microphone, while the outer part connects to the stand or boom arm.
The two parts are connected by rubberized cords that help to absorb any sound that might otherwise have been transmitted from the mic stand or boom arm to the body of the microphone. This aids in the prevention of picking up knocks and bumps.
Boseen Universal Microphone Shock Mount, Mic Clip Holder Mount for Diameter…
▲ Universal for many mic types – Our professional suspension shock mount is a nice accessory for…
▲ Great Design and Well-made – Made of solid metal and high quality elastic band. The mic shock…
▲ Adjustability and Flexibility – This microphone holder features an angle adjustment with locking…
▲ Anti Vibration and Noise – This mic holder can isolate studio condenser mics from most physical…
Last update on 2023-08-24 / Affiliate links / Images from Amazon Product Advertising API
Tip 10: Use your Fifine microphone with a pop filter or foam windscreen
When you use a close mic technique with the K669D you will inevitably cause pops and blasts on words that start with Ps and Bs. I recommend using extra pop protection. The foam windscreen I recommend using with the Fifine K688 also works well with the K669D.
It's the YOUSHARES large windscreen foam cover designed as an alternative to the standard foam cover that comes with the Shure SM7b. It's a good fit on the Fifine K669D, it's cheap, and it's effective. My only gripe is that it comes flat to save on packaging, and even after several months of use, it doesn't completely return to a perfectly symmetrical shape. However, it is much cheaper than the original made by Shure, and no one watching you will ever notice. The bottom line is that the large foam cover or a mesh pop filter will improve your recordings with this microphone if you use a close mic technique.
Sale
YOUSHARES SM7B Microphone Windscreen – Pop Filter Foam Wind Cover…
Professional Windscreen – Compatible with your SM7B Cardioid Dynamic Microphone perfectly and does a…
Specially Designed – Exact same high-quality windscreen that compatible with SM7B microphone.
Perfect Filter – SM7B wind cover snaps into place easily, restoring the original look and sound…
Perfect Protection – Fits like a glove and protects the mic from flying spittle. Protect your your…
Last update on 2023-08-25 / Affiliate links / Images from Amazon Product Advertising API
Tip 11: Get an audio interface with good-quality preamps
If you use an audio interface with good mic preamps, you will get better-quality sound from this mic. It's not that the K669D mic is producing poor-quality output, it's just a low-level output, just like all dynamic mics. This means that the mic preamps in the audio interface will need to amplify the signal a lot.
The problem is that if the preamps are "noisy", the more gain you apply, the more noticeable that preamp noise becomes.
The Focusrite Scarlett 2i2 is a popular and good audio interface, but you'll probably have to crank up the gain dial to almost maximum to get a reasonable signal. Generally speaking, you want to avoid having to turn the gain all the way. So, try and get an audio interface with good preamps and enough gain to provide the necessary clean boost you need.
Sale
Focusrite Scarlett 2i2 3rd Gen USB Audio Interface for Recording,…
Pro performance with the finest pre-amps – Achieve a brighter and a more open recording thanks to…
Get the perfect guitar and vocal take – There's no need to sacrifice your tone with two…
Low-noise for crystal clear listening – Two low-noise balanced outputs provide clean audio playback….
Studio quality recording for your music and podcasts – You can achieve professional sounding…
Last update on 2023-09-20 / Affiliate links / Images from Amazon Product Advertising API
Tip 12: Boost your mic output with an inline noise-free mic preamp
If your audio interface cannot provide enough gain, or you just need to boost the mic output, use an inline noise-free mic preamp between the mic and audio interface.
Good examples include the Cloudlifter CL-1, the Triton Audio FetHead, and the Coda MB-Stealth. I've provided links to these on Amazon should you wish to get one.
I use the FetHead and MB-Stealth preamps. Both provide plenty of clean noise-free gain and they cost around $50-$60.
The FetHead provides 27 dB of gain, while the MB-Stealth delivers 28dB of gain. I've found these work well with mics like the Shure SM7b, which is renowned for its very low output level. I use the Coda MB-Stealth with the Fifine K688 and K669D. Although it should be acoustically transparent, I have a suspicion that it adds a hint of warmth to the mics. Of course, it might just be that the MB-Stealth makes my voice louder and I am able to hear it more clearly.
When you use these preamps with the Fifine K669D and a Focusrite Scarlett 2i2, you'll find that instead of having to turn the gain dial almost to the max, you'll get plenty of level with the dial at the 12 o'clock position.
Last update on 2023-09-20 / Affiliate links / Images from Amazon Product Advertising API
Conclusion
I've given you a dozen tips that will make this budget microphone sound better, or more accurately, allow you to get the most out of it.
The Fifine K669D is not a $400 microphone, in fact, it's not even a tenth of that. But considering its budget price it is difficult not to recommend it. Luckily, if you are a beginner on a tight budget, this mic can sound good, provided you use it properly.

Or you can watch my video review of the Fifine K669D here.
Can you help? If you liked this article, please share it.
It will mean a great deal to me if you share this post because a few seconds of your time will seriously help my blog grow. The share buttons are below the "About Author" section.
Thanks. 🙂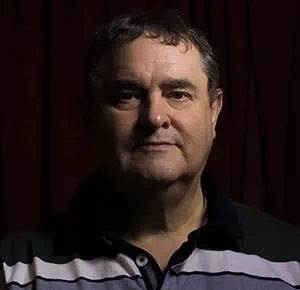 About the author: Tosh Lubek is a multi-award-winning broadcaster, writer, and video producer, with 40 years of experience in professional broadcasting and has been using Canon video and stills cameras since 2010. He has worked with radio and TV broadcasters, advertising agencies, and direct clients on a variety of projects including radio and television advertising, online video production, corporate videos, award ceremony motion graphics, and theme park sound design. Tosh has won numerous awards, including a Radio Academy Awards Gold Sony, a Gold, Silver, and Bronze World Medals in the New York Festivals International Advertising Awards. Since about 2007 he has been creating YouTube videos. Tosh has been a sponsor of the "video booth" at HashTag Business Events across the UK.
Recent Posts