DIY Video Studio is supported by its readers who use the affiliate links or ads on this site. As an Amazon Associate, I earn from qualifying purchases. Thank your support if you use any of the links.

If you want to upgrade to an XLR studio mic, but your budget is tight, Fifine might have the microphone for you. It's the Fifine K669D. It's not to be confused with the K669B, Fifine's highly successful condenser USB microphone, which has been a best-seller since its release.
The two names are similar, but the K669D is neither a condenser nor a USB microphone. It's Fifine's step into XLR studio mics. The "D" in the name means it's a dynamic microphone and it has a cardioid polar pattern, helping it reject background sounds from the rear.
In this review and setup guide, I'll take a deep dive into this addition to the Fifine microphone family.
NO TIME TO READ THE COMPLETE ARTICLE? HERE'S A QUICK ROUND UP: Although the Fifine K669D has some faults, it's difficult not to emphasize its good points, especially since it sells at a crazy low price of under $37/£37. This XLR dynamic cardioid mic is designed and built to a much higher standard than the low price suggests, and it's certainly an attractive-looking microphone.
The bass and mid frequencies sound perfectly acceptable, while the treble boost will help sung vocals come to the fore in a mix. The K669D can also work for voiceovers or podcasts, and the mic's proximity effect helps to balance the treble lift. If you're recording in a noisy environment, this dynamic mic will likely be a better choice than a condenser mic. But to get the best from this microphone I would advise using it with a shock mount, boom arm, and large foam windscreen.
RECOMMENDED: If you're a beginner entering the world of XLR microphones or working with a tight budget, it is hard not to recommend the Fifine K669D. As a starter XLR dynamic microphone, it will serve you well.
FIFINE XLR Dynamic Microphone, Vocal Podcast Microphone with Cardioid…
[Stable and Upgrade Voice] XLR microphone with stability and anti-interference ability upgrades your…
[Noise Shielding] Having a low noise floor, vocal dynamic microphone is good at blocking out…
[Studio Audio Performance] Worked with SPL of 120dB, the XLR dynamic microphone takes in high energy…
[Sturdy and Metallic] The metal build quality of voice over microphone feels solid and…
Last update on 2023-08-25 / Affiliate links / Images from Amazon Product Advertising API
If you want to improve the performance of the Fifine K669D, check out my article: How to make a Fifine K669D mic sound better and noise-free.
What's included in the box?
In the box, you get three things…
The K669D XLR dynamic microphone
A tripod desktop stand
The microphone user guide
Unlike USB mics, where a USB cable is usually included, the K669D is not supplied with an XLR cable. That's understandable because USB cables cannot be very long, but XLR mics can be almost any distance from the audio interface or mixer. Consequently, if an XLR cable were bundled with the mic, it could be the wrong length and therefore an unnecessary cost.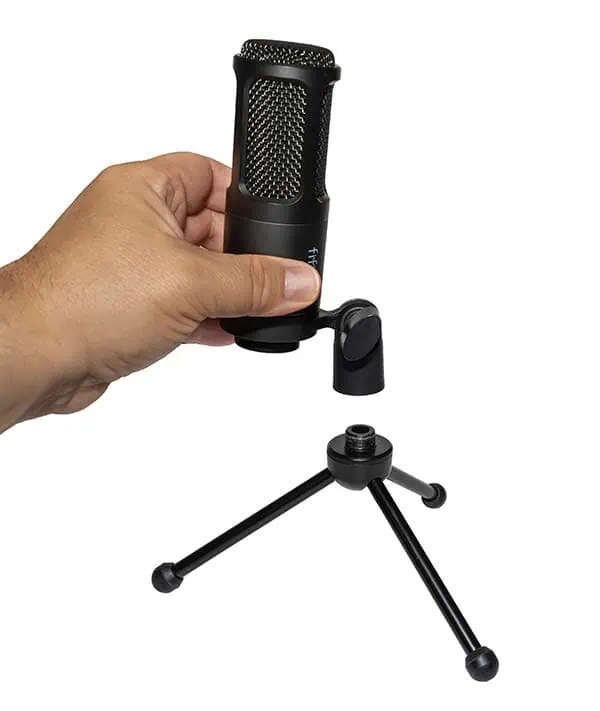 I've included my video review of the microphone below. However, because it is almost 19 minutes long, I suggest reading this article first and then viewing the video.
Fifine K669D Technical specifications
Connection: XLR
Mic capsule: Dynamic
Polar pattern: Cardioid
Address type: End address
Sensitivity: -50+/- 3dB
Frequency range: 50Hz – 16kHz
Length: 5.4"/13.8cm
Diameter: 1.85"/4.7cm
Pop protection: Metal wire grille with built-in foam windscreen
Required amplification: 0 to 45dB of gain, but Fifine recommends 0-60dB of gain.
Recommended speaking distance: 1.5 to 4 inches from the grille
What is the Fifine K669D and who is it for?
The Fifine K669D is an end-address dynamic XLR microphone with a cardioid polar pattern. The body and wire grille are all metal, while the adjustable pivot mount is made of plastic with a dual threaded insert for 3/8" and 5/8" mic stands.
You don't get any control buttons on the microphone body, such as pad, low-cut, or mute buttons. But considering the low cost of this mic, I'd have been surprised if it had.
What is surprising is that for so little money, the mic looks attractive and feels solid. I wouldn't be embarrassed being seen with it in a video. I'll get on to how the mic sounds shortly.
Fifine told me they see this microphone as being attractive to beginners who want to upgrade their audio without spending a fortune.
So, that could be someone who has tried using a USB microphone but wants to take a tentative step into recording with multiple mics into an audio interface or mixer. Using the Fifine K669D might be a good way of doing that while keeping the cost down.
For instance, you could buy a Focusrite Scarlett 2i2 and two of these mics for about $200. That would enable you to record vocals and a guitar, or a two-person podcast.
Fifine K669D microphone output level
Like most dynamic microphones, the output signal from the K669D is low. So, you'll need an audio interface with mic preamps that can provide enough amplification. Fifine suggests at least 45dB of gain, although up to 60dB of gain is recommended.
If you've got a Focusrite Scarlett 2i2 audio interface, you'll be fine, although you'll need to have the gain dial between the 3 o'clock and maximum position. I've included a screenshot of a test recording into Adobe Audition with the input gain knob on the interface at three different positions. In the recording, I was 8 inches from the microphone.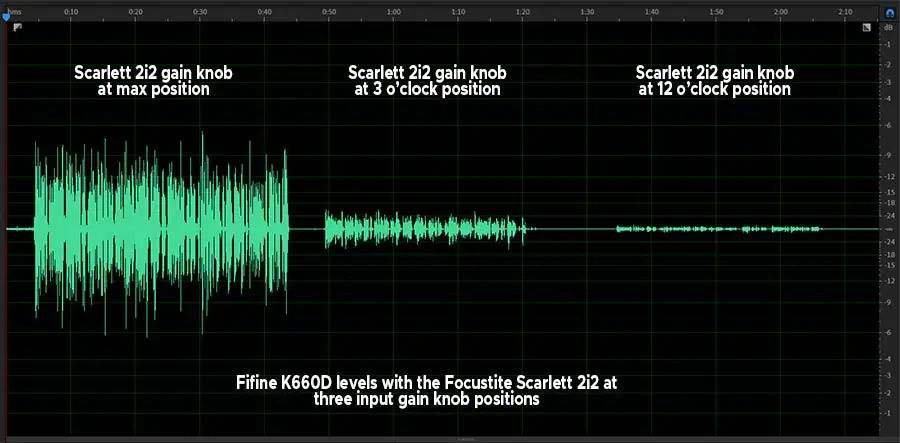 Recording at a distance of 6-8 inches: In my tests, my voice peaked at about -9dB, with occasional spikes at -6dB by turning the gain knob on the Focurite Scartlet to its maximum position and with me at a distance of 8" to the microphone. Just to clarify, I also spoke across the end of the mic at about a 45° angle to help minimize pops and blasts.
When I turned the gain knob on the 2i2 interface to the 3 o'clock position my voice peaks at about -24dB, with occasional spikes at -18dB.
With the gain knob at the 12 o'clock position, my voice peaked down around -35dB. I was able to amplify the audio by 25dB in post-production, but this could also amplify any background or preamp noise to an unacceptable level.
I would much prefer to use an inline mic preamp to boost the output signal of this microphone so that the gain on the audio interface does not need to be pushed all the way to maximum. I demonstrated this in my video review of the Fifine K669D microphone.
Close Mic Technique & Proximity Effect: The user guide for this microphone recommends using it at a distance of 1.5-4 inches for "the best frequency response". Obviously, this will also give you the highest output level and make the mic sound warmer and more bassy due to the proximity effect.
After turning the gain knob down to the 3 o'clock position on the audio interface, fitting a large foam windscreen, and speaking directly into the microphone from a distance of 4 inches, my voice peaked at between -18 and -15dB. With the gain knob turned to between the 4 and 5 o'clock position, my voice peaked at around -9 to -6dB.
Using the Fifine K669D with a microphone stand or boom arm
The K669D microphone ships with a desktop tripod stand. It's all metal, including the 5/8" screw mount, although each leg has a rubber ball foot. It's quite sturdy, and considering the budget price of this microphone, I'm surprised it's not made of plastic. However, in a home studio environment, I would set this aside and mount the microphone on a proper mic stand or boom arm.
If you mount the microphone on this tripod stand, not only will it pick up the sound of you bumping or touching your desk, but you'll also have to bend down and forward to get close to the mic. The only time I would use the included tripod stand would be if I needed to handhold the microphone. I'd bring the legs together and hold on to them.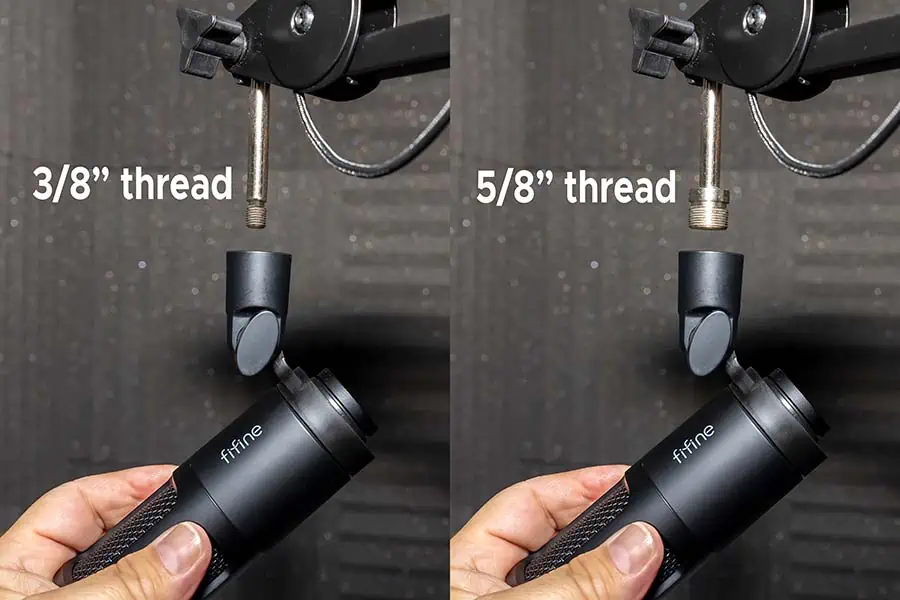 This brings me to the pivot mount on the microphone. It is detachable and features integrated 5/8" and 3/8" screw threads. This means you don't need a 3/8" to 5/8" adapter if you want to switch the mic between a scissor arm stand and a mic with a 5/8" thread.
It's the only part of the microphone that is plastic, although the internal screw is metal and the face that touches the base of the mic is rubber, presumably to stop the mic from twisting around and perhaps to provide some form of acoustic isolation from the tripod stand.
The mount has both 5/8" and 3/8" screw threads built into it, as you can see in my photo. The larger 5/8" is first, and the 3/8" thread is a little deeper. This means you can easily switch the microphone between a standard American 5/8" type mic stand and a boom arm that has a long 3/8" screw.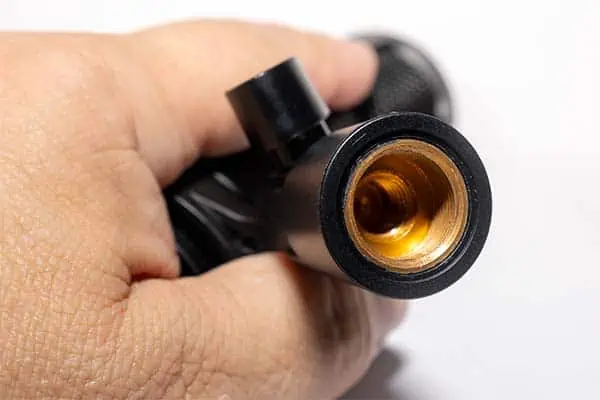 The mount works well with 5/8" mic stands and boom arms with a long 3/8" screw. However, if you have a microphone stand with a short 3/8" screw, i.e. a typical European stand, the screw will grip onto the pivot mount by about half a turn.
Although the mic will stay on, it would only take an accidental knock to dislodge the microphone and for it to fall. If you have a European-style 3/8" mic stand, I'd recommend getting a 5/8" to 3/8" adapter, so that the microphone can be firmly screwed onto the stand.
The adjustment knob on the pivot mount includes a couple of ribbed washers in its design. This means that you don't need to overtighten the knob to prevent the mic from drooping or falling backward, since the ribbed washers will lock together. This is a nice touch, considering how inexpensive this microphone is.
In addition to using a proper mic stand or boom arm with the Fifine K669D, I'd recommend getting a shock mount. By using a mic stand and shock mount you can reduce mic handing noise and the transmission of unwanted sound through the microphone's body, such as taps and knocks.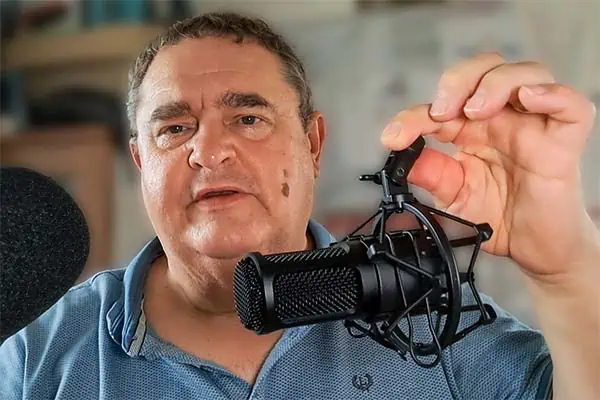 If you already have a shock mount that uses a 5/8" screw, you may be able to mount the microphone using the pivot mount. The other option is to use a shock mount that grips onto the sides of the microphone. You'll first need to remove the pivot mount by unscrewing the ring around the base of the XLR connector.
The body on the Fifine K669D is 47mm in diameter, so I bought a shock mount off Amazon that fits mics that are 42-47mm in diameter. Although this works, it's a little tough opening the mount fully to slip in the mic. I probably would have done better to get the slightly larger version for microphones that are 47-53mm in diameter. If you are interested in a shock mount and scissor boom arm for this microphone, I've included Amazon below.
Last update on 2023-08-25 / Affiliate links / Images from Amazon Product Advertising API
Fifine K669D vs Shure PGA-48 and Audio-Technica PRO31
If you want to understand what a microphone sounds like, it's always easier if you have something to compare it to.
In the case of the Fifine K669D, I tested it with the Shure PGA-48 and Audio Technica PRO31. All three are about the same price and they are all XLR dynamic cardioid mics.
In my tests, I found the Fifine K669D to have a higher output than either the Shure PGA48 or Audio Technica PRO31. The mic also seemed a lot brighter at the treble end than either the Shure or Audio Technica microphones. Even so, I thought the Shure PGA48 sounded very slightly nasally in the mid, compared to the Fifine mic.
When used at a distance of 8 inches the audio quality was fine, with a good amount of bass, the mid frequencies do not sound nasally, and there was a bit of a lift at the treble end.
At a distance of 1.5 – 4 inches, the proximity effect gives this mic a much warmer and bassy sound, which is much loved by late-night radio DJs.
Polar Pattern and noise rejection
Because of the cardioid polar pattern of this mic, there was a significant difference in the level of my voice, depending on whether I was in front or behind the microphone.
With me directly in front of the mic, my voice peaked at -9dB, while my voice level peaked at -21dB when I turned the microphone away from me (i.e. through 180°).
The polar pattern didn't seem to make as much difference to the level of the noise from my three computers in the office. Although they are quite loud and were at 3, 4, and 6ft from the microphone, the level of the fan noise was about -40dB, irrespective of whether the mic was pointing at or away from the PCs. In this case, the way the mic's sensitivity drops off with distance was more important than the poplar pattern.
Cleaning the Fifine K669D XLR microphone
The COVID-19 pandemic prompted many of us to sanitize our microphones, especially those that are shared with more than one person or used close-up. Even though the pandemic is receding into history, I still have a can of sanitizing spray in my kit bag to disinfect my microphones. Fortunately, the design of the Fifine K669D makes it easy to clean.
On most of my microphones that use a foam windscreen, I put the foamy on the mic, and spray all over with an alcohol sanitizer. I leave it to dry for a few minutes, after which any bugs from the user will be dead.
Now, although I use the Fifine K669D with a foam windscreen for extra voice pop protection, you might not want to do so. However, you can still sanitize the microphone with an alcohol-based spray because there's a foam windscreen between the wire grille and the mic capsule. But go lightly with the spray because you don't want to get the mic capsule wet.
However, you can easily clean the wire grille and foam windscreen without risking the mic capsule. Simply unscrew the metal grille and carefully pull it off the microphone.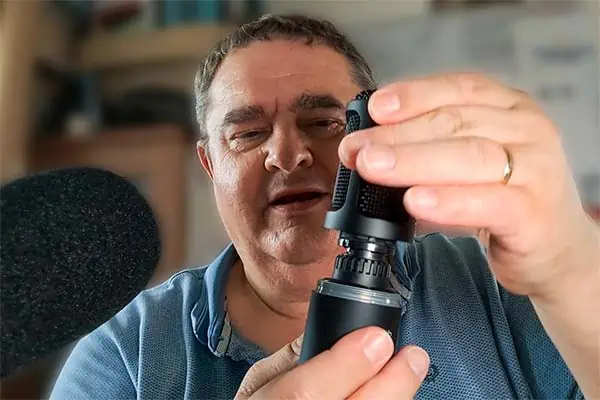 You can then withdraw the foam windscreen from the grille.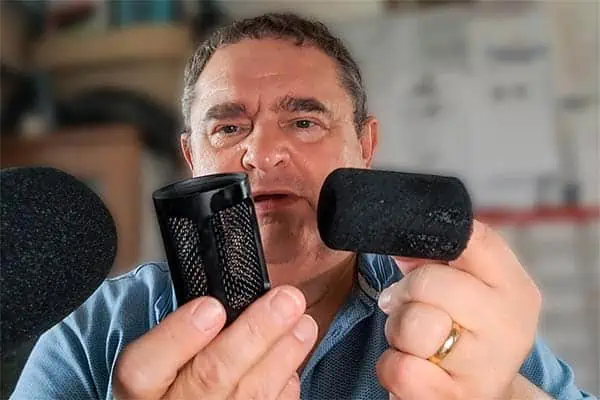 Both can be thoroughly cleaned with sanitizing spray or even washed in warm soapy water. Before reassembling the mic ensure everything is bone dry.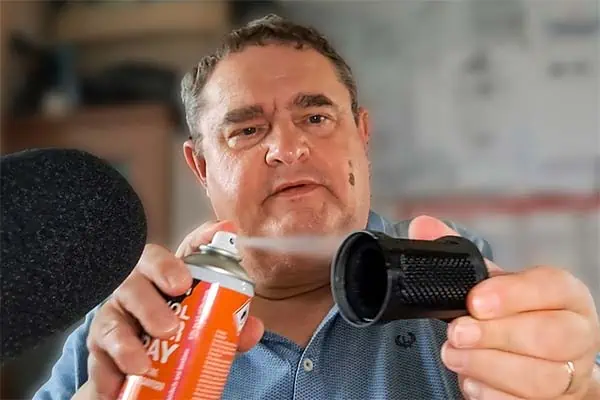 Conclusion – Is the Fifine K669D worth getting?
This microphone amazes me, even if it does have some flaws. The design staff at Fifine have clearly put some thought into creating it. It really shouldn't be possible to produce and sell a microphone this cheaply and sound as good as it does.
It's one of the most attractive-looking studio or podcast microphones that you can buy anywhere near its price point. It also offers clear bass and mid frequencies, without sounding nasally. Meanwhile, the upper end is bright. Although I like an enhanced treble end, on my voice, which can be a bit sibilant, I would roll off some of that treble.
However, when you look at the user guide, Fifine says that to get the full frequency response you need to use this microphone at between 1.5 and 4 inches. In other words, the company is encouraging a close-mic technique that will advantage of the full bass sound due to the proximity effect on the mic. When you throw that extra bass into the mix, the treble boost helps to balance the boost in the low end. At more normal distances of 6 to 8 or 10 inches that you'd use in a podcast situation, I would probably roll off a little of that treble.
The shock rejection could be better, but the issue can be rectified by using a cheap shock mount on a boom arm or mic stand. If you're going to use a close mic technique, plosive rejection will probably be a problem. My solution is to use the large foam windscreen intended for the Shure SM7b that's made by YOUSHARES. Alternatively, get a mesh pop filter. So, these issues are not can easily be rectified.
Sale
YOUSHARES SM7B Microphone Windscreen – Pop Filter Foam Wind Cover…
Professional Windscreen – Compatible with your SM7B Cardioid Dynamic Microphone perfectly and does a…
Specially Designed – Exact same high-quality windscreen that compatible with SM7B microphone.
Perfect Filter – SM7B wind cover snaps into place easily, restoring the original look and sound…
Perfect Protection – Fits like a glove and protects the mic from flying spittle. Protect your your…
Last update on 2023-08-25 / Affiliate links / Images from Amazon Product Advertising API
Because of the top-end boost, this mic would work nicely for vocals, helping them cut through the rest of the mix. For spoken word, the mic offers clarity with that treble boost. When I was younger, that's exactly what my voice needed, but not so much now. It's all down to personal choice, but these days I would opt for Fifine's K688 podcast mic because it's a better fit for my voice. Finally, is the Fifine K669D a microphone I would recommend? At the almost indecently low price of under $37/£37, this mic does a good job if you're on a tight budget or want an entry-level XLR dynamic cardioid microphone that would look good in YouTube videos. The K669D represents fantastic value.

Can you help? If you liked this article, please share it.
It will mean a great deal to me if you share this post because a few seconds of your time will seriously help my blog grow. The share buttons are below the "About Author" section.
Thanks. 🙂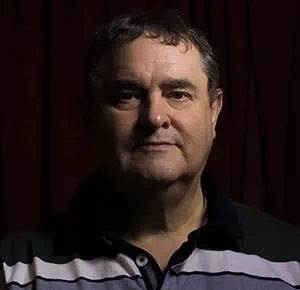 About the author: Tosh Lubek is a multi-award-winning broadcaster, writer, and video producer, with 40 years of experience in professional broadcasting and has been using Canon video and stills cameras since 2010. He has worked with radio and TV broadcasters, advertising agencies, and direct clients on a variety of projects including radio and television advertising, online video production, corporate videos, award ceremony motion graphics, and theme park sound design. Tosh has won numerous awards, including a Radio Academy Awards Gold Sony, a Gold, Silver, and Bronze World Medals in the New York Festivals International Advertising Awards. Since about 2007 he has been creating YouTube videos. Tosh has been a sponsor of the "video booth" at HashTag Business Events across the UK.
Recent Posts