DIY Video Studio is supported by its readers who use the affiliate links or ads on this site. As an Amazon Associate, I earn from qualifying purchases. Thank your support if you use any of the links.
If you want to record good-quality audio for your video projects, you'll probably use a portable audio recorder instead of relying on your camera's audio capabilities. That's because portable recorders generally have better mic preamps than most mirrorless cameras. Furthermore, recorders like the Zoom handy recorders can have XLR inputs, allowing the use of professional-grade microphones and the ability to record to multiple separate tracks.
However, if you are a solo video shooter, working with a camera and a Zoom audio recorder, things can become a little tricky. I've tried putting the recorder in a pocket and even used Velcro to attach the recorder to one of the tripod legs.
However, neither solution worked well. Fortunately, the Zoom H1n, H4n, H4n Pro, H5, and H6, all have a ¼"-20 tripod mounting hole on the back, which can be used to attach the recorder to a camera.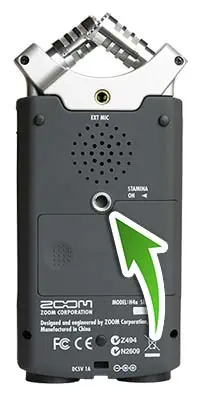 A Zoom Handy recorder can be attached to a camera's hot shoe mount using various cold shoe to ¼" adapters. If using a camera cage or L bracket, the Zoom recorder can be secured to that in several ways, including a simple ¼"-20 screw, male ¼" to male ¼" screw, or even by attaching a quick release plate.
How to attach a Zoom Handy recorder to a camera's hot shoe
You can attach a Zoom Handy recorder to a camera's hot shoe you need an adapter that has a cold shoe mount at one end and a 1/4″-20 tripod screw at the other. Because you are using the camera's hot shoe, you do not want to put it under excess stress, so although you could use something like a Magic Arm, that would probably put the hot shoe under unnecessary strain. Instead, I prefer the following three types of adapters.
Camera Hot Shoe Mount to 1/4″-20 Tripod Screw Adapter.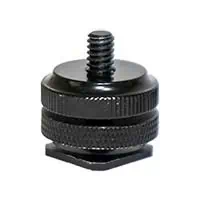 Mini Ball Head with Cold Shoe Mount Adapter.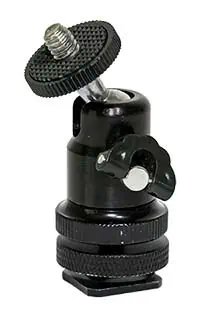 Tilting Field Monitor Cold Shoe Adapter.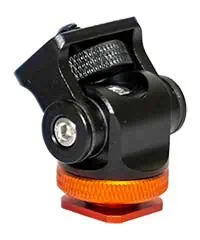 Although these adapters can be mounted directly in the camera's hot shoe, I prefer mounting the adapter onto a small quick-release place and adding a quick-release clamp onto the camera's hot shoe. This allows the recorder to be easily removed in a couple of seconds rather than having to fiddle with the knurled screws.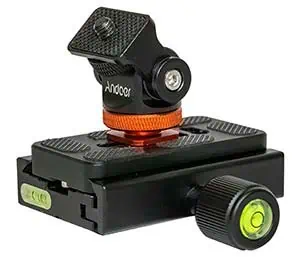 Using the mini ball head and hot shoe mount or the tilting field monitor cold shoe adapter over an advantage over the simple hot shoe to ¼"-20 screw adapter. They both allow the Zoom recorder to be angled at about 45°, allowing you to see both the Zoom's LCD display and the rear camera screen. This way you can keep an eye on your sound levels while monitoring your videography on the camera screen.
How to attach a Zoom Handy recorder to a camera cage
If you are using a camera cage, this makes attaching a Zoom H4n recorder, or almost any Zoom handy recorder, a fair easy task. Some camera cages will have a cold shoe mount, allowing you to use any of the methods mentioned for attaching a Zoom handy recorder to a camera's hot shoe. This time, attach the adapter to the cold shoe on the camera cage instead of the camera's hot shoe.
However, camera cages have multiple 1/4″-20 and 3/8″-16 female threaded mounting points. This opens the possibility of securing the handy recorder directly to the cage with a ¼"-20 screw. Alternatively, something like a mini ball head or tilting field monitor adapter could be screwed into a mounting hole on the camera cage, and the Zoom handy recorder secured to the other end.
As mentioned already, using a quick-release plate and clamp allows for faster mounting and removal of the recorder. With a camera cage, screw the clamp to a mounting hole on the cage and then the quick-release plate to the rear of the Zoom handy recorder.
How to attach a Zoom Handy recorder to a camera's L bracket
L brackets do not include cold shoe mounting points, although they often have a limited number of 1/4″-20 female threaded holes that can be used as mounting points.
The method of attaching a Zoom handy recorder is similar to that used with a camera cage. Screw the handy recorder to the L bracket or attach a mini ball head or field monitor adapter to the L-bracket and secure the recorder to the adapter.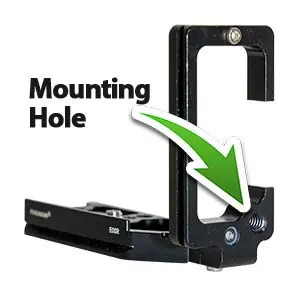 However, L-brackets offer one other possibility for mounting a portable recorder, since each leg of the L-bracket is effectively an Arca-Swiss style quick-release plate. The quick-release clamp is then screwed to the back of the Zoom handy recorder and then secured onto one of the sides of the L-bracket.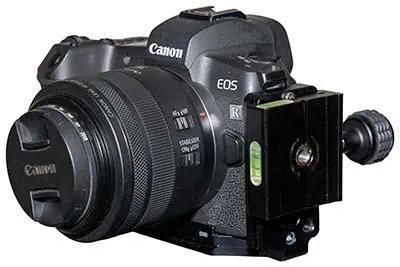 In the image above, you can see the quick-release clamp has been tightened onto the camera's L-bracket. The clamp has a threaded hole through its base, which allows the clamp to be screwed onto the base of the Zoom recorder. I have not included the Zoom handy recorder in the image greater for visual clarity.
The quick-release plate and clamp that I use is the UTEBIT 50mm Arca Swiss QR plate and clamp with a 3/8″ mounting hole, a 3/8″ and 1/4″ screw adapter, and a 1/4″ mounting screw.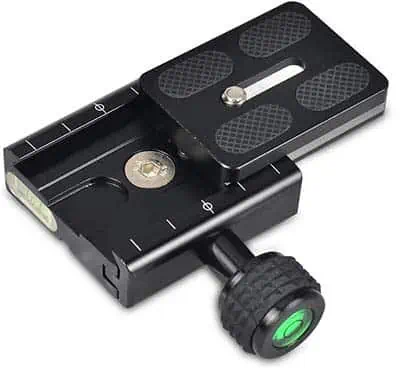 Other Options for Mounting the Zoom H4n Recorder
There are of course other ways to set up your camera and Zoom portable sound recorder. These can be useful where your subjects remain fixed in one place, for instance in an interview, discussion, or podcast situation. Because the subjects aren't moving you can leave the recorder in a fixed location, with the microphone cables running to it. If necessary, the camera can move around, but because the microphones remain in the same place as your subjects, the audio levels will remain the same, no matter how the camera moves. I will show three ways of mounting the Zoom audio recorder so it doesn't have to be laid on the ground and potentially get stepped on.
Tripod: One option is to mount the Zoom H4n recorder on a tripod that is separate from the camera but close by. This is a great solution if you are not including much camera movement or if your camera does not have a hot shoe.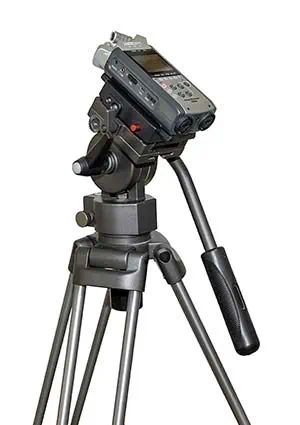 Light Stand: This is really the same idea as using a tripod but a good option if you don't have a second tripod. Light stands are quite cheap compared to a tripod and most have a ¼"-20 screw thread on top of the spigot.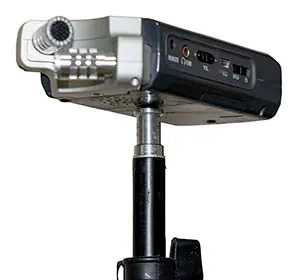 Microphone Boom Arm: Another option is to mount the Zoom H4n recorder on a microphone boom arm that is attached to a microphone stand.
You may have to buy an adapter, shown below, to change from the screw thread of the mic boom arm to ¼"-20.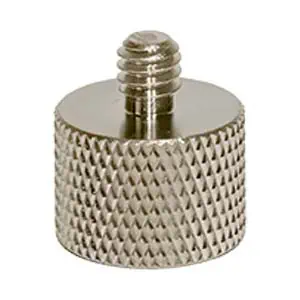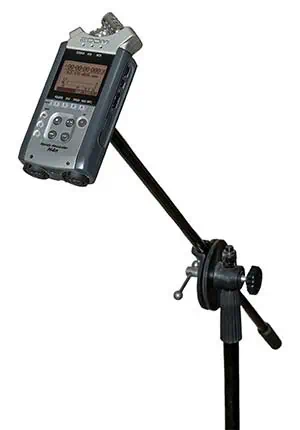 Velcro or Double-Sided Tape: For a quick on-location solution, you can attach the Zoom handy recorder to your camera tripod using Velcro or double-sided tape. Gaff tape that's folded over on itself can also work, although it can leave a sticky residue on your gear. This option is ideal for those emergency or one-off situations where you don't want to purchase additional equipment you possibly won't need again.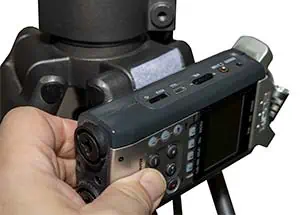 Conclusion
Mounting the Zoom H4n, or any other Zoom Handy recorder, onto a camera is an important step in making it easier for a solo videographer to record both high-quality audio and videos.
The Zoom recorder can be attached to the camera's hot shoe by using a 1/4-inch screw adapter. Operationally, it is better to use a mini ball head adapter or field monitor adapter since the recorder can be tilted back, making it easier to see the LCD screen while looking at the camera's rear display.
Here's a big ask from me: If you liked this article, please share it.
It will mean a great deal to me if you share this post because a few seconds of your time will seriously help my blog grow. The share buttons are below the "About Author" section.
Thanks. 🙂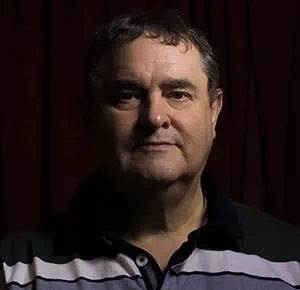 About the author: Tosh Lubek is a multi-award-winning broadcaster, writer, and video producer, with 40 years of experience in professional broadcasting and has been using Canon video and stills cameras since 2010. He has worked with radio and TV broadcasters, advertising agencies, and direct clients on a variety of projects including radio and television advertising, online video production, corporate videos, award ceremony motion graphics, and theme park sound design. Tosh has won numerous awards, including a Radio Academy Awards Gold Sony, a Gold, Silver, and Bronze World Medals in the New York Festivals International Advertising Awards. Since about 2007 he has been creating YouTube videos. Tosh has been a sponsor of the "video booth" at HashTag Business Events across the UK.
Recent Posts