DIY Video Studio is supported by its readers. Please assume links on this site are affiliate links or ads, and that I get commissions for purchases made through these links. As an Amazon Associate, I earn from qualifying purchases. Thank you if you use any of the links.
When I'm shooting client videos on my iPhone I normally use FiLMiC Pro as my camera app. FiLMiC Pro allows me to leverage the power of the iPhone's camera. Unfortunately, FiLMiC pro battery drain, my other apps, and my iPhone's settings can rapidly drain my iPhone's battery. In this article, I explain how I reduce the demands on the battery so that I can shoot video clips for longer. If you just want to cut your iPhone's battery drain even if you're not using Filmic Pro just to strategy #5 and strategy #6.
There are six basic strategies I follow:
Choose the Filmic Pro settings I really need
Begin the shoot with a fully charged battery
Plugin the mains charger if possible
Use an External USB Battery or Power Bank
Avoid extreme temperatures
Turn off any unnecessary apps and processes
1. Which Filmic Pro settings do I really need?
Shooting video uses a lot of processing power. Fortunately, from the iPhone 8 onward, the CPU and GPU provide plenty of processing power to record long clips without any problems. Even my iPhone SE has no problem shooting 4K Filmic Extreme video, although the phone case does get warm just below the camera lens. That heat is a clear indicator that the camera is consuming a lot of power.
The advanced features in FiLMiC Pro, such as Live Analytics and the color profiles in the Cinematographer's Kit, add yet more load. Although the CPU and GPU can cope, that extra power will drain the battery faster.
The LOG and less extreme Flat gamma curves in FiLMiC Pro's Cinematographer Kit (an in-app purchase), gives you more latitude in color grading your footage. Although this can make your shots look more beautiful, the downside is that the extra processing involved uses more of your iPhone's battery power.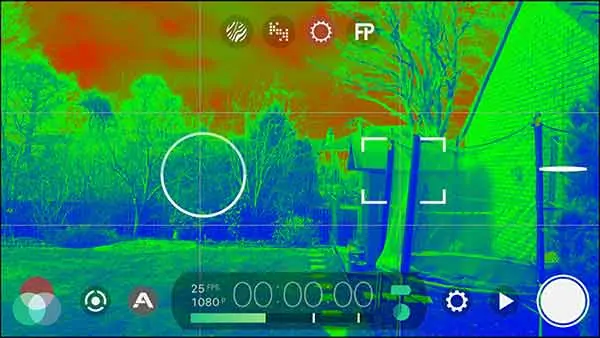 Using the Live Analytics in FiLMiC Pro 6 can provide useful feedback to get correctly set your focus and exposure. But focus peaking, zebra stripes, clipping, and false-color overlays again use up additional battery power.
However, shooting LOG or FLAT color profiles and using Live Analytics are not the only things that will impact battery drain. All the features on the following list will add to power consumption, in most cases due to adding to the processing load on your iPhone's CPU/GPU.
Length of recording
Resolution
Framerate
Encoding Quality
Live Analytics
Stabilization
Torch
FLAT/LOG Picture Profiles
Power consumption test
To test how much battery power Filmic Pro uses on my iPhone SE used I did three test shots. All were 10min clips and started from a 100% battery level.
First Test Clip: 4K Filmic Extreme footage using the LOG picture profile. Live Analytics, Stabilization, and the Torch (on High) active.
Second Test Clip: 4K Filmic Extreme footage using the LOG picture profile. Live Analytics and image stabilization active.
Third Test Clip: 1080p Economy footage using the natural picture profile. No Live Analytics or image stabilization active.
The results
First Test Clip used 10% of my battery power.
Second Test Clip used 6% of my battery power.
Third Test Clip used only 2% of my battery power.
I could have tested many more feature scenarios and repeated each test to obtain to make the tests more rigorous. But the results are sufficient for my purpose, if somewhat self-evident. The conclusion is that the more features you engage, the more power you will use. However, some of those features are more power-hungry than others.
All of these are battery power drainers
Shooting 4k rather than full HD
Shooting FiLMiC Extreme rather than lower data-rate quality
Using LOG/FLAT instead of Natural color picture profiles
Turning on the Torch and Stabilization
Constant use of Live Analytics
Connecting to external devices, such as a DJI Mobile and Bluetooth earbuds
If you engage these power-hungry features in FiLMiC Pro you will reduce your available filming time from one full battery charge. When I did the test using all those features on my iPhone SE, the phone case got hot near the camera lens. That was a big giveaway that I was quickly "burning" through my battery power.
Therefore, to reduce your FiLMiC Pro battery drain be careful when you choose the settings of your video. Do you really need 4K? Is shooting with the LOG picture profile necessary? Do you really need the encoding quality to be set as high as Filmic Extreme? Do you need to shoot at 60fps instead of 30fps? Each setting or feature that you can reduce or turn off will allow you to achieve your goal of shooting video clips for longer.
2. Fully charge your iPhone
Strictly speaking, the battery power level at the start of your recording will not influence the rate at which your remaining power drains. However, it does make a difference to how long you can confidently record.
If you start recording a longer video clip when you are at about 30% battery power, there is a reasonable chance that Filmic Pro will stop partway through the recording. That is true even if your video clip only requires just under 30% of your battery's power.
I experienced this situation when shooting an online course on my iPhone with FiLMiC Pro. Everything seemed fine until my iPhone displayed the following Low Battery warning.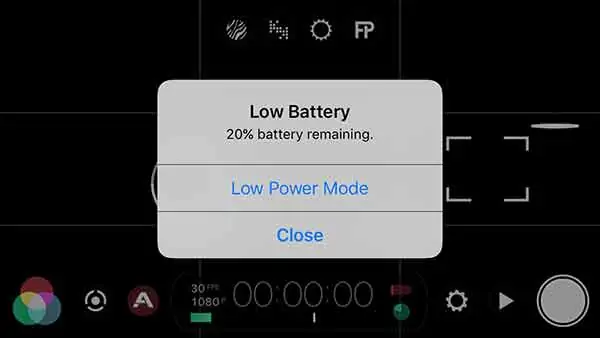 It's Apple's way of getting you to plug in the charger before my iPhone's battery dies. I thought it was just an onscreen notification, but the appearance of the warning automatically stopped Filmic Pro recording.
Unfortunately, there's no way to turn off the low battery warning, unless you've got a jailbroken iPhone. So, starting to record when you are near to 20% battery power is risky. If you are using the decent quality rear camera on your iPhone, there's no way of knowing how much power you have remaining.
Say you estimate recording your video clip will only use up to 15% of your battery power. You check your total available battery power and it says 30%. Obviously, the power needed is less than the total power you have available, so you might think you are good to go and start filming. But hold on there. Filmic Pro will automatically stop when that Low Battery warning appears, even though your iPhone has enough battery power for you to keep recording.
That bottom 25 to 30% of your battery power is an awkward region for filming. You really must pay attention to your battery power. That's not so easy if you are presenting in front of the camera and not watching the screen.
So, what can you do?
The answer is to make sure your iPhone is fully charged before you start your video shoot. Your battery life is as important a resource to manage as your internal storage. I know this is the most obvious thing to do but it is also easy to forget, especially if you have been using your iPhone.
3. Plug-in your mains charger
When I shoot on my iPhone in the studio or at my desk, I plug in the mains charger. The constant charging from the mains charger eliminates the problem of FiLMic Pro battery drain.
However, I always do a sound test before shooting for real. I know it is unlikely that I will encounter a ground loop or mains hum, but I always check for it. It is always better to discover and correct any sound problems at the start of production rather than in post-production.
To hear low-level hums do not rely on your iPhone's tiny speaker, you will not hear your recording clearly enough. Plug-in headphones or earbuds and listen very carefully. On quiet sections turn up the volume so that you can hear any background noise.
If you discover mains hum on the recording check your connections or swap over your charger and charging cable. Also, check that your microphone and charging cables do not cross or run alongside each other. If they do, move them apart and check whether that makes a difference. If you still have a ground loop, consider changing over to battery power.
4. Use an External USB Battery or Power Bank
With a backup battery or power bank, you can shoot all day, without the need to be close to a mains socket.
I have several backup batteries and they have become an invaluable part of my kit bag for outdoor or location video shoots.
You will find various portable battery chargers or power banks on Amazon, although there are basically two types. The phone case type and the USB type.
Phone case back-up battery charger
The first type incorporates the backup battery into a case that attaches to your iPhone. I got this type for my iPhone 4, although it is also an LED projector. Although I like the fact that my iPhone and the back-up battery are joined, this is also a problem. Attaching lenses and filters can be difficult. Mounting your iPhone on a tripod can also become a problem.
This case-type back-up battery has gradually become less common, quite possibly because the power capacity has gradually increased. Fitting enough lithium batteries into a phone case to provide significant amounts of power would probably give your modern iPhone the appearance of a brick. Very uncool!
USB back-up battery charger
The second type of power bank is a separate battery pack with USB sockets. You can connect your iPhone using the standard USB charging cable that came with your iPhone. If you are using an iPhone that only has a lightning socket and no headphone socket obviously, you'll need a splitter so you can both charge and plug in your microphone at the same time.
The power bank is an extremely useful solution when you cannot use your mains charger. I have one that is rated at 10,000mAh capacity. However, I also have an Anker 20100 power bank with a 20,100mAh capacity in a package that is only about 6.6 x 0.9 x 2.4 inches in size.
The Anker PowerCore 20100 provides plenty of power for extended iPhone location shoots.
There are other makes of power banks available, however, my personal experience of the 10,000 and 20,100 mAh Anker PowerCores has been particularly good. Anker has also been upgrading its PowerCore models, although the power capacities have remained broadly the same.
If you want to learn more about the Anker Powercore mobile charger or to buy it online, you can shop now on Amazon.
Anker PowerCore 20,100mAh Portable Charger Ultra High Capacity Power Bank...
The Anker Advantage: Join the 50 million+ powered by our technology.
Ultra-High Capacity: Weighs as little as a can of soup (12.5 oz) yet charges the iPhone 8 almost...
Certified Safe: Anker's MultiProtect safety system and high-quality battery cells ensure complete...
What You Get: Anker PowerCore 20100 Portable Charger, Micro USB cable, welcome guide, 18-month...
Last update on 2023-08-23 / Affiliate links / Images from Amazon Product Advertising API
5. Avoid extreme temperatures
For most basic tasks, the iPhone will operate reliably when the ambient temperature is between 0º and 35º C (32º to 95º F). However, video recording is not a basic operation, it can be processor-intensive that generates extra heat. Under high ambient temperatures, the extra heat generated by video acquisition can result in dropped frames. For reliable iPhone videography, the best temperature range is probably between 0º and 25º C (32º to 77º F).
Does cold affect my iPhone battery?
I mostly shoot videos in Scotland, where winter temperatures can fall below freezing. Although average winter low temperatures are about 0º C (32º F), an outdoor low-temperature shoot is more likely when the mercury falls below that 0º C (32º F) average.
On chilly days, the iPhone's battery performance does suffer. The power seems to drop off. The colder the temperature the worse the battery performance. If cold enough the battery will even appear to die, and the phone will shut down.
Under cold ambient temperatures, the lithium-ion battery is not actually discharging. It simply cannot operate when extremely cold. Fortunately, when the phone warms up again, the battery power will appear to return. The iPhone will again function normally.
Apple says the iPhone is designed to shut down automatically under certain conditions, such as extremely cold temperatures. This is to protect the device's electronics from low voltage.
How do I keep my iPhone battery from dying in the cold?
If you are shooting video clips in the winter, or in a location where ambient temperatures are below 0º C (32º F) you will require a strategy to prevent your iPhone battery dying in the cold.
What can you do?
The first thing to do is to keep the phone turned off until you are ready to start filming. Considering I might be out in poor weather conditions I don't like being out without an active phone. That's why I also carry my old Samsung Galaxy S3 Android phone. It remains turned on for safety reasons, while my iPhone is used just for recording the video clips.
To prolong the amount of time I can shoot videos in the cold, I keep my iPhone as warm as possible.
The first thing I do is keep my iPhone under my clothing and as close to my body until I start to shoot. My trunk or torso is the warmest part of my body, so I keep my iPhone tucked in an inside pocket next to my chest.
The second way I try to keep my phone warm is to provide it with its own thermal protection in a high-tech thermal protection case like the Phoozy Apollo II series thermal phone case.
The Phoozy Apollo II is available to buy online at Amazon.
PHOOZY Apollo II Series Thermal Phone Case - Insulated & Upgraded,...
LARGE SIZE: Please measure your phone case to fit the Interior Dimensions 6.5" x 0.40" x 3.6" / made...
BUY WITH CONFIDENCE: The PHOOZY has been featured by the Today Show, GMA, Cosmo and others. Forbes...
AS SEEN ON SHARK TANK - Award-winning PHOOZY Thermal Capsules will not interfere with cellular,...
COLD AND HOT PROTECTION: Uses NASA spacesuit technology to reflect 95% of heat of the sun away from...
Last update on 2023-08-23 / Affiliate links / Images from Amazon Product Advertising API
6. Turn off any unnecessary apps and processes
Switch on Airplane Mode
Airplane prevents the iPhone from sending or receiving calls and text messages. That is worth doing when filming, irrespective of whether you are trying to reduce your phone's battery drain.
Turn off Push Mail
When your iPhone is set to Push Mail it will constantly contact your mail server to check whether you have any new mail. If you really do not need to be notified of any new emails the moment, they arrive you are potentially wasting power.
By turning Push to Fetch Mail you are in control of how often your iPhone checks for new mail, you can potentially save some battery juice.
To turn off push mail you would do the following.
Go to your iPhone's Settings
Scroll down and tap on Passwords & Accounts. At the bottom of the screen tap on Fetch New Data
Tap on the button to the right of Push to turn off the Push Mail
Scroll down and how often you want to fetch your mail. I find Every 15Minutes works well for me.
Turn off selected notifications
Letting your apps send you notifications can be useful but that means they are running in the background waiting for something to happen so the app can send you an alert. But by controlling which apps get to send notifications will help to save power.
To control which apps can send notifications you can do the following.
Go to Settings –> Notifications to see a list of your apps.
Beneath each app, you can see what kind of notifications that app is allowed to send you. Consider an app-by-app case whether you need to receive a notification. If the answer is no, tap the name of the app and turn off the switch next to Allow Notifications.
Disable sending iPhone Analytics
You don't need to waste battery power helping Apple know how you use your iPhone.
To disable sending iPhone analytics go to Settings –> Privacy and scroll to the bottom, where you can open Analytics.
Slide across the button to the right of Share iPhone Analytics to turn off the feature. Do the same for Share iCloud Analytics.
Turn on auto-lock
If auto-lock is not turned on your iPhone's battery power will be slowly drained away.
To make sure auto-lock is turned on, do the following.
Tap on Settings
Tap on Display & Brightness
Go to Auto-Lock
Now select the amount of time you can leave your iPhone on before the display turns off and goes into sleep mode. Don't choose Never. I have 1 minute selected and that works well for me.
Disable Unnecessary Visual Effects
The iPhone's beautiful visual effects are lovely to have but they are not necessary to have. All that visual loveliness is created by your iPhone's GPU and that uses up your battery power. By turn off the effects, we can squeeze out a little more power for your filming.
In iOS 12, go to
Settings –> General –> Accessibility –> Reduce Motion
Now tap the switch to turn on Reduce Motion
That's how you make sure you can shoot for longer recording videos on iPhone with FiLMiC Pro.
Regularly close out your apps
When you come out of an app and go back to your home screen you probably think your app automatically closed. In fact, it's still there but in a kind of suspended mode.
In theory that's good because next time you open the app you can quickly carry on with whatever you were doing before. However, that great idea sometimes stumbles.
What's meant to happen is that in the suspended mode your app does nothing and doesn't draw any power from the battery. Power drain problems occur when an app crashes in the background and continues to draw power.
How to close out your apps
With your iPhone unlocked double-click the Home Button to open the App Switcher.
You will see a cascade of all the apps that are still loaded in your iPhone's memory. To check what they are swipe right or left to see each one. The first time you do this you'll probably wonder how many apps can there possibly be still loaded in memory because there will be a lot.
To close an app swipe it up and off the screen. Well done, it's now completely closed.
Turn on Optimized Battery Charging and slow down battery aging
With use, your phone's battery performance will drop. The battery will never again be just the way it was when you took your iPhone out of its box for the first time. The lithium-ion battery will 'age' due to use and repeated charging cycles.
However, you can minimize the effect to keep the battery in as good a condition as possible. By using Optimized Battery Charging your iPhone will reduce battery aging by learning your daily charging routine so it can wait to finish charging past 80% until you need to use it.
To turn on Optimized Battery Charging tap on Settings and scroll down to Battery.
Partway down the screen, you will see Battery Health. Tap to open the Battery Health screen.
At the bottom of the screen, turn on Optimized Battery Charging by sliding across the button to reveal a green background.
Incidentally, on the Battery Health page, you will see your battery's Maximum Capacity. This is your phone's battery capacity compared to when the phone was brand new. The lower the number the less time you will have before you must start charging again.
How to reduce iPhone battery drain FAQ
What could be draining my iPhone battery?
To discover what apps are using most of your phone's battery power open Settings on your iPhone. Scroll down to Battery and tap on it. Scroll down to the lower part of the Battery screen and you'll see a list of Apps and their battery usage.
How can I make my iPhone battery last longer?
In the phone's settings check which apps are using the most battery power. Close any background apps. Turn off selected notifications and push mail. When in poor reception areas enable airplane mode. Reduce the brightness of the display. Turn off Bluetooth and WIFI connections if not required. Disable sending iPhone analytics. Turn on auto-lock.
Is it OK to leave your iPhone charging all night?
Yes, you can safely leave your iPhone can be left plugged into the charger overnight. Doing so will NOT overload the battery. The phone has protection chips that will stop charging when the lithium-ion battery gets to 100%. Charging may cause some heating so do not cover your phone while charging.
Is charging your phone while using it bad?
You should not experience any problems by using your iPhone while it is plugged into the charger. This does not have a negative impact on the charging of your iPhone and the battery will continue to charge normally.
Is Fast charging bad for iPhone?
The standard charger that comes with an iPhone is not able to fast charge. If you have an iPhone 8 or later, you can use the higher power charger from an iPad. Using the iPad charger will not harm earlier iPhones since they will only draw the amount of power they can handle.
Can you overcharge an iPhone?
Devices with a lithium-ion battery must have charging technology that will cut off the charger when the battery is fully charged. Leaving your iPhone connected to the charger will not lead to "overcharging" the phone's battery.
Tosh Lubek runs an audio and video production business in the UK and has been using the Canon EOS R since it was released in the Autumn of 2018 and the Canon EOS R6 in 2020. He has used both cameras to shoot TV commercials broadcast on Sky TV, promotional business videos, videos of events and functions, and YouTube creator content. He has also won several international awards for his advertising and promotional work. You can meet him by visiting his "video booth" at HashTag Business Events across the country.
Recent Posts