We're an affiliate: We hope you love our articles and the products we recommend! Just so you know, when you buy through links on this site, we may earn an affiliate commission. Thank you if you use our links, we really appreciate it!
Choosing the right camera for YouTube is a tough call because there are so many good cameras to choose from. So it's not surprising to hear people asking, what are the top cameras for vlogging? After all, you would think that successful vloggers would know the answer. That's why I spent 48 hours researching the subject. I've watched YouTube videos, read blog posts, and reached out directly to vloggers to answer what camera do YouTubers use to vlog.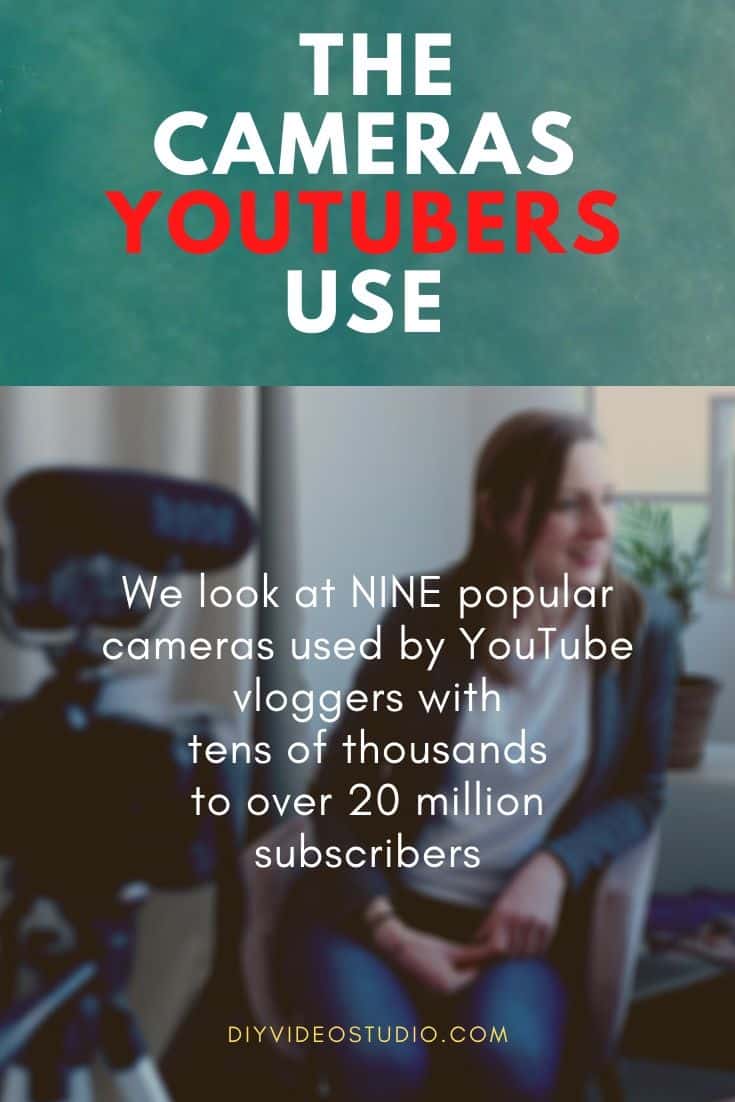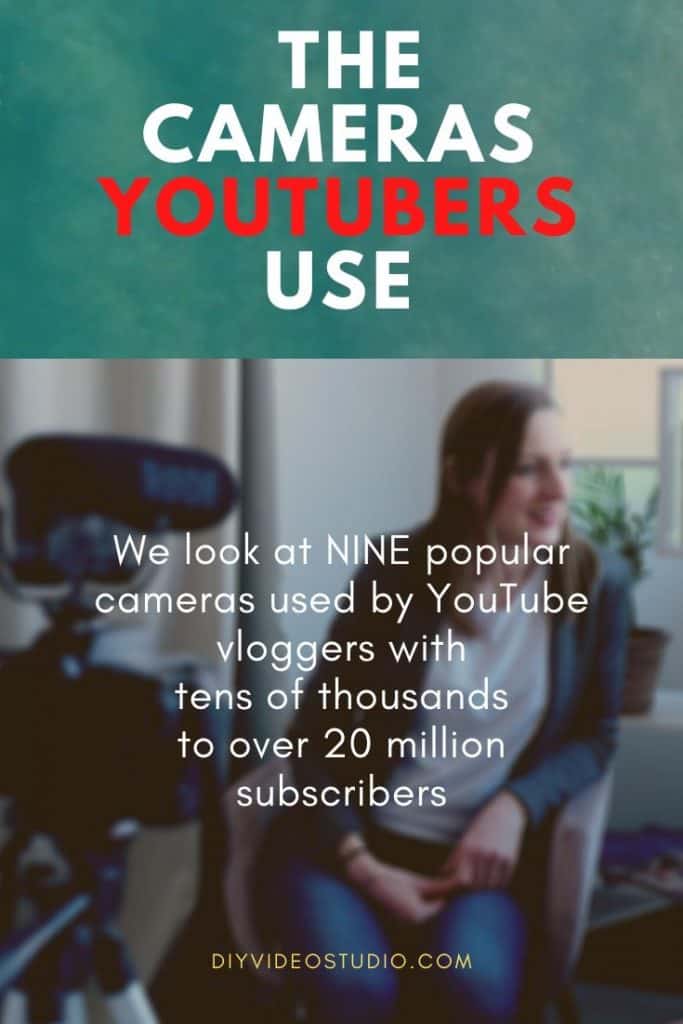 I picked fifteen vloggers with subscriber levels ranging from the tens of thousands to over 20 million. They were Ryan Higa, Casey Neistat, iJustine, Jason Vong, Jerry Rig Everything, Think Media, JC Caylen, Aspyn Ovard, Nick Nimmin, Potato Jet, Armando Ferreira, Dottotech, Pat Flynn, Peter Gregg, and Justin Reeves.
It turns out some creators use multiple cameras for vlogging. Perhaps a larger full-frame camera in their studio and a compact or action camera when out-and-about.
What I do feel was missing from the list of what do YouTubers use to record themselves because I know a good number of creators do use them, are some camcorders, smartphones, and webcams. For instance, the Logitech HD Pro Webcam C920 is a webcam used by many YouTubers, and of course, countless people use iPhones.
Having said that, let's look at this list of cameras used for vlogging by fifteen YouTubers.
What kind of camera do YouTubers use for vlogging
Camera
Flip screen
Sensor size
Max resolution
Mic/Headphone socket
Camera type
Used by
Canon 80D
Yes
APS-C
1080p
Yes/Yes
DSLR
JC Caylen,
Aspyn Ovard,
Nick Nimmin
Canon M50
Yes
APS-C
4K
Yes/No
Mirrorless
Think Media,
dottotech
Canon EOS R
Yes
Full frame
4K
Yes/Yes
Mirrorless
Potato Jet,
Armando Ferreira,
Justin Reeves
GoPro Hero 7 Black
No
1-inch
4K
Yes/No
Action camera
Casey Neistat,
iJustine,
Pat Flynn
Logitech BRIO
No
NA
4K
No/No
Webcam
dottotech
Panasonic Lumix GH5
Yes
Micro Four Thirds
4K
Yes/Yes
Mirrorless
Casey Neistat,
Jerryrigeverything
Sony A6400
Yes
APS-C
4K
Yes/No
Mirrorless
Think Media,
Armando Ferreira,
Jason Vong
Sony A7iii
No
Full frame
4K
Yes/Yes
Mirrorless
iJustine,
Peter Gregg
Sony CyberShot RX100 V
Yes
1-inch
4K
No/No
Point-and-shoot
Casey Neistat
So what kind of vlog camera do YouTubers use?
You can see, there is no single camera that all vloggers settle on. In fact, some vloggers have several cameras. That's probably because there's no single camera that is perfect in every situation. So there is no single correct camera for vlogging.
That's an important point to consider as you plan your YouTube channel. Get the right tool for the job or the best one within your budget.
If you'll have a home studio perhaps look at larger full-frame cameras. But for software tutorials or quick videos at your desk, look at getting a webcam. However, for travel vlogs or when vlogging from conventions, a compact camera in your pocket saves weight and space.
I've written a review for each of the cameras shown above, which you can see later in this article, but first here are my top picks from the list.
YouTube vlogging camera Top Picks
IMAGE
CAMERA
FEATURES
LINK
CANON EOS R

Excellent image quality
Articulated touch screen
Dual-Pixel AF in HD & 4K
Mic in / Headphone out
SONY A7iii

Excellent image quality
Eye-detect AF
Full frame 4K
IBIS
SONY A6400

Excellent image quality
Small form factor
Good set of features
Pop-up screen
CANON M50

Excellent image quality
Small form factor
Articulated touch screen
Dual Pixel AF and face/eye-tracking



Reviews of all the vlogger cameras
Not that long ago this was the vlogger's go-to camera, even Casey Neistat upgraded from his 70D to this camera, although he then went back to using the 70D again. This 24MP APS-C camera was released in February 2016 but remains a very solid performer. It includes Canon's dual pixel AF, a fully articulated screen, plus mic and headphone sockets.
The video quality is excellent, especially at lower ISOs. Unfortunately, the highest quality setting is full HD 1080p at up to 60fps. Also, the camera will feel heavy if you're holding it to vlog. If you can't hold it up for longer sequences you'll want to put this camera on a tripod.
| Pros | Cons |
| --- | --- |
| Good image quality | No 4K |
| Dual Pixel AF | Heavy |
| Fully articulating screen | |
| External mic socket | |
| Headphone socket | |
The Canon M50 mirrorless camera was released in February 2018 and it's compact and light design packs an impressive punch.
It has a 24.1MP sensor and a Digic 8 processor that enables high ISO noise reduction and good low light performance. It has dual pixel autofocus and face and eye autofocus tracking. So if you're moving around in front of the camera you should stay in focus. The available video resolutions and frame rates are 4K at 24fps and full HD at 24, 30, and 60fps.
The fully articulating vari-angle touchscreen allows vloggers to check their framing, but that, and remote control of the camera, can also be done using the Canon Camera Connect app on a smartphone because of the camera's built-in wifi capabilities. Also of use to vloggers is the external mic input socket. Unfortunately, there's no headphone socket.
As with other Canon EOS M series cameras, the M50 uses the Canon EF-M lens mount. However, with the addition of an adapter, such as the Viltrox EF to EOS M2 lens adapter, the camera can use the large range of quality Canon EF lenses.
| Pros | Cons |
| --- | --- |
| Compact and light | 4K is cropped |
| Excellent vari-angle touchscreen | 4K uses contrast AF |
| Dual Pixel AF and face/eye AF tracking | 4K only at 24fps |
| Access to Canon EF lenses with adapter | No in body stabilization |
| Wifi remote control from smartphone | |
| Can load Technicolor Cinestyle profile | |
When this full-frame mirrorless camera launched in September 2018 there was an avalanche of negativity from YouTube creators. About a year later most had changed their minds and started using the camera.
So why the change of opinion? It's because of the beautiful image, the fully functioning touch screen, good audio preamps, an easy to use menu system, Canon's great color science, the very good dual pixel autofocus, clean HDMI output in 8 and 10-bit, and c-log straight out the box. In short, it's the best full-frame vlogging camera with mic input, headphone socket, and a proper flip-out LCD touch screen. The camera body is magnesium alloy and the camera is weather sealed.
Of course, it isn't perfect. It doesn't have in-body stabilization or 120fps at 1080p, and the 4K has a whopping 1.74x crop factor. Even so, the results look great. The camera can shoot 4K 24 & 30p, 1080 24, 30 & 60p, 720 30, 60, & 120p.
But why get the EOS R instead of the other Canon cameras on this list? Well, even excluding having access to 4K, the EOS R's 1080p footage looks noticeably sharper than footage from the M50 or 80D. The downside is that it's one of the more expensive cameras, but quite a number of vloggers seem to think it's worth it. It's also worth noting that since launch Canon has reduced the price by about $500, so the EOS R and Sony A7iii are about the same price.
| Pros | Cons |
| --- | --- |
| Fully functioning touch screen | A little pricey |
| Articulated screen | 4K crop factor of 1.74 |
| Comes with c-log | 120fps only available in 720p |
| Great customization | No in body stabilization |
| Good low light performance | Heavier to hold |
| Weathersealed | |
| Dual-Pixel AF in HD & 4K | |
| 10bit external recording | |
This action camera was released in September 2018 and includes many great features in a tiny package. It's Apple MFI compatible, so it will pair more quickly with an iOS device. You can live stream by connecting to your smartphone or to wifi, however, the footage is limited to rather poor 720p.
The audio has been improved, compared to the last few models, and the introduction of HyperSmooth stabilization makes the footage much better to watch. HyperSmooth can be activated in both 4K 30 and 60fps. The TimeWarp feature also smooths and removes the jerkiness from timelapse videos.
You can show-off your aquatic adventures safely with this GoPro since it's waterproof down to 33ft, but be aware that it does not float should it come adrift. And if you post to Instagram you may like the fact that this GoPro can shoot portrait mode video.
| Pros | Cons |
| --- | --- |
| Easy user interface | Live streaming limited to 720p |
| HyperSmooth almost gimbal like | Audio could still be better |
| Offers timed clips | |
When you ask, what kind of camera do YouTubers use to vlog, the answer doesn't always have to be an and expensive DSLR or mirrorless camera. It can be a webcam.
The Brio can record 4K, 1080p, and 720p and has to be the cheapest way to get into vlogging in Ultra HD. Although for HD recording Logitech's C922x Pro Stream and C920 HD Pro are still excellent choices at even less cost.
It's easy to mount in multiple positions due to its removable clip. It can be installed on a monitor or desk, and with the included ¼" tripod mounting thread the BRIO can be mounted on a tripod.
The webcam works with USB 2.0 and 3.0, although 4K recording or streaming, requires a USB 3.0 connection. It automatically adjusts the image quality depending on your lighting and offers 5x digital zoom allows capabilities.
One of the beauties of using a webcam for YouTube is that you need very little in terms of studio space. Furthermore, depending on how sophisticated you want to be with your lighting, you could be ready to start recording or streaming in just a few seconds.
| Pros | Cons |
| --- | --- |
| Relatively inexpensive | Must be linked to a PC |
| Shoot up to 4K video | Limited image control |
| Can monitor yourself on your PC | |
| Little or no set up time prior to a video shoot | |
The GH5 uses a 20.3MP micro four-thirds sensor and includes 5-Axis in-body image stabilization, although with compatible lenses the IBIS can be combined with lens IS. The result is silky smooth camera movements. The 4K also looks great and can be recorded in 4:2:2/10bit at 24p and 30p frame rates, and 4:2:0/8bit at 60p.
The 3-inch flip-out screen can flip out to the side and be rotated to face forwards. This is similar to the way the screen works on the Canon cameras and a much better arrangement than that on the Sony cameras.
The color science is good, though not quite as beautiful as on the Canon cameras. The camera body is made from a magnesium alloy and is weather-sealed, advertised as splash, dust, and freeze-proof.
Although the GH5 is now an older model it still is an excellent camera that produces beautiful results. However, once you add some lenses, it represents a significant investment.
| Pros | Cons |
| --- | --- |
| Solid stabilization (IBIS + lens) | Large |
| Can record 4:2:2/10bit at 4K 30p | Still expensive |
| Good touch screen | |
| External mic socket | |
| Headphone socket | |
| No record time limit | |
This small mirrorless camera with a flip screen has an APS-C sensor. It could be used as a travel vlog camera, but don't expect the smoothest of shots since it lacks in-body image stabilization. However, it does have a 24.2MP sensor with 425 point AF and advanced real-time eye-AF. The pop-up screen allows you to see yourself but its touch screen functionality is limited to focus. If using an on-camera microphone you should get the SmallRig Cold Shoe Relocation Plate so that the microphone can be mounted off to the side and not cover the screen.
This camera can shoot great 4K and 1080p footage but some people reported overheating problems when shooting 4K. Fortunately, Sony fixed this problem but a few people still report random overheat switch-off.
| Pros | Cons |
| --- | --- |
| Small form factor | An on screen mic can hide the screen |
| Good 4K | No IBIS |
| No 29'59" record limit | |
Released in March 2018 this camera comes with a 24MP full-frame sensor in a weather-sealed body. Unlike its Canon EOS R rival, the A7iii does have 5-axis IBIS, dual card slots, full-frame 4K up to 30fps, and 1080p at up to 120fps. What it doesn't have is a vari-angle screen, so you can't see yourself while vlogging. In addition, it's only a touch screen for focus, unlike the EOS R. But you do get an external mic input and headphone socket. The Sony NPF C100 battery lets you shoot a video for about 2½ hours but you can also use the USB socket to power the camera from a power bank. The HDMI socket can output clean 4K at 4:2:2.
The A7iii uses 693 point hybrid autofocus with excellent face/eye-tracking. You can set it going and be pretty sure you will remain in focus while you vlog. One reviewer I watched mentioned his camera overheats while live streaming 4K. However, when it was replaced there were no further issues.
| Pros | Cons |
| --- | --- |
| Eye-detect AF | The screen does not flip up |
| Full frame 4K | Touch screen only for focus |
| IBIS | |
| External mic socket | |
| Headphone socket | |
| Dual card slots | |
Released in October 2016, this is a great but tiny camera since you get a lot for your money. Consider it among your list of good first vlog cameras. It would be an ideal out-and-about or product b-roll camera, sporting a 20MP 1-inch sensor and a Zeiss 24-70mm equivalent lens that f/1.8 at its widest and still an impressive f/2.8 when zoomed in, ideal for dimly lit spaces. Also perfect for vloggers is the flip-up screen but there's no external mic socket.
The image quality is really good, the camera can shoot 4K at 24 and 30fps, and 1080p at 24, 30, 60, and 120 fps. Very impressive for such a small and affordable camera. But not so good is that 4K clips are limited to just 5 minutes due to the sensor overheating. Sony advises you to wait several minutes between shooting 4K clips. But to this camera's credit, it does have in-body-stabilization, zebra stripes to aid setting the exposure, a built-in ND filter, fast autofocus, has s-log2, and fits in your pocket.
| Pros | Cons |
| --- | --- |
| Pocket sized camera | No external mic socket |
| Plenty of features | Fiddly to use |
| Superb Zeiss lens | |
| Fast AF | |
| Flip-up screen | |
| Full HD at 120fps | |
| Can record to external recorder | |
A cheaper vlogging camera for beginners
Asking what type of camera do YouTubers use to vlog is a good starting point for a newbie when choosing a vlogging camera for beginners. But many of those cameras are expensive. Even worse, some have interchangeable lenses that can cost more than the camera body. Yikes! How does anyone ever get started vlogging?
Don't worry. It's your ability to tell a good story that is more important than the vlogging equipment you use. Owning the most expensive camera won't guarantee success. You need to understand how to tell your story and how your camera can help you do that.
If you've got the money, sure, go ahead and get whatever camera you want. But if you're on a budget, what can you do? Well, how about choosing a webcam or camcorder for vlogging?
You may also like: How to use a webcam for YouTube Videos
Camcorder vs Camera for vlogging
I know a camcorder doesn't look as cool as using a DSLR or Mirrorless camera but forget about what camera do YouTubers vlog. The right camcorder can give you a lot of features for a lot less money. But one piece of advice is to ignore the really cheap unknown brands that claim to be for vlogging. Their poor quality will not impress anyone.
What will impress viewers is the Panasonic Full HD Camcorder HC-V770. Read on and you'll realize it's much more than a domestic camcorder that you pack for vacations.
Panasonic Full HD HC-V770 Camcorder for vlogging
As well as iA mode (intelligent Auto mode) you can access manual mode for full creative control. You can set the shutter speed, White Balance, and brightness (iris/gain). Focus can be adjusted with the thumbwheel control that's beside the lens. However, by staying in iA mode the camcorder will use face detection tracking with autofocus, which works very well indeed as you move within the scene.
You will also be able to shoot handheld shots that don't look shaky because the V770 has 5-axis hybrid optical image stabilization. It's a combination of optical and digital IS that is a very effective vlogging camera stabilizer.
The 3-inch flip-out touch screen gives you access to the camcorder's menu but it can also be turned through 180 degrees to point forwards. Now that's an obvious feature for vloggers. Another giveaway that this camcorder is intended for creators and not for ordinary consumers is that it has both an external mic input and a headphone socket. You don't get that on some of the cameras on my list
You also get a clean HDMI output and wifi connectivity. Use your smartphone to see what the camcorder sees and also control the camcorder remotely. Even better, your smartphone can act as a sub-camera that will appear as a picture-in-picture on the camcorder. That would be a very useful feature if you want to show the subject of whatever you're vlogging about but also want to appear in a box at the bottom of the frame.
Lastly, the V770 can shoot full HD 1080 30 and 60p and comes with a 20x optical zoom.
| Pros | Cons |
| --- | --- |
| Solid face tracking AF | It looks like a camcorder (doh) |
| Manual controls | |
| Mic and headphone sockets | |
| 3-inch reversible touch screen | |
| Great value for money | |
| 5-Axis hybrid IS | |
Choosing your best camera for youtube vlogging
So do you really need to spend thousands of dollars to start vlogging?
Of course not.
These days you can get a really good quality image out of even a webcam. The thing is, successful vloggers are making enough money from YouTube to be able to buy really good gear. They may even be professional photographers, so they have professional-grade cameras and lenses before starting their YouTube channel. So it isn't surprising that their videos look great.
As I've already mentioned, even today's consumer cameras perform really well. In the hands of professionals, they can produce outstanding results. So what do you get? Ignore the really cheap since that gear is unlikely to do you any favors.
Look for features that you will realistically use, there is no point in buying a camera that's packed full of features you'll never use. For example, if you are only going to record talking head videos with your camera on a tripod do you really 5-axis in-body image stabilization and the ability to record full HD at 120fps? Of course not.
Pick the right camera for the job, that way you will get the best value for money.
So what should you look for in your vlogging camera?
Resolution and frame rates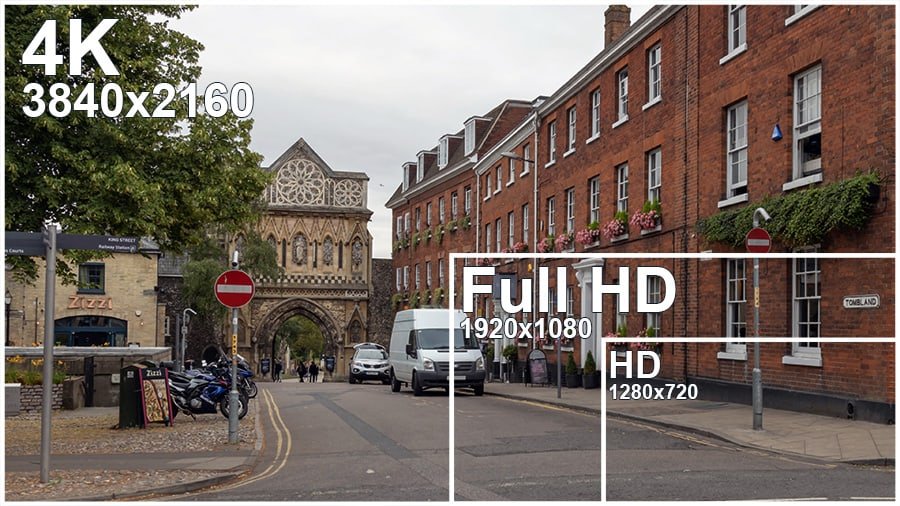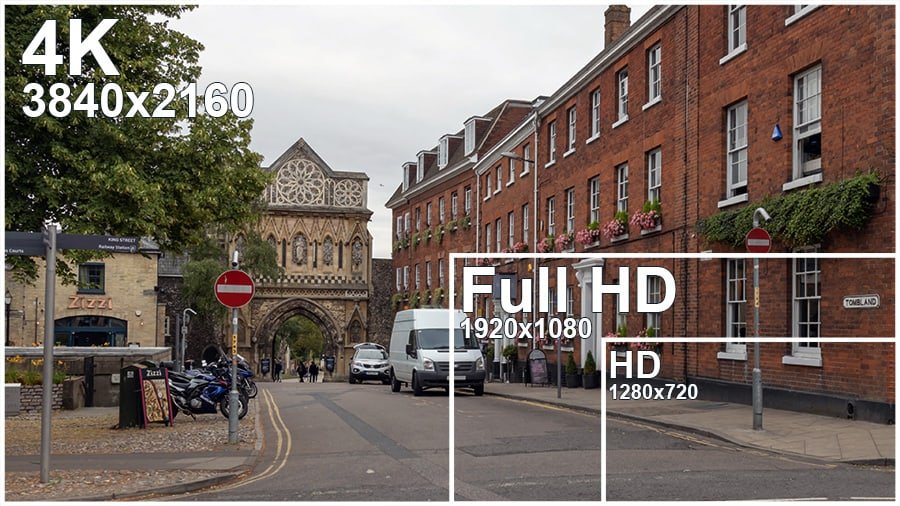 You want to shoot in at least full HD 1080p. Many vloggers are choosing to record in 4K but it isn't really necessary. Since most people watch YouTube videos on their smartphones the benefit of 4K will be lost.
If you want 4K because you want the flexibility to use a single camera but punch-in to a tighter shot to simulate a two camera shoot that's a legitimate reason to shoot in 4K. But understand there is a hidden cost to 4K. The files are much bigger than 1080p files so you'll need higher capacity SD cards and a PC with a larger hard disk, a faster processor, a beefier graphics card, and definitely more RAM. None of that is going to come cheap.
Ordinary HD is 720p, full HD is 1080p and 4K is Ultra HD or 2,160p. So a 4K frame is four times the area of full HD. Although 720p is passable I would urge you to shoot in 1080p or 4K.
The frame rate is the number of frames per second. If you want your videos to have a more cinematic look then look for a camera that can shoot 24fps. However, most YouTubes will shoot 25fps (if you are in a country that uses the PAL broadcast system) or 30fps (NTSC broadcast countries, like North America). In recent years 60fps has also become available and is meant to make motion look smoother.
It doesn't matter which of those frame rates you choose because YouTube will sort out the playback. So a video recorded by a British vlogger at 25fps will look fine when played back in America, and vice versa.
If you want to use slow-motion effects you can shoot at 60fps but playback at 30fps and you will have half speed motion. If you need even slower motion, choose a camera that can do higher frame rates. For example, even my iPhone SE can manage 1080p at 120fps and 720p at 240fps when using the FiLMiC Pro camera app.
Camera low light performance
The low light performance of your camera is important if you are going to shoot in a home studio where your lighting is low and moody, or if you are filming outdoors early or late.
You could brighten the image by bumping up the ISO or gain, but that may also increase the video noise in the image, that's the random color dots that shimmer and dance around, especially in the shadows.
Just because the camera can be set to a high ISO doesn't mean the image is going to look good. So, the more light your lens can potentially let into the camera the better.
For low-light situations, you need a fast lens to gather more light. A fast lens is one with an f-number of f/2.8 or less. Note that as the f-number goes down the actual size of the aperture goes up.
The downside to fast lenses is that they get heavier and more expensive as the f/ number goes down. Also, the smaller the f/ number (the larger the aperture) the shallower the depth of field. You might want a blurry background in some cases but a fast lens also means you will find it difficult to keep everything in sharp focus.
So if possible, favor camera lenses that have lower f-numbers.
Another way of getting improved low light performance is to consider the sensor size inside the camera. Generally, the larger the sensor the better. However, the bigger the sensor the more expensive the camera is likely to be. So, a camera with a 1/3 inch lens will probably be much cheaper than a full-frame mirrorless camera.
To summarize…
Large Aperture + Large Sensor = Good low light performance
Camera audio input
Generally, the internal microphones on cameras will not record the best sound. Ideally, you should use an external mic that is close to your subject.
In most cases, vloggers use either a short shotgun mic mounted on top of the camera or a small lavalier mic clipped on to their clothes or even attached beneath a layer of clothing. It will save you time if you can record the sound from the external onto the video, but that requires the camera to have a mic input socket.
Even better would be to also have a headphone socket. This will allow you to monitor the audio that is being recorded or at least check it at the start of recording.
Although having a mic in and a headphone out socket is ideal, it's not always necessary if you're just starting out and have a limited budget. For instance, you could record your audio using a lav mic that's plugged into a smartphone. You would then sync your video with your smartphone audio on your PC or Mac.
Camera image stabilization
No one likes shaky videos, so stabilization is important. If you are going to use a tripod you won't need any camera or lens stabilization because the tripod will be holding the camera firmly in place. But if you are holding the camera while moving about some stabilization will improve your footage.
There are three types of stabilization you will come across.
In-body-image-stabilization (IBIS). This is where the camera sensor moves to compensate for the movement of the camera.
Lens stabilization. The stabilization takes place in the lens.
Digital or electronic stabilization. The camera's processor is used to try and smooth out the camera motion.
Cameras like the GH5 combine IBIS and lens stabilization to produce really solidly stabilized shots. The Canon EOS R uses lens and digital stabilization.
Finally, you could also mount your camera on a gimbal for epic shots. But that ads cost and weight.
Record time limit
You probably aren't going to record really long clips, but perhaps your type of videos will involve setting up your camera and letting it roll for a long period of time. If that's the case you should know that most DSLR and mirorless cameras have a record limit of 30mins for video files. If you need to record for longer you can choose the Sony A6400, Panasonic GH5, or a camcorder.
Autofocus
Look for a camera that has fast autofocus with good face or eye-tracking. When vlogging you want to be able to set the focus on yourself and then forget it. Nor do you want an autofocus system that continually hunts for the focus point.
If you have a choice between Contrast based autofocus and Phase Detection autofocus, choose Phase Detection. Canon's Dual Pixel autofocus is widely held as one of the best.
Camera size, weight, and build quality
The smaller and lighter your camera the easier it will be to have it at hand whenever you want to shoot.
However, larger cameras such as the Sony A7iii, Canon EOS R, or Panasonic GH5 will probably produce a more beautiful shot. The downside is that you'll need arm muscles of steel if you're recording longer shots.
Another consideration is the build quality and weather sealing. If you will be doing a lot of hiking, scrambling over rugged terrain, and filming in damp conditions, you will want a camera that's built to match those conditions. A canon SL2's plastic body will be fine set up in your studio but a Panasonic GH5 will take those outdoor conditions in its stride.
Flip out selfie & touchscreen
If you want to frame yourself properly you'll need a flip-out selfie screen. Although many YouTubers don't bother with one and just point the lens at themselves, a selfie screen does give you more control of what appears in the video. There are workarounds, but having a flip-out selfie screen built-in is far better.
A proper touch screen is something that you will appreciate. Being able to control camera settings and focus by just tapping the screen will make your life a lot quicker and easier.
WiFi/Bluetooth/NFC connectivity
Connecting your camera to a smartphone might present some advantages. You can easily transfer images to your smartphone for sharing on social media. But you can also use your smartphone as an external monitor and remote control. That second point may be an advantage if the camera doesn't have a selfie screen.
Learning Curve and Requirements
This isn't a feature to look out for, it's more about what features you require and your skill level.
There is little point in paying extra for features you will never use. Likewise, if there's so much packed into the camera that it becomes complicated to use then the complexity will impact negatively on your workflow.
If you have never used a DSLR or Mirrorless camera you will find it much more complicated than a camcorder or your smartphone. So if you really want to buy one make sure you're prepared to learn how to use it.
Tosh Lubek runs an audio and video production business in the UK and has been using the Canon EOS R since it was released in the Autumn of 2018. He has used the camera to shoot TV commercials for Sky TV, promotional business videos, videos of events and functions, and YouTube creator content. He has also won international awards for his advertising and promotional work. You can meet by visiting his "video booth" at HashTag business events across the country.