DIY Video Studio is supported by its readers. Please assume links on this site are affiliate links or ads, and that I get commissions for purchases made through these links. As an Amazon Associate, I earn from qualifying purchases. Thank you if you use any of the links.
If you want to start making YouTube videos, using your iPhone is a terrific way to start.
Putting your iPhone to work as a video camera is one of the easiest ways of producing videos. Plus, you only need a few inexpensive accessories to get going, one of which is a budget lav mic for iPhone use.
Before buying lots of expensive gear, like video lights, fancy backgrounds, and a gimbal, try to keep things as simple as possible.
To start making good YouTube or marketing videos all you need is your phone, a tripod, and a good budget lavalier microphone for your iPhone. The trouble is if you've never made videos before, how do you know what's a good budget lavalier microphone?
Fortunately, I've found some good budget iPhone Lav Mics and I've tested them in a real-world environment.
Last update on 2023-08-23 / Affiliate links / Images from Amazon Product Advertising API
What are lavalier microphones used for?
Lavalier microphones

, also known as lav mics, lapel mics, and clip mics, are used to record clear audio from you or your subject.
Since they are normally placed on or under clothing, they are close to your mouth, so your voice will be much louder than any background noise.
Lav mics are frequently used in video recording, television, and theater productions. This is because they tend to be unobtrusive since the microphone capsule is small and can be hidden on the talent's clothing.
Although the lav mic can be hidden beneath or between layers of clothing, frequently on TV news a lavalier microphone will be attached to a tie, lapel, or shirt.
Can I use any lavalier microphone for iPhone videography?
No, you can't use just any lav mic for iPhone video production.
Not all lavalier mics are made equal when it comes to iOS devices like your iPhone or iPad.
It usually comes down to the connector at the end of the microphone cable.
For instance, both my Audio-Technica ATR 3350 lav mic and my MOVO LV1 lav mic have 3.5mm jacks. But only one mic will work directly with my iPhone SE's headphone socket.
Here's the boring technical bit, but please read on. It will help you understand why some lav mics will work with your device and others won't.
A microphone with a TRS [Tip Ring Sleeve] jack won't work with an iPhone. But a lav mic with a TRRS [Tip Ring Ring Sleve] jack will work.
Check out the image below that shows the difference between TRS and TRRS jacks.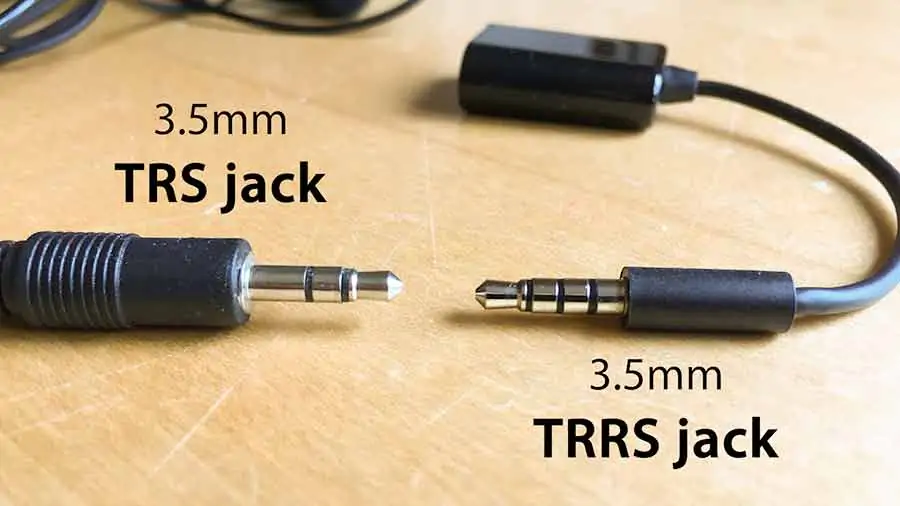 Fortunately, you can get adapters to effectively make a TRS jack work with your iPhone. However, check the product details to make sure that the microphone will work with your phone.
For a more detailed explanation of audio jacks check out CableChick's article Understanding TRRS and audio jacks

.
If you have an iPhone 7 or later, you won't have a headphone socket. However, you will have a lightning connector.
But you should still be able to record with a lav mic by using the lightning-to-headphone adapter that came with your phone.
Plug the adapter into your iPhone's lightning socket and then plug in your 3.5mm TRRS mic jack. If your microphone has a TRS mic jack you'll also require a TRS to TRRS adapter.
More recently, cheap lavalier microphones have become available that have Lightning connectors instead of 3.5mm mini jack plugs. This includes the Power De Wise lavalier iPhone microphone. It has a 12ft cable with a lightning connector and is compatible with all iPhones with a lightning connector, i.e. all iPhones from the iPhone 7 to 14.
Last update on 2023-09-10 / Affiliate links / Images from Amazon Product Advertising API
Back to the budget lav mic for iPhones
In Budget Video Production

, a Udemy course I co-instruct with Ken McGaffin on Udemy, I recommended the MOVO LV 1 and Audio-Technica ATR 3350is lavalier microphones.
Both are excellent choices for a wide range of cameras, smartphones, and digital audio recorders. However, I now have now added another budget-priced lavalier microphone that I recommend for iPhone and iPad video recording. It's the Power DeWise lavalier microphone. So, let's see how these mics compare.
The best budget lavalier microphone for iPhone audio test
For this real-world iPhone microphone review, I recorded with each lav mic on an iPhone SE. The camera app was FiLMiC Pro 6. To compare the output level from each microphone I kept the audio level slider in FiLMiC Pro at the same position for each recording.
The iPhone was mounted on a mini tripod and placed about 30 inches (75cm) in front of me. When testing the lav mics they were attached to my shirt. The mic-to-mouth distance was around 6 to 10 inches (15 to 25 cm).
The audio recordings have not been processed and the levels have not been normalized. What you'll hear is exactly what came straight out of FiLMiC Pro.
That's the lavalier microphone for the iPhone test complete. But before you decide which of these iPhone lavalier microphones was best, let's consider a few details.
Mic output level
The mic output level for the speech varied quite a bit across the three budget lavalier mics and the iPhone's internal mic. My voice peaked between -18 and -24 dB on the iPhone, although that's not surprising considering it was about 30 inches from my mouth. The Audio Technica was surprisingly low, my voice peaking between -12 and -18 dB. Next was the MOVO LV 1 peaking between -6 and -12 dB. The Power DeWise had the highest output, my voice peaking between -3 and -9 dB.
So, do the numbers matter?
Although the output from the mics did vary, they were all acceptable. The lowest could be boosted with FiLMiC Pro's audio level slider and the highest could be reduced in the same way.
Even if you recorded at the levels mentioned it would be easy enough to adjust in your video editor. This brings me to noise.
Background noise
To make a fairer judgment on any background noise I normalized each recording to the same level.
To be honest, I didn't notice a huge amount of self-noise from any of the microphones. At least not enough that it would put me off using any of them. The one that did seem a little noisier than the rest was the Audio-Technica. That was a bit of a surprise for me. Out of the three lav mics being tested, I would have regarded Audio-Technica to have the best reputation.
The background noise sounded not unlike distance road noise. No doubt some of the background noise was exactly that. So, it was difficult to tell any self-noise apart from the ambient background noise. If necessary, the noise can easily be cleaned up in an editor, but I wouldn't bother.
What I did notice with the Audio-Technica lav mic was that occasional mouth clicks became noticeable after normalizing the recording. That's something I didn't notice with the other microphones. The clicks aren't a huge worry since they can easily be fixed in an editor, such as Adobe Audition.
Frequency response
I'm not going to give data for each of the mics. Even where data is available on the packaging, I think it's more important to let your ears judge.
My personal preference is for a brighter tone to my voice recordings. If that were the only consideration, I would say the iPhone internal mic was the winner. However, the benefits of using a budget lavalier mic would bump the iPhone's internal mic down to the last place.
The more Bassy tone of the Lav mics can easily be adjusted. A little high-end sparkle and a slight roll-off below 1kHz make a significant difference to all three lavalier mics. To give your voice a bit more presence, apply the multiband compressor in Adobe Audition with the Broadcast preset. You will need to ease it off a little, otherwise, you'll end up sounding too much like a radio presenter.
The lav mics in my order of preference
Last update on 2023-08-23 / Affiliate links / Images from Amazon Product Advertising API
Taking performance and price into account I would put the microphones in the following order.
PowerDeWise
MOVO LV 1
Audio-Technica ATR3350is
iPhone internal microphone
For me, the Power DeWise was number one because of the reasonable sound quality and high output level. That's going to be a benefit if you or your interview subject are softly spoken. I could be confident that if I had to crank up the input level on the iPhone that I wouldn't end up with a noisy recording.
To be fair, the MOVO LV 1 was only slightly behind the PowerDeWise. It is a solid performer and I've used it often with other cameras, video recorders, and digital audio recorders. I wouldn't hesitate to plug the MOVO into my iPhone and record.
I put the Audio-Technica in third place purely because of the surprisingly low output level. It's something I hadn't noticed when using it on my other cameras. I certainly wouldn't discount using the Audio-Technica and have used it with the MOVO to record interviews.
Finally, the iPhone's internal mic. Yes, I know it's not a Lav mic but it was my baseline microphone. It sounded OK, albeit at an extremely low level. However, it will only sound like that when at arm's length for a selfie video. If I move while presenting the sound quality will change as my distance to the mic varies. With the lav mics, my mouth-to-mic distance stays the same, so the sound quality remains constant.
I'm a little surprised at the result, especially since Audio-Technica is a well-established name in audio products. I didn't expect to like the Power DeWise microphone as much as I did. If you want to keep your video-making inexpensive, the Power DeWise lav mic is a good budget choice.
UPDATE: Since first writing this article I have bought the Purple Panda Lav Mic. It's a good contender if you are looking for a lavalier microphone that will connect to almost ANY recording device. Although it's inexpensive, the sound quality is very good and the range of recorders it will work with is unsurpassed. To see the full specifications, see my article Purple Panda Lav Mic Full Specs and accessory list. To see how it connects to almost any device, see my article Purple Panda Lavalier Lapel Microphone: Not Working Fix.
Last update on 2023-09-20 / Affiliate links / Images from Amazon Product Advertising API
Afterthought on the iPhone's internal mic
As I mentioned earlier, I included the iPhone's internal microphone to have a baseline reference. It produced the quietest recording of my voice, peaking at between -18 and -24dB. That's not surprising considering the iPhone was about 30 inches from my mouth instead of about 8 inches for the lav mics.
However, in this test, the iPhone recording was surprisingly good. After boosting the level by 16dB and adding just a little bass the recording sounded nicely bright and natural. The result was almost as if I had been using a boom mic for the garden shoot.
So is it all hogwash that you can only record decent quality audio by not using the internal microphone on your iPhone, video camera, or DSLR? Not really. You must remember I shot the test outdoors in my garden. Consequently, there were none of the reverberations you would expect when shooting indoors. At more than arm's length, the iPhone mic would start sounding poor.
Recent Posts