DIY Video Studio is supported by its readers who use the affiliate links or ads on this site. As an Amazon Associate, I earn from qualifying purchases. Thank your support if you use any of the links.
The Canon EOS R

has a splendid feature that none of the YouTube camera channels are really talking about. It's not about being a full-frame mirrorless camera, or that it shoots 4K, or anything else that has made the EOS R Canon's bestselling camera. No, at first glance it's a simple and rather unexciting feature. But it can make a significant difference to you if you're on the road with your camera.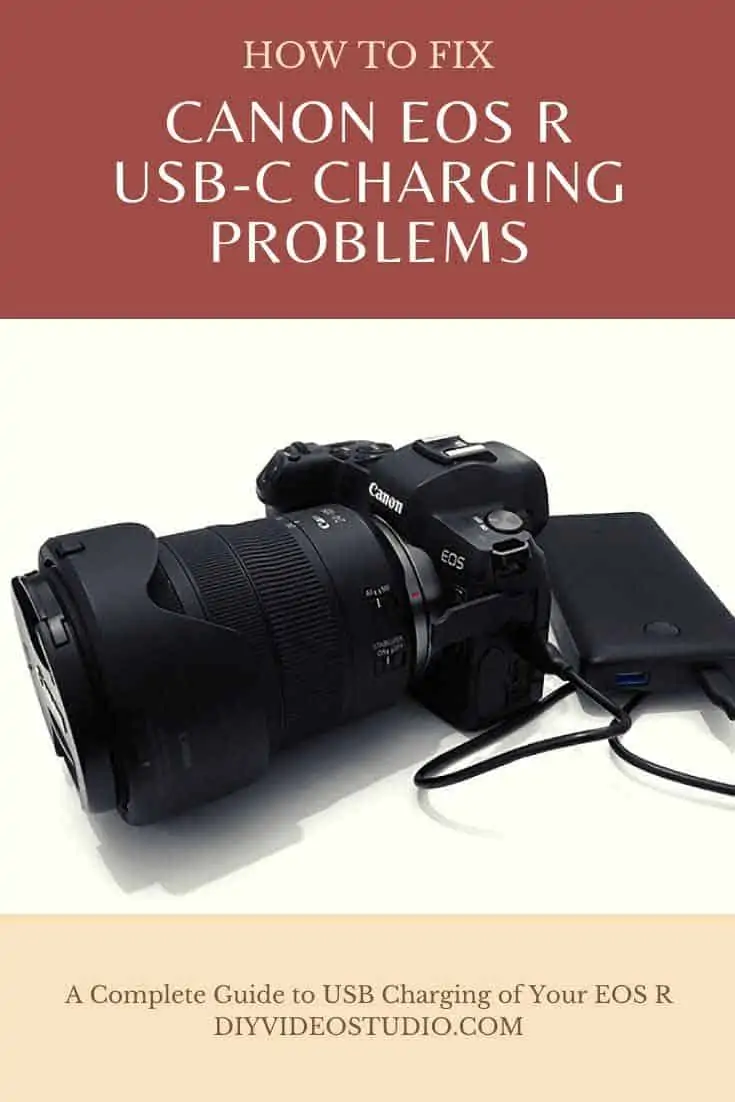 Canon EOS R USB-C charging allows you to charge the LP-E6N battery inside the EOS R. You can either use an AC power adapter or a power bank, provided it has Power Delivery.
Charging your Canon EOS R with the AC Adapter
Your EOS R will have come with a standard battery charger. Into the charger, you slip the included Canon EOS R LP-E6N battery pack. Then plug the charger into the wall power outlet, and a couple of hours later the battery pack is fully charged.
Charging your Canon EOS R battery with the AC Adapter is all fine if you're heading home or if you're on a trip or vacation and heading back to your accommodation. When you get to where you're staying you can charge your battery pack by plugging the charger into the wall power outlet and the next day, you'll be ready to shoot more photos or videos.
But say you're out hiking, trekking, or camping. Likely, there's not going to be a mains AC power outlet at the side of the track for you to plug your Canon EOS R AC adapter into. What you'll have to do is take plenty of those LP-E6N battery packs with you.
However, using Canon EOS R USB charging might be a better solution.
How to successfully charge your EOS R using the USB connector
DISCLAIMER: I have not been paid to promote any of the products mentioned below. Nor have they been supplied to me free of charge. I have personally bought and paid for the products I recommend. Click here for my recommended power bank or here for my recommended USB power adapters and cables.
STEP 1 Make sure your EOS R contains an LP-E6N battery pack and NOT the older LP-E6 battery or LP-E6 compatible batteries.
In other words, a genuine LP-E6N or the battery that came with your EOS R.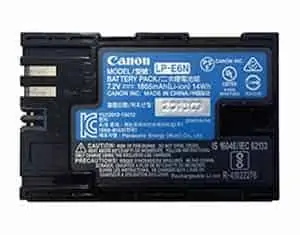 STEP 2 Ensure the battery compartment door is properly shut.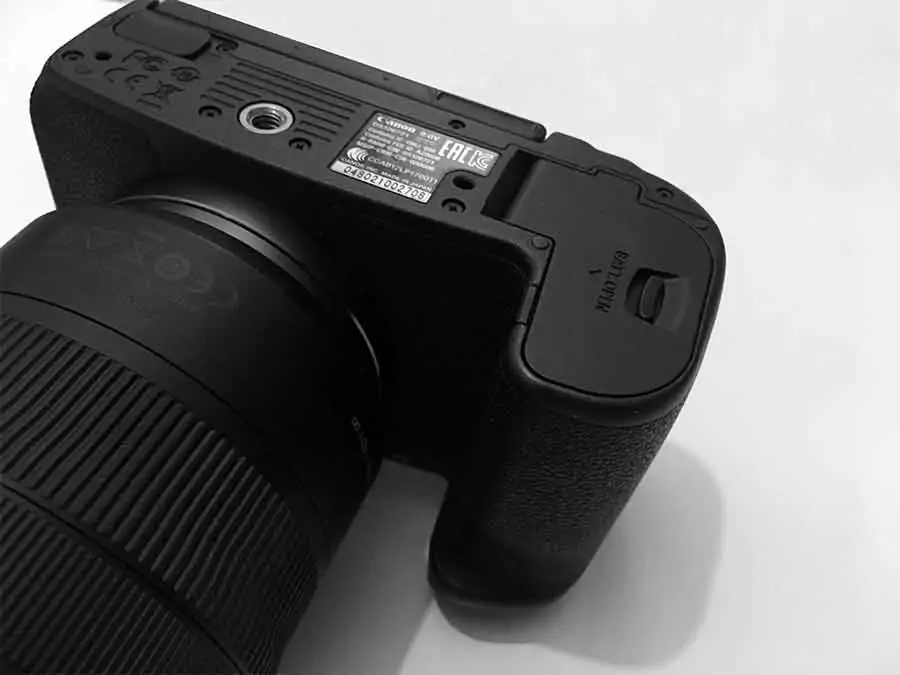 STEP 3 Use a high-power compatible USB-C cable. The cable that comes with my recommended Anker PD power bank works perfectly, as does the Anker Powerline II

USB-C to USB-C 3.1 Gen 2 Cable.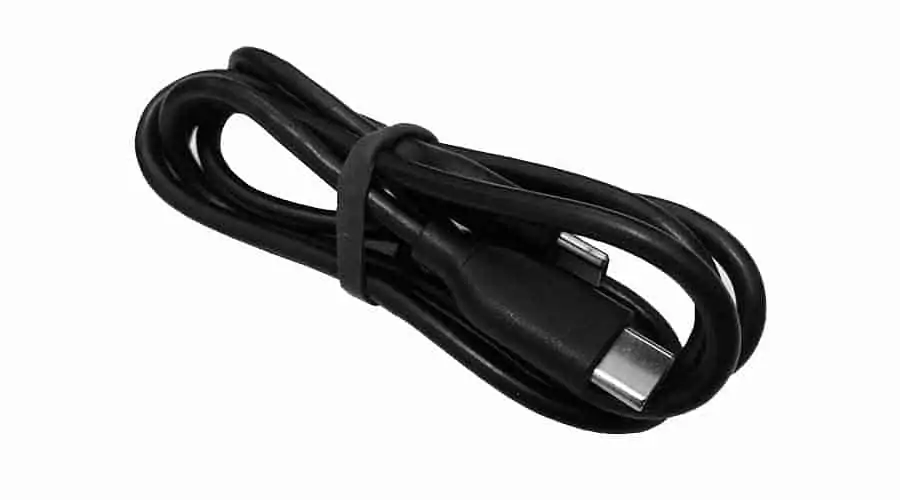 STEP 4 Turn off the camera. The battery will not charge inside the camera if it is switched on. The order of doing this is optional you could equally switch off the camera after connecting it to the adapter/power bank.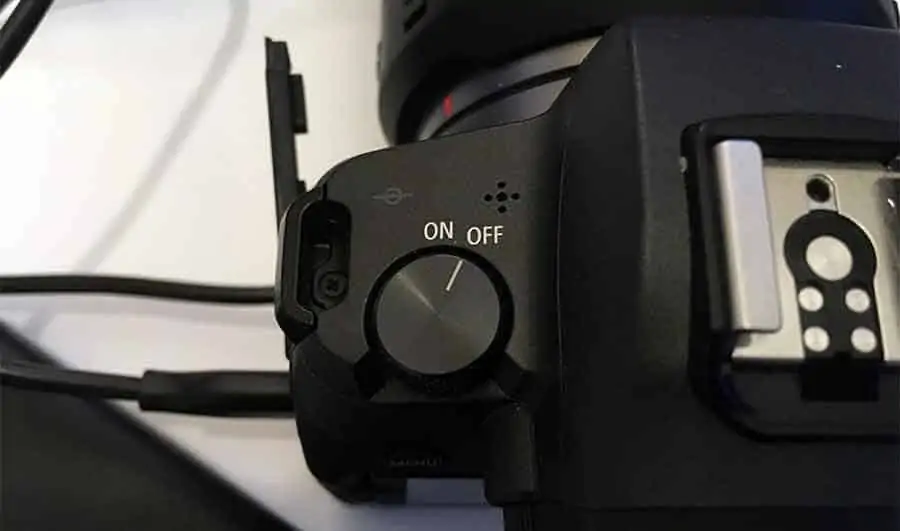 STEP 5 Only use a wall power adapter or a power bank that is certified to offer Power Delivery. For instance, my Anker PowerCore 20100 will not charge the camera's battery but my Anker PowerCore Essential 20000 PD

, which has Power Delivery, can charge the battery. Note that USB-C sockets that are Power Deliver enabled often have the letters "PD" next to them.
As a side note, you can also charge the camera's battery by connecting to a wall outlet adapter, such as the Anker PowerPort Atom PD 1

wall plug adapter, and the Anker PowerPort PD 2

wall plug adapter.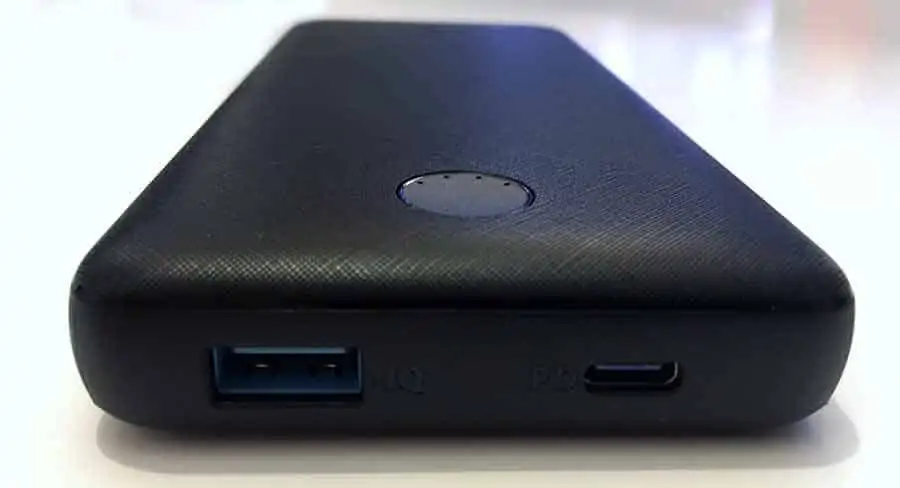 STEP 6 Connect the camera to the power adapter's or Power Bank's USB-C connector using the USB-C cable that comes with the power bank. Please note that the USB-C connector on the adapter/power bank is the only one that will have the PD protocols.
If the adapter/power bank also has a USB-A connector (the large original type of USB connectors) it will NOT work, and your camera's battery will not charge.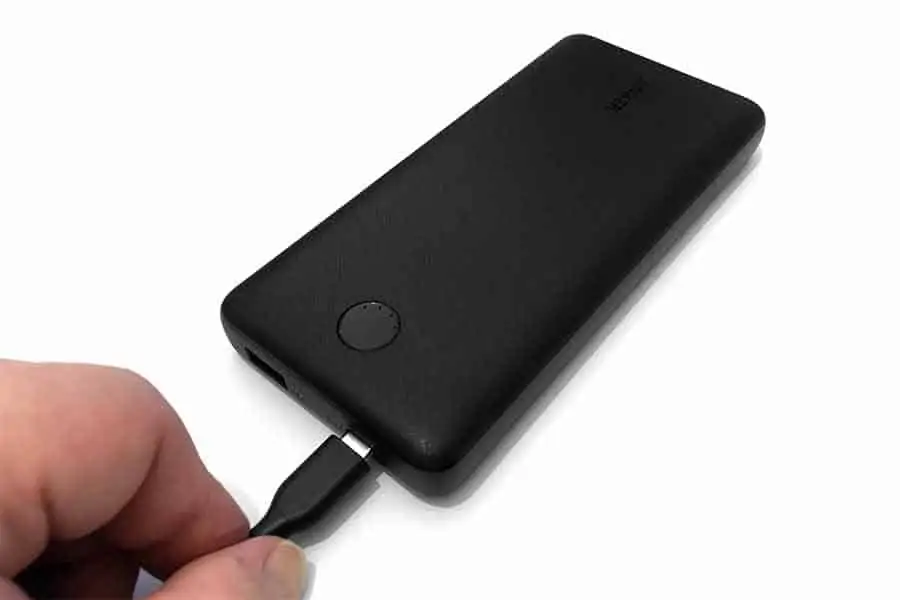 STEP 7 Once connected, check the LCD display on the top of the EOS R. If everything is working you will see the display change to the charging battery icon. On the back of the camera, the LED above and a little to the right of the delete button will turn a solid yellow/green color.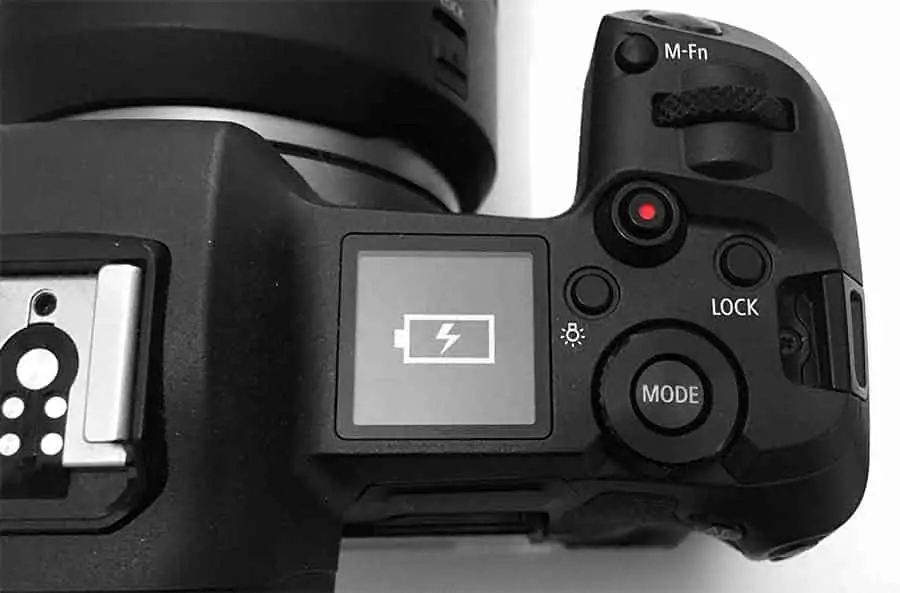 STEP 8 When the battery charge is complete the LED will go out and the LCD display will show the battery icon with the word "FULL" within it.
When I used this method of charging the EOS R battery pack it took about 2hrs 35min to charge from the flashing red battery empty warning to FULL.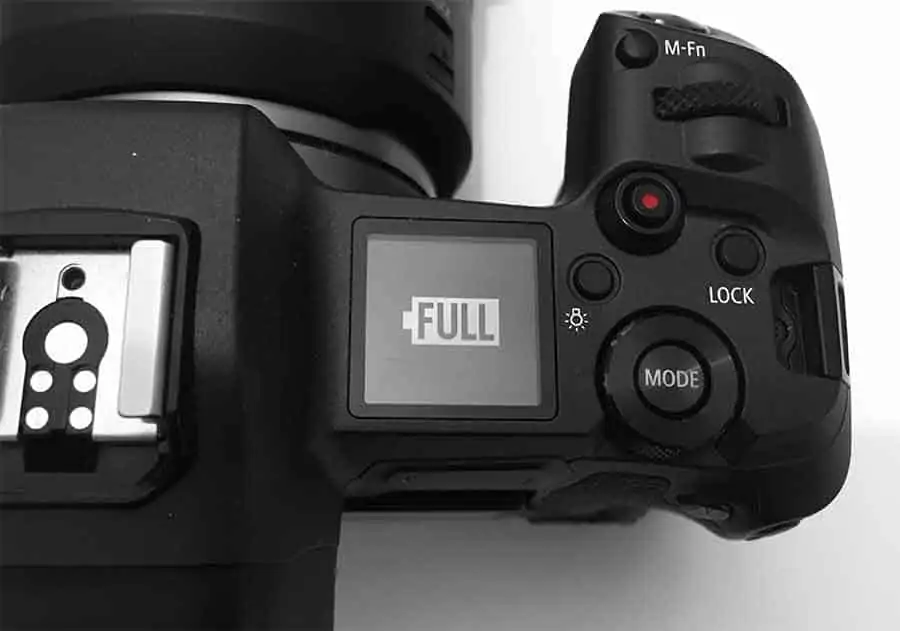 Are you having problems with Canon EOS R USB charging?
Several users have reported that they cannot get USB-C in-camera charging to work with their EOS R. I suspect that the type of USB-C cable may be important regarding the success of USB charging. Although USB-C cables may look the same, unfortunately, they are not all made equal.
I cannot say for certain which generic USB-C cables are compatible since I have not tested the various cables that are available. However, I have direct experience with three specific cables, and I know that they work.
If you use the USB-C cable that came with the EOS R you should have no problems at all. It is also fine to use the cable that comes with the Anker PowerCore Essential 20000 PD power bank. The third cable is the Anker Powerline II USB-C to USB-C 3.1 Gen 2 Cable. It's available through this link

on Amazon.
All three of these cables have worked for me, whether using the Anker Power Delivery power bank or the Anker PowerPort adapter. I assume USB-C cables supplied with other Anker Power Delivery power banks should also work.
It's also worth checking two other points.
Make sure your camera is switched off and the battery compartment door is securely closed.
Your battery must also be a genuine Canon LP-E6N battery pack. If you know which battery came with the camera it will be easy to confirm. However, if you have bought a few spare batteries, are you sure they are genuine.
A reader from the US recently got in touch because he couldn't get in-camera USB-C charging to work with the used EOS R he had bought. We finally tracked down the problem to the battery he was using. He sent me a photograph and it looked exactly like a genuine Canon LP-E6N battery but was, in fact, a counterfeit. Your EOS-R can tell you whether the battery is an LP-E6N or a replacement LP-E6 battery relabelled to appear to be an LP-E6N.
This is what you should do to check.
With the battery in the camera open the menu and go to the third page of the wrench menu. Select Battery info. on the fourth line down and at the top of the screen, you should see LP-E6N if the battery is genuine. If it is an LP-E6 battery that is what will be displayed on the screen.
One thing that I don't think is a cause of having USB charging problems is the camera's firmware. I have tested USB charging with firmware versions 1.4.0 and 1.6.0. However, I have not tried under version 1.0.0 or 1.2.0, so I cannot be certain.
I've recorded a video that goes through these points to solve your Canon EOS R USB charging problems. If it helps you, please like the video and remember to subscribe to my channel.
What is EOS R USB charging?
Canon has added a USB-C socket to the EOS R, and although the camera manual talks about using a USB-C cable to transfer images from the camera to your computer, that connection can also do something else. That 'something is a useful feature if you don't have the AC battery charger with you, or if using the wall power outlet just isn't an option.
You can also use the camera's USB-C socket to charge the battery pack while it's still in the camera. Which is kind of cool, but there is a bit of a caveat. In fact, a couple.
First up, the battery must be an LP-E6N. That's the type of battery that comes with the EOS R. It can't be the older LP-E6 battery pack, which you may have from a previous camera or one that you've picked up online. You can use the older design of the battery to power your camera, but you won't be able to charge it inside the camera. In-camera charging only works with the LP-E6N.
The second caveat is that the charger you use with the Canon EOS R USB-C connector must be Power Delivery capable. This is particularly important. If the charger doesn't provide Power Delivery then in-camera charging of the battery won't work.
What this means is that Canon would like you to believe you need an extra piece of equipment, the Canon PD-E1 USB Power Adapter.
Is the Canon PD-E1 USB Power Adapter the best solution?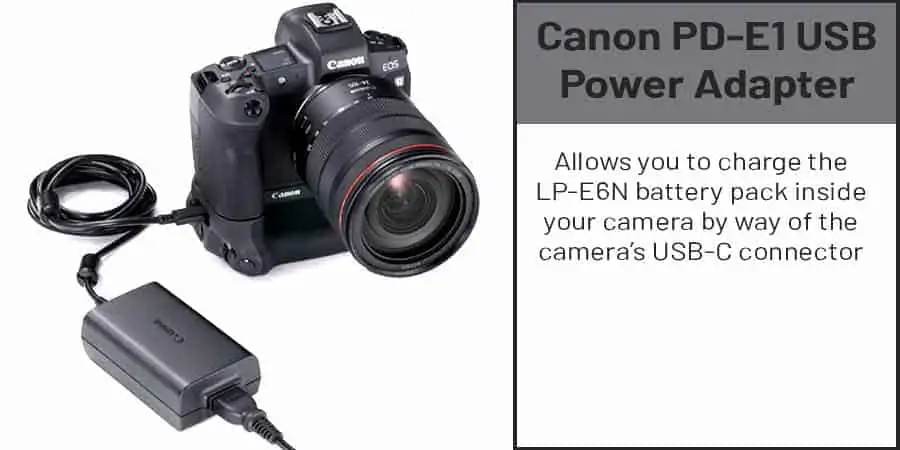 This USB EOS R power adapter from Canon

is a nice piece of kit, but, even though it gets the job done, I won't be recommending it.
The thing is, there are third-party solutions that can do a better job of in-camera battery charging and at a much more sensible price. That's the thing Canon would like to keep you from finding discovering.
You see, the Canon PD-E1 USB power adapter is on Canon's US website for $190. What, you must be kidding me! They want people to spend almost $200 for a couple of cables, and an oversized plastic box that contains a few relatively cheap electronic components! No way can I recommend that you buy that.
Furthermore, the main advantage of in-camera battery charging is that you can do it on the go and when you're away from a power outlet. If you need to charge your batteries from the wall power outlet you've already got a charger that can do that. The charger came with your brand-new EOS R. So, I consider the PD-E1 USB power adapter to be an overpriced technical solution for a problem that doesn't exist.
OK, maybe I'm complaining a bit much.
Perhaps I can think of a situation where I could justify using this power adapter. Maybe I have two batteries that need charging at the same time. I could use the standard battery charger to charge one battery and use the USB power adapter to charge the second battery in the camera.
The trouble is, I can do the same thing by spending a fraction of the $190 that I would have to pay for the PD-E1 USB power adapter.
There seems to be some confusion amongst some people writing in online photography forums. Canon has NOT locked the EOS R (or RP) so you must use the PD-E1 USB power adapter. Where people have been unsuccessful with EOS R USB-C charging it's down to using the wrong equipment.
One of my go-to brands for most of my mobile accessories is Anker. I have many of their power banks, wall socket adapters, and wireless Bluetooth earbuds. I haven't had any problems with any of them and would happily recommend any of them. So, it's natural that when I wanted a power adapter that would do the same job as Canon's USB power adapter, but for a lot less, I would turn to Anker.
Recommended USB power adapters and cable
I've found two equally good adapters to charge your EOS R (or RP) battery from a wall adapter. They are the Anker PowerPort Atom PD 1 wall plug adapter and the Anker PowerPort PD 2 wall plug adapter.
They are both highly rated, but more importantly, I know they will charge the EOS R (or RP) battery inside the camera.
Both adapters have an impressive spec, are reliable, and come at a modest price.
The Anker PowerPort Atom PD 1 wall plug adapter picked up an innovation award at CES 2018. For more details or to buy on Amazon

, follow the link.
The Anker PowerPort PD 2

wall outlet adapter is another excellent alternative to Canon's adapter but at a much better price.
This adapter combines Anker's PowerIQ technology through the USB-A socket with Power Delivery for USB-C. PowerPort PD 2 is the one charger you need for virtually any device.
If you are looking for a USB-C cable that will work with these adapters and the Anker PowerCore Essential PD power bank I recommend the Anker Powerline II

USB-C to USB-C 3.1 Gen 2 Cable.
As with the other products I have tested it and know that it works with my EOS R.
However, the real advantage of having EOS R USB charging is that it can cut that link to the wall power outlet.
How do I charge my EOS R from my laptop?
If you are traveling you may take your laptop with you. It would, therefore, be useful if you could charge your EOS R from the laptop.
Although I cannot vouch that all laptops will charge a Canon EOS R, I can say with 100% certainty that I have successfully done so with my set up.
I have an Optimus Series Windows 10 laptop from PC Specialists. I bought it in the summer of 2019, and it includes a USB-C 3.1 port. Using the Anker Powerline II

USB-C to USB-C 3.1 Gen 2 Cable I have charged my EOS R battery from my laptop without experiencing any problems.
So, if you don't have a Power Delivery power bank, try using the USB-C 3.1 port on your laptop. The same technique should work with desktop PCs equipped with a USB-C 3.1 port, although it will obviously only be of use when charging at home or the office.
Why use USB-C charging with your Canon EOS R
As I've already said, the USB-C connector on the EOS R (also the EOS RP) allows in-camera battery charging. This is a beneficial feature if you are on a trip that takes you away from AC wall sockets. However, you also need to be able to take some external power with you.
Enter the Anker PowerCore Essential 20000 PD USB C portable power bank

.
This incredible power bank measures 6.4 x 2.9 x 1 inches and weighs 12.2 ounces. It also packs quite a punch.
It's a High-Capacity 20000mAh (18W) Power Delivery Power Bank. It has two output ports, 1x USB-C (PD) and 1x USB-A (PIQ2.0).
The recharge of the power bank is by USB-C to USB-C PD and takes 6.8hrs, so you will need a Power Delivery power adapter, such as the Anker USB C Charger Wall Charger with Power Delivery mentioned above.
The Anker PowerCore Essential power bank has a capacity of 20,000mAh. This is a much higher capacity than the 1,865mAh of the Canon LP-E6N battery used to power the EOS R. Under ideal conditions, the Anker power bank should be able to recharge the camera's battery ten times. That's very impressive, especially when you consider the cost savings.
Think about it this way. If you head off for a photo or video shoot that takes you away from mains power for several days, one power bank would be the equivalent of taking ten Canon LP-E6N batteries. With Canon EOS R USB external power, you only need to take one camera battery plus the Anker power bank. That one power bank saves you taking up to nine extra camera batteries. Since a genuine Canon EOS R battery costs about $60-$70, that's like saving over $600 by using in-camera charging with an external power bank.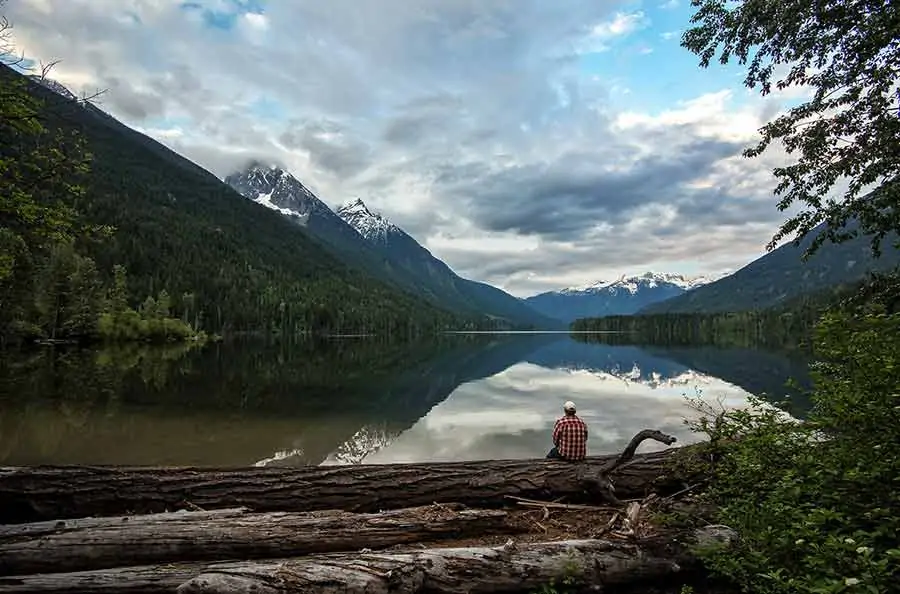 Even if you don't intend to take so many photos or shoot hours of footage, cutting yourself free of the mains charger is something that's attractive. Your camera's battery could even be charging in your kit bag while you travel between destinations.
The Anker PowerCore Essential 20000 PD USB C power bank is available on Amazon.
Anker USB C Power Bank, PowerCore Essential 20000 PD (18W) Power Bank, High...
The Anker Advantage: Join the 50 million+ powered by our leading technology.
Ultra-High cell Capacity: The massive 20, 000mAh cell capacity provides more than 5 and a half...
High-Speed Charging: deliver an 18W high-speed charge to phones, Tablets, and more via the USB-C...
Rapid Recharge: Pair the included USB-C to USB-C cable with an 18W Power Delivery wall charger (not...
Last update on 2023-09-20 / Affiliate links / Images from Amazon Product Advertising API
Tosh Lubek has been using the Canon EOS R since it was launched in the autumn of 2018. He uses the camera for stills but mainly in his video production business. Tosh says the EOS R is a superb workhorse, whether he's creating YouTube videos, corporate website videos, or TV commercials.
Recent Posts