DIY Video Studio is supported by its readers. Please assume links on this site are affiliate links or ads, and that I get commissions for purchases made through these links. As an Amazon Associate, I earn from qualifying purchases. Thank you if you use any of the links.
EOS R Specs (video)
If like me, you bought a Canon EOS R primarily to shoot video you will know that the user manual can be frustrating. Since the EOS R is primarily a stills camera, understandably the manual is full of info on shooting stills. The videographer must hunt through the user guide, and online, to find the relevant Canon EOS R specs for video.
Hopefully, this article will help. I have tried to bring together the main Canon EOS R video features in one place. From the size of the sensor to compression. I hope you find it useful. If you have specific questions that I have missed please leave them in the comments.
Sensor size
Full frame 35mm (36.0mm x 24.0mm)
30.3 megapixels (6720 x 4480) CMOS Sensor
11.6 megapixels (4176 x 2784) in movie crop mode
The Canon EOS R is a full-frame mirrorless camera that offers the videographer the ability to shoot 4K, Full HD, and HD movies. However, full-frame shooting is only available in FHD/HD modes. 4K (UHD) video is cropped by about 1.8x.
Focusing
The EOS R offers Dual Pixel CMOS AF with Face/Eye Detection and Tracking AF, Movie Servo AF, and Manual Focus.
Video ISO
4K – Auto: 100-12800, H: 25600, H: 32000, H1: 51200, H2: 102400
Full HD/HD – Auto: 100-25600, H: 32000, H1: 51200, H2:102400
Video/Audio format/codec
The movie format is MPEG4 AVC/H.264 variable (average) bit rate, Audio: Linear PCM. Therefore, the output files will be compatible with most editing software and players.
Color Depth/Sampling
Whether you are recording 4K, Full HD, or HD footage the color depth/sampling is the same. The camera records internally to the cards with YCbCr 4:2:0 (8 bit) color sampling and the Rec. ITU-R BT-709 color space. This applies whether you are using normal video recording or Canon Log.
However, you can record 4K (UHD) uncompressed 8bit or 10bit (YCbCr 4:2:2) video externally. To do this you will need an external recorder such as the Atomos Ninja V.
Shooting videos in Canon Log (C-Log)
Unlike some of the other Canon cameras, the EOS R has C-log ready installed. There is no need to send your camera back to Canon to have C-log installed as a paid-for upgrade.
It can be activated in the camera's menu. Go to the fourth screen in the camera settings and you will see Canon Log settings as the fifth item in the list. Click on it and the next page gives you three options.
[Off], [On (8bit)], and [On (10bit)]
[On (8bit)] allows you to record an 8bit video with C-Log internally to the SD card.
[On (10bit)] allows you to send a clean 10bit 4K video feed with C-Log to an external recorder, such as the Atomos Ninja V. A notice is displayed to remind you that card recording is not supported with 10bit C-Log.
Although you can select [On (10bit)] when not connected to an external device, when you come out of the camera's menu screen you will see an overlay on your display. It again reminds you that card recording is not available when Canon Log is set to [On (10bit)] and to connect 10bit 4K equipment to the HDMI output.
Canon Log (C-Log) View Assist
Unless you want to see a 'flat' image on the camera's display while C-Log is on you probably will want to turn on the C-Log View Assist.
In the camera's menu go to the fourth camera settings screen and click on Canon Log settings. If you have already selected C-Log 8bit or 10bit recording you will see View Assist below Canon Log in the menu screen. Click on it to toggle between On and Off.
Resolution and framerates
UHD 4K (3840×2160): 29.97p, 25.00p, 24.00p, 23.98p
FHD (1920×1080): 59.94p, 50.00p, 29.97, 25.00p, 23.98p
HD (1280×720): 119.9p, 100.0p, 59.94p, 50.00p, 29.07p, 25.00p
HDR video mode FHD (1920×1080): 29.97p, 25.00p, 24.00p, 23.98p
HDR video mode HD (1280×720): 29.97p, 25.00p
Note that Full HD 59.94P and 50.0P are not available when shooting with EF-S lenses.
Video Bitrates
Bitrates are an important aspect of the Canon EOS R video specs. All things being equal you can expect higher video quality from higher bitrates.
4K (29.97p/25.00p/24.00p/23.98p) [ALL-I] 480 Mbps
4K (29.97p/25.00p/24.00p/23.98p) [IPB] 120 Mbps
Full HD (59.94p/50.00p) [ALL-I] 180 Mbps
Full HD (59.94p/50.00p) [IPB] 60 Mbps
Full HD (29.97p/25.00p/24.00p/23.98p) [ALL-I] 90 Mbps
Full HD (29.97p/25.00p/24.00p/23.98p) [IPB] 30 Mbps
Full HD (29.97p/25.00p) [IPB Light] 12 Mbps
HD (119.9p/100.0p) [ALL-I] 160 Mbps
HD (59.94p/50.00p) [ALL-I] 80 Mbps
HD (59.94p/50.00p) [IPB] 26 Mbps
HD (29.97p/25.00p) [IPB] 13 Mbps
These bitrates are as quoted by Canon. In my tests, I have found the actual bitrates to be a little less.
Video compression
Two types of video compression are mainly available on the EOS R. ALL-I, and IPB. These are available for most 4K, FHD, and HD frame rates. In the case of shooting High Frame Rate Movies, only ALL-I compression is available. In HDR movie mode only IPB compression is available.
ALL-I Compression
With ALL-I each frame is compressed individually. Although this produces larger video files, the image quality will be better. Because each frame is kept in ALL-I compression, these video files are better suited for precise frame-accurate editing.
ALL-I compression produces files that are about 3x the size of IPB compressed files because more detail is retained. For professional shoots, scenes with a lot of movement or detail, where the best quality is required, choose ALL-I compression.
IPB Compression
In IPB compression a keyframe, or interframe, is kept every half second. The visible changes between interframes are also kept. The compression system uses the data from neighboring interframes and that from the visible changes to work out what the in-between frames should look like.
IPB compression will produce smaller video files with lower bitrates. This will allow you to use slower, and therefore cheaper, video cards.
You might use IPB compression when recording long videos, such as events, functions, or even vlogs, which do not require frame-accurate editing. You could also choose IPB compression if you need smaller file sizes.
Memory cards for video recording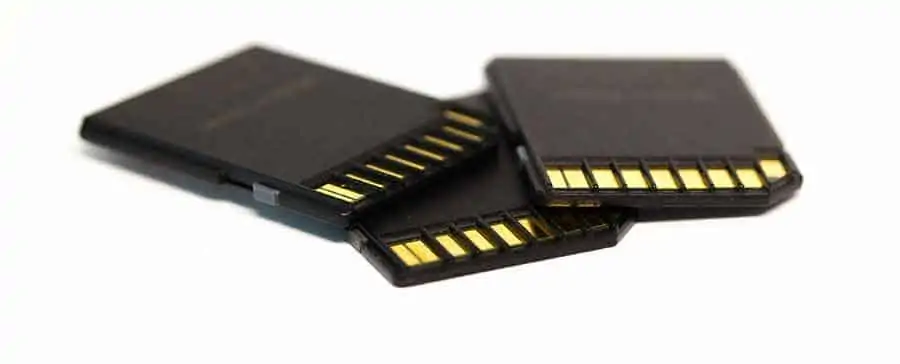 1x slot for SD/SDHC/SDXC UHS-I and II
These are the minimum card requirements Canon recommends for various resolutions, Canon EOS R video frame rates, and compression types. Note that it assumes that movie cropping and movie digital IS are disabled.
4K
29.97P, 25.00P, 24.00p,23.98P
ALL-I
UHS-II, Video Speed Class 60
4K
29.97P, 25.00P, 24.00p,23.98P
IPB
UHS-I, UHS Speed Class 3
Full
HD
59.9P, 50.0P
ALL-I
UHS-I, UHS Speed Class 3
Full
HD
59.94P, 50.0P
IPB
SD Speed Class 10
Full
HD
29.97P, 25.00P, 24.0P, 23.98P
ALL-I
UHS-I, UHS Speed Class 3
Full
HD
29.97P, 25.00P, 24.0P, 23.98P
IPB
SD Speed Class 4
Full
HD
29.97P, 25.00P
IPB
lite
SD Speed Class 4
HD
59.94P, 50.00P
ALL-I
SD Speed Class 10
HD
59.94P, 50.00P
IPB
SD Speed Class 4
HD
29.97P, 25.00P
IPB
SD Speed Class 4
HD
119.9P, 100P
ALL-I
UHS-I, UHS Speed Class 3
Source: Canon's website
Maximum shooting duration
The maximum length of any single 4K, Full HD, and HD video clip is 29min 59sec.
High frame rate videos (HD) maximum duration is 7min 29sec.
Being limited to just under 30min is not something peculiar to the EOS R but is a standard feature on DSLR/mirrorless cameras. This length stems from the EU tax rules on video cameras. If you could shoot for longer the camera would be reclassified as a video camera and subject to higher taxes. Even though other regions may not apply similar tax rules, it is easier for camera manufacturers to apply the 29min59sec limit to cameras for all territories.
Note there is no 4GB file limit when using exFAT formatted SDXC cards.
Approx. recording time on a 128GB card
This table shows typical recording times on a 128GB card for the various video resolutions, frame rates and types of compression. It assumes movie cropping and movie digital stabilization are not enabled.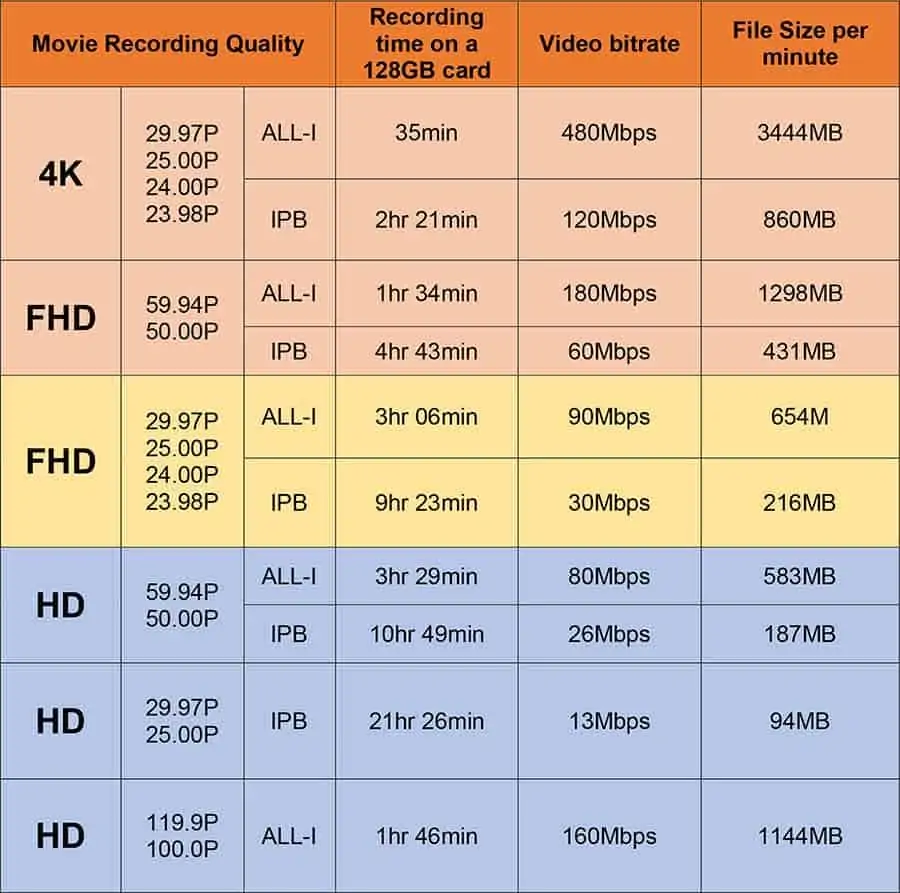 Source: Canon's website
Movie Cropping
EF-S crop
Usefully, you can mount EF-S lenses on the EOS R. However, the camera recognizes the type of lens and automatically crops the image. Effectively making the EOS R an APS-C crop sensor camera with a 1.6x crop factor.
So, for example, if you mount the EF-S 10-18mm on the EOS R it would have the same field of view as an equivalent 16-29mm lens.
4K crop
Unfortunately, the EOS R does not offer full-frame UHD movies. The crop factor you can expect is about 1.8x. A considerable amount of criticism has been leveled against Canon for not offering full frame 4K.
Some claim the 1.8x crop on 4K footage is a deal-breaker. Personally, I do not find it a problem. If recording YouTube videos I will often use the RF 24-105mm kit lens or an EF-S 10-18mm lens. I will use the EF-S lens if hand-holding the camera, where the 24-105mm would prove far too heavy.
RF and EF movie cropping
It is possible to select movie cropping when using RF and EF lenses. The result will be a telephoto type effect, where the cropping is around the center of the image.
The crop factor is 1.6x, so it is equivalent to a Canon APS-C camera.
Histogram
You can choose between brightness or RGB histograms to be displayed on the screen. You can also choose the size of the histogram, large or small.
Unfortunately, as soon as you start recording the histogram disappears off the screen. Regrettably, the EOS R does not have a waveform monitor (WFM), something that would be extremely useful.
Movie Digital Stabilization (IS)
The EOS R does not have in-body stabilization (IBIS). It does, however, offer Movie Digital Stabilization (IS) but this results in a small amount of image cropping.
You can select [OFF], [Enable], or [Enhanced] by pressing the Q/Set button and navigating to digital stabilization on-screen icon.
Many videographers say the digital IS is unusable, although it can be useful, especially if you have shaky hands.
What I dislike about this feature is how, at the end of a camera movement, the digital IS slightly rotates the image to straighten the vertical (horizontal) lines. So handheld pans always seem to finish with this little corrective rotation at the end of the pan.
On the plus side, several Canon lenses provide optical stabilization. But it would be much better if the camera offered 5-axis sensor stabilization. Perhaps future versions of the EOS-R will include IBS.
Video resolution and lens mount type
Whether you attach an RF, EF or EF-S lens to your EOS R camera, you will be able to shoot all the way up to 4K footage. However, with EF-S lenses the EOS R automatically crops the image. The same is true if you shoot 4K.
RF Lens mount
The Canon RF mount was launched with the release of the Canon EOS R camera in October 2018. It allows the use of the growing range of RF lenses. With one of the three lens adapters produced by Canon, the RF lens mount on your EOS R can take any Canon EF or EF-S.
At 54mm, the RF mount has the same inner diameter as Canon's EF mount. However, the inner flange focal distance of the RF mount is just 20mm, instead of 44mm on the EF and EF-S mount.
EOS R LCD Screen Blanking
If you are new to DSLR/DSLMs, like the EOS R, you may find you are having the same problem with the LCD screen, just like I did. Whenever I got close to the rear of the camera the LCD screen would go blank.
The truth is, it is meant to happen. When you put the camera's EVF up to your eye to take photos you don't want the LCD screen to stay on. But it's not so handy if you're on a video shoot.
Often, when performing a tilt on my tripod, the eye detection sensor would interpret the dark of my jacket, pants, or ground and turn off the screen. That's not such a good feature for a videographer I've written an article on how to disable the EVF eye detection feature that makes the camera screen go blank

.
Tosh Lubek runs an audio and video production business in the UK and has been using the Canon EOS R since it was released in the Autumn of 2018. He has used the camera to shoot TV commercials for Sky TV, promotional business videos, videos of events and functions, and YouTube creator content. He has also won international awards for his advertising and promotional work. You can meet him by visiting his "video booth" at HashTag business events across the country.
Recent Posts