DIY Video Studio is supported by its readers who use the affiliate links or ads on this site. As an Amazon Associate, I earn from qualifying purchases. Thank your support if you use any of the links.
I regularly work with Adobe products to create videos for my clients and for my own YouTube channels. That also means I frequently need to archive video projects to free up disk space and keep my computer running smoothly.
In a previous article, I explained How to Save or Export a Premiere Pro Project with all Files but in this post, I'll give details of how I use the After Effects collect files tool in After Effects to ensure my saved projects include all the files and assets I've used. This ensures that I don't get the After Effects missing files error message when I transfer the project and try to reopen it on another computer.
To collect all the After Effects project file and assets into a single folder, in the main menu go to Files > Dependencies > Collect Files…. This will let you create a folder that contains the After Effects project file, a Footage folder containing all media assets, and a report of the process.
Why you need to collect files After Effects project and files
When you're working on a project it's quite easy to use assets that are not in your project folder. That can include images, video clips, and even LUTS that are kept elsewhere. That's not a problem if the assets remain in their original locations on your computer.
However, if you move the project or the assets you've used in the project, the next time you open it After Effects will report that there are missing files.
In the next section, I'll explain how to collect files in After Effects and finally, how to find and relink files in After Effects.
How to collect your files in After Effects to avoid missing files
I find it useful to collect the After Effects project files and assets into a single folder when archiving a project or moving it to another computer. This ensures that the project will open properly, without any missing files or error messages.
We're going to save the After Effects project file in a folder, alongside a "Footage" folder that will contain all the assets used in the project and a text report on the process.
Step 1: With your After Effects project open, go to the main menu bar and click on File. On the dropdown list that opens, hover over Dependencies, this will cause its submenu to open. Now click on Collect Files….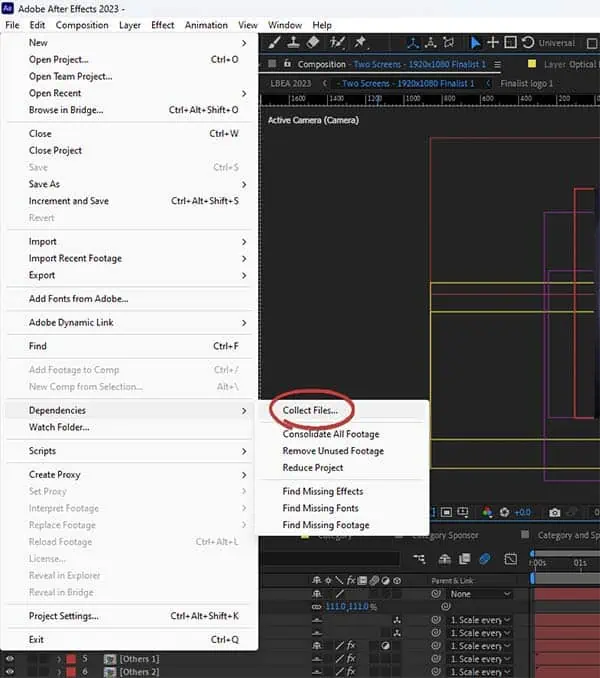 Step 2: The Collect Files dialog box will open and at the top you'll see Collect Source Files along with an options window and a reveal arrow. Click on the arrow to see the available options and select All from the dropdown list.
Use this option if you're archiving the whole project or intend to transfer the project to another computer. But if you just want to collect the assets for selected compositions, there are options for that.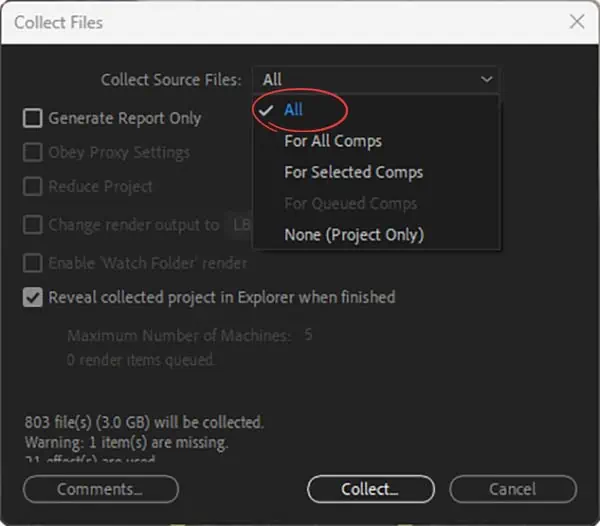 Step 3: Next, make sure Generate Report is unchecked. If left checked no files and assets will be collected and After Effects will only generate a text report.
Leave Reveal collected project in Explorer when finished checked. This will mean at the end of the process you'll see the folder where the project has been saved.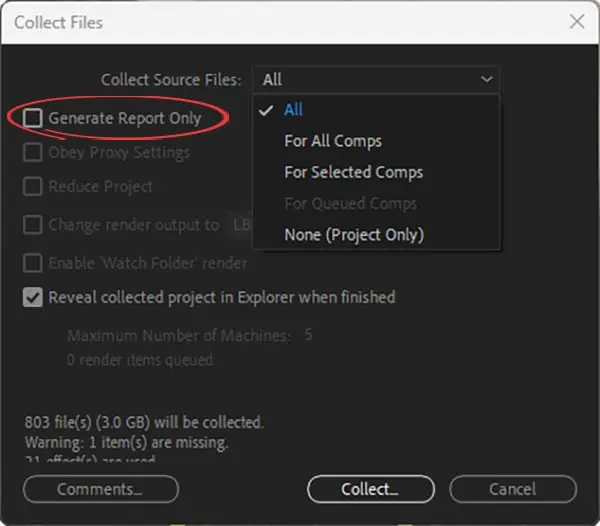 Step 4: In the bottom left corner of the Collect Files dialog box there's a Comment button. If you want to add a comment to the process report, click on the button and type your comment into the Comments window that opens. This can be useful if there's some information about the project that you need to pass on to someone you are collaborating with or if you just want to remind yourself of something next time you reopen the project. Once you're done typing, hit OK. Your comment will be added to the end of the report text file.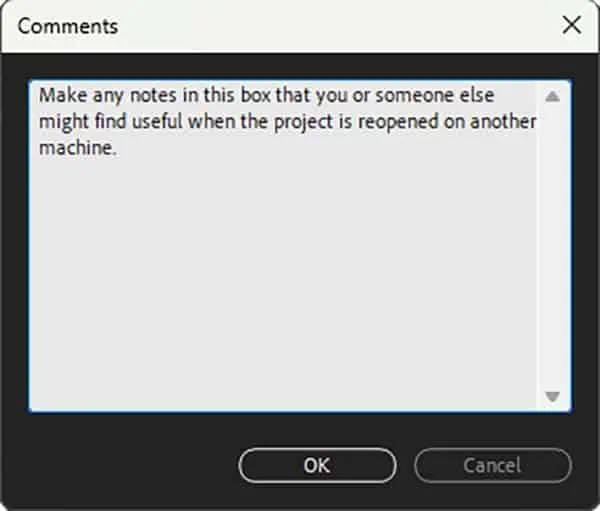 Step 5: Finally, click the Collect… button, and a Windows Explorer window opens so you to navigate to the folder where you want the project to be saved. Once you're there, click Save. The File Explorer window will close, and the Collect Files progress panel will open, which shows the estimated time to completion and shows what files are being copied.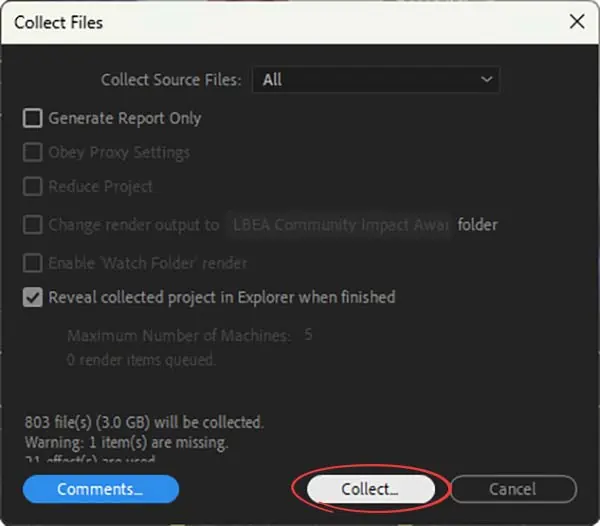 When the process is complete the folder where you saved the project will open. It will contain the After Effects project file, the Footage folder containing all the project's assets, and the report. If you open the Footage folder, you'll see all your media assets.
That's how to collect all your After Effects project files into one place, but what do you do next?
How to send After Effects project with files to another computer or colleague
If you are going to archive the project or send it to a colleague, you can just copy the folder that contains the After Effects project you just collected. However, this can take up more space and transfer time than necessary.
A better solution is to compress the After Effects folder to a zip file. Instead of dealing with a folder that contains many individual files, you're now only having to work with a single file. Furthermore, the total file size will be less, so the time for upload and download will be reduced.
To compress the project folder right click on it and select Compress to Zip File. A zipped folder will be created in the same folder as your project. Depending on the size of your After Effects project this could take some time. You can then transfer the compressed file to your archive or send it to someone else using a service like WeTransfer.
Summary
So that's how I archive my After Effects projects. I don't share my After Effects projects, but I sometimes do need to revisit them. For instance, I made a TV commercial or spot about three years ago and each year since my client has asked for minor changes. By using Collect Files in After Effects I know all the original assets are going to be in the project when I reopen it.
Here's a big ask from me: If you liked this article, please share it.
It will mean a great deal to me if you share this post because a few seconds of your time will seriously help my blog grow. The share buttons are below the "About Author" section.
Thanks. 🙂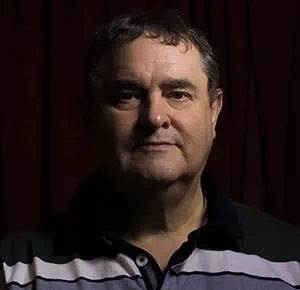 About the author: Tosh Lubek is a multi-award-winning broadcaster, writer, and video producer, with 40 years of experience in professional broadcasting and has been using Canon video and stills cameras since 2010. He has worked with radio and TV broadcasters, advertising agencies, and direct clients on a variety of projects including radio and television advertising, online video production, corporate videos, award ceremony motion graphics, and theme park sound design. Tosh has won numerous awards, including a Radio Academy Awards Gold Sony, a Gold, Silver, and Bronze World Medals in the New York Festivals International Advertising Awards. Since about 2007 he has been creating YouTube videos. Tosh has been a sponsor of the "video booth" at HashTag Business Events across the UK.
Recent Posts