We're an affiliate: We hope you love our articles and the products we recommend! Just so you know, when you buy through links on this site, we may earn an affiliate commission. Thank you if you use our links, we really appreciate it!
The different types of marketing videos used by online marketers aim to create awareness of a service or product, encourage viewer engagement, and educate. Here are our top twenty-five types of marketing videos to make.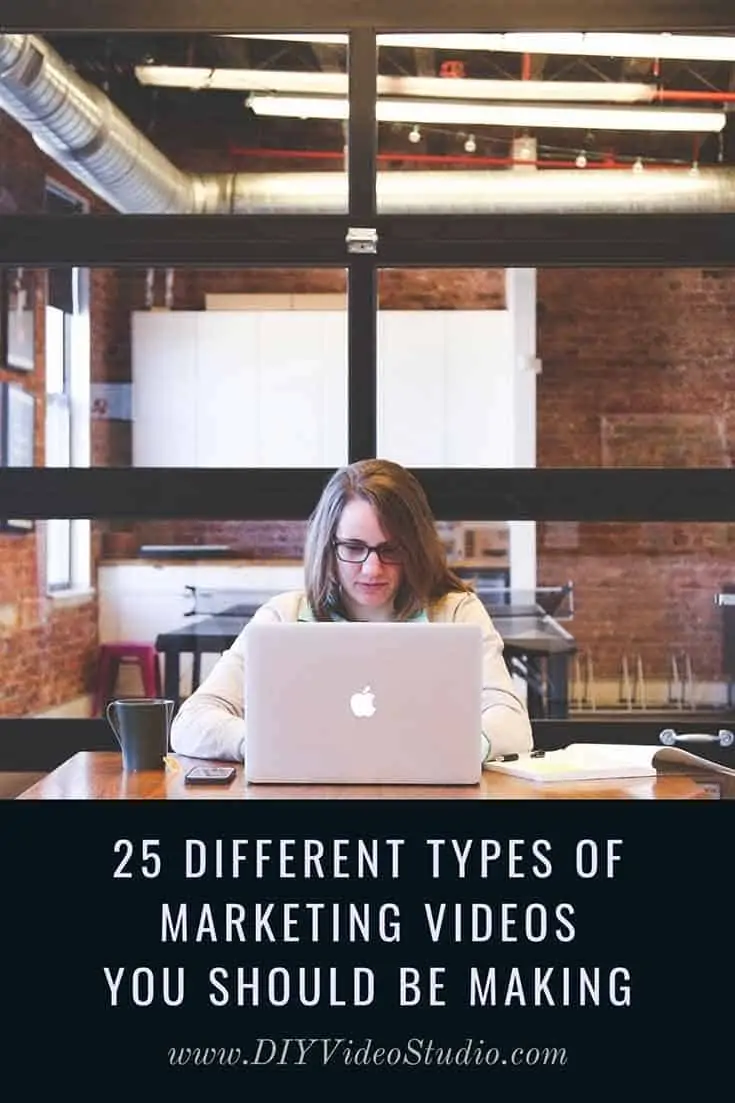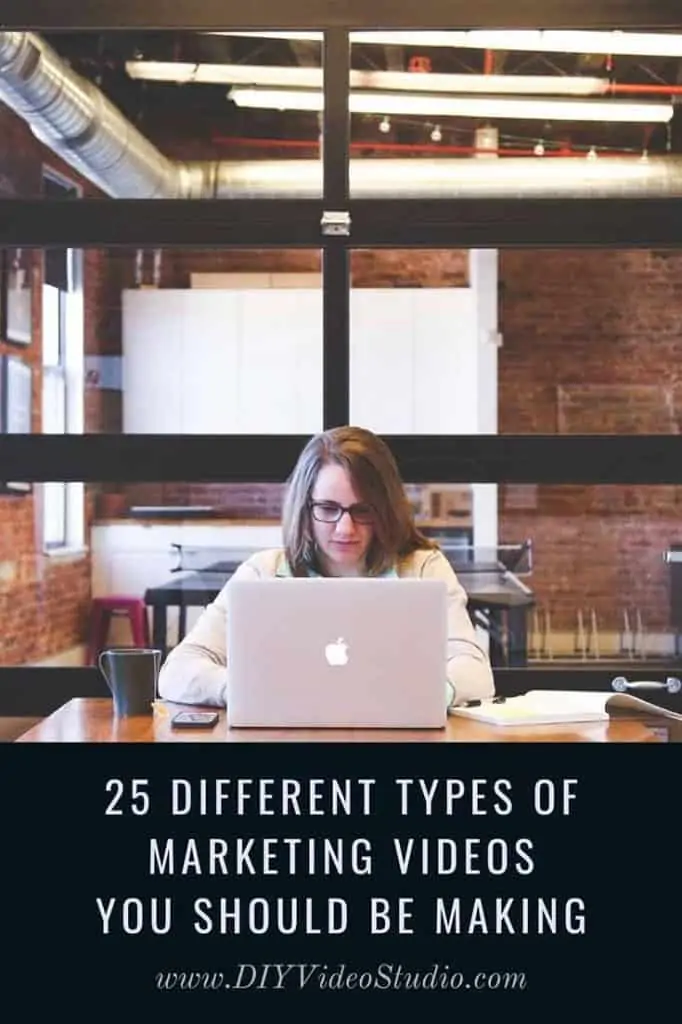 Talking Head videos
How-To Tutorials
Top Tips
Interviews
Man in the Street Vox Pop
Customer Testimonial
Case Study
Income Report
Live Streaming
Explainer videos
Observational Storytelling
Video Sales Letter
Seminars & Presentations
Behind the Scenes videos
Outtakes and Bloopers
Product reviews
Unboxing
Customer FAQ
Viewer Q&A
Fun at Work videos
Walk Through Intro to our business
Online course lectures
Haul videos
Reaction videos
Customer-generated content
Video is the fastest-growing type of content in the marketer's toolbox. But fortunately, creating your own marketing video content is a lot cheaper than it used to be. Sure, if you call in a professional video company the invoice may be in the thousands of dollars, but that's still a lot less than it used to be, even a decade ago.
To create different types of marketing videos there's no need to have a supersized budget.
But hold on. Don't big brands pay BIG BUCKS to create marketing videos for YouTube, Twitter, Facebook, and Instagram? Can you really make your own content?
Here's the thing. Viewers on social media often don't care whether your video is a highly polished or professional looking. In fact, if your video clip looks like it's been shot on your smartphone it can be an even more effective piece of marketing.
And here's why I am so sure about that.
DIY vs Professional Video Content
Buffer and Animoto conducted a vertical video experiment on both Facebook and Instagram.
They made, what they called, "Organic" and "Polished" video content.
The Organic content was simple amateur looking smartphone clips with none of the elements you would expect from even a simple Pro video.
The Polished content had professional lighting, effects and all the rest that you would expect.
What they found was that spending all that time money and effort on the polished content produced no significant improvement in the results.
But this wasn't a one-off outlier in their data. Polished content did not guarantee better results. In fact, quite often the Organic content did better than the Polished version.
Being a professional content producer that sounds like a scary result to me!
Smarties Facebook and Instagram Ad
Buffer talks about Smarties and a campaign they ran to test which type of content did better on Instagram Stories. Organic or Polished.
The result is music to the ears of any brand marketer.
Smarties "homemade" video content reduced the cost per 10sec video view by half on their best-performing ad. Making the smartphone clip twice as effective at getting the viewers' attention.
Here's a side-by-side example of Smarties Polished and Organic clips. The Pro version is on the left and the amateur clip is on the right.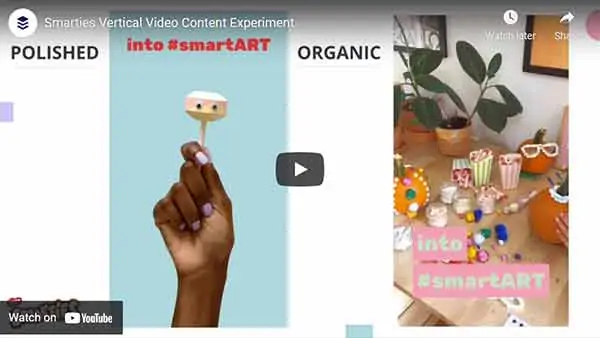 SOURCE: Buffer

Looking at the Smarties ads I'm not really surprised that the DIY smartphone clip was more effective.
If you have a sweet tooth, seeing ALL that candy on the tabletop is heaven. The video also has a sense of being more relaxed and it's set in a home environment that I can easily relate to.
So, if self-generated content isn't going to harm your results, and may even improve them, what types of video content can you make? Well, all kinds of videos really. The list is as big as your imagination
Essentially, each type of video you produce will focus on one of three things. It will
AWARENESS: You want people to know about your product or service.
ENGAGEMENT: Encourage viewers to comment and share your video.
EDUCATION: Testimonials, Behind the Scenes, Q&As, and Tutorials, etc.
Whichever of the three categories of videos you choose, the actual execution can be varied. I've prepared a list of the types of marketing video content you might consider.
To be clear, this isn't a list of content ideas, but the types of video you can make.
---
Types of video content you can record
1: The Talking Head Video
This is almost the default video type or style and is used as part of several other types of video.
The presenter in front of the camera and speaks directly to the viewer, through the lens. It's seen all the time on TV and is used extensively on YouTube.
It can be as simple as a single type of framing and the presenter speaking to the viewer, or you can let your creativity blossom and include lots of movement of the presenter, camera, or both.
You can make the style of presentation news like, inject some humor, or include the clever use of props. A famous marketing video that brought all those elements together is "Our Blades Are F***ing Great", created by Dollar Shave Club.
Obviously, the video from Dollar Shave Club was shot using professional equipment. But it could equally have been recorded using a camera app, such as FiLMiC Pro, on an iPhone. Where you may have trouble is in replicating the smooth camera moves of this video. But acceptable results should be within your grasp.
The Talking Head type of video works well because it's more personal and engaging than other types of video, such as whiteboard videos or animation.
You cannot avoid eye-contact with the viewer and your body language conveys non-verbal information useful to the audience in deciding upon your authenticity.
That's why appearing on camera is your chance to shine and enthuse about your product or service, assuming, of course, that you genuinely are enthusiastic about it.
---
2: How-to/Tutorial
At some point, you will have gone to YouTube and searched for a how-to video. Maybe it was for a DIY project or how to send a video by email. Whatever it was, it helped you get something done.
How-to videos show you, step by step, how-to-do stuff.
Most are created by ordinary users. But as a business owner, you can exploit this category of video to provide potential customers with valuable buying information.
Say you are a plumbing supplies company, show how to fit your products.
It may seem obvious to you but possibly not to your customers. Have you ever noticed they frequently ask the strangest of questions, even simple stuff?
For example, on YouTube, you will find videos that show you how to insert a battery into a GoPro action camera. Who doesn't know how to do that? Apparently, tens of thousands of people judging by the number of views.
But How-To types of video can also have hidden benefits
A little while ago Andy Fulton approached me about creating a simple tutorial about fitting hit repair kit for the WABCO air suspension compressor.
You see, Andy had a problem.
Customers with faulty air suspension compressors were fitting his kit incorrectly, resulting in a large volume of customer service calls.
Even when he included an illustrated step-by-step fitting guide in with the kit, customers were still getting the fitting wrong.
That's when we created a video guide. It was meant to look just like the environment where Andy's customers might work on the compressor, so we shot the video in his kitchen. He didn't want any fancy camera work using sliders or gimbals. The sole aim of the video was to show how to fit the replacement piston ring correctly and the whole video was shot in under an hour.
At the time of writing the original version of the video has had nearly 170,000 views on YouTube, resulting in Andy's customer service calls falling to almost none.
However, it also had an unexpected effect. Sales almost immediately shot up about 150 – 200%!
Potential customers with failing air suspensions could see how simple it was to replace the old piston ring with a new one. The video tutorial was boosting their self-confidence, leading to buy the repair kit and do the job themselves.
Effectively, this How-To video was overcoming the customer's main objection in the sales process. Here's the video itself.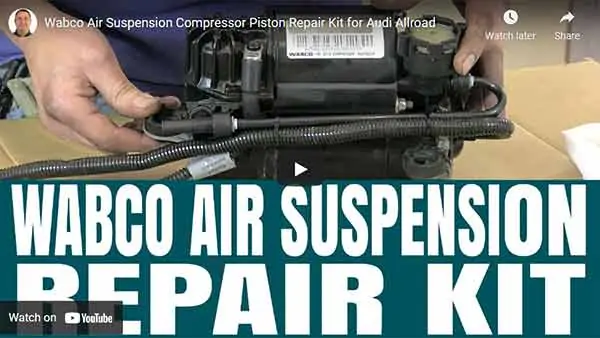 ---
3: Top Tip Videos
Business tips are related to How-to videos and are often done as Talking Head videos. But if you don't want to appear on the screen you could just record a voiceover and add images. You could easily do that in PowerPoint and export the presentation as an mp4 video.
Top Tip Videos are usually done as a series, with a common thread running through them.
The secret to success with these types of marketing videos is to get to the point quickly, stay on point, show the viewer you are the expert in your field, be ruthless about eliminating any fluff, and give the viewer your best advice.
I have worked with clients to create a series of business tip videos for use on their websites and social media channels. These include accounts giving out free tax advice, recruitment agencies helping with CV or Resume writing tips, and advertising agencies explaining how you can improve your own copywriting skills.
Whatever your business, you can create your own Top Tips videos. But don't hold back. Make sure you give the viewer your best stuff.
You tell them what to do but you don't have to give the details of how to do it.
Don't worry that you're giving away your best stuff for free. Most viewers will most likely still book a professional and you, having demonstrated your credentials, will probably be high on the list of people to call. And those who do action your tips were never going to become customers of anyone, so don't worry about them.
This is an example of a business tip video presented by business coach, Erick Rainey.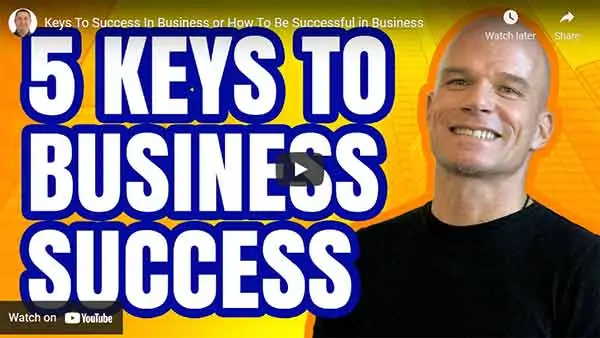 ---
4: Interviews
There are two kinds of interviews worth mentioning, physical face-to-face interviews and online interviews.
The first type of interview is where you and the person you are interviewing are both in the same physical place. It's like News or Chat Show interviews.
However online interviews allow you to speak to people anywhere in the world using platforms such as Zoom or Skype. You would then show yourself and your guest side by side within picture-in-picture windows on the screen.
The marketing potential of interviews is that it allows you to talk to experts within your organization to explain the use and advantage of your product or service.
---
5: Man in the Street Video (Vox Pop)
The Man in the Street or Vox Pop video is really an interview moved onto the street. They can often be seen on television news and there are YouTube channels that exclusively use these types of video for their content.
Typically, you ask several people the same question or questions. The results can often be fun, especially if you ask unexpected questions.
But these types of videos can also be used to gauge popular opinion on a specific topic, especially contentious issues.
The secret here is to record much more footage than you will ever need in your final cut. Drop the boring clips and only use interesting, revealing, or funny responses.
Monster, the online employment company, used vox pop videos for their marketing on The Quint, the Indian news website. The presenter uses a statistic from a recent Monster survey in the intro to the video and then goes on the street to get the opinion of members of the public.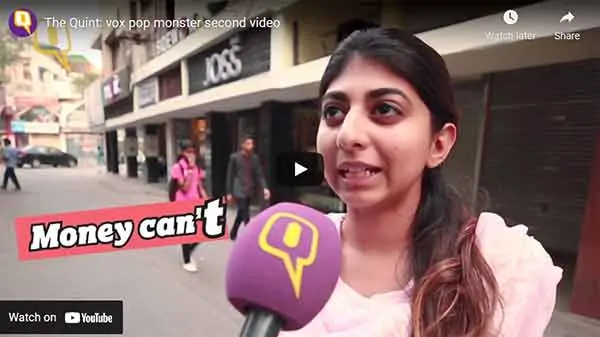 ---
6: Customer Testimonial and Case Study
Testimonials could be the best videos your business ever makes. This type of video content is relatively easy to make and is a great sales tool to overcome objections that potential customers may have.
The Customer Testimonial can either be a Talking Head video or an interview. The choice is a stylistic one. In the Talking Head version, the customer engages directly with the viewer, while in the interview version, the viewer listens to your conversation with the customer.
Do not record your customer heaping compliment on top of compliment. Viewers will reject that kind of sugary sweet testimonial as probably being fake.
Instead, get your customers to tell their story about working with you. Why did they choose you, how did you solve their problem, and what they liked about your product or service.
This type of video testimonial can help defuse the sales objections of future prospects and smooth the way to them buying from you.
The video testimonial also provides you with the opportunity to repurpose the footage. You can export the sound to create audio testimonials. Alternatively, transcribe the audio and include the text, along with a still from the video, in your printed marketing material.
A video testimonial will help you cover all the bases!
---
7: Live Streaming Video
Live Video is as easy. All you need is your smartphone and the mobile app for Facebook, YouTube, Instagram, or Twitter. Just tap the live video or start button and you are live streaming.
The biggest problem you'll have is getting the courage to do it.
Most people are worried about drying up and embarrassing themselves in front of all their followers.
If you need a safety net, write a few notes in advance that you can refer to if necessary.
The content can be varied. A product launch, introducing your stand at an EXPO, a live coaching session or even a kind of live shopping channel.
Whatever you do, you'll be ahead of your competition.
---
8: Explainer Videos
In essence, the Explainer video can be two different things.
Some explainer videos are animated but here I'm referring to the live-action alternative.
Record a voiceover then add b-roll footage, graphics, and text.
The explainer video helps your prospect understand how you can solve their problem. It's your opportunity to explain your product or service and show how it will work for your prospect.
Keep it short, otherwise, your viewer will never get to the end and your call to action.
---
9: Observational Storytelling
Unlike the explainer video, Observational Storytelling combines b-roll footage with interview answers.
The video imagery and the words of the participants reveal the narrative.
Probably less common in marketing but when done well it can be highly effective. You could argue that the business testimonial could use observational storytelling, although normally the imagery in a testimonial carries less of the story.
---
10: Video Sales Letter
The Video Sales Letter, or VSL, is often a voiceover plus text and image slides. Frequently the text is what the voiceover is saying.
VSLs are often the main feature on a Sales or Squeeze page, along with a big "BUY" or "SUBSCRIBE" button.
The content of the VSL, when placed on a squeeze page, is often an upsell that is relatively inexpensive compared to the main item you are buying.
You can easily create a video sales letter in PowerPoint and export as an mp4 video file. No need for a video camera or editing software.
Here is an example used by a diet plan business.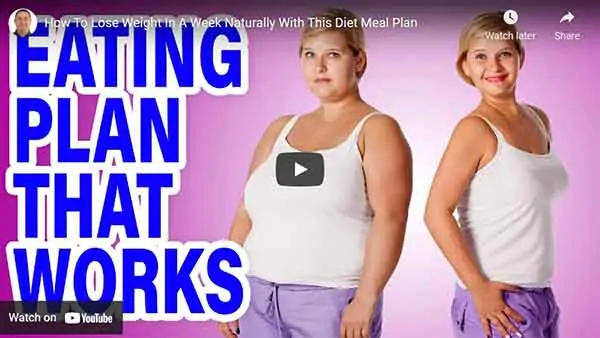 ---
11. Seminars and Presentations
If you are your business, a recording of you presenting a seminar can be incredibly powerful.
There's nothing spectacular about the necessary skills. You just need a camera operator to follow you as you move around on the stage.
Actually, that's a bit of an exaggeration.
The seminar type of video requires good sound. The audio is almost more important than the video because what you are saying in your presentation is key. So, you will need a wireless microphone, or at least a microphone with a long cable run.
The way you edit the video will be determined by your intended use. For instance, Robert Cialdini uses short clips from his presentation at the Northwestern Mutual conference on his website

. The intention is to show conference organizers a taste of what they will get when booking him as a speaker.
It's always better to show yourself in action rather than just having a section of text describing what you do as a speaker.
Here's one of the clips Robert Cialdini has on his personal website. Not only does it demonstrate that he is an excellent speaker, but it also gives a taste of the fascinating subject matter of his talk.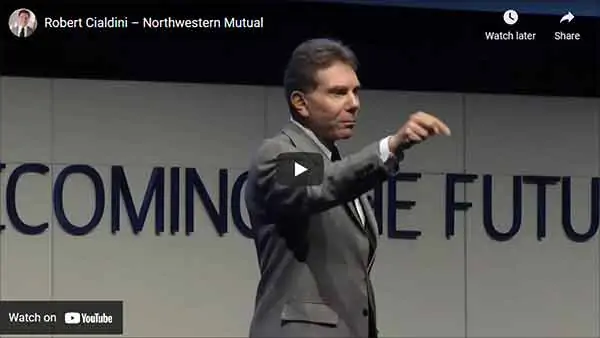 More types of video to make
I have at least another half dozen types of video that I can add to this list but will just mention them without going into details.
They are…
Behind the scenes (people love to see what's happening)
Product videos and reviews
Customer Question & Answer
Webinars
Fun at work/Happy Holiday
Hopefully, these sixteen types of videos will give you something to consider in deciding what approach to take in creating marketing videos.
If you need help in producing ideas for specific content pieces, look at my article Good Ideas For YouTube Videos

.
---
A study of the types of video ordinary businesses make
I have written an article showing how six ordinary businesses have exploited video to grow their business.
Although some of the videos are professionally made, I explain what they did and how you can easily make similar content. To view the post please click here

.
You might also like…
What Does A Softbox Do?
Best LED Light for Video Shooting
How To Avoid Glare on Glasses in Zoom Video
Umbrella Studio Lighting Kit for Beginners
Different Types of Photography Umbrellas and how to use them
Best LED lighting for video conferencing: Buyers Guide
Softbox vs umbrella lighting for video: Best one to buy
Tosh Lubek runs an audio and video production business in the UK and has been using the Canon EOS R since it was released in the Autumn of 2018 and the Canon EOS R6 in 2020. He has used both cameras to shoot TV commercials broadcast on Sky TV, promotional business videos, videos of events and functions, and YouTube creator content. He has also won several international awards for his advertising and promotional work. You can meet him by visiting his "video booth" at HashTag Business Events across the country.
Recent Posts