DIY Video Studio is supported by its readers who use the affiliate links or ads on this site. As an Amazon Associate, I earn from qualifying purchases. Thank your support if you use any of the links.
Unfortunately, screw bolts that look the same in diameter are not necessarily compatible. If the screw thread specification is different, then a screw may not turn snuggly in a screw hole. If you try to make a DIY camera mount you need to make sure you use the correct type of screw thread.
There are two camera tripod screw thread sizes, 1/4-20 UNC and 3/8-16 UNC, part of the Unified Thread Standard (UTS). The ¼-inch screw size is for most cameras and some lenses, while the 3/8-inch screw is for larger professional cameras. The number after the thread size refers to the number of threads per inch.
UNC means that these are coarse threads in the Unified Thread Standard (C=Coarse), which is based on the imperial unit of the inch. Although the symmetric 60° thread profile of these screws is the same as that used in the metric thread system, the mismatch of the base units and pitch means UNC and metric components will not fit together. Therefore, an M6 screw, which is almost 1/4-inch, will not work with a 1/4-20 UNC nut. If you try turning an M6 screw in the threaded hole on a camera, the screw will initially turn but then lock up.
Are all tripod screws the same
Not all tripod screws are the same or size. They can be either ¼ inch with 20 TPI or 3/8 inch with 16 TPI. Tripods that incorporate a pan and tilt head normally have ¼ inch screws. Tripods that are just legs usually have a 3/8-inch screw to which a tripod head or ball head can be attached.
Larger cameras, lenses, tripod heads, and ball heads with a 3/8-16 UNC screw hole are normally supplied with a 1/4-20 UNC adapter. This allows them to be attached to tripods with either a 1/4-20 UNC or 3/8-16 UNC mounting screw.
Although there are two standards for the screw thread used on cameras and tripods, the rest of the screw can vary. For instance, the length of the screw bolt on a tripod's quick-release plate is not fixed. Some are short while others can be quite long. The size and form of the slotted screw head can also show some variation. For instance, it can be a plain slotted screw head, with or without knurling around the circumference, or it might include a D-ring that can be flipped up and used to tighten the screw.
Generally, the screw head has a diameter of about 12-14mm and a thickness of approximately 4mm. If a D-ring is included the total diameter is about 16mm. The screw's shaft length can be 10-17mm or more, with the final 5-6mm being threaded. The variation in length reflects the different quick-release plates that are available.
In most cases, the screw on a tripod or quick-release plate is made of stainless steel.
Why are tripod and camera screw threads not metric
The Unified Thread Standard for screw threads is used in North America, while the rest of the world tends to use a metric standard for screws. It, therefore, seems odd that the screw thread used on tripods and cameras is an imperial standard. This seems even stranger when you consider lens focal lengths are given in millimeters and not inches.
The standard for attaching cameras to tripods is down to history. In the earlier days of photography, The Royal Photographic Society suggested that the standard thread for cameras and tripods should be 1/4-20 BSW and 3/8-16 BSW. Where BSW is British Standard Whitworth

.
BSW screw threads were used in photography until the early 1970s. In 1973 ISO (the International Organization for Standardization) issued ISO 1222:1973

as the new international standard for connecting cameras and tripods. The standard was updated in 2010 and reviewed in 2020 as ISO 1222:2010

. Although ISO standards are usually metric, in the case of camera and tripod screw threads, an imperial standard is the official international standard.
Since the profile of BSW and UNC screw threads are close (UNC has a 60° profile compared to BSW's 55°), vintage photography gear can be attached to modern equipment.
Here's a big ask from me: If you liked this article, please share it.
It will mean a great deal to me if you share this post because a few seconds of your time will seriously help my blog grow. The share buttons are below the "About Author" section.
Thanks. 🙂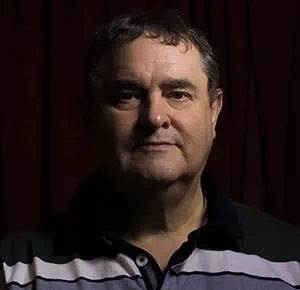 About the author: Tosh Lubek is a multi-award-winning broadcaster, writer, and video producer, with 40 years of experience in professional broadcasting and has been using Canon video and stills cameras since 2010. He has worked with radio and TV broadcasters, advertising agencies, and direct clients on a variety of projects including radio and television advertising, online video production, corporate videos, award ceremony motion graphics, and theme park sound design. Tosh has won numerous awards, including a Radio Academy Awards Gold Sony, a Gold, Silver, and Bronze World Medals in the New York Festivals International Advertising Awards. Since about 2007 he has been creating YouTube videos. Tosh has been a sponsor of the "video booth" at HashTag Business Events across the UK.
Recent Posts