DIY Video Studio is supported by its readers. Please assume links on this site are affiliate links or ads, and that I get commissions for purchases made through these links. As an Amazon Associate, I earn from qualifying purchases. Thank you if you use any of the links.

Linco 2000W Lighting Kit With 3 Color Muslin Backdrops
A 3-point lighting kit and backdrop system for any photographer, vlogger, or YouTuber. This is more than a starter lighting kit. You get everything you need to set up your home studio, minus the camera and microphone of course. This kit is a rightful contender for the best lighting for filming indoors.
What's in the box
3 x 20″ Auto Pop-Up Soft box
3 x Flora X 4 socket light bank
3 x 77″ Light Stand
12 x 40W soft white bulb (E26 screw base)
1 x Boom arm Reflector Holder Kit
1 x Kit carry bag
1 x Backdrop support system
1 x Green muslin backdrop
1 x White muslin backdrop
1 x Black muslin backdrop
Sale
Last update on 2023-12-03 / Affiliate links / Images from Amazon Product Advertising API
DIY Video Studio review
This super deal is effectively three things in one kit. It includes a 3-point soft box lighting kit, a backdrop support system, and three different muslin backdrops.
Set up is easy, but when the advertisement says "only takes 3 secs to set up" that's just to pop open each soft box. If only it were true of setting up the whole kit!
Note that these are continuous lights and not strobe lights. They are ideal for video and photography, but you cannot synchronize them to your photography camera's flash because they are on all the time.
If you need to shoot in a home studio or at a client's office, this is the best lighting for filming indoors at a very affordable price. Although the Linco 2000W Studio Lighting Kit includes the three muslin backdrops, you can just use the lights if shooting on location.
The light banks (light heads)
The kit includes 3 x Linco #5140 Flora X Fluorescent 4-Socket Light Banks.
Each light bank takes four 40W daylight rated CFL bulbs, giving you 160W per soft box. That should allow you to shoot video at f/2.8, 1/60 sec, and an ISO of around 100-400.
The light banks take regular E27 screw-in base bulbs. Each of the E27 ceramic base bulb sockets comes with a rubber protector to prevent damage. Remember to remove these before screwing in the bulbs.
These light banks have been designed to operate at voltages from 100V to 240V. However, this kit is intended for use in America, so comes with 110V, 60Hz bulbs. The kit could be used in other territories that use alternative voltages, but you will need to replace the bulbs with ones that are designed to operate at that voltage and frequency.
A large handle at the rear of the Flora X 4-socket light bank makes attaching the light banks to the pop-up soft boxes easy. Open the soft box and place the open-end flat on the ground (or table). Position the light bank over the cross-metal strips at the rear of the soft box and lift the soft box material out of the way. Now push down with the light bank and turn clockwise until you hear it click into place on the soft box. You can see what I mean in the following image. The simplicity is one of the reasons why I like the design so much and consider the kit to be the best lighting for filming indoors.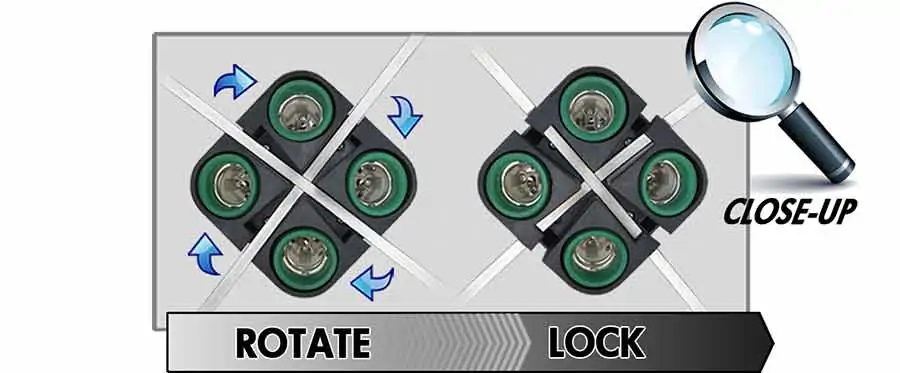 The Flora X light bank design incorporates a small but useful addition. If you want to use the light banks with photography umbrellas the Flora X light bank has an umbrella shaft hole that runs through the center of the front part and then another hole in the handle part. You can see this in the image below.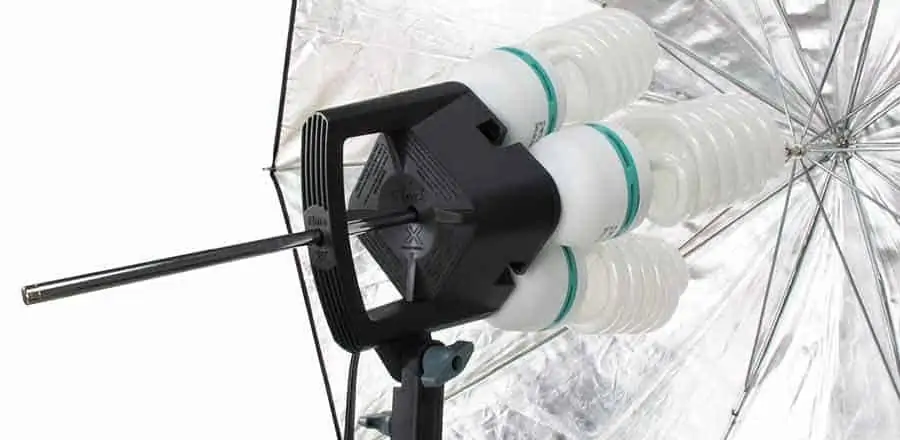 Although there is no dimmer switch on the base of the light bank there is an on/off switch box on the power cord. On the current model (ITEM 5140) the on/off switch literally turns the power on or off. However, Linco recently released an updated power switch that provides a 2-step power adjustment (off / half / full).
Most kits currently available include the Flora X ITEM# 5040. This new adjustable power feature is under ITEM# 5141. If you see this newer light bank item# you will have the 2-step power version.
But if you get a kit with the original power switch you can easily vary the light output by removing one or more bulbs. But make sure the power cord is disconnected from the socket before removing the bulbs.
The bulbs
You get 12 x 40W LincoPP171050-1 CFL (compact fluorescent light) bulbs in the kit that have a regular E26 screw base. They are designed to operate at 110V, 60Hz. Each of these 40W bulbs is roughly equivalent to a 200W incandescent bulb.
They are 6400K daylight rated, so if you are using this kit in a room where daylight is coming in through the windows, the daylight and light from this kit will match well enough.
Although each bulb is only 40W you could push this a little higher and fit slightly more powerful bulbs. 4 x 50W bulbs should easily fit and not cause any extra heat problems. An extra 10W does not sound like a lot but an extra 10W on a CFL bulb produces more light than an extra 10W on an incandescent bulb.
A word of warning about using alternative types of bulbs to the CFLs that come with this kit. DO NOT be tempted to fit incandescent or halogen bulbs in the light heads/light banks. They are NOT designed for excessive heat!
This and most modern light kits are not designed to work with incandescent bulbs. These kits are designed to work with CFL and LED bulbs, and although they may get warm, they do not get anywhere as hot as incandescent bulbs.
This kit does not have enough ventilation and cooling for incandescent or halogen bulbs, so don't try using them. If you do wish to upgrade the light output of the kit you would be OK with LEDs. These run even cooler than CFLs, produce more light for the same wattage, and have a longer working life.
If you are intent on upgrading the bulbs one of the cheapest is to replace the CFL bulbs with LOHAS 23W A21 LED Light Bulbs. They are Daylight White 5000K bulbs with an output of 2500 Lumens. Each is intended to replace a 150-200W incandescent bulb.
The total light output using the LOHAS bulbs should be about the same as the CFL bulbs that come with the Linco light kit. However, they use less electrical power, will last longer, and are more durable. Whereas CFL bulbs are made of glass the LOHAS LED bulbs have a plastic exterior that's much less likely to crack.
The soft boxes
The actual saltboxes are spring-loaded and pop open. With practice, they are quick and easy to put together with the light banks. I would advise putting the light banks and soft boxes together first before screwing in the bulbs.
Once the bulbs have been screwed into the ceramic sockets you can stretch the white translucent diffuser over the front of the soft box. The purpose of the diffuser is to produce a soft light source, rather than four hot spots where the bulbs are located.
Compared to many other soft boxes, Linco's Flora X system is easy to set up and take down. I own a few different brands of soft box light kits and the Flora X system is a joy to use. Instead of fitting steel rods to hold open the soft box reflector hood, which is time-consuming and fiddly, the Flora X soft boxes pop open in just moments.
Attaching the light banks is quick and simple. It really is one of the quickest soft boxes to set up. If you regularly shoot in new locations set up time is important. Clients don't want to pat you for the time when you are not shooting video and if you are setting up at home you want your set up to be as quick as possible.
The light stands
The Zenith 77-inch light stands are die-cast steel with plastic fittings. Although lightweight they are durable and do the job adequately. They really are no worse than any other light stands that you will find available on Amazon, and perhaps a little better.
I would advise you not to be rough with the stands if you want them to last. Later, you can replace the stands with sturdier versions, but the ones in the kit really are OK. In fact, if you add weighted sandbags to the legs of the stands that should prevent any mishaps with topples.
The light stands come with a zinc stud head that has a modern 1/4-inch screw tip. This allows you to mount the full range of photo/video equipment on the stands, as well as the intended Flora X light banks. A feature that will extend the usefulness of your video/photo gear.
The light stands have a minimum height of 32-inches and a maximum height of 77-inches. The maximum load that they will handle is 15lbs.
The muslin backdrops
When using the supplied muslin backdrops, which are 5ft wide and ten feet long, you won't need all four sections of the crossbar. Two or three will probably be enough. But if you upgrade to a larger backdrop, you can use all four sections of the crossbar.
The green backdrop works well for green screen work, although you would do well to try and get rid of any creases. The black backdrop also works well. If you want a superb white background for your videos, I would get some extra lights and over-expose the white backdrop.
It's inevitable to have fold lines and creases in muslin backdrops. You can smooth them out with a hand steamer and a few background clips on the side stands (the clips stretch the cloth and take out the creases). If you still have problems, I explain how to smooth out the creases with your camera in this article

.
If you don't want the trouble of smoothing out the muslin backdrops you could consider using 9-foot rolls of backdrop paper. Provided the weight of your paper roll does not exceed about 7lbs you should be OK.
Backdrop Stand Support System
The Linco Zenith Backdrop Support System consists of two side stands and a four-piece crossbar. The crossbar sections are tubular metal and snap into each other. This is sturdier than you would expect at this price.
The backdrop support is 10 feet wide with all four crossbar sections connected. If required, you could leave out one or two of the crossbar sections to make it narrower. So, the width of the crossbar could be 5-ft, 7.5-ft, and 10-feet.
The crossbar is 1-inch in diameter and attaches to the side support stands using wing nuts but remember to put on the five metal ring backdrop holders (metal rings with small alligator clips) before screwing down both ends of the crossbar.
Spread the support clips evenly across the crossbar to hold on to the muslin backdrop. Make sure you "hook" the two outer most rings onto the outside of the support stand bolts and wing nuts. This will stop the support rings sliding inwards and causing folds in the backdrop.
To be honest, I would also buy some extra backdrop clamps for the side stand supports. They will help to stretch out the creases in the muslin backdrops. If you do this it will make your backdrop look more attractive and, especially with the green backdrop, flattening those creases will make it easier to key out the green screen.
To buy an extra 10 backdrop clamps on Amazon click here

.
Boom arm for hair light
As with the other light stands, the boom arm comes with a zinc stud with 1/4-inch mounting tip. This is what you will attach the soft box and light bank to.
In total, the boom arm can be extended to 86-inches long. To counterbalance, the weight of the light bank and soft box a counterweight sandbag is included in the kit. I have filled the bag with gravel, but you can use sand, kitty litter, or even plastic water bottles. Hook the sandbag onto the loop at the end of the boom arm to balance the light bank and soft box.
Sale
Last update on 2023-12-03 / Affiliate links / Images from Amazon Product Advertising API
---
Would I buy this light kit?
The Linco 2000W Studio Lighting Kit is amongst the best lighting for filming indoors that I have found at such an attractive price. This kit gets a big thumbs up from me.
This three-point soft box light kit is quick and easy to assemble. It's perfect for those starting out or experienced YouTubers/vloggers who want to improve the quality of your videos.
You get everything you need to set up your home studio lighting and professional-looking backdrop. Plus, the Flora-X system lets you set up the soft boxes quickly and easily.
---
Tosh Lubek runs an audio and video production business in the UK and has been using the Canon EOS R since it was released in the Autumn of 2018 and the Canon EOS R6 in 2020. He has used both cameras to shoot TV commercials broadcast on Sky TV, promotional business videos, videos of events and functions, and YouTube creator content. He has also won several international awards for his advertising and promotional work. You can meet him by visiting his "video booth" at HashTag Business Events across the country.
Recent Posts