DIY Video Studio is supported by its readers who use the affiliate links or ads on this site. As an Amazon Associate, I earn from qualifying purchases. Thank your support if you use any of the links.
These days compact LED panel lights will undoubtedly be the best video conferencing lighting choice. This is true whether you're looking for the best LED lighting for video conferencing.
The best LED lighting for video conferencing should be compact, adjustable, easily mountable on your device, and flattering to you. The small rechargeable LED panel lights from Lume Cube and Pixel Photography check all those boxes. They are small and can be mounted on your laptop, tablet, or camera. They also offer adjustable brightness and color temperature, which can improve your overall image quality.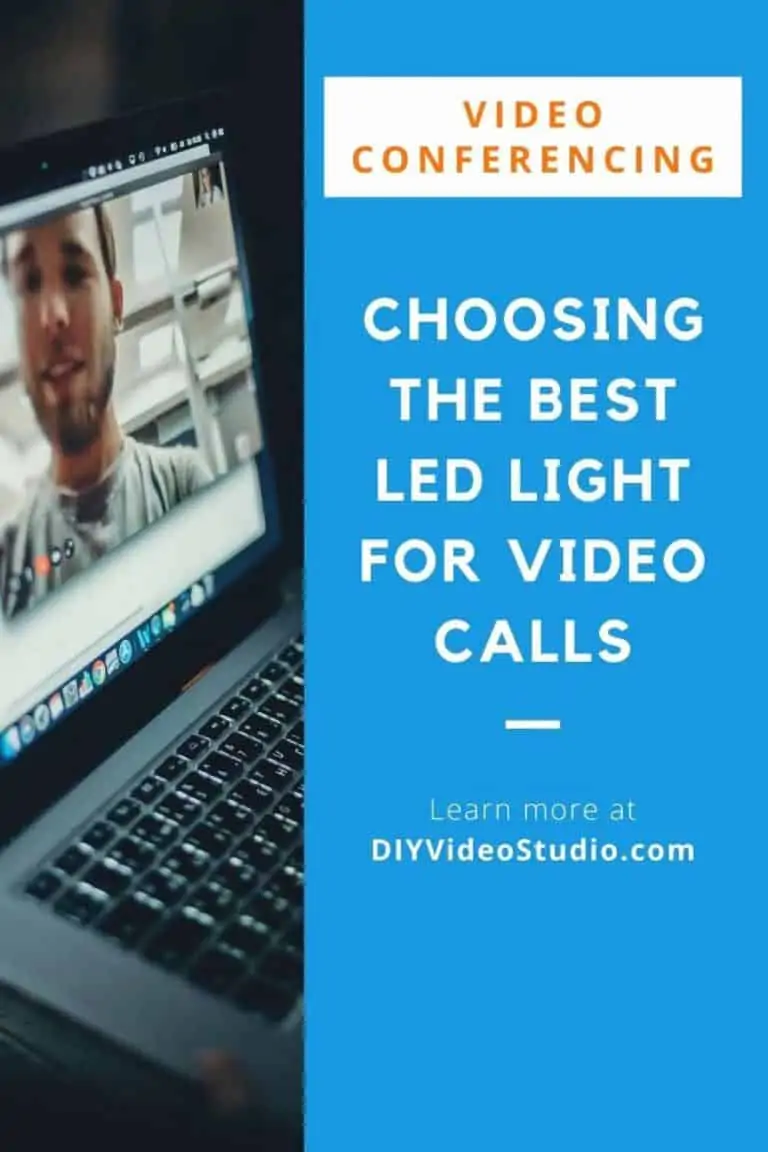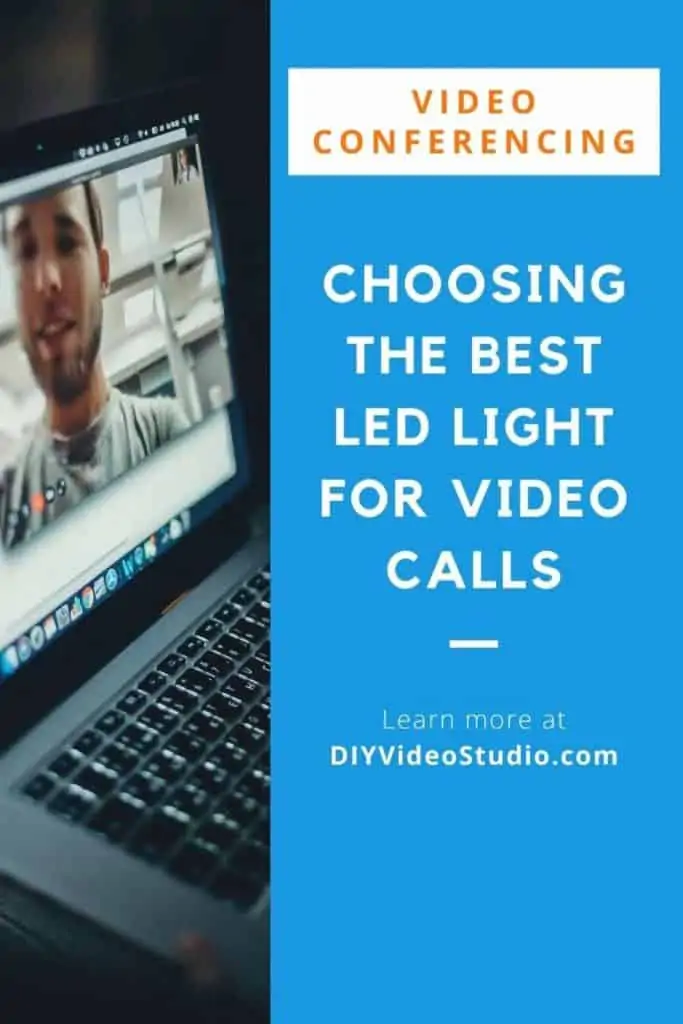 We've used many types of light on professional video shoots with clients, so we've come to understand what works well on video, even on video conference calls. But we also appreciate you are going to have to do this on your own, without a professional videographer at your back. But that's OK, we know this isn't your thing, so we've done the research for you.
In a hurry? If you don't have much time, use the links below to quickly get the Best Lighting for Video Conferencing for you on Amazon. You can be assured we only choose the best products…
We've checked out the lighting gear that anyone can use, not just the pros. But at the same time, we appreciate that what seems affordable to one person can be too expensive for others. That's why we've chosen four LED lights across a range of price points, but we've learned that buying the best we can afford is always the best strategy.
Make
BEST EXTRAS
Pixel Photography
Model
Video Conference Lighting Kit For Remote Working
Emart 60 LED Lighting Kit
Image
Max Brightness Battery Time
Dimmable
1%-100%, adjustable in 5% increments
Mount
Stand + Suction Cup + 1⁄4" 20 tripod mount
Suction Cup + 1⁄4" 20 tripod mount
Last update on 2023-05-23 / Affiliate links / Images from Amazon Product Advertising API
---
Lume Cube Broadcast Lighting Kit
Sale
Lume Cube Broadcast Lighting Kit | Zoom Lighting, Webcam Light for Computer...
Computer Light for Video Conferencing: iPhone-sized LED light panel works great as desk lighting for...
Adjustable Brightness & Color: Control brightness on video conference lighting kit from 1% - 100%...
Computer Mount: Includes video conference light suction cup for laptops and desktops! Use the video...
Tripod Stand: Adjust height from 12" to 30" for working on your laptop or desktop. Set up zoom...
Last update on 2023-05-23 / Affiliate links / Images from Amazon Product Advertising API
Based in Carlsbad California, Lume Cube

has a small but interesting range of portable lighting for creators and communicators. The business is well known for its Lume Cube light, a powerful rechargeable LED cube light that is similar in size to a GoPro. Not only can it provide a lot of light output for its size, but it's also waterproof down to 100ft and can even be controlled using the companies phone app.
As well as the Lume Cube 2.0

their range includes small LED panel lights and strobe anti-collision lights for drones. Of course, what we're interested in here is their lighting for communicators. But Lume Cubes products can be summed up as being clever and reliable but without a stupid-expensive price tag.
This kit features Lume Cube's Panel GO Bi-Color LED Light with 112 LEDs. That's enough to brighten any video conference call or streaming session, even though the panel light is only about the size of a cell phone.
The front lens of the light is frosted, to help improve the soft light capabilities of the unit. If you don't already know, soft light helps to smooth shadows and hide skin imperfections, so it's a desirable feature for anyone who's concerned about how they look on video calls.
There are three buttons on the side of the Panel GO. The top one is an on/off and mode button. The other two adjust the selection up and down. You use these to adjust the brightness and color (color temperature), which are displayed on the rear intelligent LCD display, which also shows the remaining battery life. The brightness is adjustable from 1% – 100%, but the brighter the LEDs the shorter the remaining battery life.
However, power isn't a problem with the Panel GO. The internal 2,470mAh lithium polymer battery provides plenty of power and is long-lasting. The light panel can run at 100% brightness for 1.3hrs or for over 16hrs on the lowest brightness setting.
But if you need high power performance for longer that's not a problem. You can run the Panel GO LED light through its USB-C charging port from an AC adapter or external power bank.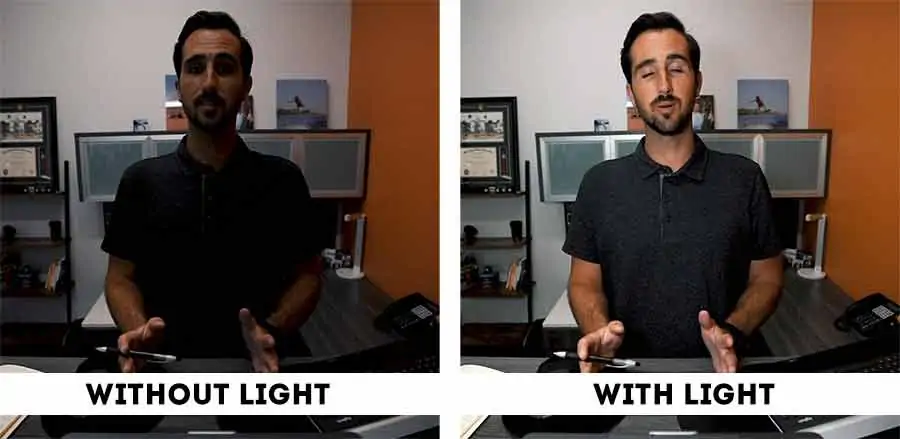 The lighting kit includes two ways of mounting the Lume Cube Panel GO LED light.
The first is a suction cup mount that lets you attach the light to the back of your laptop or desktop screen. You could also mount the light on a tablet if you use a mobile app for your video meetings. Whatever device you use the only downside is that the surface you stick the suction cup to has to be smooth and flat. It also must be clean and dust-free otherwise the mount will keep falling off.
The second method is to use the adjustable telescoping desktop stand. Its footprint on your desk is relatively small. And because it extends from 12-inches to 30-inches you are guaranteed to be able to set up the light so it's going to give you the most flattering appearance. The top includes a 360º rotating ball head on to which you mount the light. This ensures you can point the Panel GO in any direction.
If you wear eyeglasses this is the lighting kit for you. Often video lights will cause glare on your lenses, even if you have anti-reflective coatings. This kit allows you to position the light higher and to the side so any reflection from your glasses does not end up going straight to your webcam. I explain the method in my article, How to avoid glare on glasses in video meetings.
To see the Lume Cube Broadcast Lighting Kit in action watch the official Lume Cube video. Note that at one point two lighting kits are used: one to each side of the user's computer monitor. Although this doubles the cost it does give you better lighting results. You can also use one as a key light (your main light) and the other as a fill light (secondary light set to a lower brightness to help fill some of the shadows produced by the key light).
Broadcast Lighting Kit Specs
Adjustable brightness from 1% – 100% (in 5% increments)
112 bi-color LEDs
Adjustable color temperature from 3200k (warm orange) – 5600k (cool white)
Intelligent rear LCD Display showing settings and battery life
Built-in lithium-ion battery for extended run time
Simple control dial for brightness and color
Maximum run time: 16hrs (at 1% Brightness)
Intermediate run time: 2.3hrs (at 50% Brightness)
Minimum run time: 1.3hrs (at 100% Brightness)
Maximum brightness level: 1050Lux at ½ meter
USB Type-C power and charging
One 1⁄4" 20 tripod mounting point (on bottom edge)
What's included in the box?
1x Lume Cube Panel GO Bi-Color LED Light
1x Telescoping desktop stand (adjusts up to 30″)
1x Suction Cup Mount for Desktop or Laptop Mounting
1x 6-foot USB-C Charging Cable
Pros and Cons
| What we like | What we don't like |
| --- | --- |
| Long-lasting rechargeable lithium battery | More expensive than the other options |
| Can be powered via USB-C port | |
| Multiple mounting options | |
| Adjustable brightness | |
| Adjustable color temperature | |
| Compact setup | |
| The LED light can also be mounted on a camera | |
---
Lume Cube Video Conference Lighting Kit for Remote Working
Sale
Lume Cube Video Conference Lighting Kit | Live Streaming, Video...
Laptop Light for Video Conferencing: Easy to use light for zoom meetings to improve your presence in...
Webcam Light for Computer: The built-in frosted lens and additional white diffuser are easy on the...
Adjustable Brightness and Color: Control brightness from 1-100% to get the perfect custom lighting....
Adjustable Computer Mount: Use the included suction cup mount to provide light for laptop or...
Last update on 2023-05-23 / Affiliate links / Images from Amazon Product Advertising API
You might think that the Lume Cube Video Conference Lighting Kit is the Broadcast Lighting Kit minus the telescoping desk stand, but it's not.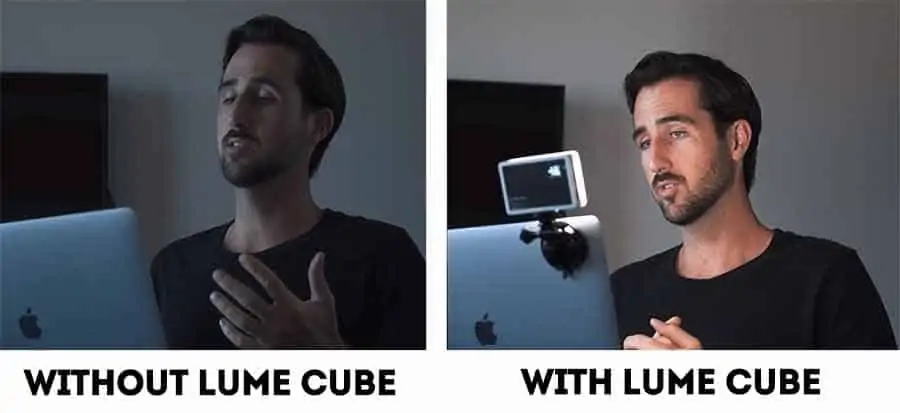 This kit includes Lume Cube's Panel Mini LED light, which does superficially look like the higher specified Lume Cube Panel GO Bi-Color LED Light of the previous kit. Even so, the Panel Mini is an ideal choice as a laptop light for video conferencing. It will provide plenty of light to brighten up your conference call.
The built-in diffusing lens and removable white silicone diffuser are designed to provide soft flattering light for video conferencing so you can look your best.
With ¼-inch 20 mounting points on the bottom and side, the light can be set up either horizontally or vertically, to match your preferences. The suction cup mount is compatible with both laptops and desktops, although it could also attach to any smooth flat surface such as a mirror or even a tablet (which you'll see in the video below).
The Panel Mini LED light has control buttons on the side to adjust the brightness and color. While the intelligent rear LCD screen displays the brightness, the color (in degrees Kelvin), and the remaining battery run time. If you change the brightness of the light the remaining battery run time will intelligently change to reflect the change in power consumption. At the lowest brightness level (1%) the internal lithium polymer battery will provides up to 14 hours of use.
Below the control buttons there's a 5V USB-C charging port. Obviously, this is used to charge the internal battery, but you can also power the light indefinitely through the USB port. You can use external power by connecting the light to your computer's USB port, a power bank, or an AC adapter.
The Video Conferencing Lighting is ideal when portability is important, and you want a compact space-saving setup.
The light is attached to your laptop or desktop using a suction cup mount. This works fine if the surface of your computer is flat and smooth. If the surface has a curve or is textured the suction cup will not work properly. Under such conditions, the mount may stick on initially but may fall off within a few minutes. If the lid of your laptop or the rear of your desktop monitor is not flat and mirror-smooth, choose one of the other lighting options in this article. Also worth mentioning is that for effective mounting the surface should also be clean and dust-free.
A built-in frosted lens plus a detachable white diffuser help to produce a soft and flattering light for video conferencing. Also of use is the adjustable color temperature, which can be changed from a cool daylight white to a much warmer yellow/orange tone. This gives you the option of matching the color temperature of the room lights or choosing the best light color to compliment your skin tones.
The LED light panel is well-made and feels durable. The controls are easy to use, and the light provides good illumination for you, but don't expect it to fill your room with light.
See the Video Conference Lighting Kit in action in this official Lume Cube video. But I would mention two points. At 0:36 into the video a pair of lights are used, each on a telescoping desk stand, which can be bought separately. Also, notice at 0:20 into the video the light kit also works with a tablet device, but remember the back of the tablet has to be flat and smooth to be a good mounting point.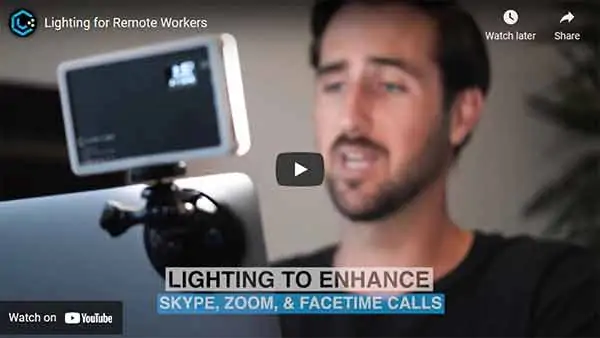 Video Conference Lighting Kit specs
Adjustable brightness from 1% – 100% (in 5% increments)
Bi-color LED Light
Adjustable color temperature from 3200k (warm orange) – 5600k (cool white)
Intelligent rear LCD Display showing settings and battery life
Built-in lithium-ion battery for extended run time
Maximum run time: 14 hours (at 1% brightness)
Simple control dial for brightness and color
USB Type-C power and charging
Two 1⁄4" 20 tripod mounting points (side & bottom)
Built-in frosted diffusion lens
What's included in the box?
1x Bi-color continuous Panel Mini LED video light
1x Removable silicone white diffuser
1x Suction cup mount for laptop or desktop mounting
1x USB-C charging cable
1x USB-C adapter cable
Pros and Cons
| What we like | What we don't like |
| --- | --- |
| Long-lasting rechargeable lithium battery | Requires a smooth flat surface to stick to |
| Can be powered via USB-C port | Cannot tilt down/forwards when attached to a laptop |
| Mountable on any smooth flat surface | |
| Adjustable brightness | |
| Adjustable color temperature | |
| Compact setup | |
---
PIXEL G1s RGB Video Light
Pixel G1s RGB Video Light, Built-in 12W Rechargeable Battery LED Camera...
【COLORFUL LIGHTING EFFECT】RGB LED light panel adopts 80pcs(bi-color) led beads and 70pcs RGB...
【HUE & SATURATION & BRIGHTNESS & CCT ADJUSTABLE】Hue adjustable from 0 degree -359 degree; Color...
【PRODUCT FEATURES】CRI≥97, TLCI≥97, built-in 7.4V 3200mAh rechargeable battery, USB Type-C...
【ROTATE ARM with COLD SHOE】Our LED panel light equipped with a 360 degree rotate arm with cold...
Last update on 2023-05-23 / Affiliate links / Images from Amazon Product Advertising API
Pixel Photography

has released a small range of professional photographic and video accessories that has many creators excited and created a lot of PIXEL "fanboys". Their products include ring lights, LED video lights, battery chargers, tripods, and even on-camera shotgun microphones. What's also noteworthy is that their gear line-up gets high ratings and glowing reviews from highly satisfied real customers.
Strictly speaking, this light is intended to attach to the hot shoe mount of a DSLR or mirrorless camera. If that's what you're using for video conference calls then you don't need anything extra. However, if you're using a webcam or mobile device, you'll need two extra items. These are a small desktop stand or tripod and an inexpensive mini ball head; you'll easily find these on Amazon. What you'll then have is a very versatile LED light that can point in almost any direction.
I'm sorry if you feel annoyed that I've included the G1s since you will need to get a couple of extra items, but this is such a great light, with loads of extra lighting modes, that I felt I really should make you aware of it.
The G1s RGB video light looks and feels like a smart and professional product. It has an all-aluminum metal body that suggests quality. Well, I wasn't disappointed.
You could easily slip the Pixel G1s into your pocket or into your camera or laptop case. It measures 133mm(W) x 83mm(H) x 16mm(D).
Like the Lume Cube lights, there is an LCD display on the rear of the panel. Unfortunately, the battery life is a simple battery icon with remaining charge level segments. Considering how good everything else is on the G1s it would have been good to have an actual figure in hours and minutes, like on the Lume Cube models. However, the other information is more detailed, including percentage brightness, color temperature, hue, and saturation.
The power switch is on top of the light and is a sliding type rather than the push & hold sort you find on a lot of devices. All the other controls are easily accessible on one side of the light and are well labelled, both on the front and rear of the light.
I love the fact that the two control dials turn and have a positive "click" they're turned.
The dial at the top is for brightness and allows you to continuously adjust the illumination from 0-100%. But to quickly step through brightness levels in 20% increments tap the dial's central button.
At 100% brightness, the light is bright and will function at that level for 2.5 hours. If you do run the light at full brightness, it will get hot after a while. So be prepared to let it cool down before slipping it into your pocket.
Now if 2.5hrs isn't long enough for you that's not a problem with the Pixel G1s. Just plug the USB-C cable into the port on the bottom of the light and connect to a power bank or AC adapter. Not only will it power the light, but the battery will charge at the same time.
Now back to the other controls.
The bottom dial control allows you to adjust the color temperature, hue, and saturation. It's also used to choose the 9 different lighting effects, although it's unlikely you will need them for most of your online video meetings (unless it's party time). The dial's central button is the function button.
Between the two dials you'll find the SET button.
A metal swing arm pivots at one corner of the light and can rotate through 180-degrees. The bottom of the other end of the arm has a ¼-inch 20 threaded mounting point, while on top there is a built-in cold shoe. This means you can mount the light in a DSLRs hot shoe and have the light directly above the camera or swing the light out to one side and mount a video microphone above your DSLR.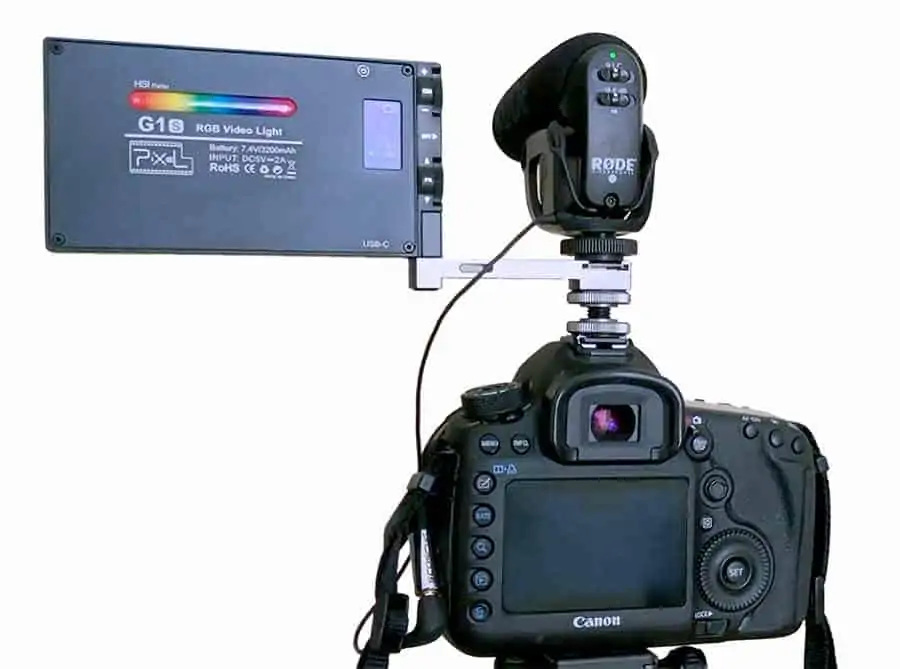 In addition, the swingarm has a couple of extra ¼-inch 20 threaded holes machined into it, giving you plenty of additional mounting options. It's a very clever design. To appreciate the light in all its glory, watch Pixel Photography's official video.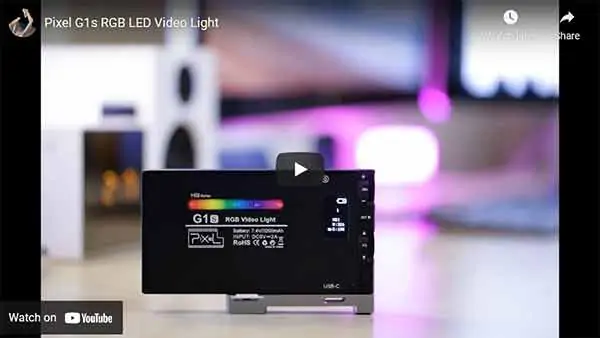 As I mentioned earlier, if you're not using a DSLR you can mount this light on an inexpensive mini tripod stand. But because the sides and the swingarm are flat you could put a box beside or behind your computer screen and stand the light on top. It's not perfect but it can work.
Pixel G1s RGB Video Light specs
80 bicolor LEDs + 70 RGB LEDs
LED CRI ≥97
7.4V 3200mAh 12W rechargeable battery
USB-C charging port
2.5hr charging time
Run time: 150 minutes at 100%
Up to 1500Lux @0.5m
4 modes & 12 lighting effects
Adjustable brightness 0-100%
Adjustable Color temperature 2500K to 8500K
Adjustable Hue and Saturation
Rear LCD display
Size: 133mm (W) x 83mm (H) x 16mm (D)
What's included in the box?
1x G1s video light
1x Portable carrying bag
1x Hot shoe adapter
1x USB-C charging cable
1x User manual
Pros and Cons
| What we like | What we don't like |
| --- | --- |
| All-metal body | Cannot be tilted |
| High CRI value LEDs for great color rendering | Gets hot at 100% brightness |
| Excellent controls | |
| Pocket size | |
| Fast USB-C charging and power | |
| Sturdy metal swivel arm mount | |
| Flat base allows the light to self-stand | |
| You get a lot for your money | |
---
Emart 60 LED Lighting Kit
EMART 60 LED Continuous Portable Photography Lighting Kit for Table Top...
Contents: 2 x15w High Output Table Top LED Photography Light with Stand, 2 x Red Color Gel Filter, 2...
LED Table Top Studio: 60 LED / 1400 Lumen / 180° Adjustable Angle / Maximum Height: 11 inch, 90+...
The included AC / DC adapter can help protect your safety while increasing the brightness of the...
Multi-function use: Perfect light for photography studio, lighting for video, images, collocation...
Last update on 2023-05-23 / Affiliate links / Images from Amazon Product Advertising API
EmartUS, or Emart International

, was launched in 2014 by a group of like-minded techies who were based in Los Angeles
One thing the company is good at is making photography and videography products accessible to everyone at a superb value price level.
That's true of this pair of their tabletop LED lighting kit. You get two 60 LED lights on tabletop stands for a bargain-basement price. If budget is your main concern, then this kit is an easy decision. You won't get anything as good for less money, so buy it now.
Unlike the Lume Cube or Pixel Photography lights, you do get two 15W LED lights. That's a real plus since you can set them up one on either side of you for even illumination across your face.
The lights are attached to the plastic stand column using a simple up and down tilting pivot joint. The lights can be rotated through a full 180-degrees, from pointing upward at the ceiling to downward at your tabletop. The pivot point screw has a nice chunky tightening knob that will keep the light securely at the required angle.
The lightweight pressed metal legs to fold away for storage inside the plastic stand column. Give them a twist and they'll pull out and will splay outward. The ends of the metal legs have an extension to give the stand a little extra height, but it is only a little extra height.
Unfortunately, you can't detach the lights and use them on a tripod or camera hot shoe. Understandably, at this price point, a standard photography ¼ – 20 screw thread mounting point is not included on the LED light units.
These lights are powered from an AC outlet. The cord has a regular two-prong plug for a US 120V AC outlet, but the lights have a working voltage of 110-240V (50/60Hz). So, if you travel abroad, you could take them with you provided you have a suitable outlet adapter. The power cord on each light is 65-inches long. There's an on/off rocker switch on the bottom edge of each light.
Finally, let's talk about the actual lights.
Each one contains 60 daylight rated (5500K) LEDs with a CRI rating of 90+, so the color rendering will be good.
If you need to match the color temperature of the ambient room lights that's what the provided color filters are for. You get red, blue, orange, and white filters. To match tungsten lights, you can use the orange filter to warm the LED's 5500K output. The white filter is probably best used as a diffuser. For video conferencing, the blue and red filters are probably not of much use.
With these color filters you're not going to have the same control over color temperature as with the Lume Cube and Pixel Photography LED lights. But maybe you don't need it and using the lights as white lights will be all that's necessary.
These lights are bright enough for head and upper body shots. I also know of people who use these lights successfully for the green screen virtual background feature in the Zoom app. Just make sure your green screen is close behind you like it would be with a Webaround

chair back-mounted green screen.
Emart recommends not using the lights for more than an hour, otherwise, they might overheat. That's not been my experience, and although the lights have warm there's not been a problem running the lights for 2 – 3 hours. However, you may wish to stick to Emart's recommendation.
Even considering the budget price of these lights, the one feature I would miss is not being able to adjust the brightness. Like the color temperature, the brightness is not adjustable. Fortunately, decent-quality webcams should be able to adjust accordingly.
For a view of the Emart 60 LED lighting kit in action here's a video review from the Healthy Fit Self YouTube channel.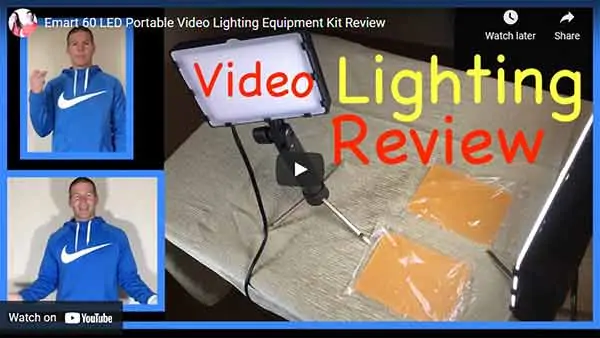 Emart 60 LED Lighting Kit specs
60 LEDs on each light
Light output: 1400 Lumen
Color temperature: Daylight 5500K
Light panel size: 5.5-inch x 3.7-inch
AC mains power
LED CRI:90+
Adjustable angle: 180 Degrees
Max height: 11-inches
Power: 15W
Working voltage: 110-240V (50/60Hz)
Cable: 65-inches
What's included in the box?
2 x15W LED light with stand
2 x Red gel filter
2 x Blue gel filter
2 x Orange gel filter
2 x White gel filter
Pros and Cons
| What we like | What we don't like |
| --- | --- |
| Inexpensive | Budget build quality |
| LEDs have a good CRI value | Limited color temperature control |
| Two lights included | Not dimmable |
| Table top stands included | No battery or USB power option |
| | Lights can only be used on the supplied stands |
---
This article deals with LED panel lights for video calls, i.e. a square or rectangular type of light. However, many people, especially beauty and makeup vloggers, plus portrait photographers, love ring lights because of the flattering quality of the light they produce. To see what we found to be the best ring light for video conferencing click here.
---
Buyers Guide: related questions…
We think that any of the LED lights we have chosen will be a good laptop or tablet light for video conferencing. But we've anticipated that you may have a few related questions, hopefully, our answers in this section manage to address all your questions.
Why choose LED lights for video conferencing
LED technology is the newest lighting kid on the block, and it comes with several key benefits over incandescent lights. LEDs are smaller, are much more robust, have a much longer lifetime, are much more efficient so consume much less energy, and can work at much lower voltages.

These are all features that make them ideal ingredients for compact lights for video work. They are bright, adjustable (both brightness and color), and can run for hours on battery power without producing much heat. Being small, powerful, and relatively light (pardon the pun) they are easy to attach to your laptop, desktop, tablet, or camera. Alternatively, they can be mounted on a tabletop stand that takes up little desk space.

How long do LED lights last?
LEDs have come a long way since they first made an appearance. On average you can expect an LED light to have a useful life of more than 25,000 hours. But that's an average. You might be very unlucky and have an LED light fail after a few weeks or be lucky and have your light continue to work for longer than your working life. To put it in context, if you were to use your light for three hours a day, with a break on the weekend, on average, the LED light would last more than thirty years.
What is an LED?
An LED, or light-emitting diode, produces light by electroluminescence when a current flows through a semiconductor. Electrons and electron holes in the semiconductor material recombine releasing photons of light.

They first became practical electronic devices in the 1960s but developments over the last few years have made them practical high-output white lights that are highly efficient. This has led to them being used in general lighting, photo, and video lights (both continuous and flash), car headlamps, grow lights, and many more applications.
How do I make my LED panel light a soft light?
You could make your small LED panel light a soft light by using it with a softbox umbrella or even an umbrella reflector. However, there is a much easier and cheaper method you can use.

If your desk is against a white office wall the secret is to set your LED light to its maximum brightness and turn it towards the wall. By bouncing the light off the wall, you will have created a large area of wall that will reflect the light back towards you. Each point on the wall will effectively become a light source, so you'll be illuminated by light from many directions. The wall effectively becomes a soft light-source that will help smooth any shadows on your face, hiding any unflattering wrinkles in the process.

If your wall isn't white, you can still use this trick by tacking a few large sheets of white paper to the wall or using a couple of sheets of white foam board.

Should I use a wall outlet powered light or a battery powered light?
If you are always going to conduct conference calls from the same desk, then using a light that plugs into a wall outlet makes sense. However, using a light with a rechargeable battery gives you more choices.

Most modern LED panel lights for video calls include USB charging and USB power capabilities. So, you can have the best of both worlds. You can plug your light into a wall outlet that has both 110V and USB sockets, use an AC adapter, or use a power bank. When you need complete mobility use the internal battery (or power bank) for your video meetings whilst on the road.
Tosh Lubek runs an audio and video production business in the UK and has been using the Canon EOS R since it was released in the Autumn of 2018. He has used the camera to shoot TV commercials for Sky TV, promotional business videos, videos of events and functions, and YouTube creator content. He has also won international awards for his advertising and promotional work. You can meet him by visiting his "video booth" at HashTag business events across the country.
Recent Posts