We're an affiliate: We hope you love our articles and the products we recommend! Just so you know, when you buy through links on this site, we may earn an affiliate commission. Thank you if you use our links, we really appreciate it!
On-camera LED Lights will be your go-to lights when your shooting style dictates that you just don't have time to create the perfect lighting setup. So that includes newsgathering, documentaries, and event videos.
If you are starting out as a Vloggers or YouTuber, and working with a tight budget, on-camera LED lights may also be right for you. They will be useful for piece-to-camera shots, man-on-the-street interviews, and any other type of run-and-gun videography.
Think of them as light, compact and portable video lighting kits for solo video creators working away from their studio.
Which on-camera LED light is right for you
So what do you need to consider when choosing on-camera lights for video production? Well, your choice of light will depend on a number of factors. These will include the following:
Your budget.
How much illumination you require.
Where you will be filming.
How much weight you can mount on your camera.
The ruggedness you need.
How you intend to power your light.
Where you are going to mount your light.
More budget equals better lighting
Like most camera gear, the amount of money you need to spend is tied to what you actually need and what you really want. For instance, will you be happy with a cheap unknown brand from Chinese or do you want a well established and fashionable brand?
You don't have to spend a lot to get an LED light on your camera. Prices start from around $15 for the rechargeable 96 LED Ulanzi Porcket Mini LED light. A nice feature is that you can replace the rectangular rechargeable battery with 4 AA batteries. Just a few dollars more would buy the Neewer 40004082 dimmable LED Video Light with 160 LED beads.
By spending $30 to $70 you'll much more for your money. For example, the Yongnuo YN300 Air LED video light provides more light, is dimmable, has bi-color LEDs so you can adjust for interior lights or daylight, and the quality of the light produces more realistic skin tones.
You can, of course, spend even more. If you like the circular doughnut-shaped catchlights in your subject's eyes and "shadowless" light quality, then go for the Rotolight RL48 ring light.
How much light is enough light
The amount of light you need will partly depend on your camera and lens. If you have a Canon EOS R mirrorless camera with RF 35mm f/1.8 lens you will need less light than a light hungry Canon XF100 video camera.
A typical on-camera LED light

will have a reach of about 15ft. However, the useful working distance is probably up to 6 or 10ft. Therefore, they work best when shooting single subjects rather than large groups.
Location, location, location
Where you intend filming will also determine your choice of light.
Obviously, you will need a more powerful light if shooting indoors with lower light levels, such as a wedding venue or business conventions. If that is your typical shoot get a light with a higher light output, but ensure it's also dimmable for when you get closer to your subject.
If shooting under artificial fluorescent or tungsten lights, cheap daylight rated LED lights will result in strange color effects, depending on your camera's white balance. Here you need a light that has color filters or allows you to adjusted to color temperature to match the ambient lights.
On the other hand, if you are outdoors and shooting your subject at a distance of 6ft, you may only need a low power light to fill in the shadows on their face.
Get the right size of LED light for your camera
Pick an LED light that matches the size and weight carrying capacity of your video camera. If too large and heavy the light will seriously unbalance the camera in your hands. You will also regret the weight if you have to hold your camera for more than a few minutes at a time.
If you do need a light with more "reach" and decide to get something bigger, consider building a rig, such as the one in the image at the start of this article. With a couple of handholds and improved balance, the camera will be easier to control.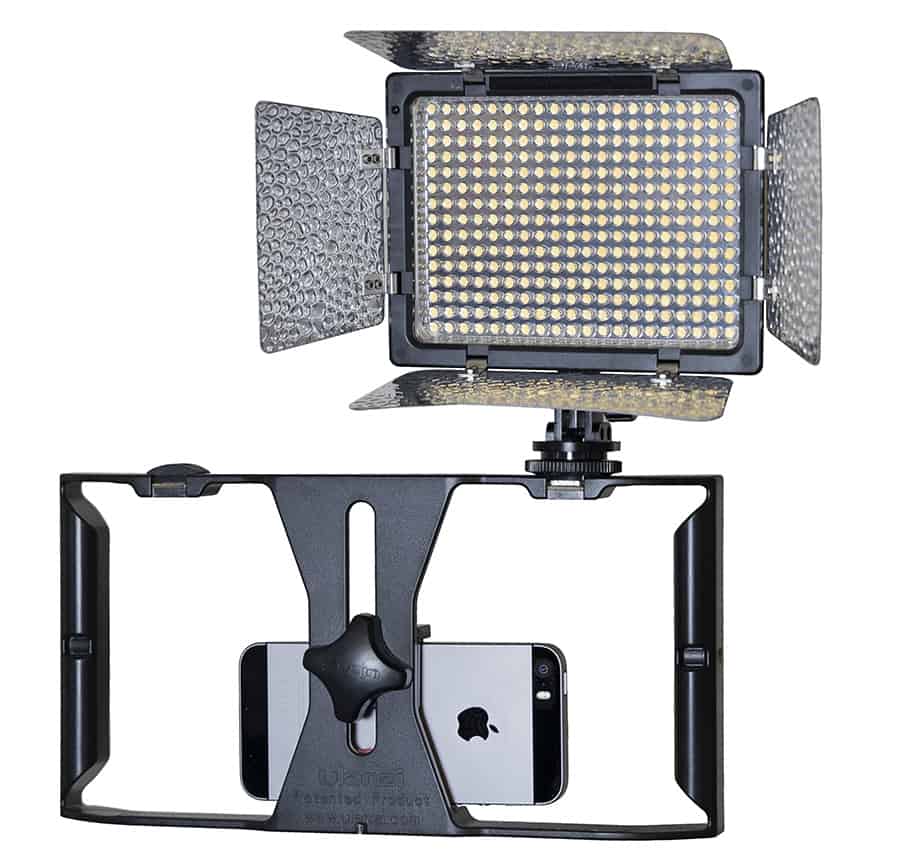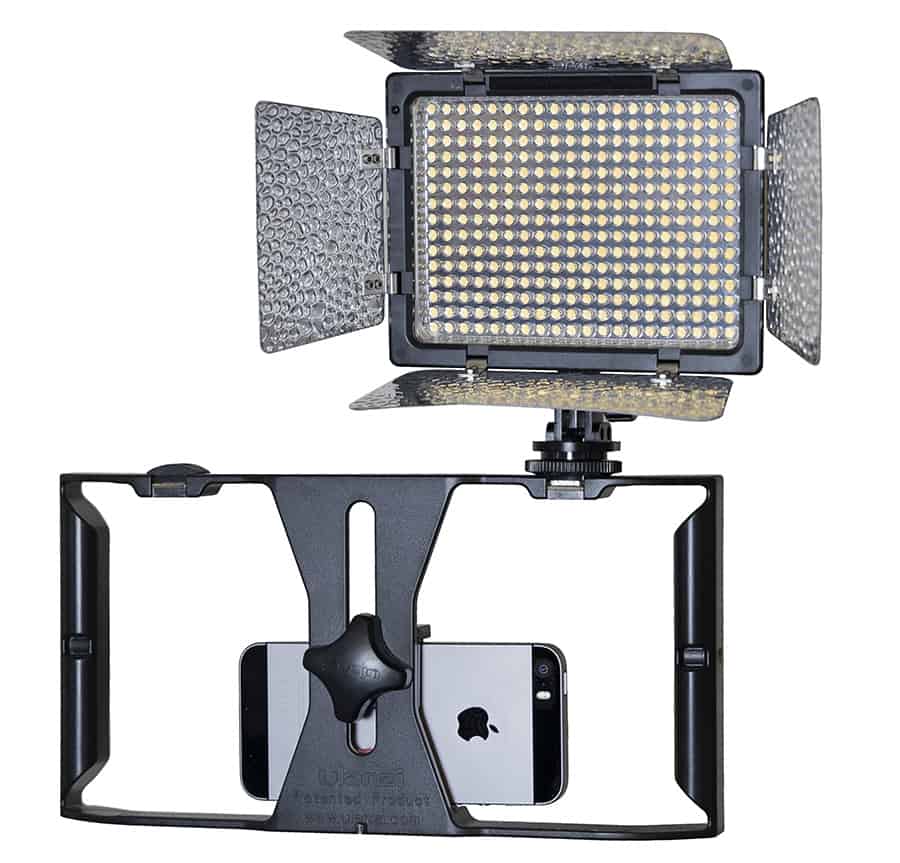 If you are shooting with an iPhone or smartphone you can also use an on-camera light if you use an appropriate camera rig.
I have the ulanzi iPhone rig, as shown above. It has a number of iPhone accessory mounting points, both cold shoe and female 1/4 inch screw mounts.
The rig can be held by the handles on either side or even mounted on a monopod or tripod for extra stability.
Mounting the light on your camera's hot shoe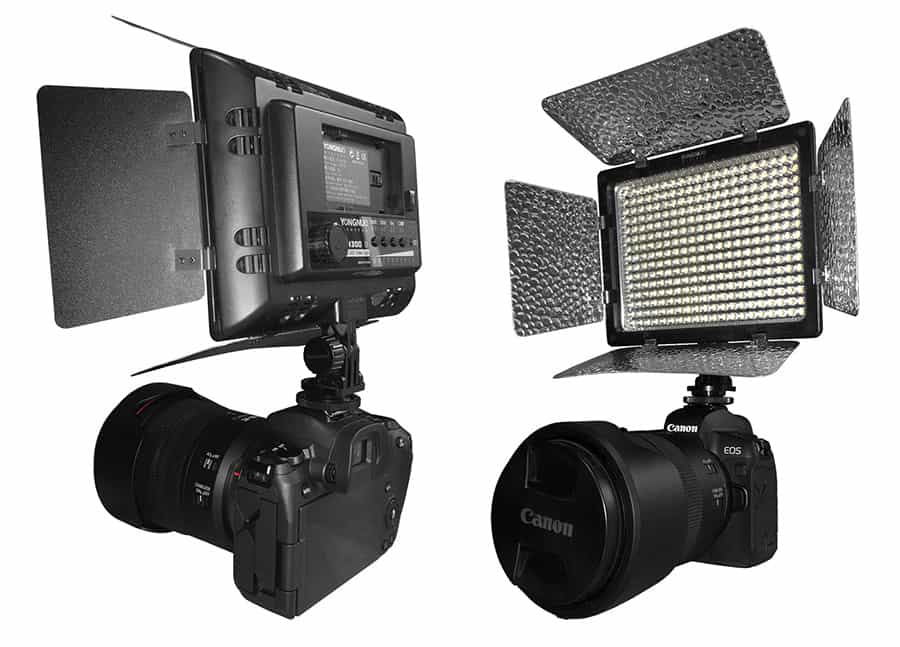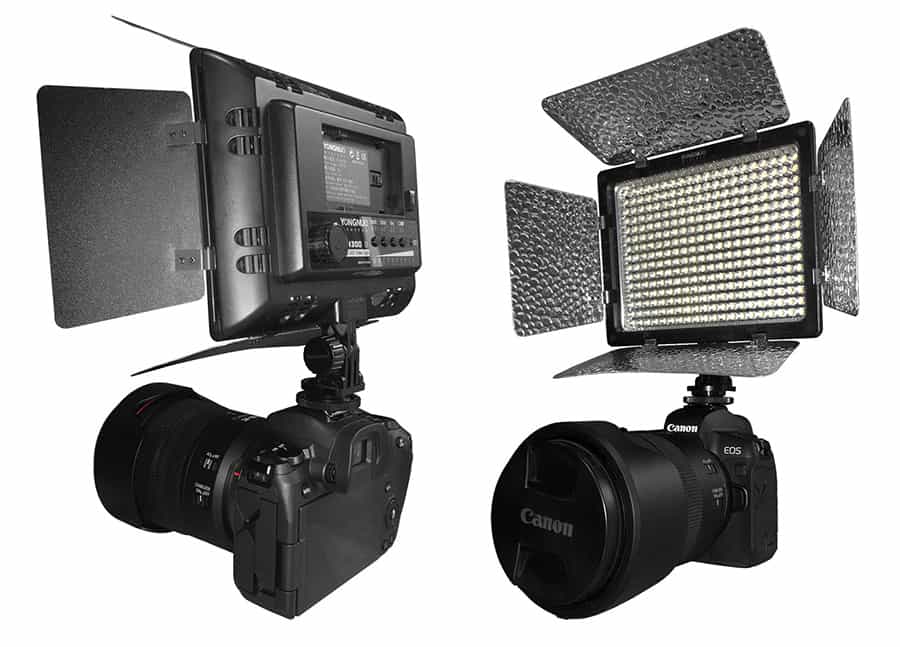 Most LED lights are mounted on the camera's hot shoe. Ensure it is well secured to prevent accidents.
To give you a little extra control, use a mini ball head like the Smallrig 1/4″ Camera Hot Shoe Mount. Lock it in place in your camera's hot shoe and then screw on your light. This will allow you to tilt your light up or down as appropriate.
Whichever way you mount the light it is worthwhile making sure the mount is sturdy and well screwed down. This will prevent the light wobbling and illumination of your subject appearing to waver.
Powering your LED light
Batteries are almost always the power source for on-camera LED lighting kits for video production. The purpose of these lights is to give you the freedom to move about while filming on location.
The smallest lights can take AA batteries but would be well advised to take a pocket full of spares. Slightly larger lights may take AA or rechargeable lithium-ion batteries, such as Sony NP-F550 compatibles.
The larger options, such as the Yongnuo YN300, will probably take an NP-F970 rechargeable battery. My experience is that this light and battery combination will give a few hours of service. Long enough to get enough shots at a typical event, but a spare battery is always worth having, especially if it is cold.
Pros of using on-camera LED video lights
They're extremely portable and can even be carried in a kit bag alongside the camera. Moreover, you don't need special stands to use these lights.
The fact that they're placed on top of the camera means you do not need a lighting assistant. Wherever you point your camera will automatically be illuminated.
Since most use affordable rechargeable batteries you can easily keep two or three spares in your kit bag.
These lights are very affordable.
These light can be put to work in non-video circumstances. I've found them useful during power cuts or when searching dark cupboards or my car trunk. Situations where you want plenty of bright light.
Cons of using on-camera LED video lights
If your subject is looking towards the lens of your camera the on-camera led light will be shining straight into his/her eyes. The glare may be uncomfortable for them.
The position of the light is not compatible with using a teleprompter.
Low power lights will have a limited useful range, requiring you to get closer to your subject. Be realistic with your budget and better quality lights.
The cheapest models may come with weak or flimsy mounts for attaching the lighting to the camera. In extreme cases, your light may come loose, but a more common scenario would be the light wobbling on your camera. This would be noticeable in your clip because the illumination on your subject would seem to waver.
The larger models demand more power and will drain your batteries relatively quickly. Make sure you have a few spares so that you can keep on shooting for as long as you need to.
If you would like to learn more about getting the best from LED panel lights for your home or office studio check out my article here.