DIY Video Studio is supported by its readers. Please assume links on this site are affiliate links or ads, and that I get commissions for purchases made through these links. As an Amazon Associate, I earn from qualifying purchases. Thank you if you use any of the links.
On-camera LED Lights will be your go-to lights when your shooting style dictates that you just don't have time to create the perfect lighting setup. So that includes newsgathering, documentaries, and event videos.
If you are starting out as a Vloggers or YouTuber, and working with a tight budget, on-camera LED lights may also be right for you. They will be useful for piece-to-camera shots, man-on-the-street interviews, and any other type of run-and-gun videography.
Think of them as light, compact, and portable video lighting kits for solo video creators working away from their studio.
Which on-camera LED light is right for you?
What do you need to consider when choosing on-camera lights for video production? Well, your choice of light will depend on several factors. These will include the following:
Your budget.
How much illumination do you require?
Where you will be filming.
How much weight you can mount on your camera?
The ruggedness you need.
How you intend to power your light.
Where you are going to mount your light.
More budget equals better lighting
Like most camera gear, the amount of money you need to spend is tied to what you need and what you really want. For instance, will you be happy with a cheap unknown brand from Chinese or do you want a well-established and fashionable brand?
ULANZI VL49 RGB Video Light
You don't have to spend a lot to get an LED light on your camera. The ULANZI VL49 RGB Video Light is a very affordable RGB LED Video light. It uses sixty high color rendering led beads that have a CRI value of 95 and adjustable brightness from 0-100%. At maximum brightness, you can get an illumination of 800LUX at 0.5m.
ULANZI VL49 RGB Video Lights, LED Camera Light 360° Full Color Portable...
【Professional RGB LED Video Lights】The new version VL49 RGB LED video light adopts 60 high color...
【HUE & Brightness & CCT Adjustable】Hue adjustable from 0 degree -359 degree; Brightness from...
【2000mAh Large Capacity Battery】The mini led lights is built-in 2000mAh rechargeable lithium...
【Magnetic Attraction Design】Back Side Magnet Adsorption Design, adsorb on most metals surface,...
Last update on 2023-12-01 / Affiliate links / Images from Amazon Product Advertising API
NEEWER 160 LED CN-160 Dimmable video light
For about the same price you could have the NEEWER 160 LED CN-160 Dimmable video light with 160 LED beads. By using the included filters, you can adjust the Color Temperature between 5600K (Daylight) and 3200K (Warm light). The light provides illumination of 900Lux at 1m, reducing to 40Lux at 5m.
Last update on 2023-12-01 / Affiliate links / Images from Amazon Product Advertising API
Yongnuo YN300Air II RGB LED video light
By spending a little bit more you can get the Yongnuo YN300Air II RGB LED video light. This LED light is dimmable and comes with a 2.4G remote control. The color temperature is adjustable from 2500k to 5500k, and the high CRI value of 95 ensures realistic skin tones.
Yongnuo YN300Air II Camera Video Light, RGB Full Range Photography Scene...
RGB / Bi-Color Video Light: Yongnuo YN300Air II adopts with 108 high quality LED lamp beads and 100...
Special Scene Supplementary Lighting Mode: With YN300Air II, you can simulate 10 various special...
Remote But Easy to Use: This YN300Air II Video Light comes with a touch pad for 2.4G remote control....
AC/DC power supply option: Use AC power adapter (not included) or NP-F750/NP-F770 lithium-ion...
Last update on 2023-12-01 / Affiliate links / Images from Amazon Product Advertising API
Rotolight NEO 2 LED Camera Light.
You can, of course, spend even more and opt for the professional Rotolight NEO 2 LED Camera Light. This light provides powerful continuous light for video work and High-Speed Sync flash for photography. You can also adjust the color temperature electronically.
Sale
Rotolight NEO 2 LED Camera Light, Continuous Adjustable Color with Built in...
The NEO 2 is a powerful continuous adjustable color LED light & high-speed sync (HSS) flash...
The adjustable temperature from daylight to tungsten (6300-3150K) in continuous & flash mode...
In flash mode, the NEO 2 provides 500% more light output (mains power) and 250% on AA (NiMh or...
Features include True Aperture Dimming which calculates your aperture at a given distance and...
Last update on 2023-12-01 / Affiliate links / Images from Amazon Product Advertising API
How much light is enough light?
The amount of light you need will partly depend on your camera and lens. If you have a Canon EOS R mirrorless camera with RF 35mm f/1.8 lens you will need less light than a light hungry Canon XF100 video camera.
A typical on-camera LED light

will have a reach of about 15ft. However, the useful working distance is probably up to 6 to 8ft. Therefore, they work best when shooting single subjects rather than large groups.
Location, location, location
Where you intend filming will also determine your choice of light.
Obviously, you will need a more powerful light if shooting indoors with lower light levels, such as a wedding venue or business conventions. If that is your typical shoot get a light with a higher light output but ensure it's also dimmable for when you get closer to your subject.
If shooting under artificial fluorescent or tungsten lights, cheap daylight-rated LED lights will result in strange color effects, depending on your camera's white balance. Here you need a light that has color filters or allows you to adjust the color temperature to match the ambient lights.
On the other hand, if you are outdoors and shooting your subject at 6ft, you may only need a low-power light to fill in the shadows on their face.
Get the right size of LED light for your camera
Pick an LED light that matches the size and weight carrying capacity of your video camera. If too large and heavy the light will seriously unbalance the camera in your hands. You will also regret the weight if you must hold your camera for more than a few minutes at a time.
If you do need a light with more "reach" and decide to get something bigger, consider building a rig, such as the one in the image at the start of this article. With a couple of handholds and improved balance, the camera will be easier to control.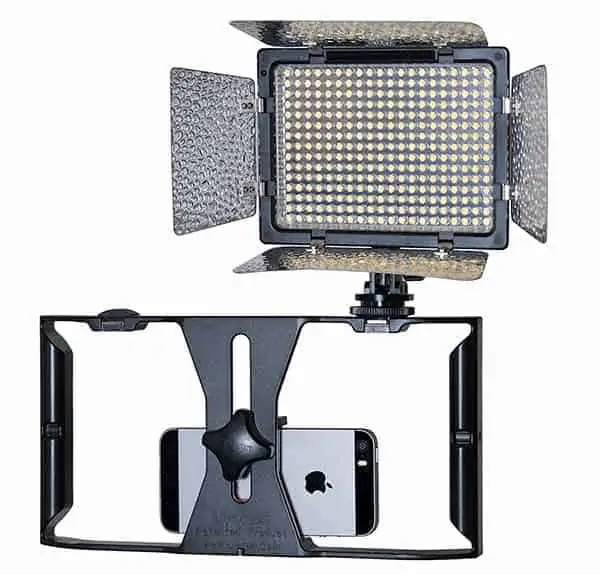 If you are shooting with an iPhone or smartphone, you can also use an on-camera light if you use an appropriate camera rig.
I have the ulanzi iPhone rig, as shown above. It has several iPhone accessory mounting points, both cold shoe and female 1/4-inch screw mounts.
The rig can be held by the handles on either side or even mounted on a monopod or tripod for extra stability.
Mounting the light on your camera's hot shoe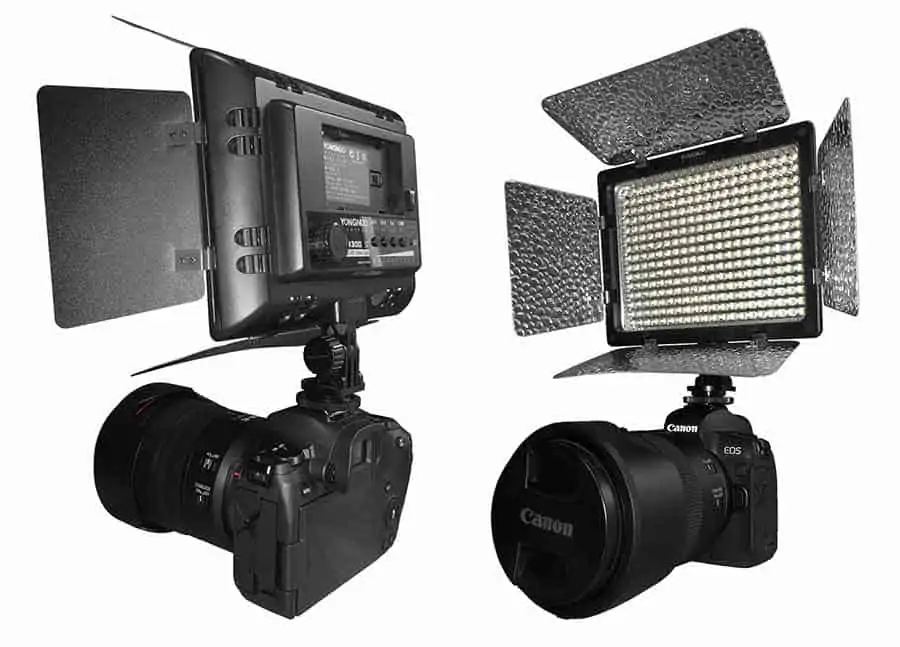 Most LED lights are mounted on the camera's hot shoe. Ensure it is well secured to prevent accidents.
To give you a little extra control, use a mini ball head like the Smallrig 1/4″ Camera Hot Shoe Mount. Lock it in place in your camera's hot shoe and then screw on your light. This will allow you to tilt your light up or down as appropriate.
Whichever way you mount the light it is worthwhile making sure the mount is sturdy and well screwed down. This will prevent the light wobbling and illumination of your subject appearing to waver.
Powering your LED light
Batteries are almost always the power source for on-camera LED lighting kits for video production. The purpose of these lights is to give you the freedom to move about while filming on location.
The smallest lights can take AA batteries but would be well advised to take a pocket full of spares. Slightly larger lights may take AA or rechargeable lithium-ion batteries, such as Sony NP-F550 compatibles.
The larger options, such as the Yongnuo YN300, will probably take an NP-F970 rechargeable battery. My experience is that this light and battery combination will give a few hours of service. Long enough to get enough shots at a typical event, but a spare battery is always worth having, especially if it is cold.
Pros of using on-camera LED video lights
They're extremely portable and can even be carried in a kit bag alongside the camera. Moreover, you don't need special stands to use these lights.
The fact that they're placed on top of the camera means you do not need a lighting assistant. Wherever you point your camera will automatically be illuminated.
Since most use affordable rechargeable batteries, you can easily keep two or three spares in your kit bag.
These lights are very affordable.
These lights can be put to work in non-video circumstances. I've found them useful during power cuts or when searching dark cupboards or my car trunk. Situations where you want plenty of bright light.
Cons of using on-camera LED video lights
If your subject is looking towards the lens of your camera the on-camera led light will be shining straight into his/her eyes. The glare may be uncomfortable for them.
The position of the light is not compatible with using a teleprompter.
Low power lights will have a limited useful range, requiring you to get closer to your subject. Be realistic with your budget and better-quality lights.
The cheapest models may come with weak or flimsy mounts for attaching the lighting to the camera. In extreme cases, your light may come loose, but a more common scenario would be the light wobbling on your camera. This would be noticeable in your clip because the illumination on your subject would seem to waver.
The larger models demand more power and will drain your batteries relatively quickly. Make sure you have a few spares so that you can keep on shooting for as long as you need to.
If you would like to learn more about getting the best LED panel lights for your home or office studio, check out my article here.
Tosh Lubek runs an audio and video production business in the UK and has been using the Canon EOS R since it was released in the Autumn of 2018 and the Canon EOS R6 in 2020. He has used both cameras to shoot TV commercials broadcast on Sky TV, promotional business videos, videos of events and functions, and YouTube creator content. He has also won several international awards for his advertising and promotional work. You can meet him by visiting his "video booth" at HashTag Business Events across the country.
Recent Posts