DIY Video Studio is supported by its readers. Please assume links on this site are affiliate links or ads, and that I get commissions for purchases made through these links. As an Amazon Associate, I earn from qualifying purchases. Thank you if you use any of the links.
Learning how to manage iPhone storage allows you to make more efficient use of your iPhone's memory and shoot more videos. These nine tips will free up valuable storage space on your iPhone.
Backup and delete.
Use iPhone external storage.
Optimize your camera settings.
Can you use a photo instead of a video clip?
Prepare a shot list and stick to it.
Record each take as a separate clip.
Review your clips and delete.
Trim your clips.
Here are the eight strategies you can use to make sure you make the most of your iOS device's storage. Allowing you to shoot more usable clips for your finished videos.
1. Backup and delete
The first thing you should do in managing your iPhone storage is backup and delete your files. Backup your music, images, videos, and apps. Then delete the non-essential ones from your iPhone. You can also consider freeing up some space temporarily by deleting some larger apps from your iPhone after first making sure they (and your data) are backed up first.

If you tap on Settings > General > iPhone Storage you can see how much storage you have used and how much storage each app is using. You will also be given a list of Recommendations to free up some space.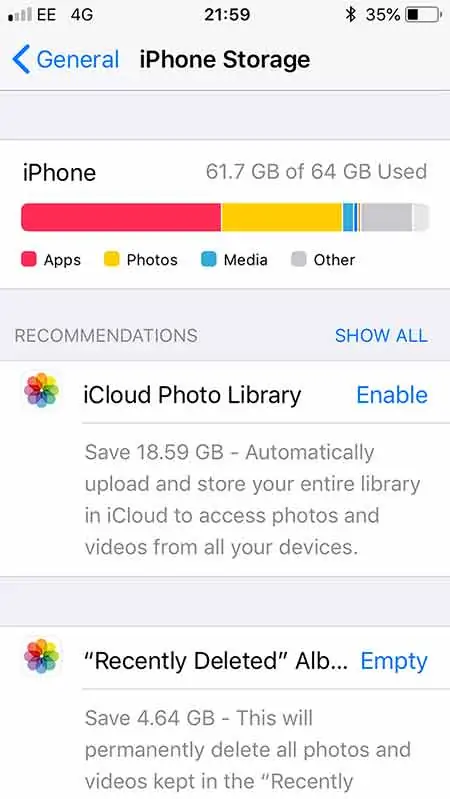 From the image, you can see I have used 61.4GB of my 64GB, so I need to manage my iPhone storage a little better. Fortunately, my iPhone has some recommendations for me, suggesting I can recover almost 19GB of space. It's suggesting I enable iCloud Photos and automatically upload my library of photos and videos to iCloud.
I can also review my personal videos and delete any unwanted ones.
But on the iPhone, simply deleting files won't necessarily save space. You also need to clear those deleted files from the iPhone's Recently Deleted Album. In iOS 12, open Photos then tap on the Albums icon at the bottom of the screen. You can now delete them from your iPhone.
Remember, before deleting any files copy them to your iCloud storage, your computer, or an external flash drive. The latter being something I'll talk about next.
2. Use iPhone external storage
Free up some space on your iPhone by transferring video clips and photos to an external device. Such devices go by several different names, such as external iPhone lightning flash drives, ram expander, or iPhone memory stick. Whatever you choose to call them, the devices can expand your storage from 16GB to a whopping 256GB. However, the highest capacity devices tend to be. All have lightning and USB connectors too.
Plug the storage device into your iPhone's lightning socket and using the associated app, transfer over your image and video files to the device. Once the files have transferred, unplug the device from your iPhone and plug it into a USB socket on your computer. You can now offload the files to your computer for later editing.


I have a couple of 64GB external iPhone flash drives from two different manufacturers. The first is an OMARS USB 3.0 External Storage, the second is a SanDisk iXpand. Both are 64Gb and work well with both my iPhone SE and iPad 4.

Both the OMARS and SanDisk iXpand Flash Drives are available with various storage capacities, up to 256GB. Although higher capacities will probably be released in the future. When it comes to storage for video production, my experience is that you can never have too much of it.
Both the OMARS and SanDisk iXpand use companion apps and both are free from the App Store. You should automatically be prompted to download the required app when you connect the flash drive to your iPhone. If not, search in the App Store for "SanDisk iXpand Drive" or "Witstick", depending on your product.
Both the OMARS and SanDisk iXpand allow direct recording of 1080p HD video to the device. However, their camera apps offer limited manual control, but perfectly useable. If nothing else, it's handy being able to record directly onto the external storage.
Last update on 2023-09-20 / Affiliate links / Images from Amazon Product Advertising API
3. Optimize your camera settings
Whether you are using the native camera app or the much better FiLMiC Pro, choose the most appropriate camera settings. If you know you do not need the highest video quality, you can reduce your video settings and shoot for longer.
The native camera app offers a range of settings to choose from. The minimum resolution is 720p HD, going up to 4K. It also offers a range of frame rates, from 30fps to 240fps. If recording a piece-to-camera or vlogging you'll probably be OK with 1080p HD at 30fps. If you are using FiLMiC Pro you will have a wider range of choices for resolution, frame rates, and data rates. Whatever you choose will be determined by what you plan to do in post-production.
Do you plan to shoot some green screen shoots or intend to do a lot of color grading in post-production? If so, you might want to bump up the resolution and data rate of your video footage. Under such circumstances, you need to record the best possible image quality. On the other hand, if you are recording short videos that you will be uploading straight to social media then a lower quality may be fine.
If you are concerned about what setting to choose, shoot some test shots. You can then import them into your editor and decide which settings work best for your project. Once you have the optimum settings, you can shoot for the maximum time at an acceptable quality standard.

4. Does it have to be video?
If what you're shooting what is essentially a still object and you do not have any camera movement, why not take a photo instead. The photo will take up far less storage space on your iPhone than a video clip. Once you import the image into your video editor's timeline you can stretch it to any duration you want. In doing so, the memory size of the photo remains the same and significantly smaller than a video clip of equivalent duration.
An advantage of using a photograph is that the resolution will be much higher than a video clip. That extra resolution allows you to animate the image using the Ken Burns effect. Normally, if you try zooming in on your video clip the image will become blurry. But the extra resolution with photographs allows you to zoom in without loss of image quality.
One thing you do need to be aware of is that photos and HD videos have different aspect ratios. Photos are squarer than the widescreen of HD video. So, when you take your photo consider your framing. Remember, once imported into your video timeline you will be cropping off the top and bottom of each photo.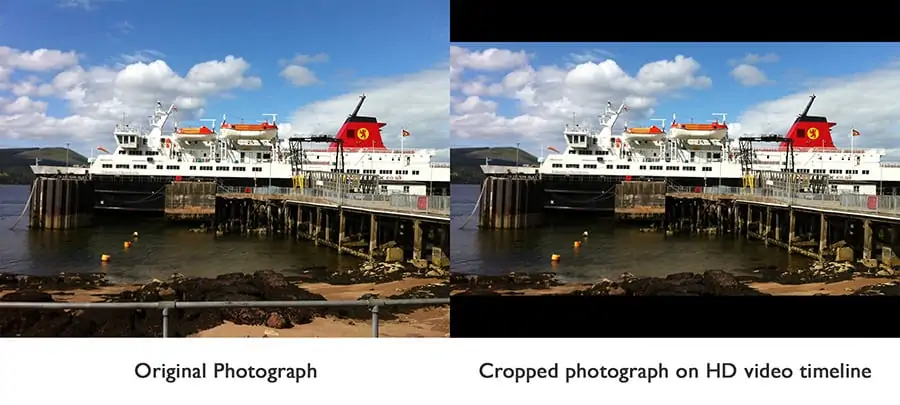 5. Prepare a shot list
Even if you don't have a script, ensure you know the structure of your video. You can then write down a list of shots you will need. With that in hand, you can shoot only the required shots. Being unprepared will result in you recording shoots of anything and everything because you suspect you might need them.
Not only will the shot list help save on your iPhone's storage, but it will also bring other benefits.
A shot list will:
Ensure you get all the shots you need for your finished video.
Speed up editing because you won't have to review clips you don't need.
Reduce the computer hardware resources used when editing, allowing your video project to run more smoothly.
Save storage space, both on your iPhone and computer hard disk.
6. Record each take as a separate clip
If possible, stop the recording after each take. Don't record take-after-take in a half-hour filming marathon before pressing the stop button. If you adopt that style of video creation, you'll end up with long and large video files. They will also take longer to edit and take up valuable storage space on your iPhone and computer hard disk.
7. Trim your clips
This strategy is applicable to both the native camera app and Filmic Pro. Trim the start and end of each clip in your library to get rid of any unnecessary footage.

In your library select the clip you wish to trim. If you are working in FiLMiC Pro tap the scissor icon. If you are in your Camera Roll or Photos tap Edit. The rest is basically the same. Select the handles on the clip's timeline and drag each handle inwards as necessary.
Once you're happy with your trimming tap the check mark in FiLMiC Pro or Done in the Camera Roll/Photos video player. You can then save the trimmed clip and recover a little of your storage.
When trimming your clips don't trim too tight at the start and end of the action or speech. You will need about a second of excess footage at both ends of the clip if you are adding transitions.

8. Review and delete
At a convenient point during your shoot review your video footage and delete any clips that are obviously unusable. This will free up some space for further recording.
However, consider whether you want to make a blooper video with your outtakes. Many of your viewers and customers like to see the real you, your human side that isn't perfect every time. Genuinely funny outtakes can help put your customers in the right frame of mind before they buy. The usefulness of those poor takes may outweigh the advantage of deleting them off your iPhone.
So, when you review your recordings make sure you keep the good takes and consider whether you want to save others for a blooper or outtake reel.

9. Remove Apps that are large or you don't use
It's easy to install an App, try it out, and just leave it unused on your iPhone. The trouble is that it can take up valuable storage space.
Go to Settings > General > iPhone Storage.
Scroll down until you see a list of all your apps. Not only will you see your Apps but also the amount of storage used and when you last used the App. You'll soon find the Apps you have never used or haven't used in a long time. Click on the apps that might be likely candidates for removal. You will see the size of the App and the size of any documents and data.
You have two choices, offload the App or Delete the App. Offloading the App will recover the space used by the App but keep the documents and data. Later you can reinstall the App and again access your documents and data. But if you delete the App all the related documents and data will also go along with the App.

Summary
Remember, thinking about your iPhone storage is an important part of the iPhone video production process. Your storage should be treated like any other precious and limited resource.
If you are running out of iPhone video storage, use an external memory stick. It plugs into the iPhone's lightning socket to back up your files. File transfer is relatively quick, and you can even play and review the files directly from external storage. That feature might be extremely useful if you are making videos as a team. You can carry on shooting while a colleague takes your footage away for review and editing.
If you have a large-capacity iOS device, you may not need to worry about running out of storage. However, you may still improve your video production experience by adopting some of the above strategies.
For Apple support on checking your iPhone storage click here

.
My Favorite Content Creation Kit
Thank you for taking the time to read this article. Hopefully, you found it helpful in creating your own content for your social media and YouTube channels. I have listed some of the gear I use as a YouTuber and online course creator and hope you'll also find it useful. I have recommended this equipment to my readers and my own family and friends.
Audio Recorder: I use Zoom digital recorders to capture good quality audio for videos, podcasts, and radio/TV advertising. Unlike SLRs the Zoom Handy recorders can record from multiple sources simultaneously, ideal if you have two or more people speaking. I've used the H4n

, H5

, and H6

and would recommend them to anyone.
Camera: You can use your smartphone when starting out, but I'd recommend getting a Mirrorless Camera. I use both the Canon EOS R

and EOS R6

. Both can shoot Full HD or 4K, and the Eye AutoFocus will keep you sharply in focus even if you move around. If your budget is smaller, I would recommend the Canon M50 MkII

.
Video microphone: Arguably, sound quality is more important than video quality, that's why I use a Deity V-Mi

c D3

Pro super-cardioid shotgun microphone on my mirrorless cameras. It automatically powers on when I turn on my camera and powers down when I switch off the camera. But I also like the versatility of the mic. It automatically senses what device it is connected to ensuring it works with SLRs, camcorders, smartphones, Handy recorders, laptops, and bodypack transmitters.
Video Lighting: Although daylight is my favorite lighting, I use LED lighting for all the videos I shoot indoors because good lighting can make a tremendous difference to the visual appeal of a video. For video calls on Zoom or Teams, I use the Lume Cube Broadcast Lighting Kit

. For YouTube videos and creating video tutorials for online courses, I love the Lume Cube 18″ Cordless Ring Light Kit. Both these lights are excellent, and I wouldn't hesitate in recommending them.
Teleprompter software: I use the iCue teleprompter

app on my iPad when using it with a traditional beam-splitter teleprompter and control it remotely with the iCue Remote

app on my iPhone. On my PC I use Teleprompter Pro

from the Microsoft Store.
Teleprompter hardware: Teleprompters help you present to the camera without needing to learn your script. When I need more screen space and the durability of an all-metal build, I like the Glide Gear TMP100

beam-splitter teleprompter. It works with my mirrorless cameras and uses an iPad or tablet to run the teleprompter software.
Tosh Lubek runs an audio and video production business in the UK and has been using the Canon EOS R since it was released in the Autumn of 2018 and the Canon EOS R6 in 2020. He has used both cameras to shoot TV commercials broadcast on Sky TV, promotional business videos, videos of events and functions, and YouTube creator content. He has also won several international awards for his advertising and promotional work. You can meet him by visiting his "video booth" at HashTag Business Events across the country.
Recent Posts