DIY Video Studio is supported by its readers who use the affiliate links or ads on this site. As an Amazon Associate, I earn from qualifying purchases. Thank your support if you use any of the links.
First impressions count, especially when attending online video meetings. In a physical meeting we wouldn't stare and scrutinize someone else's appearance. But on a Zoom or Skype video call, participants have no qualms in scrutinizing the other person's appearance. So how to look professional on zoom or video calls is important. Fortunately, we can copy some tricks used by fashion photographers to give ourselves a more flattering appearance. The easiest one to copy is the use of a ring light.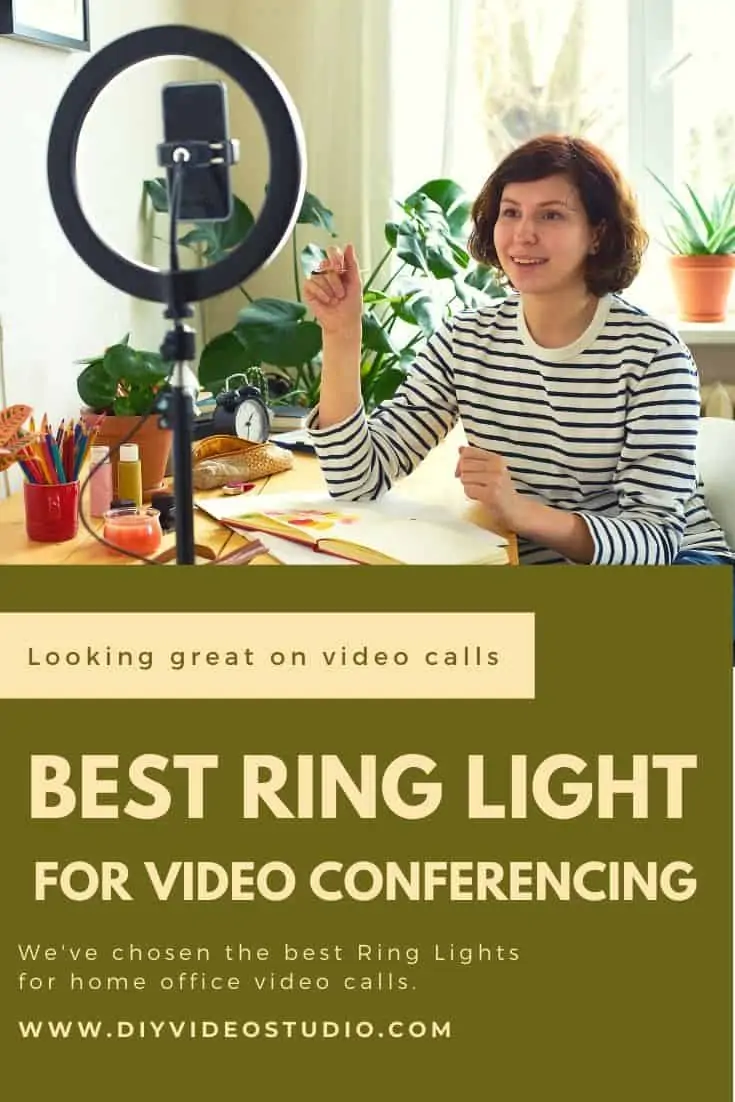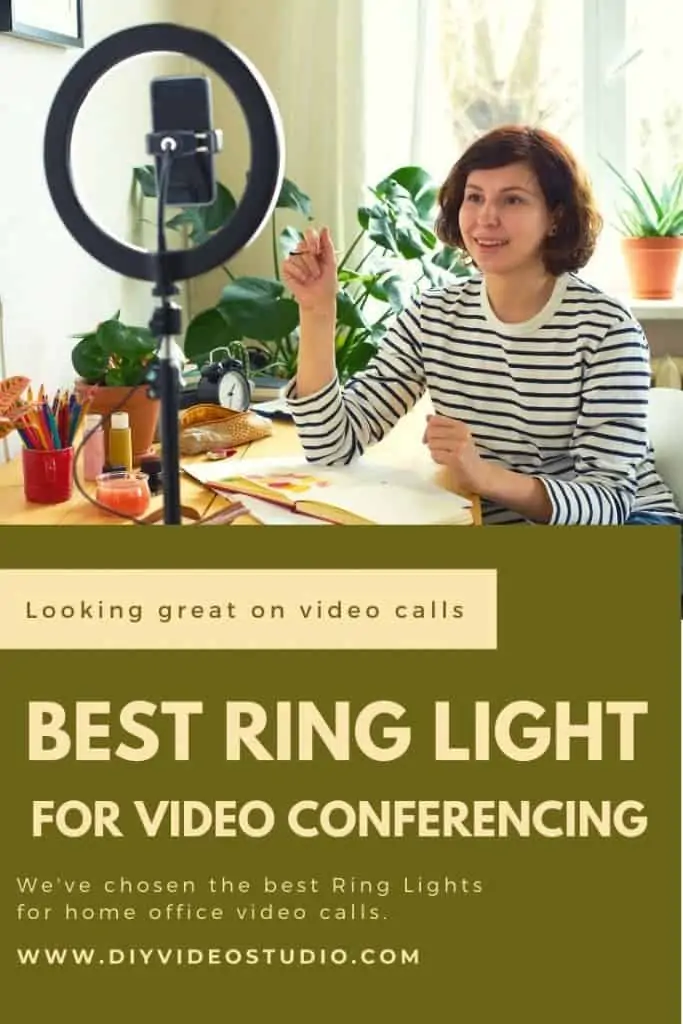 The best ring light for video conferencing or the best ring light for zoom calls has to produce soft light that smooths out the shadows that otherwise would highlight skin wrinkles and lines. It should also be small enough to work with the limited space at or near a desk and be easy to use.
Since we have used ring lights professionally with our video clients, we know what to look for when choosing them. However, we also understand that ordinary users, like you, probably are not video professionals. We've therefore done several days of research to find the ideal gear that we think is up to the job of producing flattering light for video conferencing but inexpensive and simple enough for the average person to regard as the best lighting for home video conferencing.
UBeesize Ring Lights
Model
8" Selfie Ring Light with Tripod & Phone Holder
10'' LED Ring Light with Stand and Phone Holder
10" LED Ring Light with Desk Stand & Phone Holder
Image
Choice of Color Temperature
Popular Choice
Model
8" Selfie Ring Light with Tripod & Phone Holder
Image
Choice of Color Temperature
Editor's Choice
Model
10'' LED Ring Light with Stand and Phone Holder
Image
Choice of Color Temperature
Last update on 2023-12-03 / Affiliate links / Images from Amazon Product Advertising API
We think we've found the best ring lights for video conferencing by choosing UBeesize

. We weren't looking for a supplier that sells ring lights that are cheap because in our experience you get what you pay for. A cheap purchase is often a false economy; however, we think UBeesize lights have the right balance between being inexpensive but being well made for most users.
UBeesize design and manufacture lighting and camera accessories that is used in photography and video markets, as well as in theatre and live entertainment. The company is based in the USA, with a warehouse network designed to efficiently fulfill customer orders across the states.
They supply a wide range of camera and smartphone tripods, smartphone tripod adapters, and lavalier microphones. Ring lights and lighting stands are also a significant part of their product line up and that's what we'll be looking at in this product review.
Their products are popular among B2B wholesalers working across several sectors, including commercial, education, and healthcare. They also sell directly to the public. Their video conference lighting for remote working was originally intended for makeup and beauty bloggers but is ideally suited for video meetings.
UBeesize has been a leading force in tripod and ring light systems, reinvesting to keep the company up to date and an innovating force in the market.
When designing their products, they first focus on the user so that their gear is functional performance while providing superb user experience. They also provide great customer support, so if you have a problem don't get annoyed, contact UBeesize support. No doubt these are some of the reasons why UBsize has gained a loyal customer base and their products sell incredibly well.
So, let's now look at the three UBeesize ring lights. Each one we would consider to be the best ring light for video conferencing, depending on your specific circumstances. If you're looking for the best lighting for zoom video or are asking yourself "how can I make myself look better on zoom calls", one of these lights should be for you.
UBeesize 8″ Selfie ring light with tripod stand & cell phone holder
UBeesize Selfie Ring Light with Tripod Stand and Phone Holder, Portable and...
Dimmable Ring Light Featuring 3 Color Lighting Modes: Warm Light (3000K), Cool White (4500K), And...
Upgraded Tripod Stand : 1, No-Twisting-To-Lock That Collapses Over Time, Belsize New Tripod Adopts...
Rotatable Phone Holder: 1, You Can Easily Adjust The Phone Holder To Find One Angle You Desire...
Usb Powered Works With Most Devices That Support Usb Port, Like Laptop, Pc, Power Bank, Usb Charger,...
Last update on 2023-12-03 / Affiliate links / Images from Amazon Product Advertising API
There are five parts to this product: the USB powered LED selfie ring light, a black extendable tripod stand, a universal phone holder that clips onto the stand, a cell phone adapter, and a Bluetooth remote control for iPhone and Android phones.
This light kit is all black, which is common in photography and video equipment. As you would expect at this relatively low price point, the main parts are aluminum and plastic. Even so, the components seem sturdy enough for the intended purpose.
This being an 8" ring light, I would use it a little closer to yourself than it's larger siblings and where there is already enough room light to illuminate the background.
What is good to see, even at this level of affordability, is the flexibility of the apparent kit. When looking at the kit it soon becomes apparent that the tripod stand is intended to function with or without the ring light. Without the ring light, you could even mount a different type of camera.
Flexibility is also built into the right light itself. By using the four-button controller on the power cord you can change both the color temperature of the light and the brightness.
You can choose Warm Light at a color temperature of 3000K, Cool White at 4500K, or Day Light at 6000K.
Not only do you have a choice of color temperature with this light but it's also dimmable. There are 11 levels of brightness, ranging from 1% to 100%. This makes this 8-inch ring light ideal for anyone wanting good lighting for online video content, such as video conferencing, YouTube videos, and course creation.
The four-button controller also includes the power on/off switch.
The LED bulb ring is covered by a rounded diffusing white plastic, that helps to create a continuous ring of soft light.
Those LED bulbs are USB powered, so you can use power from many devices with a USB-A port. These may include laptops, PCs, power banks, USB chargers, or AC adapters. But be aware, that some devices, like MacBooks may not provide enough power. From experience, I would recommend using a good quality power bank or AC adapter.
The base of the ring light incorporates a ball mount to allow proper mounting and 180-degree adjustment atop of the tripod stand. A side thumbscrew on the ball mount lets you lock the ring light in place once you've got the ring at the correct angle.
The top of the stand also includes a screw mount. If you're familiar with the camera mount on typical selfie sticks then that's what this looks like. It's adjustable and allows you to mount a camera if you don't want to use the ring light. Alternatively, you can mount the second cell phone tripod adapter and use the stand as a tripod for your mobile filmmaking.
The five-section telescopic tripod stand is made of aluminum and is fully adjustable. Open out the plastic side locking flaps to release the sections for height adjustment and then snap them back into place to lock the sections.
The minimum height is 17.5 inches, so with the kit fully assembled you could even place the stand on a desk or table. Fully extended, the stand's maximum height is 51 inches, so at that height, you'll want to place the tripod stand on the ground. It's fairly durable and if used with a little care the stand should give you many years of service.
As a bonus, the stand can also be used as a selfie stick for taking images or filming out of doors. However, it will be a bit chunky even with the tripod legs folded in.
When the stand and ring light are used together you use the plastic cell holder mount that clips onto the column of the tripod stand. You open the mount, slip it around any part of the column of the stand, close it up again, and lock it in place with the metal wire latch.
The spring-loaded phone holder is rotatable, so you can shoot either horizontal or vertical video. It will extend to 3.6-inches, so it'll hold most smartphones.
One point I'd make is that you have to mount your camera phone below the ring light. This loses some of the typical look of wrap-around light that ring lights are known for. However, since the ring is only 8-inches across there is limited space inside the ring for mounting a smartphone.
Finally, a Bluetooth camera phone remote is included to activate the record start/stop. A lithium battery is included for the remote, and the remote is compatible with both iOS and Android phones.
This smaller size ring light is still large enough to create a flattering soft lighting effect. If you have a smaller amount of space available this might be the best lighting to use for zoom meetings or other online conferencing.
| What we like | What we don't like |
| --- | --- |
| Dimmable | Can't mount the phone in the center of the ring |
| Choice of color temperatures | Phone clip can be slightly hard to get on |
| Multipurpose stand | |
| USB powered | |
| Easy to use and store | |
---
UBeesize 10'' LED Ring Light with Stand and Phone Holder
UBeesize 10'' LED Ring Light with Stand and Phone Holder, Selfie Halo...
【Upgraded New Design】 This New 10'' Ring Light Features A Touch Pad In The Front For...
【Safer And Brighter】 It Helps Protect Your Safety While Improving The Ring Light'S Brightness...
【Sturdy Tripod Stand】 Extending From 16" To 50", And Tripod Can Be Adjusted To Any Height Within...
【Ultimate Compatibility】 The Acing Phone Clamp And Wireless Remote Work Well With Most Cell...
Last update on 2023-12-03 / Affiliate links / Images from Amazon Product Advertising API
The UBeesize 10'' LED Ring Light with stand and phone holder is definitely a step up from their 8" ring light when it comes to looking for the best lighting for zoom video meetings. It's also an update on the original 10" design. We love the black professional look of the kit and the small issue of not being able to mount a smartphone at the center of the 8" ring light has been put right in this larger model.
So what comes in the box?
There's the Ring Light, a Tripod Stand, a Cell Phone Holder, one AC/DC Adapter, a Bluetooth Remote Contro for your phone, and a Manual.
Whereas the 8" ring light only needed a USB port for power, this more grown-up sibling uses an AC/DC adapter since it requires a little more electrical juice. That's not so surprising since this light is larger and brighter.
Because the LED ring light is larger and you can mount your smartphone at the center of the ring, the wrap-around effect that's typical of ring lights is more pronounced.
Whereas the smaller model from UBeesize is powered through a USB cable this 10" light is mains powered. The included AC/DC adapter provides enough power so the overall brightness is over 50% more than USB powered models. Even so, because LEDs are used in the ring light, power consumption is low, so there is only a minimal amount of heating in the ring light itself.
The UBeesize 10" ring light is dimmable, going from 1% to 100%, and has a range of color temperature options, from a warm 3000K to a cool 6000K. Until the smaller UBeesize light, that has a control bar fitted to the power cable, this light has a control panel at the bottom where it's mounted on the tripod.
The control panel is simple in layout and use. From left to right there is the ON/OFF button. Next is a small blue LED light that is always on if the AC/DC adapter is plugged in. It indicates that the unit is receiving power not that the ring light is on. The next button is marked with a "+" sign. Press this to step up the light's brightness. The next button lets you cycle through the different color temperature settings. Finally, on the right there is a button marked with a "-". This lets you step down the brightness of the light.
Unlike the 8" version, that uses a ball mount between the stand and the ring light, this 10" version screws directly onto the tripod, making for a more secure fit. A definite improvement in the design and it makes set up quicker and easier.
The supplied stand for the ring light is a standard photography tripod. It can be extended from a height of 16" to a maximum of 50". So you could set it up on a desk or table or stand it on the floor. Since it is a standard tripod it can be used as such when you do not need the ring light. Since most people are familiar with tripods this helps to make set up quick and easy.
The final parts are the phone clamp and Bluetooth remote. The phone clamp is large enough to take most cell phones and can be used either for horizontal or vertical framing. The Bluetooth remote works with both iOS and Android phones and will start/stop recording without touching the phone.
If you are using a webcam, point-and-shoot, or mirrorless camera it can be mounted directly on the ring light's ¼" camera mount screw.
Since the ring and tripod do not take up very much space you could consider taking this with you on a trip. But if you are traveling overseas make sure you have a suitable wall socket converter for the AC/DC adapter.
UBeesize says "You get a quality ring light set with upgraded features and lifetime money-back promise." If they honor that statement, then it might explain their high level of customer satisfaction.
This ring light model works well for Zoom, Skype, and other video conferencing. It's versatile and is the best ring light for video conferencing, or at least one of the best at an affordable price. It's way better than trying to get desk lamps to work and fair value. The only thing I would like to see is a display showing the brightness level. It would help me to quickly set up with the same look as in previous sessions.
| What we like | What we don't like |
| --- | --- |
| Dimmable | No brightness level indicator |
| Choice of color temperature | |
| Tripod can be used on its own | |
| Easy setup and use | |
| Phone can be mounted within ring | |
---
UBeesize 10″ LED Ring Light with Desk Tripod Stand & Phone Holder
UBeesize 10" LED Ring Light with Tripod Stand & Phone Holder, Dimmable Desk...
Multiple Color and Brightness Levels-The 10-inch Ring Light is dimmable with 3 lighting modes:...
Versatile & Portable Tripod Stand-It comes with a tripod stand that is both sturdy and compact....
360-degree Universal Phone Clamp-The unique gooseneck mobile phone clamp design enables you to...
Wireless Remote Control & USB Powered-Wireless remote control allows you to control your phone while...
Last update on 2023-12-03 / Affiliate links / Images from Amazon Product Advertising API
This is really UBeesize's first generation of 10" ring lights on a desk mini tripod stand. As such, it's powered through a USB cable, which also includes an inline control. The gear is again a pleasing black color, which is ideal in photography and videography.
The box includes a ring light, mini tripod stand, phone holder, Bluetooth remote control, and manual.
The phone holder is on a flexible gooseneck which screws on to the screw mount at the inner bottom of the ring. The gooseneck will obviously provide more flexibility in positioning a smartphone. But if you are using a camera, other than a smartphone, it could be mounted in the ring light instead of the gooseneck. However, you may need a small adapter, such as a mini ball head with a cold-shoe base

.
The desk mini tripod is a useful item in its own right. If you're not using the ring light you could mount a smartphone, webcam, or small/medium weight camera on the mini tripod. In fact, I've used a very similar mini tripod as a support for my Canon EOS R with the RF 35mm lens.
From the reviews of the two earlier UBeesize ring lights you'll probably guess that this 10" model is dimmable and offers three color temperature modes: White, Warm White, and Yellow. In each of those color modes the brightness can be adjusted through 11 levels, depending on your needs.
Power is provided from the USB port on a suitable device, such as a USB wall adapter, laptop or power bank. Partway along the cable is the lighting control. Use it to turn on the light, choose the color modes, and set the brightness level. Although this is not as bright as the 10" ring light with AC/DC adapter, using USB power provides more flexibility in where you can set up.
When you connect the USB plug into a power source, such as a wall charger, laptop, or power bank the light won't turn on straight away. Pressing the + or – buttons on the controller will have no effect until the unit is switched on by pressing the power on/off button on the controller.
The mini tripod incorporates portability into the setup. The stand is no weakling, it can support a load of up to 2kg (just under 4½lbs). As well as being a stand for the ring light it can be used independently as a tabletop tripod for smartphones and many cameras.
If you already have a standard tripod with a ¼" screw mount you could mount the ring light on your tripod. You are not limited to only using the ring light with the supplied stand.
Although all the ring lights in this review have been chosen for use in video conferencing use, obviously they can be used for other types of video recording. For instance, this 10" ring light on a desk mini tripod is well suited to use when you are on the go. Folder up the legs on the mini tripod to form a handle and lug the light into a power bank in your pocket and you have the basis of a superb mobile walkabout filming platform. Maybe this is the option for you if you are also a travel vlogger who needs light for indoor shoots.
The included 360-degree universal phone clamp uses a long gooseneck. This allows the camera phone to be adjusted to almost any position. The phone holder can also be set up for either vertical or horizontal filming.
Like the rest of the UBeesize range, a Bluetooth remote control is provided to control your phone's video recording on/off or snapping images. The remote works with both iOS and Android smartphones.
| What we like | What we don't like |
| --- | --- |
| Dimmable | No brightness level indicator |
| Choice of color temperature | |
| Easy to use | |
| Ideal for working at your desk | |
| USB power allows use anywhere | |
---
Buyers Guide: related questions…
Any of these 3 ring lights we've reviewed will be excellent for Zoom meetings or for your favorite video meeting app. But you'll probably have some other related questions, so we've tried to anticipate and answer them in this section.
How do I make my zoom light better?
For a pleasing and more flattering appearance make sure your ring light is straight in front of your face. Ideally, the camera should also be in the middle of the ring. Don't have a bright light, like a window, behind you, nor at one side. This will make you look dark or add heavy shadows on one side of your face opposite the window, undoing the benefits of the ring light. Always face the light and have your camera between you and the light.
Why do ring lights make you look better?
Ring lights are used to throw an even light across the subject that appears to be coming from all directions around the camera lens. This "soft" light minimizes and smooths those unflattering shadows on the face, thereby reducing any blemishes.

Ring lights also produce attractive and distinctive specular highlights in the eyes or catchlights. Therefore portrait and glamour photographers frequently use ring lights. They are also a go-to light for videography where one person is speaking to the camera.

This is why many professional YouTubers often use ring lights. But these lights have come down in price as LEDs have replaced circular fluorescent tubes. They are now much more affordable and help ordinary vloggers and anyone on a video call to look great on camera.

Does the size of a ring light matter?
When it comes to ring lights, size does matter. The tiny ones that clip on to your cell phone or those intended for personal makeup probably won't do the job.

As the ring becomes smaller the light effectively becomes a light point source, and point sources are good at producing hard light rather than the flattering soft light we want to make the subject look better.

Basically, the larger the better. In a video studio, I would want a ring light with a diameter of at least 14" and preferably 20". But that wouldn't be suitable for a Zoom call at a home or office desk. In that situation the webcam or smartphone will typically be at arms length, and so will the ring light. At such a distance there is no need to go for a 14" to 20" ring light. At such close distances, an 8"-10" ring light should be fine.

Do I need a light that can do different color temperatures?
Although many video lights can be set to different color temperatures, this is only useful if your camera app has a manual white balance control.

Camera apps, like the iPhone native camera app, only have auto white balance (AWB) and will automatically adjust to the color temperature of the light. They try to adjust the image so it looks as if it were taken under normal white light.

To take advantage of the different color temperatures you will need to download a camera app with manual settings.

However, skin tone can look richer under warmer (yellow) light and professional photographers and videographers may sometimes deliberately shoot to take advantage of the color effect. In a Zoom meeting, we would suggest sticking to white light unless you are trying to match the color temperature of the ambient light.

Are ring lights worth it?
If you want to use soft light to enhance your appearance ring lights are worth every penny. They are quick to set up, require little skill to make you look good, and can save space because the camera is placed within the ring. But if you wear glasses or don't like the small circular catch-lights reflected from the surface of your eyes, then ring lights are not for you.
Should I use USB power or a wall output adapter for my right light?
Both ways of supplying power to your right light have their merits. A light using an AC/DC adapter will probably be brighter but you will need a wall outlet or extension cord nearby. However, a light using USB power is likely to be more flexible in the locations you can use. It could be used anywhere with a PC or laptop or even permit you to Zoom or Skype while walking about by plugging into a power bank. Whether you choose USB power or an AC/DC adapter will depend on what you need to do when video conferencing.
How do you get a catchlight in your eye?
Catchlights or eye lights are the reflections of a light or bright object that appears in your eyes. If you are using a ring light, the larger it is the more noticeable the catchlight will be. If you have a smaller ring light you can increase its relative size by moving it closer to you.

Creating catchlights in your eyes is thought to be attractive. They bring a three-dimensional look of depth to your eyes that adds a sense of life and vitality. Catchlights will literally add a sparkle to your look.
Tosh Lubek runs an audio and video production business in the UK and has been using the Canon EOS R since it was released in the Autumn of 2018. He has used the camera to shoot TV commercials for Sky TV, promotional business videos, videos of events and functions, and YouTube creator content. He has also won international awards for his advertising and promotional work. You can meet by visiting his "video booth" at HashTag business events across the country.
Recent Posts