DIY Video Studio is supported by its readers who use the affiliate links or ads on this site. As an Amazon Associate, I earn from qualifying purchases. Thank your support if you use any of the links.
Some people think of the Blue Yeti Nano USB microphone as a cut-down version of the Blue Yeti, and I do get it. The Nano is smaller, it uses the same microphone capsules (but only two), and it costs less than the original Blue Yeti.
But the Yeti Nano's polar pattern selection button also includes a neat feature. At least it's a neat feature if you know about it. As well as letting you toggle between Cardioid and Omnidirectional polar patterns it also allows you to turn Direct Monitoring On or Off.
Blue Yeti Nano USB Microphone (Shadow Gray) Bundle with Boom Arm, Shock…
Bundle Includes: Blue Yeti Nano Premium USB Microphone (Shadow Gray), Suspension Boom Scissor Arm…
Perfect for Recording and Streaming: Designed for broadcast-quality podcasting, YouTube productions,…
Plug-And-Play Operation: Yeti Nano features 24-bit sound quality, a compact design, and…
Zero Latency: With a no-latency headphone output and controls for headphone volume, microphone mute,…
Last update on 2023-09-14 / Affiliate links / Images from Amazon Product Advertising API
Fixing not hearing yourself on the Blue Yeti Nano
The Blue Yeti Nano has two controls on it. There's a headphone volume control on the front that can also mute the microphone. On the rear, there's a polar pattern select button.
If you press it the microphone will change from its current polar pattern setting to the other available pattern. In the case of the Nano, that's either Cardioid or Omnidirectional polar patterns. But the button has one more function, it can also control whether Direct Monitoring is on or off. In other words, it allows you to change between zero latency monitoring and computer playback monitoring.
It is quite easy to accidentally turn off Direct Monitoring on the Blue Yeti Nano while reaching around to the back of the microphone to switch between polar patterns.
After inadvertently turning off Direct Monitoring you could end up believing that the microphone or the headphone socket is faulty. Or you might realize you have done something but are frustrated over not knowing how you did it and how to fix it.
So, this is what you need to do to fix not hearing yourself through your headphones when using the Yeti Nano.
The Blue Yeti Nano's Direct Monitoring can be turned on or off by pressing and holding the pattern select button for 2sec. When Direct Monitoring is turned on/off you will see the green light ring around the headphone volume dial flash to confirm the change to the state of the Direct Monitoring.
The solution is simple and does not require you to go into any software settings, as some people have posted to the internet.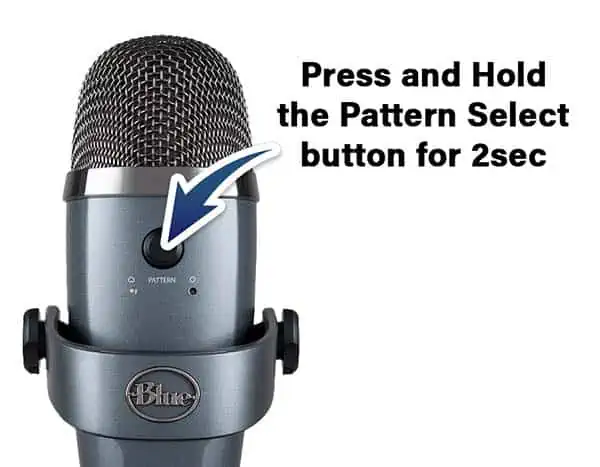 The solution is simple and does not require you to go into any software settings, as some people have posted to the internet.
Like so many things, the solution is simple if you know how what's going on and how to put it right. But if you don't know, it can be a big issue. I had a similar experience when using a Yamaha digital audio mixing desk. I repeatedly managed to reset the mode without knowing what I had done. So, if your headphone feed using the Yeti Nano seems to have cut for no apparent reason, I know how you feel.
Is turning off Direct Monitoring the same as Muting?
Turning Direct Monitoring on or off on the Blue Yeti Nano is not the same as muting the microphone.
When you turn Direct Monitoring off the microphone still produces an output signal, you just can't hear yourself in your headphones plugged into the Nano. When the microphone is muted, the microphone does not produce an output signal and therefore you cannot be heard.
To mute the Blue Yeti Nano, press the headphone volume dial on the front of the microphone. The green light around the dial will change from green to red, indicating the microphone has been muted.
Summary
As we've seen, it is easy to turn the Direct Monitoring on and off on the Yeti Nano microphone. You just need to perform a long press of the pattern select button on the rear of the mic. To mute the microphone you press the headphone volume button on the front of the microphone.
Here's a big ask from me: If you liked this article, please share it.
It will mean a great deal to me if you share this post because a few seconds of your time will seriously help my blog grow. The share buttons are below the "About Author" section.
Thanks. 🙂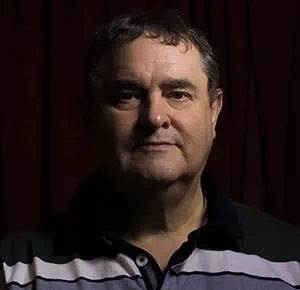 About the author: Tosh Lubek is a multi-award-winning broadcaster, writer, and video producer, with 40 years of experience in professional broadcasting and has been using Canon video and stills cameras since 2010. He has worked with radio and TV broadcasters, advertising agencies, and direct clients on a variety of projects including radio and television advertising, online video production, corporate videos, award ceremony motion graphics, and theme park sound design. Tosh has won numerous awards, including a Radio Academy Awards Gold Sony, a Gold, Silver, and Bronze World Medals in the New York Festivals International Advertising Awards. Since about 2007 he has been creating YouTube videos. Tosh has been a sponsor of the "video booth" at HashTag Business Events across the UK.
Recent Posts