DIY Video Studio is supported by its readers. Please assume links on this site are affiliate links or ads, and that I get commissions for purchases made through these links. As an Amazon Associate, I earn from qualifying purchases. Thank you if you use any of the links.
If you look at the CIPA battery life rating for the Canon EOS R6 without knowing a little about how the camera is tested to get those figures, then you might think that camera's battery life is bad. At face value, it does not look too good.
When using the LCD screen, the R6 camera is CIPA rated for 360 shots, or 250 shots when using the Electronic Viewfinder (EVF) on a single charge. Or 510 shots (LCD screen) and 380 shots (EVF) when in power-saving mode.
If you are a bird photographer, where you shoot in bursts at up to 20 frames per second, it will not take long to hit that CIPA mark of 250 shots on one battery charge. But when it comes to "real world" performance you can ignore the CIPA rated number of shots per battery charge. CIPA ratings are best used when comparing different cameras against each other. The CIPA battery life rating should not be used to judge the performance you can expect during a real shoot.
How CIPA testing is done
When a camera undergoes CIPA testing, 30sec after turning on the camera a single shot is taken at intervals of 30sec, with the camera left on between shots. After 10 shots the camera is turned off. Then the sequence is repeated.
Although this kind of testing is repeatable and allows you to compare different cameras, it is not the way that most people use their cameras. Also, the settings you use, and your shooting style will influence the rate at which the battery drains. Furthermore, a mirrorless camera with its LCD screen and EVF will consume more power than a standard DSLR.
Since the R6 is a mirrorless camera, and one with a powerful image processor, it may seem as if it drains the battery quickly. However, this ignores the camera's technical capabilities and the fact that the battery capacity is higher than previous versions in the LP-E6 series.
Real world Canon R6 battery life for stills
When using the same battery, a mirrorless camera will have less battery life than an equivalent DSLR. Since the Canon R6 is a mirrorless camera, it needs power for the rear display and EVF, something DSLR cameras can avoid.
In the real world, battery life varies greatly depending on shooting style, the files being saved, the brightness of the display, and a range of other factors. However, your shot count will likely be higher than the CIPA rating. For instance, I recently used my EOS R6 for a mix of vacation and birding shots. The battery was a few months old, the camera was in burst mode, and I set it to save RAW + jpeg image files. I only used the EVF and only occasionally used the rear display.
Shooting bursts ay full resolution for events or birding I get a few thousand shots from one LP-E6NH battery charge. This includes saving both RAW and jpeg files. On a paid job I take two LP-E6NH batteries for a full day, with a third battery as a backup.
So why does this differ so much from the CIPA battery life rating? Honestly, I don't know. What I do know is what happens when I'm using my EOS R6 camera with the new LP-E6NH battery. Recently I had a vacation in the Sherwood Forest area in Nottinghamshire. I deliberately set out to test the R6 battery life while taking bird shots in the forest and at a nearby lake. This is how I had everything set up and the conditions.
Battery was relatively new and fully charged.
Shutter speed varied between 1/250sec and 1/1250sec, with an average of around 1/800sec.
Bursts using Electronic 1st-curtain shutter.
Image quality set to 20Mp 5472x3648px.
Camera turned off between shots.
Continuous AF disabled.
HDR & HDR PQ settings off.
Highlight tone priority off.
Anti-flicker shoot. disabled.
Touch Shutter disabled.
Picture Style – Fine Detail.
Multiple exposure & Focus bracketing off.
Images saved as both RAW and jpeg files at full quality.
Wifi and BlueTooth not enabled.
Shots taken over two visits to the Sherwood Forest on consecutive days.
Only the EVF was used and no pixel peeking to check the captured images.
Ambient temperature of about 23-24°C.
At the end of the two days of shooting here's what the camera's battery info page reported.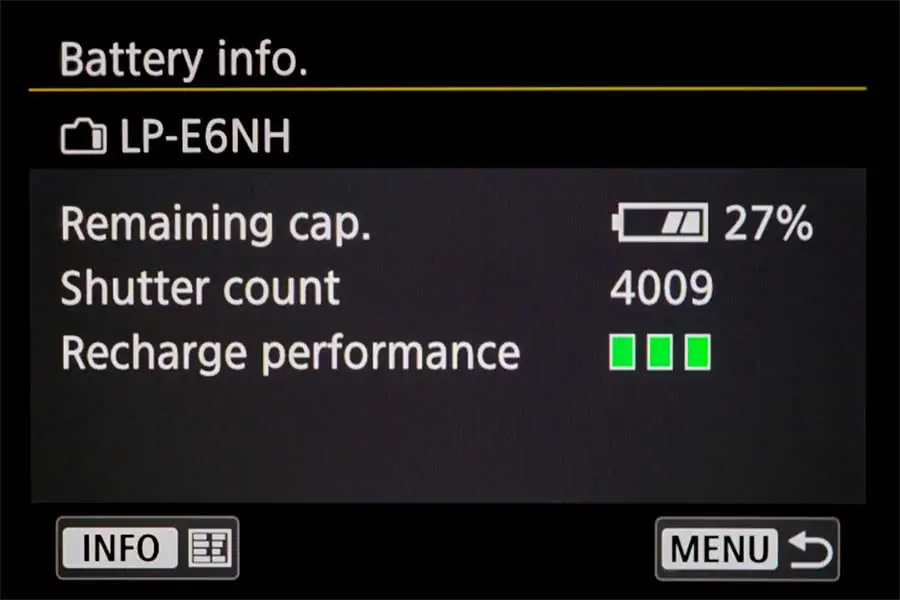 You can see that after 4009 shots the remaining battery capacity was 27%. If I were to continue at the same rate until I had used up all the power, doing the math, I should be able to take a total of nearly 5,500 shots. However, the camera closes down with some power left in the battery, so perhaps 5,000 shots would be a better estimate.
Five-thousand-shot battery life from the EOS R6's LP-E6NH battery seems an extremely healthy number but remember I did not check the results in the EVF or on the rear screen. That's perhaps a little unrealistic since the temptation to check what you've just shot is a mighty one.
So, maybe suggesting 4,000 shots would be a fairer estimate. But whether it's 5,000, 4,000, or even 3,000 (if you leave the camera powered up between shots) that's still plenty of battery life from a single charge in the R6.
Shoot for longer with the EOS R6
If you need to keep shooting with your EOS R6 for longer periods without the interruption of changing batteries, you could use the following power options.
A battery grip
Dummy battery with a power bank
USB power
Whichever method you use to power your Canon R6 remember that battery life is affected by the ambient temperature. Low temperatures will kill the performance of a Li-ion battery, so you will need extra batteries and preferably keep them warm.
What Battery Does the Canon EOS R6 Use?
The Canon EOS R6 camera is supplied with the LP-E6NH battery pack that provides 2130mAh of power at 7.2V. This is 14% more than the LP-E6N battery (1865mAh) and 18% more than the LP-E6 battery (1800mAh). However, the R6 will function with any of these Li-Ion batteries.
Naturally, the EOS R6 battery life will be the longest with the LP-E6NH that is supplied with the camera. However, the LP-E6, despite being the oldest version in the LP-E6 series of EOS batteries, can still be useful. Although it does not last as long as the LP-E6N or LP-E6NH, it is cheaper than its more powerful siblings.
Canon EOS LP-E6 vs Lp-E6N vs LP-E6NH battery packs
Last update on 2023-12-01 / Affiliate links / Images from Amazon Product Advertising API
The LP-E6 family of EOS camera batteries include the LP-E6, LP-E6N, and LP-E6NH. Each new model delivering slightly more power than the previous version. The extra capacity of the N and NH versions is not really to provide longer shooting time but reflects the need for more power as power-hungry components have been added to newer camera models. This is particularly true with the introduction of Canon's full frame mirrorless cameras, like the R, R5, and R6, which by their nature, use more power than the older DSLRs.
The original LP-E6 camera battery was released with the EOS 5D Mark II late in 2008. Six years later it was superseded by the LP-E6N EOS camera battery. The new battery pack offered better safety standards and improved counterfeit protection.
The LP-E6N was released in 2014 along with the EOS 7D Mk II DSLR camera. The upgraded battery is slightly more powerful than the original Canon LP-E6 power pack, delivering 1865mAh, an improvement of 3.6% on the LP-E6's 1800mAh.
In 2020 the LP-E6N was upgraded to the LP-E6NH battery, which was developed to handle the extra battery drain of the professional level EOS R5 and R6 mirrorless cameras. At a power rating of 21300mAh, the LP-E6NH delivers 14% more power than the LP-E6N and 18% more than the original LP-E6.
The following table summarises the electrical capacity of the three LP-E6 series batteries.
| Canon battery pack | Power capacity | Improvement on the LP-E6 |
| --- | --- | --- |
| LP-E6 | 1800mAh | – |
| LP-E6N | 1865mAh | 14% |
| LP-E6NH | 2130mAh | 18% |
Canon EOS R6 battery life for video – a real-world test
To answer the question, "what battery life can I expect from a Canon R6", I decided to test some batteries. I could do a CIPA type test shooting still images or test the batteries while shooting video footage. Being primarily a videographer, I decided to test the Canon R6 battery life while shooting video.
Whether shooting still images or video, it is going to be difficult to simulate the real-world experience of every user. That is because my style of shooting will be different from anyone else's. Also, because the R6 is customizable, your settings probably will not be the same as mine. So, the test will have to be a bit of a compromise to at least get some usable figures to work with.
I decided to leave most camera settings at the factory defaults. However, I did change the Video System to PAL (to match my region) and in the Power Saving settings, I made sure the display remained active for the full length of the recording. This would simulate being able to always monitor the recording.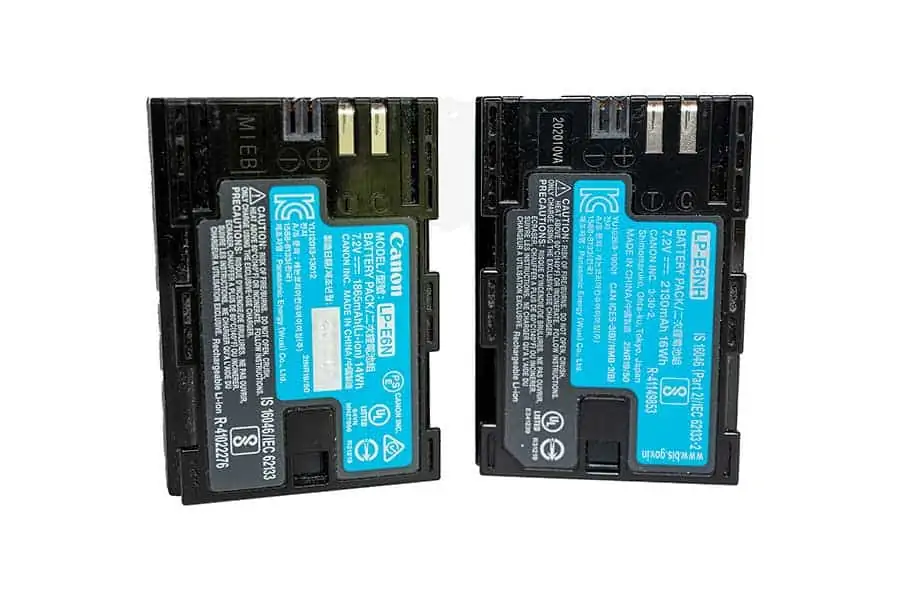 Since I had both LP-E6N and LP-E6NH batteries I decided to test both in my R6. In each case I started out will a fully charged battery and ran the test twice, once at 4K 25p and once at FHD 25p. I did not expect that there would be much difference between shooting at a frame rate of 24fps or 25fps, although there might be a slight difference between 25fps and 29.97fps. Even so, other differences, such as changes in the ambient temperature during the day, would probably have a bigger influence on battery life.
I ran my R6 in video mode until the recording limit of 29'59" was reached, then immediately restarted the video recording. I continued this way until either the camera stopped recording because the power ran out or the camera shut down due to overheating, which only happens during the 4K recording. Where overheating occurred, I rested the camera and battery for 30min before resuming the test.
Although your video shooting style might not exactly match this test, the test is an attempt to simulate continuous shooting at a live event. A real-world example of this is a job I had during the COVID19 restrictions. I needed to shoot a funeral service at a church and then the interment at a nearby cemetery. I used two cameras (for different angles) running continuously, starting one camera slightly before the second. This ensured that I had footage to cover the small interruption caused by reaching the video recording limit and needing to restart the cameras. To avoid the camera shutting down due to overheating I filmed at Full HD instead of 4K.
Canon EOS R6 LP-E6N vs LP-E6NH battery life results
So here are the results of my R6 camera battery life test using the LP-E6N and LP-E6NH batteries shooting 4K and Full HD video.
LP-E6N Battery
R6 – 4K@25p
LP-E6N Battery
R6 – FHD@25p
LP-E6NH Battery
R6 – 4K@25p
LP-E6NH Battery
R6 – FHD@25p
Shot length #1
29:59
29:59
29:59
29:59
Shot length #2
17:00
29:59
16:47
29:59
Shot length #3
29:59
29:59
29:59
29:59
Shot length #4
4:58
29:59
29:59
29:59
Shot length #5
02:56
10:18
00:16
29:59
Shot length #6
–
–
–
18:35
Total Shooting Time
01h 24m 52s
02h 10m 14s
01h 47m 00s
02h 48m 30s
R6 battery life test results with Canon LP-E6N and LP-E6NH batteries
Canon R6 LP-E6N vs LP-E6NH battery life conclusion
Not surprisingly, the new LP-E6NH battery outperformed the older LP-E6N power pack. Shooting 4K, the LP-E6NH power pack lasted 26% longer than the LP-E6N battery. At Full HD the LP-E6NH lasted 29% longer. The small difference between the two figures can probably be accounted for by a change in the ambient temperature affecting battery performance.
So, in my test, the LP-E6NH delivered 26-29 percent more battery life than the LP-E6N power pack when shooting video with the Canon R6. This is more than the extra 14% power capacity of the LP-E6NH over the previous version of the battery, but really it is not so surprising.
A fairer test would have used two brand-new batteries. My LP-E6N is 2 years older than my LP-E6NH battery, so the recharge performance will have degraded a little. I can easily check this in the camera's Battery info menu. The older battery shows a recharge performance of 2 out of 3 bars, while the almost brand-new LP-E6NH shows 3 bars.
If the LP-E6N battery had been brand new, we can speculate that the battery life in this test would have been a little better. Recording 4K video, the R6 should have run for an additional 10 minutes, giving a battery life of 1hr 34m. Recording at Full HD, the R6 should have run for an extra 18 minutes, giving a battery life of 2hr 28m. We now have our revised Canon EOS R6 battery life results, adjusted to assume both batteries are new.
LP-E6N Battery
R6 – 4K@25p
LP-E6N Battery
R6 – FHD@25p
LP-E6NH Battery
R6 – 4K@25p
LP-E6NH Battery
R6 – FHD@25p
Total Shooting Time
01h 34m
02h 28m
01h 47m
02h 48m
R6 battery life test results for recording video (corrected to assume use of new batteries)
Canon LP-E6NH Battery Compatibility
The Canon LP-E6NH is compatible with all Canon cameras that use the LP-E6 series of batteries. So, it works with the Canon EOS 5D Mk II, III, & IV, 5DS R, 5DS, 6D, 6D Mk II, 7D, 7D Mk II, 60D, 60Da, 70D, 80D, and 90D DSLR cameras, and R, Ra, R5, and R6 mirrorless cameras.
The extra power of the LP-E6NH is specifically designed for the extra power demands of the EOS R5 and R6 full-frame mirrorless cameras. However, since the battery is backward compatible with any camera that uses an LP-E6 series battery, the LP-E6NH offers longer battery life for many EOS DSLR cameras.
The LP-E6NH provides 14% more power than the LP-E6N and 18% more than the original LP-E6 power pack. Upgrading to this new battery will allow DSLR users to shoot for longer, whether it be stills or video.
Which EOS battery comes with your Canon DSLR or Mirrorless camera?
The following table shows which type of battery pack is supplied as standard with a range of Canon EOS DSLR and Mirrorless cameras. Although this table covers 18 models, there are other devices that also use these Li-ion batteries, including some Canon video camcorders and the Black Magic BMPCC4K.
| Camera Model | LP-E6 Supplied with camera | LP-E6N Supplied with camera | LP-E6NH Supplied with camera * |
| --- | --- | --- | --- |
| EOS 5D Mark II | ✔ | | |
| EOS 5D Mark III | ✔ | | |
| EOS 5D Mark IV | | ✔ | |
| EOS 5DS R | | ✔ | |
| EOS 5DS | | ✔ | |
| EOS 6D | ✔ | | |
| EOS 6D Mark II | | ✔ | |
| EOS 7D | ✔ | | |
| EOS 7D Mark II | | ✔ | |
| EOS 60D | ✔ | | |
| EOS 60Da | ✔ | | |
| EOS 70D | ✔ | | |
| EOS 80D | | ✔ | |
| EOS 90D | | ✔ | |
| EOS R | | ✔ | |
| EOS Ra | | ✔ | |
| EOS R5 | | | ✔ |
| EOS R6 | | | ✔ |
| EOS R7 | | | ✔ |
As you can see from the table, only a few EOS cameras come with the LP-E6NH power pack as standard. However, as already stated, this latest EOS camera battery can be used in earlier cameras that came with either an LP-E6 or LP-E6N battery. The opposite is also true, the LP-E6 and LP-E6N battery pack can be used in the EOS R6 but the battery life will be less than with the LP-E6NH.
* UPDATE: If your camera takes a Canon LP-E6 or LP-E6N battery and you need a genuine Canon replacement battery, your only option is to get the newer Canon LP-E6NH. According to the Canon UK website

, the LP-E6N battery is no longer available. It and the older LP-E6 have been replaced by the LP-E6NH, which provides a greater capacity. Presumably, new cameras that were originally supplied with LP-E6 and LP-E6N will now be shipped with an LP-E6NH battery. Some dealers may still have LP-E6N batteries in stock. Camera dealers who buy used cameras may also have used LP-E6 and LP-E6N batteries.
What charger does the Canon LP-E6NH battery use?
The Canon LP-E6NH battery pack can be charged with the Canon LC-E6 charger. This same charger is also compatible with the Canon LP-E6 and LP-E6N batteries.
So, if you already have an EOS R and want to add an R5 or R6 to your kit bag, you will have two Canon LC-E6 chargers. That would be an extremely useful situation since you will be able to charge two batteries simultaneously before going out on a shoot. And if you are out on a paying job, you'll want to have at least one spare battery pack in your kit bag.
Last update on 2023-12-01 / Affiliate links / Images from Amazon Product Advertising API
Is EOS R6 USB Charging possible?
An alternative to using the LC-E6 charger is Canon's PD-E1 USB Power Adapter. This allows you to charge the LP-E6NH battery pack while it is still inside the battery compartment of your EOS R6. All you need to do to start charging the R6's battery is to connect the PD-E1 to the camera's USB port and switch on.
In my article Canon EOS R USB-C Charging Problems, and How to Make it Work I explain how to use a moderately priced Anker Power adapter with Power Delivery instead of Canon's PD-E1 USB Power Adapter. The method can also be used with the EOS R6.
Provided you have a power adapter that supports Power Delivery, and a compatible USB-C cable USB charging is simply a case of plugging connecting the Power Adapter to USB connector on the EOS R6. If all is well, the LED to the bottom right of the control wheel will turn a solid green as the battery charges.
It really is that simple. What is more, you have a choice of battery types that you can charge internally using USB charging on the EOS R6. USB charging will work with both the LP-E6N and LP-E6NH batteries, but obviously not at the same time. There is one caveat though, just like on the EOS R, USB charging only works with genuine Canon LP-E6N or LP-E6NH batteries.
If you are interested in exploiting USB charging of your R6 battery, I'll provide a link below to the PD-E1 power adapter

on Amazon. Or if you prefer, check out the Anker PowerPort PD 2

, it's an excellent alternative to Canon's adapter but at a better price. You'll also need a high-power compatible USB-C cable. The cable that comes with the Anker PD 2 power bank works perfectly, as does the Anker Powerline II USB-C to USB-C 3.1 Gen 2 Cable

.
I've tested these Anker USB-C charging accessories with my EOS R and R6 and know they work. Where readers have found problems, it is due to using either compatible or counterfeit batteries. The camera will not recognize these as genuine Canon batteries, so USB charging will not be initiated.
Last update on 2023-12-01 / Affiliate links / Images from Amazon Product Advertising API
Conclusion
Whether you're shooting stills or video, the Canon EOS R6 battery life should not disappoint you. In my tests, I got over 4000 shots using a single LP-E6NH battery and still had 27% of battery capacity left over. I also found that I could shoot 1hr 47min of 4K footage or 2hr 48min of full HD video footage using a single battery.
I would add the caveat that my results are based on using a new battery with full recharge performance. Older batteries will obviously perform less well. I also tested the older LP-E6N battery pack in the R6 and got the expected shorter performance. The original LP-E6 battery will also power the R6 but the supplied battery provided 18% more capacity.
Tosh Lubek runs an audio and video production business in the UK and has been using the Canon EOS R since it was released in the Autumn of 2018 and the Canon EOS R6 in 2020. He has used both cameras to shoot TV commercials broadcast on Sky TV, promotional business videos, videos of events and functions, and YouTube creator content. He has also won several international awards for his advertising and promotional work. You can meet him by visiting his "video booth" at HashTag Business Events across the country.
Recent Posts