DIY Video Studio is supported by its readers who use the affiliate links or ads on this site. As an Amazon Associate, I earn from qualifying purchases. Thank your support if you use any of the links.
The Blue Yeti USB microphone is very popular with people who are starting out in online streaming and content creation. Not only is it a fully featured USB microphone that captures good quality audio, it's also very affordable price.
Although it's still a very capable microphone, the USB cable that ships with it is showing its age. The end that connects to a computer is a standard USB-A plug, whereas most modern computers have at least one USB-C port. What's more, many Android smartphones already have USB-C ports and even Apple is expected to adopt the USB-C connector from the iPhone 15 going forward.
But here's the thing. USB standards are backward compatible. So, the Blue Yeti should be able to connect to a USB-C port on both a computer and smartphone.
In this article, I'll show you how to upgrade your Blue Yeti to USB-C for under $10.
Blue Yeti USB-C Upgrade Options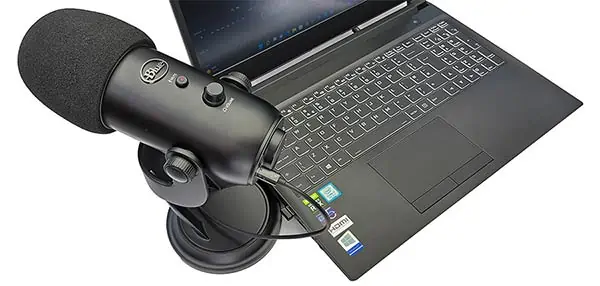 There are two ways you can upgrade your Blue Yeti to connect to a USB-C port on your recording device. You can use USB-C male to USB-3.0 female Adapter. Alternatively, replace the supplied mic cable with a USB-mini B to USB-C Cable cable.
Using an adapter
The first is to plug a USB-C to USB adapter in the USB-C port and then plug the Yeti's mic cable into the adapter. I have covered this in my article How to connect a Blue Yeti or any USB mic to an Android Phone, although the details also apply to connecting to computers.
Replacing the microphone cable
The second method is to replace the original USB cable that comes with the Yeti with a 6ft mini-USB to USB-C cable. As usual, plug the mini-USB connector into the USB port on the base of the Blue Yeti. Plug the USB-C end of the cable into the USB-C port on your device.
I use the 6ft UGREEN mini-USB to USB-C Cable from Amazon to connect a Blue Yeti to my Samsung A53-5G Android phone and to my Windows 11 laptop. In both cases, the Yeti works perfectly.
Don't want to read the full article? Watch the video instead.
Testing Blue Yeti with Laptop and Android phone
When I plugged the microphone cable into my Windows 11 laptop the Yeti was recognized immediately, and Windows set up the mic as a USB audio input source. After a few seconds, the audio input automatically switched from the laptop's built-in microphone to the Blue Yeti. Since I had plugged headphones into the base of the Yeti I enjoyed zero-latency headphone monitoring of the microphone and the laptop's audio.
Upon opening Adobe Audition to do a test recording, the Blue Yeti was automatically selected, although if I had other audio devices connected, I may have had to select the Yeti in the Adobe Audition settings.
After creating a new mono audio file with 48kHz sample rate and 16bit bit rate I started recording. Since I know the Blue Yeti is a "hot" mic, I had the gain knob set to just under the 10 o'clock position, and in the Windows sound settings, the audio input volume was at 100%. Speaking at about 6-inches distance and with a normal voice, the waveform was peaking at about -3dB.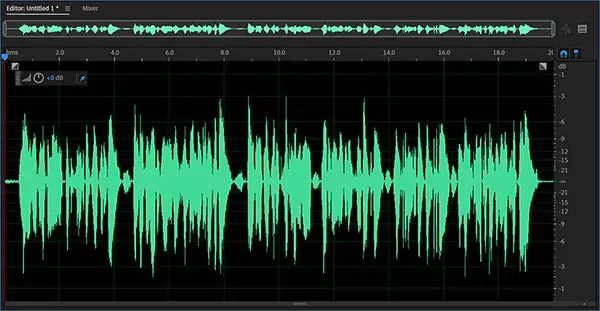 In the cardioid polar pattern, the audio quality was good, and in fact much better than when I tested the Yeti with my laptop last year using the original microphone cable and the laptop's standard USB port. In that original test, there was a type of clicking buzz in the background, but by using the new USB-C cable and the laptop's USB-C port the audio sounded crisp and clean. The only noticeable background sound was the laptop's very noisy cooling fan.
Testing with my Samsung Galaxy A53 5G Android phone was simple. I just needed to plug the USB-C end of the cable into the connector on the phone. Upon opening the camera app and pressing the video record button a notice appeared across the bottom of the screen saying that audio was being recorded from the headset, which was the Yeti. There were also no problems when using the Open Camera app, or the iRig Recorder app.
One thing I noticed when connecting to my Samsung phone, using either the USB-C adapter or the USB-C mic cable and recording with the phone's camera app, was that the phone applied an automatic gain control and audio compression. The audio level was raised so it peaked at 0dB, which was about 9dB greater than the audio level when recording from the phone's internal microphone. Combined with the compression, the audio sounds loud! Which might be the effect you want. However, if you use a camera app that includes an audio level slider, such as iRig Recorder

, you can correctly adjust the audio level to avoid the excessive audio record level. Since I only tested using my Samsung phone, I do not know whether this effect is common to all Android devices or just the Samsung A53 5G. When I get the opportunity to test the Yeti with other Android devices I will update this article.
The USB-C cable and Adapter used
If you are interested in upgrading your Blue Yeti to work with the USB-C port on your device, whether a PC or smartphone, here are links to the adapter and cables I bought and tested.
DISCLOSURE: I have NOT been paid or influenced by any manufacturer or seller to include any product links. Those that I have included are items I have bought, tested, and am happy to recommend.
UGREEN 6ft Mini-USB to USB-C Cable compatible with Blue Yeti
USB-C port: Mini USB to Type C Compatible with MacBook 2015/2016, iMac Pro, Dell XPS 13(2016),…
Mini USB B port: USB C to Mini USB cable Compatible with Canon Digital Cameras, game controller,…
SuperSpeed: UGREEN Mini USB to USB C Cable Supports devices with a USB mini port, Data Transfer…
Superb Craftsmanship: This Type C to Mini USB cable features corrosion-resistant copper conductors…
Last update on 2023-12-01 / Affiliate links / Images from Amazon Product Advertising API
Sale
Syntech USB-C male to USB-3.0 female Adapter
Design: The adapter is gathered with zinc alloy metallic minimalist design and delicate embossment…
Compatibility: This USB C to USB adapter is compatible with iPhone 15/15 Plus/15 Pro/15 Pro Max and…
User Friendly and USB3 Speed: Plug and work; Plug the USB C end of the adapter into a USBC port, and…
Connectors: Engineered for enhanced durability, the male USB C and female USB3 connectors are…
Last update on 2023-10-11 / Affiliate links / Images from Amazon Product Advertising API
Summary
Of the two methods of connecting the Blue Yeti to the USB-C port of either my laptop or Android phone, I preferred using the replacement USB cable. It's not because the Syntech adapter did not work as well, which it did, I just like having the least number of connections and less weight hanging out of the side of my smartphone.
The audio results from my tests were perfectly acceptable for YouTube and online streaming.
Sale
Logitech for Creators Blue Yeti USB microphone
Custom three-capsule array: This professional USB mic produces clear, powerful, broadcast-quality…
Blue VOICE software: Elevate your streamings and recordings with clear broadcast vocal sound and…
Four pickup patterns: Flexible cardioid, omni, bidirectional, and stereo pickup patterns allow you…
Onboard audio controls: Headphone volume, pattern selection, instant mute, and mic gain put you in…
Last update on 2023-12-01 / Affiliate links / Images from Amazon Product Advertising API
Tosh Lubek runs an audio and video production business in the UK and has been using the Canon EOS R since it was released in the Autumn of 2018 and the Canon EOS R6 in 2020. He has used both cameras to shoot TV commercials broadcast on Sky TV, promotional business videos, videos of events and functions, and YouTube creator content. He has also won several international awards for his advertising and promotional work. You can meet him by visiting his "video booth" at HashTag Business Events across the country.
Recent Posts