DIY Video Studio is supported by its readers who use the affiliate links or ads on this site. As an Amazon Associate, I earn from qualifying purchases. Thank your support if you use any of the links.
Even though the Blue Yeti USB microphone was launched in 2009, it is still an incredibly popular microphone, and rightly so.
But if you want one, you may be wondering, is the Blue Yeti USB, what type of USB port it uses, does it need USB 3.0 or USB-C, and is the USB mic cable long enough? Equally, you may be looking to replace an old mic cable but don't know what to look for.
Don't worry. I have all the information you need because I did my own research by purchasing my own Blue Yeti and sourcing new USB cables for it. I've discovered which work and which don't. To save you time searching I've included links to some cables that work with the Blue Yeti.
So, let's dive into the details.
DISCLOSURE: I have NOT been paid or influenced by any manufacturer or seller to include any product links. Those that I have included are items I have bought and am happy to recommend.
What type of USB cable does a Blue Yeti use?
The Blue Yeti microphone uses a USB cable that has a USB 2.0 Mini-B connector at one end and a standard USB-A connector at the other end. The cable must be for both charging and data transfer. If you accidentally just get a charging cable your Yeti will not work, although it might light up.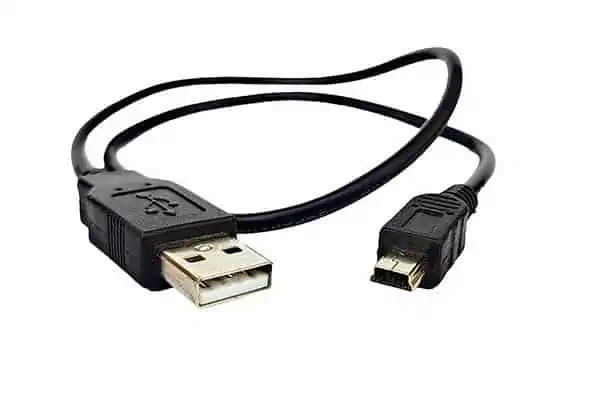 On a standard USB-A and USB 2.0 Mini B plug, the first pin is +5V (VBUS) and the last pin is Ground (GND). These two outside pins carry the voltage and are used to power or charge a device. A USB charging cable that is not intended to transmit any data will only have these two outside pins connected.
If replacing the USB microphone cable that came with your Blue Yeti, ensure that you do not get the charging-only type. It must also be able to transfer data, such as this Amazon Basics 6ft (1.8m) cable.
Amazon Basics USB-A to Mini USB 2.0 Fast Charging Cable, 480Mbps Transfer…
IN THE BOX: 6-foot high-speed USB 2.0 A-Male to Mini-B cable
DEVICE COMPATIBILITY: Connects Mini-B-equipped external hard drives, smart phones, and peripherals…
GOLD-PLATED CONNECTORS: Corrosion-resistant, gold-plated connectors for optimal signal clarity
PROTECTIVE SHIELDING: Minimizes interference for a clear signal
Last update on 2023-12-01 / Affiliate links / Images from Amazon Product Advertising API
Does the Blue Yeti need USB 3.0?
The Blue Yeti uses the USB 2.0 and not the USB 3.0 standard. Even though USB 3.0 is 10x faster than USB 2.0, the extra speed is unnecessary. The Yeti's uncompressed 48kHz/16bit stereo audio data requires just over 1.5 mbps, and USB 2.0 can theoretically manage up to 480 mbps.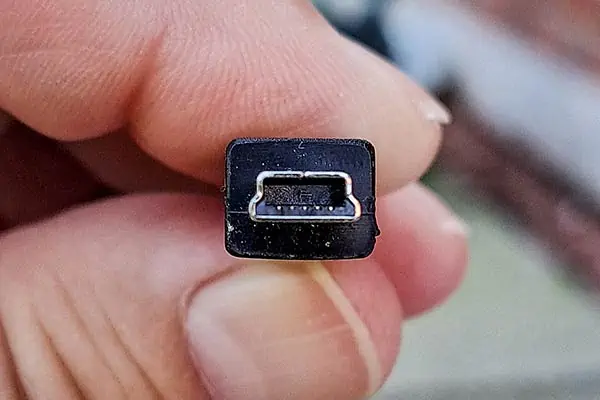 Even though the Yeti does not use the USB 3.0 standard, USB 3.0 ports are backward compatible with USB 2.0 devices. So, you can plug a Blue Yeti microphone into a USB 3.0 port on your computer and expect it to work. A USB 3.0 port can be identified by the blue color inside.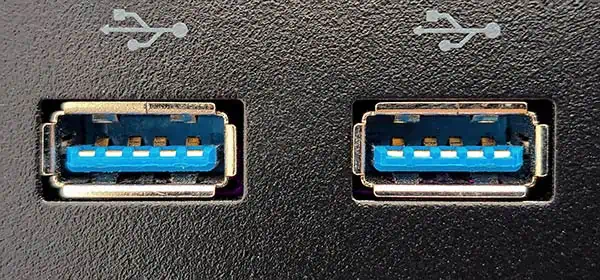 How long is the Blue Yeti's USB cable?
The USB cable that ships with the Blue Yeti microphone is about 6ft (1.83m) long. If you ignore the metal ends of the USB connectors that plug into the base of the mic and the computer, the cable is approximately 5ft 11in (1.8m) in length.
In many cases, a 6ft USB microphone cable is sufficiently long, but not always. If your desktop computer produces a lot of cooling fan noise, you might wish to move it away from where you are recording. Alternatively, as in my case, you might have your Yeti in a voice booth and need a cable with greater reach.
Whatever the reason, you can get a longer USB cable than the one that came with the microphone. The one I use is the UGREEN USB 2.0 to Mini B cable, which is 3m (10ft) long. It supports data transfer & charging and UGREEN specifically says it is compatible with the Blue Yeti. In the last 12 months, I have never experienced any issues using this cable.
Where does the USB cable plug into a Blue Yeti?
With the Blue Yeti in its stand and the Blue logo facing you, tilt the mic away from you to reveal the base. The Yeti's mini-USB port is on the left side. Plug the mini-USB plug of the microphone cable into this port, then connect the other end to a USB-A port on your computer.
Once you have connected the Blue Yeti to your computer your operating system should recognize it as a USB audio device and make it ready to use.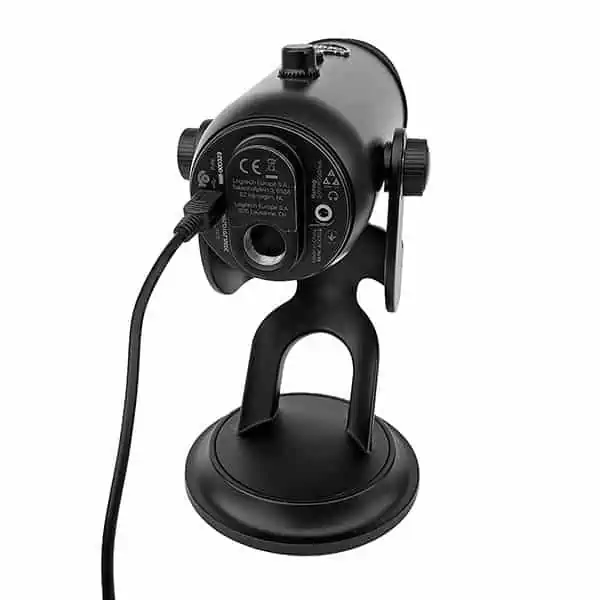 Will a Blue Yeti work if connected to a computer's USB-C port?
Although the Blue Yeti has a USB 2.0 Mini-B port and is supplied with a mini-USB to USB-A cable, it is possible for the Yeti to connect using a computer's USB-C port. This can be done by using a USB-C to Mini USB 2.0 data sync/charge cable, which will provide power and allow the transfer of audio data.
This type of cable will not only allow the connection of a Yeti to a computer's USB-C port but also to the USB-C charging port of an Android smartphone.
The USB cable I use is the 6ft UGREEN Mini USB to USB C Cable.
UGREEN 6ft Mini-USB to USB-C Cable compatible with Blue Yeti
USB-C port: Mini USB to Type C Compatible with MacBook 2015/2016, iMac Pro, Dell XPS 13(2016),…
Mini USB B port: USB C to Mini USB cable Compatible with Canon Digital Cameras, game controller,…
SuperSpeed: UGREEN Mini USB to USB C Cable Supports devices with a USB mini port, Data Transfer…
Superb Craftsmanship: This Type C to Mini USB cable features corrosion-resistant copper conductors…
Last update on 2023-12-01 / Affiliate links / Images from Amazon Product Advertising API
Blue Yeti available on Amazon
The Yeti is the best-selling USB microphone in North America and has a reputation for being one of the best options for anyone starting as an audio or video creator. If you're looking to get a new Blue Yeti microphone, here's the best deal I can find on Amazon.
Sale
Logitech for Creators Blue Yeti USB Microphone for Gaming, Streaming,…
Custom three-capsule array: This professional USB mic produces clear, powerful, broadcast-quality…
Blue VOICE software: Elevate your streamings and recordings with clear broadcast vocal sound and…
Four pickup patterns: Flexible cardioid, omni, bidirectional, and stereo pickup patterns allow you…
Onboard audio controls: Headphone volume, pattern selection, instant mute, and mic gain put you in…
Last update on 2023-12-01 / Affiliate links / Images from Amazon Product Advertising API
Source: 1

Tosh Lubek runs an audio and video production business in the UK and has been using the Canon EOS R since it was released in the Autumn of 2018 and the Canon EOS R6 in 2020. He has used both cameras to shoot TV commercials broadcast on Sky TV, promotional business videos, videos of events and functions, and YouTube creator content. He has also won several international awards for his advertising and promotional work. You can meet him by visiting his "video booth" at HashTag Business Events across the country.
Recent Posts