DIY Video Studio is supported by its readers who use the affiliate links or ads on this site. As an Amazon Associate, I earn from qualifying purchases. Thank your support if you use any of the links.
The Blue Yeti is the microphone choice of countless creators. Compared to professional XLR microphones, the Blue Yeti allows the recording of good-quality audio at an affordable price. It's also easy to set up on any computer. But before buying one, you will want more information about the Yeti, like is the Blue Yeti a condenser or dynamic microphone.
The Blue Yeti is a USB condenser microphone. In fact, it contains three condenser microphone capsules, allowing it to be switched between four different polar patterns. As you would expect from a condenser microphone, the Yeti is a sensitive mic, revealing detail in the sound source.
Sale
Logitech for Creators Blue Yeti USB Microphone for Gaming, Streaming,…
Custom three-capsule array: This professional USB mic produces clear, powerful, broadcast-quality…
Blue VOICE software: Elevate your streamings and recordings with clear broadcast vocal sound and…
Four pickup patterns: Flexible cardioid, omni, bidirectional, and stereo pickup patterns allow you…
Onboard audio controls: Headphone volume, pattern selection, instant mute, and mic gain put you in…
Last update on 2023-12-01 / Affiliate links / Images from Amazon Product Advertising API
Condenser vs Dynamic microphone
All creators do not exclusively use condenser or dynamic microphones. The two types of microphones have unique features that can be exploited as required.
Condenser microphones are generally much more sensitive than dynamic microphones and produce higher output levels. They are also good at revealing detail in the sound. All three points are important characteristics when deciding on the microphone to buy.
If you are going to record in a noisy environment, you might be better off getting a dynamic microphone. But if you need a high audio signal where you can clearly hear the detail, then a condenser may be the better choice.
A microphone that many creators aspire to own is the Shure SM7b, a rich-sounding dynamic mic. However, it costs around $400 and will require a mic preamp and audio interface, making the real cost around $700-$800. The SM7b is also notorious for having a very low output signal level. This makes the Blue Yeti a bargain at around $130, plus there's plenty of audio signal to play with. However, the SM7b is a delightful microphone, especially if you need to cut down on background noise.
Shure SM7B Vocal Dynamic Microphone + Gator 3000 Boom Stand for Broadcast,…
NATURAL MUSIC & SPEACH REPRODUCTION: Flat, wide-range frequency response for exceptionally clean and…
BASS ROLLOFF & MID-RANGE EMPHASIS: Bass rolloff and mid-range emphasis (presence boost) controls…
GATOR 3000 BOOM 360-DEGREE ROTATION: Rotates Full 360-Degrees with Minimal Noise & Spring-Loaded…
GATOR 3000 BOOM STAND EASY MOUNTS TO SM7B: Easily Mounts or Clamps to Desks, Tables & Similar-Sized…
Last update on 2023-12-01 / Affiliate links / Images from Amazon Product Advertising API
Is the Blue Yeti a Stereo or Mono Microphone?
Whether the Blue Yeti is a stereo or mono microphone has nothing to do with it being a condenser microphone. But the fact that it has three condenser microphone capsules does have a bearing on whether it is a stereo or mono microphone.
The Blue Yeti is both a stereo and mono microphone since the selected polar pattern determines whether the output is stereo or mono. The cardioid, bi-directional, and omnidirectional polar patterns are all mono. But when the stereo polar pattern is selected, the output is stereo.
The multiple polar patterns of this microphone are a key selling point, making the Blue Yeti four microphones in one.
You might imagine that the bi-directional and omnidirectional modes should be stereo since they make the microphone sensitive to sound from more than one direction. However, the signal does not contain any spatial information to create a stereo sound image for the listener.
In stereo mode, the Blue Yeti will use two of the three microphone capsules, with a small delay between a sound arriving at both mic capsules. This delay allows the creation of the stereo sound image.
I've Heard that the Blue Yeti Gain Too High
Because the Blue Yeti is a condenser microphone it is a sensitive and "hot mic", producing a high output signal. This is not a failure but a consequence of it being a USB condenser microphone. Condenser microphones are commonly used for vocals, voice recordings, and broadcasts, partly because of their sensitivity and ability to capture detail.
If you need to turn down the signal level on a Blue Yeti, you can do this in two ways. You can reduce the Yeti's output signal by turning down the Gain dial. You'll find it on the rear of the Blue Yeti and just above the mode dial. You can also reduce the level further by going into your input sound settings on your computer and moving the volume slider to the left.
I suspect that some people who say the Blue Yeti gain is too high may be using the microphone in an environment that would better suit the lower sensitivity of a dynamic microphone. Remember, condenser microphones are meant to be sensitive.
Summary
The Blue Yeti is a USB condenser microphone that is sensitive, easy to set up on a computer, and ideal for voice recordings. However, avoid using a Yeti where there is background noise or in acoustically bright or lively rooms. For best results, you need to know how to set up and use the Blue Yeti. I have written several articles about the Blue Yeti. Here are three that you will find useful.
Source: 1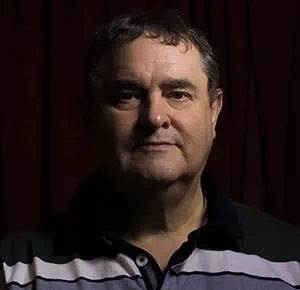 About the author: Tosh Lubek is a multi-award-winning broadcaster, writer, and video producer, with 40 years of experience in professional broadcasting and has been using Canon video and stills cameras since 2010. He has worked with radio and TV broadcasters, advertising agencies, and direct clients on a variety of projects including radio and television advertising, online video production, corporate videos, award ceremony motion graphics, and theme park sound design. Tosh has won numerous awards, including a Radio Academy Awards Gold Sony, a Gold, Silver, and Bronze World Medals in the New York Festivals International Advertising Awards. Since about 2007 he has been creating YouTube videos. Tosh has been a sponsor of the "video booth" at HashTag Business Events across the UK.
Recent Posts