DIY Video Studio is supported by its readers who use the affiliate links or ads on this site. As an Amazon Associate, I earn from qualifying purchases. Thank your support if you use any of the links.
For many YouTube creators, the ability to monetize their content and earn some money, or potentially make a living from their channel is an important consideration.
But what surprises many new creators is that the YouTube Partner Program (YPP) isn't the only way to earn money on YouTube from videos.
In this article, I'll explore some of the different ways in which YouTube creators can earn money and discuss the YPP eligibility criteria.
YouTube Partner Program Eligibility
There is a commonly held belief that creators just need to reach a threshold of having at least 1000 subscribers to start earning money on YouTube through the YouTube Partner Program (YPP). Unfortunately, this is only partly true.
To be eligible for joining the YouTube Partner Program you must live in a country or region where the YouTube Partner Program is available. Your channel must have a minimum of 1,000 subscribers and at least 4,000 hours of valid public watch time in the last 12 months.
Starting in early 2023, creators of Shorts will be able to apply for the YouTube Partner Program (YPP) if they have at least 1,000 subscribers and 10 million valid public Shorts views in the past 90 days.
However, these are just the minimum requirements. To be eligible for the YPP, your channel must also be in good standing with YouTube, meaning that it follows the Community Guidelines and has no strikes against it. Once you meet these eligibility thresholds, you can apply to the YPP and sign up for an AdSense account. YouTube's YPP team will then review your channel to ensure it is following the guidelines and you are being a responsible member of the community.
This process usually takes about a month. If successful you can start earning money from ads placed on your videos. But if your application is rejected, don't worry. Review the YPP policies and community guidelines, make any necessary changes to your channel and content, and wait 30 days before reapplying, provided you still meet the eligibility requirements.
Note that when signing up for an AdSense account you need to be at least 18 years of age.
An additional requirement, introduced in November 2021, is that monetizing creators must have 2-Step Verification turned on for the Google Account being used for their YouTube channel to access YouTube Studio or YouTube Studio Content Manager.
To check on your progress toward the eligibility thresholds, check the monetization page in YouTube Studio. To do this go to your YouTube account, then navigate to YouTube Studio. Click on Monetization in the menu on the left side of the page. This is where you will see your monetization options.
At this stage in your channel's life, your only monetization option through YouTube will probably be joining the YouTube Partnership program. In the following screenshot, you can see this random channel has passed the requirements of having more than 1,000 subscribers, it also has 2-Step verification active, and the account is in good order with zero active Community Guideline strikes. However, the channel is only just over halfway to having the required 4,000 hours of watch time in the last 12 months.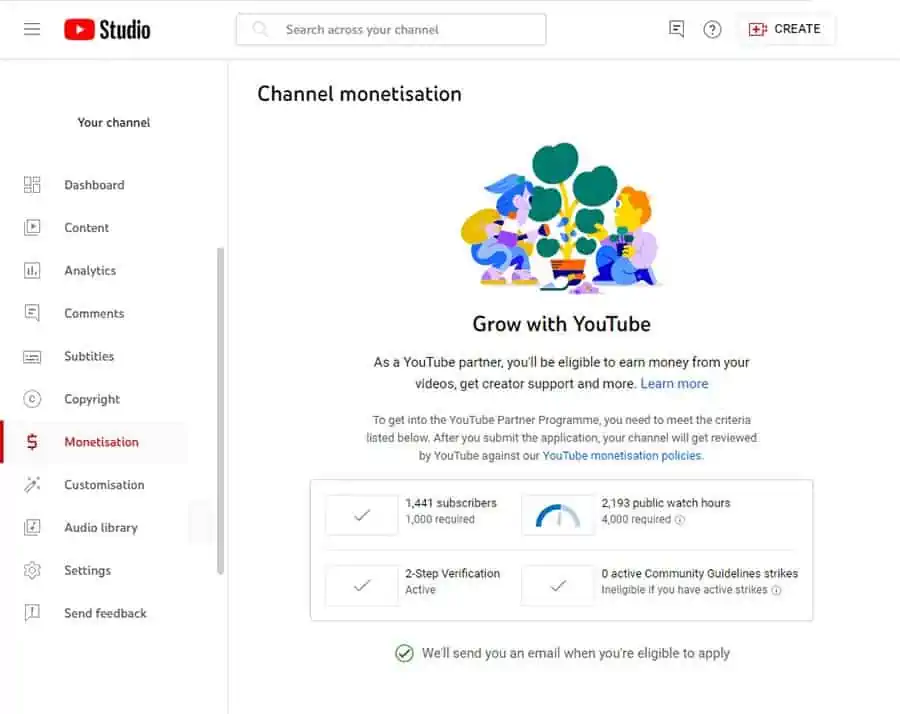 In summary, to be eligible to join the YouTube Partner Program and earn Ad revenue, a YouTube channel must meet the following requirements:
To be in good standing with YouTube
Have at least 1000 subscribers
Have at least 4000 hours of watch time in the past year
Have a valid AdSense account
Be at least 18 years old (a requirement of having an AdSense account)
How long does it take to reach the eligibility threshold
The eligibility requirements for the YouTube Partner Program (YPP) vary and can be influenced by various factors such as your niche, activity, and trends.
Some channels may be monetized within a few months while others may take a year or more. It is important to regularly upload high-quality content and be active on the platform to increase the chances of your videos appearing in search results and suggested video lists, resulting in more views, watch time, and subscribers.
However, a lack of activity or breaks in content creation can set you back in hitting your watch time threshold for YPP eligibility, as it is based on the watch time in the past 12 months, and not your all-time watch time.
Can you lose your YouTube Partner Program status?
Once you have been accepted into the YouTube Partner Program you do not have to meet the 1,000 subscriber and 4,000-hour watch time thresholds every year. But you do have to remain active on your channel, uploading some videos and creating Community posts.
However, if you become inactive on your channel for a period of six months and fall below the YPP eligibility threshold, YouTube may remove your channel from the Partner Programme.
If this happens to you, don't panic. YouTube will contact you in advance and warn you about what it is considering and give you the opportunity to remain in the program. YouTube will tell you what they require you to do, such as becoming active again on the platform. Hopefully, that will be enough to prevent your channel from being removed from the YouTube Partners Program.
The ways to earn money on YouTube
There are many ways you can earn money on YouTube, some of which you can use while you wait until you hit the eligibility thresholds for the YouTube Partner Program. To help, I've compiled a list of the ways you can earn money on the platform, some of which do not require being accepted in the YPP.
YouTube Partner Program ads: The YouTube Partner Program

enables YouTube creators to earn money by allowing ads to be shown on their videos. YouTube uses an algorithm to match ads with relevant videos, and creators are paid a share of the ad revenue based on how many views their videos get. Creators can also use YouTube's Ad Breaks feature to insert short ads into their videos at designated breaks.
Sponsorships: YouTube creators can also earn money through sponsorships with brands or companies. This can involve creating sponsored content for a brand, promoting a brand's products or services, or hosting sponsored events or giveaways.
Affiliate links: One way to earn money on YouTube is through affiliate links placed in your video description. If a viewer clicks on the link and makes a purchase, you will earn a commission from the sale. It's important to disclose that you are using affiliate links and to only promote products you genuinely believe in.
YouTube Shopping: YouTube Shopping

allows you to can promote products like merch from your own shop, or products from other brands. The eligibility requirements in each case are different. For instance, to promote products from other brands you must have more than 20,000 subscribers. Promoting your own products only requires your channel to have more than 1,000 subscribers.
Memberships: YouTube creators can also offer memberships to their fans, which can include exclusive content, access to a private community, and other perks. Memberships can be purchased on a monthly or annual basis and provide an additional source of income for creators.
Patreon: Patreon

is a platform that allows creators to receive recurring payments from their supporters, known as "patrons." Patreon allows creators to offer different tiers of membership with different perks and benefits, and patrons can choose the level of support that they want to provide.
Super Chat & Super Stickers: Super Chat and Super Stickers

are part of the YouTube Partner Programme that allows viewers to purchase live chat messages that stand out and sometimes pin them to the top of a live chat feed. They cannot be used on pre-recorded videos.
Super Thanks: Using Super Thanks

is a way for viewers to show their appreciation of your video by purchasing a Super Thanks. This is a one-time-only fun animation that plays on the video and the viewer also gets to post a colorful comment in the video's comments section. To include Super Thanks on your watch page, you must be in one of the available locations and your channel must be monetized.
Note that running Ads, YouTube Shopping, Memberships, Super Chat, Super Stickers, and Super Thanks are all YouTube features you can take part in if your channel is eligible. Affiliate links, Sponsorships, and Patreon revenue streams are not part of YouTube, so you must organize them yourself.
Conclusion
We've discussed the different ways in which YouTube creators can earn money, including through ad revenue, sponsorships, YouTube Shopping, memberships, and Supers.
It's important to realize that YouTube creators can earn money at any stage of their career, regardless of their subscriber count, since there are other revenue streams that do not rely on the YouTube Partner Program. Even a channel that has less than 1,000 subscribers can use its videos to sell through affiliate links, especially if you are reviewing or featuring products.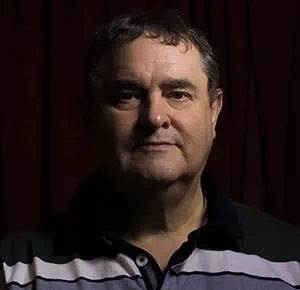 About the author: Tosh Lubek is a multi-award-winning broadcaster, writer, and video producer, with 40 years of experience in professional broadcasting and has been using Canon video and stills cameras since 2010. He has worked with radio and TV broadcasters, advertising agencies, and direct clients on a variety of projects including radio and television advertising, online video production, corporate videos, award ceremony motion graphics, and theme park sound design. Tosh has won numerous awards, including a Radio Academy Awards Gold Sony, a Gold, Silver, and Bronze World Medals in the New York Festivals International Advertising Awards. Since about 2007 he has been creating YouTube videos. Tosh has been a sponsor of the "video booth" at HashTag Business Events across the UK.
Recent Posts