DIY Video Studio is supported by its readers. Please assume links on this site are affiliate links or ads, and that I get commissions for purchases made through these links. As an Amazon Associate, I earn from qualifying purchases. Thank you if you use any of the links.
Using a teleprompter to help you read a video script isn't always necessary, but it can be extremely helpful. A teleprompter can save you having to memorize your script, or make sure you don't miss any important details.
A teleprompter can also keep you on track, preventing unnecessary fluff and ensuring you stay on-topic. Both are important considerations if you want your viewer to keep watching to the end of your video.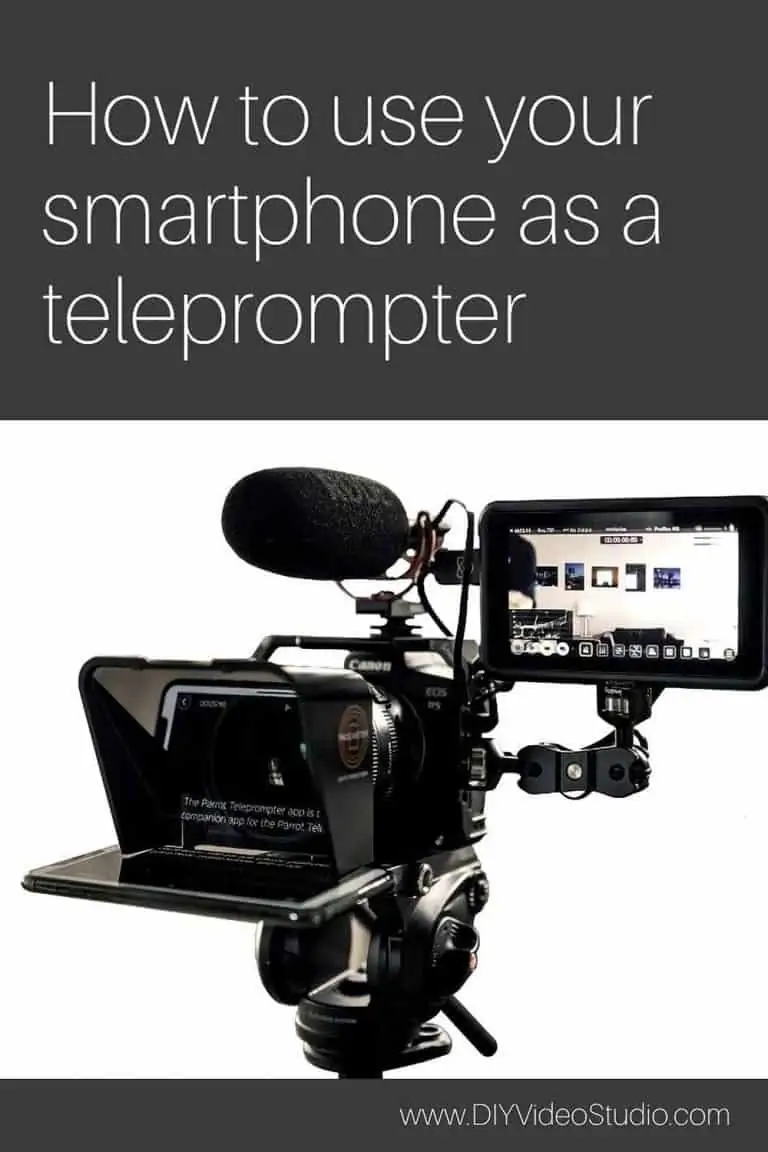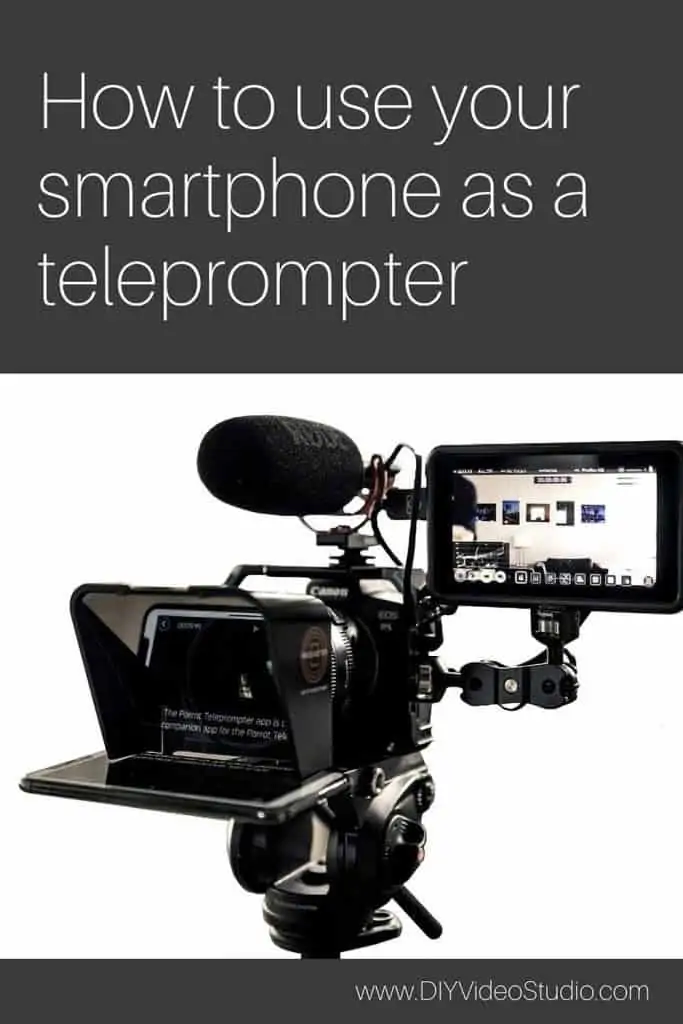 You can use your phone as a teleprompter by installing a teleprompter app from the App Store or Google Play on your phone. Then use the phone app with a beam-splitter mirror teleprompter in front of your camera lens or place your phone teleprompter beside your camera. You'll appear to be looking at the viewer while seamlessly reading your script.
If you're in a hurry and want my list of recommended teleprompter apps click here. My three recommended smartphone beam-splitter teleprompters are listed below. To read my full reviews later in this article click here.
EDITOR'S CHOICE
GOLD AWARD
VALUE AWARD
DSLR/Mirrorless recording
Includes teleprompter app
EDITOR'S CHOICE
DSLR/Mirrorless recording
Includes teleprompter app
GOLD AWARD
DSLR/Mirrorless recording
Includes teleprompter app
Last update on 2023-12-01 / Affiliate links / Images from Amazon Product Advertising API
How can I use my phone as a teleprompter?
The first step to using your phone as a teleprompter is to install the teleprompter app of your choice. If you don't know which app to choose, I will go through my top picks in the next section.
With your teleprompter app installed, you now have a choice in how to use your phone teleprompter. Will you use your phone with or without teleprompter hardware?
You can buy teleprompter hardware that includes a beam-splitter mirror that is like a professional teleprompter outfit. This lets you place your camera lens directly behind the reflection of your script. This is the ideal situation because you will appear to be looking straight into the camera as you read the script.
If you buy a smartphone teleprompter, you will be able to attach it to the front of your DSLR camera's lens. If you are filming with a second smartphone, it will attach to the back of the teleprompter. Either way, you will only need a single tripod for the combined teleprompter and camera. This makes the setup easier and more compact. Larger teleprompters may need two tripods.
Whatever size you choose, the smartphone is placed on its back beneath the beam-splitter mirror. You then put your camera behind the beam-splitter mirror. As already mentioned, this allows you to look straight into the camera lens while reading the script. That's important because when your video goes live your audience will be watching from where your lens is. If you're not looking in the lens, you're not looking at your audience.
One thing that you may find an issue with these smartphone teleprompters is if you use a wide-angle lens on your camera. With really wide-angle lenses (short focal length lenses) you'll find that sides of the teleprompter may appear in your shot. As a guide, I've been using the AMBITFUL teleprompter with the Canon EOS R and a 24-105mm zoom lens. Shooting FHD I've not experienced any problems at the wide-angle end of the zoom range. My real-world experience is that I use a focal length of between 40 and 70mm to get a normal framing when I'm at 6-10ft from the camera and teleprompter.
The last essential that will make using the phone teleprompter more enjoyable is to use a remote control. Depending on the teleprompter app you are using you may have a few options. You could use a Bluetooth keyboard, game controller, another phone, or a few other options. Check your app for the available remote controller.
What is the best teleprompter app?
There are many teleprompter apps for iOS and Android devices, both free and paid-for. I have tried many of them and generally, I prefer the paid-for apps since the extra features make them easier to use. However, there are some free teleprompter apps that I have successfully used.
Here are the teleprompter apps I like and would recommend for the average content creator.
DV Prompter
DV Prompter is a free teleprompter app and is available for both iOS

and Android

phones.
You can add, edit, delete, or start documents in the library. You can also add or edit documents over a WiFi network from any other device with a web browser. The font, font size, font color, orientation, mirror, loop text, auto start, and scroll speed are just some of the user settings that you can adjust. Considering the app is free, it's quite powerful.
iCue and iCue Remote
iCue

is for iOS devices and costs $7.99. iCue remote is available free of charge.
This is my favorite teleprompter app for iPhone. I have it set up on my iPhone and iPad, and have the remote control on an old iPhone 4.
iCue provides plenty of setting customization and a lot of remote-control options. As mentioned, you can use another iOS device. But other options include the use of a Bluetooth keyboard, game controller, and speech recognition, as well as a few others.
As you might expect from such a good teleprompter app, there is a charge, but even at $7.99 I think it's worth the money.
Elegant Teleprompter Pro
Elegant Teleprompter Pro

is only available for Android devices and is a paid-for app. However, a free version, Elegant Teleprompter, is also available but it includes ads.
When using my Android phone, this is my teleprompter app of choice.
It is a paid-for app but I think it's worth it. There are plenty of settings you can change, including the font size, scroll speed, mirror, mirror flip direction, and orientation. The remote function can be paired to a game controller, and the button functions can be customized.
PromptSmart Pro
This app is available for both iOS

and Android

. The iOS version costs $19.99, although there is a free Lite version. The Android app is free to download and provided your script is under 3 minutes long you can the app for free. However, for scripts that are more than 3 minutes, you will need to activate a subscription.
Fortunately, each subscription comes with an introductory 7-day trial. In the Android app only, the Pro subscription is either $2.99/mo or $29.99/yr and the Extended subscription is either $3.99/mo or $34.99/yr.
The stand-out feature of this teleprompter app is its use of speech recognition to scroll the text while you read.
You can check out the PromptSmart Pro webpage here

for more details.
Best smartphone teleprompters for home use in 2021
Here I'm looking at teleprompter beam-splitters that are primarily intended for use with smartphones. However, I've included one that can also be used with a tablet. I have bought and used these teleprompters or borrowed them from video creator friends. I don't have any connection with the manufacturers or suppliers of the kit, so this is an unbiased recommendation, nor have any of the items been sponsored.
AMBITFUL Teleprompter for mobile phone and DSLR

Last update on 2023-12-01 / Affiliate links / Images from Amazon Product Advertising API
What's included:
Plastic teleprompter with 70/30 beam-splitter and phone holder
Mobile phone expansion board
8x metal camera adapter rings
4x foam mobile phone shading discs
Bluetooth remote control
Mobile phone holder and tightening nut
Microfiber cleaning cloth
Instructions (English and Chinese)
The Ambitful Smartphone/DSLR Teleprompter kit comes in a box branded as Pronstoor. That probably means you'll find this same teleprompter marketed under few different names, although the Ambitful version seemed to be one of the least expensive.
Given that this teleprompter is inexpensive, is it worth considering? Well, in my opinion, I think it is. That's especially if you're vlogging in a relatively small studio space, like your office or bedroom. If you plan to record corporate videos you might want to spend more money and get a teleprompter that will impress your clients.
I've used those larger teleprompters that are designed so that the presenter can be 10-15ft from the camera, but they are cumbersome and can take a while to set up. This little teleprompter is light, attaches to the lens of your DSLR/Mirrorless camera, takes up little space, and takes very little time to set up.
Straight out the box, the mobile phone expansion board is fitted to the back of the teleprompter. If you're going to film with a smartphone that's OK, but if you will be using a DSLR/Mirrorless camera you'll need to slide off the mobile phone expansion board.
The Ambitful teleprompter can hold a smartphone (running a teleprompter app) that is up to 4"/10cm wide. I bought a cheap Android smartphone with a 6.1" screen to use solely with the Ambitful teleprompter, so no SIM required. The scrolling text on the phone fills the full width of the beam-splitter mirror, which allows me to use the teleprompter at slightly greater distances.
There's no need for a blackout hood since the camera or smartphone camera fits directly onto the rear of the teleprompter. It's a teleprompter on camera arrangement that helps to keep things simple and compact. Any stray light is blocked by using the supplied circular camera adapter rings or cell phone lens shading panels. Only one of each is required, depending on your camera or phone camera size/design.
Eight threaded camera adapter rings are provided in the kit. These screw on to the filter thread on the front of your camera lens. The adapters are metal and come in sizes 49, 52, 55, 58, 62, 67, 72, and 77 millimeters. Be careful when screwing the rings onto your lens so as not to cross the threads.
QUICK TIP: Don't screw the camera adapter ring onto a lens filter. Screw it directly onto the lens.
If you're a DSLR/Mirrorless camera user, you might not want to attach the Ambitful teleprompter to the end of your camera lens. This may be the case if the front of your lens moves in and out to focus. The lens's autofocus motor will not be able to cope with the added weight of the teleprompter and smartphone and may lead to damage to the lens. In this case, the ¼" tripod mounting adapter on the bottom of the teleprompter allows the teleprompter to be mounted onto a separate tripod or light stand.
Quick Tip: DSLR/Mirrorless camera users. If sliding the camera adapter ring into the rear of the teleprompter is a tight fit, loosen the five screws on the rear of the teleprompter by ¼ of a turn.
When using the teleprompter with a smartphone camera an adapter is included in the kit. This can be attached to the mobile phone expansion board using the slots on the sides or bottom of the board. Your smartphone is then held in place by the smartphone adapter or clip.
The main star of the kit is the beam-splitter mirror. It's pre-fitted into the teleprompter and fortunately, it's not made of glass but toughened plastic. Even though it's not glass, the beam-splitter works well and is unlikely to crack due to rough handling.
The 70/30 beam-splitter produces a minimal amount of ghosting of your script's text. The ghosting is no more than I've experienced when using beam-splitters from a professional mirror coating service. So, I would say the very slight ghosting is perfectly acceptable and produces clear text.
The top of the teleprompter features a cold-shoe mounting point. This can be used for either a mini shotgun microphone or LED light. My preference would be to mount these separately, especially if hanging the unit off the front of your DSLR/Mirrorless camera lens.
The kit comes with instructions that are both in English and Chinese. Honestly, they are not much better than useless, but at least they are better than nothing. One problem you will encounter is that the instructions include a QR code to download the manufacturer's recommend teleprompter app. Don't even bother trying, the link takes you to a non-existent page and produces a 404 error. I think it is meant to link to the BestView Teleprompter app in the App Store and Google Play.
I've already mentioned Elegant Teleprompter Pro

earlier in this article. Although there is a small cost, it's worth it. The app works with the Bluetooth remote control that is supplied in the kit. It's a generic games controller that takes two AAA batteries (not included), and the Elegant Teleprompter Pro app allows you to customize the function of the various controls on the remote control. When using the Bluetooth remote make sure you have the switch on the side set to "game".
The one thing I don't like about this teleprompter is that it's made of plastic since it makes it feel cheap. However, being made of plastic is inevitable. If it were made of metal, not only would it be much more expensive, but it would be much heavier. All that extra weight hanging off the end of an expensive camera lens probably wouldn't be a good idea. So, I'll put up with the plastic design.
The AMBITFUL ( or Pronstoor) teleprompter is a great choice if you are on a budget or will be presenting your videos relatively close to your camera. You'll find the price of the AMBITFUL teleprompter really difficult to beat and yet it includes everything you'll need for a smartphone teleprompter. As a bonus, the kit also includes a Bluetooth remote control that will work with suitable teleprompter apps. The construction may be plastic but honestly, what's not to love with this teleprompter at such a great price.
If you're wondering, I use the Ambitful teleprompter for my YouTube and Church videos. I combine the teleprompter with my Canon EOS R, Canon RF 24-105mm f/4 lens, a cheap Android smartphone, and the Elegant Teleprompter Pro app.
AMBITFUL Teleprompter Pros and Cons
| | |
| --- | --- |
| PROS | CONS |
| Compact | Plastic construction looks cheap |
| Easy to use | Limited to smartphones running teleprompter apps |
| Inexpensive | |
| Can be mounted on lens or tripod | |
| Can be used with Smartphone or DSLR camera | |
| Various adapter ring sizes included | |
| Tough beam-splitter mirror | |
| Includes Bluetooth remote control | |
---
Desview-T2 Teleprompter for Smartphone and Tablet

Desview T2 Teleprompter for Tablet Smartphone iPad up to 8 inch,70/30 Beam...
【Prompting Your Scripts in Front of Camera Lens】Desview T2 teleprompter featured with standard...
【70/30 Beam Splitter Glass with 26 Coated Layers】Teleprompter with reflective mirror: High light...
【ONLY 340g/12oz, Super Lightweight】Desview Teleprompter T2, designed for prompting devices under...
【Free Remote and Software】 The remote controller can controls teleprompter APP (DESVIEW) in the...
Last update on 2023-12-01 / Affiliate links / Images from Amazon Product Advertising API
What's included:
1x Desview T2 Teleprompter
1x Smartphone clamp
1x Smartphone/Tablet clamp
9x Lens adapter ring
1x Bluetooth remote controller (battery not included)
1x Hexagon wrench + screw
4x Foam ring
1x Microfiber cloth
1x Manual
Superficially the design of the Desview-T2 teleprompter and what you get in the kit seems very similar to the AMBITFUL teleprompter. However, there are a few differences that set the Desview-T2 apart from its cheaper rival.
The obvious difference is that the black plastic hood that holds the beam-splitter mirror forms an angle and ridge at the top. This probably makes the teleprompter a little sturdier, but it does mean it misses out on the cold shoe mount featured on the AMBITFUL teleprompter. The second difference, and a more significant one, is that the Desview-T2 teleprompter can hold either a smartphone or tablet beneath the beam-splitter mirror.
Another difference is that the Desview-T2 includes protection for the beam-splitter glass. The rear circular hole can be covered with a blanking plate and there's a plastic front cover for the mirror. Both will prevent damage any accidental damage to the beam-splitter mirror while not in use.
The final difference is you get an extra adapter ring for your DSLR/Mirrorless camera, compared to the AMBITFUL teleprompter.
With the Desview-T2 teleprompter, you can record with either a smartphone or DSLR/Mirrorless camera. Your camera attaches to the rear of the Desview-T2. If you plan to use a DSLR/Mirrorless camera the kit comes with nine adapter rings in sizes 49, 52, 55, 58, 62, 67, 72, 77, 82mm.
Choose the adapter ring that fits the filter diameter of your lens and carefully screw it onto the filter thread. You can then slide the adapter ring into the rounded mount on the rear of the teleprompter. In all honesty, this can be a little tricky, but once the adapter ring is properly seated the teleprompter can be rotated to get it level.
If you are unsure of how to do the setup check the installation guide in the user manual. Unfortunately, the images are rather small, but the user guide should still help you out.
Now, if you don't have a DSLR/Mirrorless camera and intend to film with a smartphone, you'll need to use the foam blanking ring and phone adapter. You'll need to remove the slotted horizontal foam from the blanking foam so that your smartphone camera lens can "see" through.
You'll need to attach the smartphone clamp to the teleprompter body and then fit your phone in place. You'll need to adjust the horizontal/vertical position of your phone to get the lens to perfectly fit with the foam ring. The foam blanking ring is there to stop light from leaking into the rear of the teleprompter. However, with some smartphones, like the iPhone 11 pro and 11 Pro MAX, you may need to film without the foam ring in place.
Moving on to the business part of the T2 teleprompter, it has a 70/30 beam-splitter mirror pre-installed, which is covered by a detachable plastic cover. The mirror is about 194 x 140mm and features a trapezoidal design. This trapezoidal design provides a larger area to view the scrolling text as it moves up the screen.
The beam-splitter mirror shows minimal text ghosting (double reflection) that I noticed, especially if you're looking along the optical axis of the setup. The other optical properties of the mirror glass are fine. There's little or no image distortion and no noticeable color shift.
In terms of light transmittance of the glass, the makers claim a figure of about 97%. In real terms, I reckon there's about a ⅔ of a stop in light loss when filming through the mirror glass. That's nothing unusual though, and in-line with what I would expect when shooting through glass.
The T2 teleprompter kit includes an extendable smartphone/tablet holder that you will need to screw onto the main part of the teleprompter. It's annoying that the holder is not pre-attached, but I guess you would need a larger box if everything was pre-assembled.
Considering the teleprompter is designed to hang off the end of your camera lens (in DSLR/Mirrorless setup), it's not surprising the holder is limited as far as the size of the tablet it can hold. Obviously, you don't want a heavyweight hanging off the end of your lens. You're limited to tablets measuring up to 7.9 x 5.3 inches.
Of course, you'll need a teleprompter app on that smartphone or tablet. Desview provides a QR code in the instruction manual to download the free teleprompter they recommend. Unfortunately, when I tried to use the QR I was taken to an error page. Fortunately, you can search for BestView Teleprompter on Apple's App Store

or on GooglePlay

.
The teleprompter app is quite simple, but it does work with the Bluetooth remote control supplied in the T2 kit. Whether you stick with this app or switch to something more advanced is up to you. Personally, there are other free and paid-for teleprompter apps that I prefer.
Talking of the BestView Teleprompter app, that brings me to the free Bluetooth remote control. It's essentially a Bluetooth games controller that takes 2x AAA batteries (not included), and is like the controller that comes with the AMBITFUL (or Pronstoor) teleprompter. The controller feels cheap, but it does do the job well, and considering the price of the teleprompter kit I'm not complaining.
The remote control lets you start and pause the text in the teleprompter app, as well as jump back or forwards and even go into the BestView app's menu to change things like the text and background color. Considering what you're paying and the features you get with this kit, I can't fault the remote.
One last thing I'll mention is that the teleprompter has three ¼"-20 brass tripod mounting points on its base. Personally, I'd only use these mounting points to put the teleprompter on a tripod if using a smartphone as a camera. If using a DSLR/Mirrorless camera I would mount the camera on a tripod.
So, who should buy the Desview-T2 teleprompter? If you're running your teleprompter app on a larger phone or small tablet, the T2 gives you that extra mirror/screen space for your text. The teleprompter does include a few extra features to justify the step-up in cost, like the extra lens adapter ring and mirror protector. If you need these extra features the T2 is worth considering. It's ideal for anyone recording YouTube or social media videos at home or office. However, if you are being hired for professional jobs you might want to spend a little more and get a teleprompter that looks more professional and that will enhance your reputation with your clients.
Desview-T2 Teleprompter Pros and Cons
| | |
| --- | --- |
| PROS | CONS |
| Good quality beam-splitter mirror | Plastic construction looks cheap |
| Light weight | Only one foam blanking plate for smartphone cameras |
| Filming possible with smartphone or DSLR/Mirrorless cameras | Smartphone/teleprompter tray support needs screwing on |
| Tray mount accepts smartphone and small tablets | Mounting on camera lens can be slightly tricky |
| Bluetooth remote control included | The instruction manual setup images are very small |
| Includes free teleprompter app | Not suitable for wide-angle lens |
| Protective cover for mirror included | |
---
Glide Gear TMP100 Adjustable Smartphone/Tablet Teleprompter

Glide Gear TMP100 Adjustable iPad/ Tablet/ Smartphone Teleprompter Beam...
Designed To Shoot With Dslr/ Mirrorless Cameras. Prompting Use With Android And Ios Teleprompter...
Industry Standard Beam Split Glass With 70/30 Visible Light Transmission
No Assembly Required / Collapsible Teleprompter For Small Footprint And Easy Transport / Tripod And...
Your Camera Will Not Photograph The Text In The Video. We Recommend Using The App Teleprompter...
Last update on 2023-12-01 / Affiliate links / Images from Amazon Product Advertising API
What's included:
Teleprompter with rotatable beam-splitter mirror
Black mirror surround and black-out hood
Carry case
Instructions
In terms of cost, this teleprompter falls somewhere in the middle ground. It's neither cheap but nor is it very expensive, although it is at the upper end of the teleprompters in my list of teleprompters for smartphones. However, it's the teleprompter to choose if you want something that provides quality, durability, flexibility, and a teleprompter that looks and feels like a professional piece of kit.
It's made from aircraft 6061-grade aluminum, includes a high quality 70/30 mirror, and will accommodate any smartphone and tablets up to 10.5 x 7.5 inches in size.
Although the Glide Gear TMP100 is for use with DSLR/Mirrorless cameras, a smartphone holder is also provided so you can also shoot your video with a smartphone. With a few adjustments to the black-out hood, you can also film with a camcorder.
The impact-resistant HD glass beam-splitter is a 70/30 mirror that reduces light transmission by about a third of a stop. So, you shouldn't have too much of a problem with light reduction bringing down your exposure. Nor does the mirror cause any strange color cast effects.
Assembly shouldn't be a worry. The marketing material says, "no assembly necessary", which is true to an extent. You will still have to screw your tripod's quick-release plate to one of the several ¼" and 3/8" threaded mounting holes along the base of the teleprompter. There are five 3/8″ mounting holes and four 1/4″ mountings holes. Choose a point that will give you the best balance on your tripod.
Now rotate the beam-splitter mirror into position and secure it in place using the fixing screws. Next, attach the blackout hood. Then fix the camera to the camera support plate. This is quick long so you should be able to mount any DSLR/Mirrorless camera even if you have a longer lens attached. Move the camera toward the mirror and use the drawstring to secure the blackout material around the lens. Finally, insert the smartphone or tablet at the front of the mirror.
A 10″ tablet works well with this teleprompter since it makes full use of the available beam-splitter mirror, but smaller tablets or smartphones will obviously also work. My large smartphone with a 6.1" screen works well with the Glide Gear TMP100.
The canvas blackout hood can sometimes cause a problem for DSLR/Mirrorless users. The fabric is secured in place over the DSLR camera lens by using a drawstring. However, the fabric can sag in front of the camera lens. To avoid the problem, push the camera/lens as close to the beam-splitter mirror, then pull back any excess fabric toward the camera body. Fold over the fabric if necessary and pull the drawstring tight.
QUICK TIP: Use a small photographic clamp or clothespin to pinch together the fabric to stop it sagging.
If you are using a wide-angle lens your camera might "see" the frame of the teleprompter. This isn't a problem with the teleprompter, you just need to use a lens with a longer length or zoom your lens until the teleprompter is no longer visible in the shot.
Depending on the weight of your camera and lens, you may need to get a better-quality tripod to take this teleprompter. Remember, the teleprompter itself is made of metal. Once you include the teleprompter, camera, lens, and smartphone/iPad, the total weight could be substantial. A cheap tripod may struggle to support everything safely, so invest in something that will do the job safely.
The whole teleprompter can be stored in the supplied carry bag. It has handles and a shoulder strap, but don't expect a huge amount of protection for the teleprompter. If you're going to be throwing the bag into the back of a truck or as baggage on a flight, I'd get a proper flight case. None the less, it's nice to have the carry bag included.
If you want a teleprompter that's sturdy, really good quality, looks the part, and allows you to use your teleprompter app on either a smartphone or tablet then the Glide Gear TMP100 should be on your radar. It costs not that much more than most smartphone teleprompters but gives you much more screen real estate when coupled with a tablet. If you have the budget, this is the teleprompter you should get.
Glide Gear TMP100 Teleprompter Pros and Cons
| | |
| --- | --- |
| PROS | CONS |
| Accommodates cameras with long lenses | Black-out hood can sag in front of lens |
| Easy to use | More expensive than other smartphone teleprompters |
| Sturdy metal construction | App remote control not included |
| Can be used with DSLR/Mirrorless and smartphone cameras | |
| High quality 70/30 beam-splitter mirror | |
| Can run teleprompter apps on smartphone or tablet | |
| US based support | |
| Includes carry bag | |
How does a teleprompter app work?
Teleprompter apps allow you to display your video script, or notes, on the screen of your phone or tablet. The app can scroll through the script at your speaking pace. With the remote control, you can pause and start the script as required. Some teleprompter apps will auto-scroll the script by using speech recognition technology.
Usually, teleprompter apps allow you to either paste your script into the app or to type the text into the editor. Once the text is in the app it can be formatted. For example, the font, font size, and line spacing can be changed. The text and background color may also be reversible. Teleprompter apps that can work with teleprompter hardware will also allow the text to be mirrored so that the text appears the correct way around once reflected by the beam-spitter mirror.
Basic teleprompter apps include the ability to scroll the text across the screen at a range of preset speeds. This allows the presenter to read the script without needing to stop.
However, basic teleprompter apps don't usually offer any remote control. More sophisticated teleprompter apps can include some form of remote control, allowing control over various features. This may include the ability to pause the text, change the scroll speed, or jump backward or forward. This can be an advantage for the presenter since he/she can make their read sound more natural by including variability in their speaking pace.
More recent teleprompters have exploited speech recognition technology to control the scrolling of the text. The app will ask for permission to use the phone's microphone so that it can "listen" to the presenter read the script. By understanding where the presenter is in the script, the app can advance the script as necessary.
How to get your script onto your teleprompter app
Most teleprompter apps include the ability to edit your script within the app, that's OK for the occasional edit but I wouldn't recommend composing your script in the teleprompter editor.
In most cases I would write the script on a computer using a word processor or text editor. It doesn't matter what editor you use since any fancy formatting you add will probably be ignored by your teleprompter app. Once you've written your script copy the text and paste it into an email and then send it to yourself. Go to your phone or tablet where you'll be running your teleprompter app, open your emails, and copy the text you just sent yourself. The final step is to open your teleprompter app and paste the text into a new script or document.
It's much easier to write your copy in a proper word processor than in the teleprompter app, plus it's easy to also save a copy to your computer's hard drive or to the cloud.
If you really do want to write your script in the teleprompter app's text editor, I would recommend using an external keyboard. A cheap Bluetooth keyboard works fine and can probably also work with your teleprompter app as a remote control.
Teleprompter Mirror – What to look for
One of the most important parts of a teleprompter is the beam-splitter glass mirror. It needs to be good quality for a few reasons. First, it must be of a good optical quality, otherwise the image in the camera will be distorted. Fortunately, optical quality doesn't seem to be an issue in most non-professional teleprompters.
Next, the glass beam-splitter mirror should have 70/30 transmission. This ratio indicates the relative amounts of light being passed to the camera and reflected. So, 70% of the light passes through the beam-splitter mirror to reach the camera. Meanwhile, 30% of the light will be reflected at the mirror surface.
Normal un-coated glass reflects about 15% of light at an angle of 45°. But for teleprompters a thin mirror coating ensures about 30% of light is reflected. This allows the text on your smartphone or tablet to be seen while the camera has a bright and clear view of the presenter. Normally this produces a reduction in image brightness of about one stop or less.
In very good quality beam-splitter mirrors the rear surface includes an anti-reflective coating. This helps to reduce the faint secondary reflection of the text, known as ghosting. Setting the mirror at 45° and looking at the teleprompter square-on will also help to minimize the ghosting effect.
Another important consideration is whether the glass and mirror coating used in the beam-splitter mirror causes a color cast in the image. In most cases, this isn't a problem, with most casual users not noticing any color cast effect.
Tosh Lubek runs an audio and video production business in the UK and has been using the Canon EOS R since it was released in the Autumn of 2018. He has used the camera to shoot TV commercials for Sky TV, promotional business videos, videos of events and functions, and YouTube creator content. He has also won international awards for his advertising and promotional work. You can meet him by visiting his "video booth" at HashTag business events across the country.
Recent Posts