DIY Video Studio is supported by its readers who use the affiliate links or ads on this site. As an Amazon Associate, I earn from qualifying purchases. Thank your support if you use any of the links.
The Zoom H4n is a digital audio recorder that has become popular with radio stations, podcasters, and DSLR videographers who want to capture good-quality audio. Although the Zoom H4n Pro was released in 2015, the original H4n remains a good recorder for video. It's compact, versatile, has many features, and it's very affordable. However, the Pro update includes several welcome features, such as locking XLR sockets, and importantly, much-improved mic preamps. Check it out in this video.
In this article, the details that relate to the Zoom H4n are also applicable to the H4n Pro.
The Zoom operation manual states that in general use, the H4n can record continuously for about 6 hours when using alkaline batteries. You can record for almost 11 hours by using stamina mode, but you are limited to recording to a stereo .wav file with a resolution of 44.1 kHz/16bit.
However, for video, we tend to record audio at 48kHz instead, and if you plug in condenser microphones and turn on the H4n's 48V phantom power supply, the battery life will be significantly shorter than 6 hours. The result is that you always keep a nervous eye on how much power you have left.
But irrespective of how long the alkaline AA batteries will last, the fact that you need to regularly replace them is a costly business.
So, what are the main options?
Zoom H4n Pro 4-Track Portable Recorder, with Stereo Microphones, and 2 XLR/ ¼" Combo Inputs
Capture Professional-Quality Audio: With four-track simultaneous recording, built-in X/Y stereo…
Connect with Confidence: The H4N offers extensive connectivity options, including two mic/line level…
Unlock Powerful Recording Capabilities: Record up to 140 dB SPL with X/Y microphones, and support up…
Portable and Convenient: The H4N is compact and versatile, making it perfect for on-the-go…
Last update on 2023-09-20 / Affiliate links / Images from Amazon Product Advertising API
Power an H4n with a Zoom AD-14 AC power adapter
The obvious thing to do is use the Zoom AD-14 AC adapter. Just plug the adapter into a wall socket and the other end into the H4n and you're good to go. You can start recording and keep going until your SD card is full.
In many situations, this will work perfectly well, but there is a drawback, you're limited to locations with wall outlets, and you can't move. There must be a better solution that lets you record for longer while letting you do it anywhere you need to.
Power a Zoom H4n or H4n Pro with a Power bank
The one essential piece of equipment you will need to get your Zoom recorder to work with a power bank is a USB power cable. As the name implies, the cable will need to have a USB connector at one end and a male DC power connector at the other.
Unfortunately, DC power connectors come in a variety of sizes, what we need to successfully connect to the Zoom H4n or H4n Pro, is a DC connector pin that is 4mm by 1.7mm. That means the outer diameter of the pin is 4mm and the inner hole has a diameter of 1.7mm.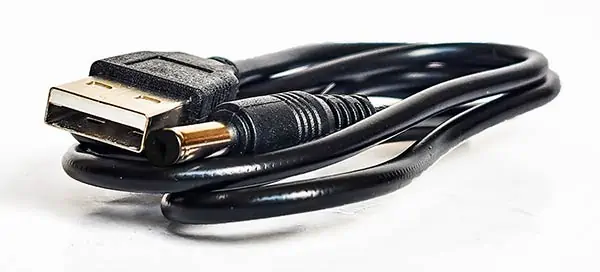 It is important that the connector has central polarity positive, which means the middle is positive and the outer part is negative. If the polarity is the other way around, you could damage the recorder.
So, to be a little more precise. To connect a Zoom H4n, or H4n Pro, to a power bank you need a power cable with a USB 2.0 A-type male connector at one end and a 4.0mm x 1.7mm DC power connector with central polarity positive at the other end.
If you don't already have a suitable power cable here is a link to the MyVolts 5V USB Power Cable

that is compatible with the Zoom H4n and Zoom H4n Pro recorders.
Now you've got the cable, it's time to connect the Zoom H4n to the power bank. So, let's talk about power banks.
To run the Zoom H4n recorder from the power bank, connect the DC power connector to the base of the recorder. Next, insert the USB end of the power cable into an output on the power bank. Finally, turn on the recorder by pulling down and holding the slider on the left. The H4n will boot up as usual.
That's all you need to do. There's no need to change anything in the menu settings since the unit will automatically use the external power from the power bank. Just plug in, turn on the recorder, and you're good to go.
TIP: To check which power source the Zoom H4n is using, look at the top right of the display. If the H4n is receiving power from the AA batteries a battery indicator icon, with up to three bars, will be displayed. If the recorder is using external power, the battery indicator icon will be absent.
I explain more in this YouTube video.
Which Power Banks can be used with an H4n?
According to the Zoom H4n operation manual, the recorder requires 5V 1A DC power. This is the minimum rating on most power banks.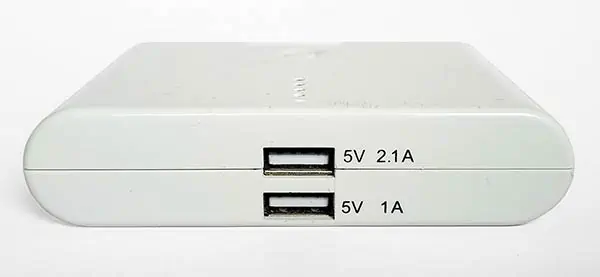 You can see that this image of one of my older power banks, with a capacity of 10,000mAh, has two output ports. The lower one is rated 5V 1A, and the upper one is rated 5V 2.1A. Does this mean we can only use the lower output since the H4n requires 5V 1A?
The output's amperage rating is the maximum it can supply, but a connected device, like the H4n, will only draw as much current (amps) as it requires, which is 1A. Even if the output is rated 2.1A, only 1 amp will be drawn.
But modern chargers, like power banks, have smart technology incorporated. This checks how much power the connected device needs, and only provides the amount required.
The power bank I have successfully used to power my Zoom H4n is the Anker PowerCore Essential 20000 PD, also known as the Anker 525 Power Bank. It has a capacity of 20000mAh, which is much more than I have ever needed for any recording session, even when I use the USB-C output to keep my iPad teleprompter charged. If you are looking for an excellent high-capacity power bank, I can highly recommend this one from Anker.
Anker 525 Power Bank (PowerCore Essential 20K PD) with 20W Power Delivery
The Anker Advantage: Join the 55 million+ powered by our leading technology.
Charge Fast Anywhere: The 20W USB-C port has enough power to charge an iPhone 12 to 50% in just 30…
Ultra-High Cell Capacity: The massive 20,000mAh cell capacity provides 5 charges for iPhone 12, more…
Wide Compatibility: Charge virtually any mobile device including phones, tablets, and more.
Last update on 2023-08-24 / Affiliate links / Images from Amazon Product Advertising API
If you are looking for a lower capacity power bank that will still provide 10-15 hours of power for your Zoom H4n or H4n Pro take a look at the Anker 523 Power Bank (PowerCore Slim 10K PD) with 10000mAh capacity and 20W Power Delivery
Anker 523 Power Bank (PowerCore Slim 10K PD) 10000mAh with 20W Power Delivery
– Charge Fast Anywhere: The 20W USB-C port has enough power to charge an iPhone 12 to 50% in just 30…
– Super Slim: At only 0.6 inches thick, this 20W portable charger fits in any backpack, purse, or…
– Backup Power: The 10,000mAh cell capacity gives you enough power to charge an iPhone 13 more than…
– Safe Travels: PowerCore 10K features our exclusive MultiProtect safety system which combines a…
Last update on 2023-08-24 / Affiliate links / Images from Amazon Product Advertising API
Do I need to remove the batteries when using external power?
When the Zoom H4n is using external power, either from the AD-14 AC adapter or a power bank, the AA batteries do not need to be removed from the battery compartment. The external power bypasses the battery compartment, so it is safe to leave the batteries in place.
I checked the voltage across the battery compartment terminals with a voltmeter while the Zoom recorder was turned on and using external power. The voltmeter registered zero volts, so no power was reaching the battery compartment.
If you are really worried about having batteries in the battery compartment while using external power, use rechargeable batteries instead of alkaline batteries.
Note that if you do remove the batteries, after 3 minutes the Zoom H4n's time and date will be reset to the default value. If you are replacing exhausted batteries with a fresh pair, ensure you do so within the 3-minute limit, otherwise, you will have to change the time and date values.
I have heard someone mention their H4n recorder turns off part way through the boot process if there are no batteries in the battery compartment. I have never experienced this when using any of my three power banks with the recorder. But wonder whether the power bank was turning off because very little current was being drawn during the boot-up of the H4n.
If that is the case try putting the power bank into trickle charge mode if it is available. On my Anker PowerCore Essential 20000 power bank, I press and hold the on/off button until the first of the four LEDs changes from blue to green. The power bank will now stay on, even if very little current is being drawn.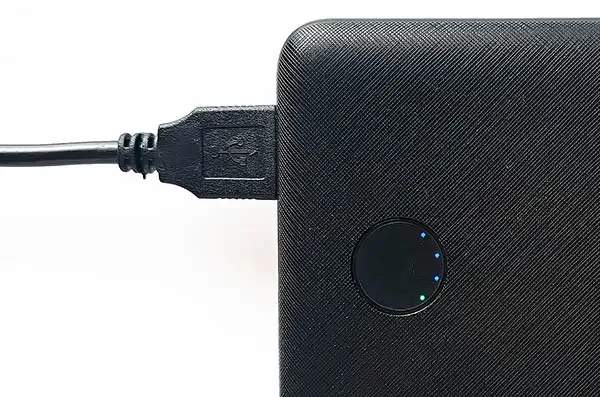 How long can the Zoom H4n record with power from a power bank
The Zoom H4n's power requirements depend on how you use it. When recording 48kHz/24bit wav audio with two condenser microphones and 48V phantom power switched on, I would expect to record for 2 hours with Duracell alkaline batteries. When using external power from a 10000mAh power bank, I would expect to record for about 10-15 hours.
The reality of using a power bank instead of AA alkaline batteries is that you will run out of memory space on the SD card before you run out of power. This is especially true if you opt for higher capacity power banks of 20000mAh or higher.
Why use a power bank with a Zoom H4n
Power banks are incredibly useful to power a Zoom H4n or H4n Pro recorder. You will be able to record for extended periods of time without losing any recording capabilities or features of the H4n, as you would by switching to stamina mode. For example, by using stamina mode, you can only record 44.1 kHz/16bit WAV format files and only two tracks instead of a maximum of 4 tracks.
By keeping a power bank with you on a video shoot or recording session, you will have much more flexibility in recording quality audio. Another advantage is that you won't need to worry about running out of power, as you would with AA batteries. Nor will you need to stop a session to swap exhausted AA batteries for new ones.
I have a real-world example to illustrate the usefulness of having a power bank in your kit bag. Earlier this year I recorded with a voiceover artist at the Scottish Maritime Museum

to create an audio tour.
Each session lasted a full morning, but for the first one, I forgot to take my power bank with me and had to change the AA batteries halfway through. Because I made sure I took the power bank with me for the next session, there was no need to stop for a battery change and I didn't need to worry about constantly checking the battery level indicator.
Finally, you are going to save a lot of money by using a power bank. If you use a couple of condenser mics and supply them with phantom power from the H4n, you'll need fresh batteries every couple of hours, and that's assuming you are using something like Duracell copper top batteries.
Joining a power bank and Zoom H4n together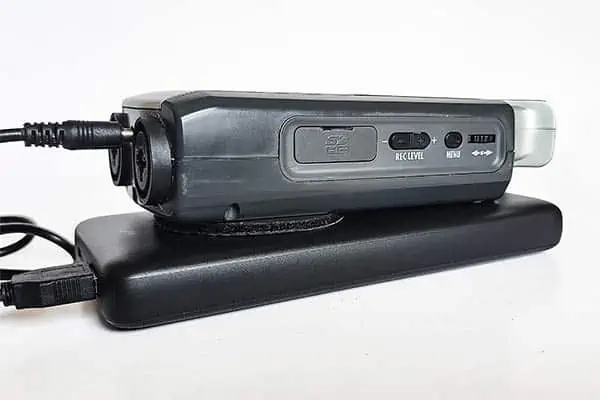 Unless you are working at a desk or table, it would be useful to secure the recorder and power bank together.
The easiest way to attach a power bank to an H4n is to use Velcro. Apply a strip of Velcro to the rear of the recorder and then apply a strip of the opposite type of Velcro to the back of the power bank. When you push the two together, slide them together slightly so the Velcro hooks and material mesh together securely.
In my case, I used circular velcro disks. Although this worked, the disks were larger than the battery compartment cover, making it difficult to access the compartment when necessary. As a result, I replaced the velcro disks with narrower strips.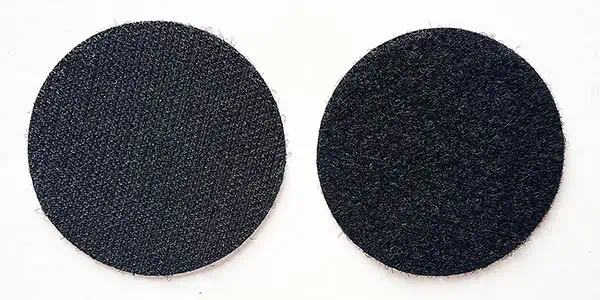 How to Charge Zoom H4n or H4n Pro portable recorders
This is a question that is sometimes raised and worth mentioning here.
Although the Zoom H4n and H4n Pro have a USB port and a DC power socket, neither of these will charge the recorder's batteries. The two AA batteries, if rechargeable, must be taken out and charged in a separate charger. However, the recorder can be powered to a greater or lesser degree by these sockets.
As explained in my article, Zoom H4n Batteries: Powering the recorder, when the H4n's mini-USB port is connected to a computer or power bank, the Zoom recorder will turn on and boot straight to the USB menu screen. The only choices are to access previously made recordings on the SD card or to have the H4n/H4n Pro function as a USB Audio Interface.
Source: DC Connector

Tosh Lubek runs an audio and video production business in the UK and has been using the Canon EOS R since it was released in the Autumn of 2018 and the Canon EOS R6 in 2020. He has used both cameras to shoot TV commercials broadcast on Sky TV, promotional business videos, videos of events and functions, and YouTube creator content. He has also won several international awards for his advertising and promotional work. You can meet him by visiting his "video booth" at HashTag Business Events across the country.
Recent Posts