DIY Video Studio is supported by its readers who use the affiliate links or ads on this site. As an Amazon Associate, I earn from qualifying purchases. Thank your support if you use any of the links.
If you're just starting out in the world of voiceovers or videography, it can be overwhelming to try and figure out what equipment you need. Of course, you'll want a good microphone and camera, but after that, what's next?
One piece of equipment that is highly recommended is the Zoom H5 portable recorder. I bought a Zoom recorder when I set up my audio and video production business more than a decade ago, and I've never regretted it.
I've used the Zoom H5 portable recorder to record:
Voiceovers
Audiobooks
Videos
Interviews
Seminars
Panel discussions
Singers
Sale
Zoom H5 4-Track Portable Recorder for Audio for Video, Music, and…
Uses a system of interchangeable input capsules that can be swapped out as easily as the lens of a…
Includes detachable X/Y capsule (XYH-5) with extended signal capacity and shock mounted mics for…
Four-track simultaneous recording
Two mic/line inputs with XLR/TRS combo connectors each with selectable phantom power and -20dB pad
Last update on 2023-12-01 / Affiliate links / Images from Amazon Product Advertising API
Why you don't want to record beside your computer
As a voiceover artist, you will know how important it is to have clean audio that is free from background noise. Whether you're recording a voiceover for yourself or a paying client, you need to record clean audio, without any distracting background noise.
So, although it may seem natural to record on your computer, after all that where you will have your DAW and audio interface for your XLR microphone, it's not going to be a quiet spot. For a start, the computer's cooling fan will be noisy, and there may be other noisy appliances nearby, such as dishwashers, fans, computers, and air conditioning.
That's why we use voice booths (however permanent or makeshift), so you can isolate yourself from all those noises and improve the acoustics. But, when you just start doing voice work from home, or if you are away on a trip, your voice booth is likely to be a walk-in closet with soft cushions and duvets as acoustic treatment. However, you still need your laptop and audio interface, and that's still going to make a noise.
That's when the Zoom H5 comes in handy.
Why the Zoom H5 is Ideal for Voiceovers and Videography
The Zoom H5 is a great choice for voiceovers and videography due to its high-quality audio recording capabilities. The Zoom H5 is portable, battery-operated (using two standard AA batteries, or an optional AC adapter or power bank), and has no mechanical moving parts to whirr, which makes it silent.
This means you can take the recorder and a microphone into a voice booth, or other quiet space, and record without any distracting background noise.
But the Zoom H5 is not just for voiceovers. It's also great for recording location sound for sound effects and it can even be mounted on your camera's hot shoe and use the built-in XY microphone capsule as an on-camera microphone.
If you need to use professional XLR microphones during a shoot, you can plug them into the H5 and record high-quality audio that you can sync up later in post-production. But you can also use the Zoom H5 to record from XLR microphones straight into your DSLR or mirrorless camera. Simply plug the XLR mic or mics into the H5, then connect the H5's 3.5mm line out to your camera's audio input.
In addition to the built-in mic capsule and being able to use XLR mics and TRS line inputs the H5 can also be used with 3.5mm lavaliere mics since the device can supply phantom and plug-in power.
Zoom H5 features audio professionals will appreciate
The Zoom H5 has a number of standout features that make it so useful for audio producers, such as the Pre-Record and Backup-Record functions and the interchangeable microphone capsules.
Pre-Record captures and saves 2 seconds of audio before you hit the record button, which is great for unexpected moments when your subject starts speaking before you're ready.
Backup-Record is an audio safety net that protects your recordings by automatically recording duplicate tracks with 12db less input gain. This is especially helpful if your subject makes a sudden loud noise or emphasizes a word, as it can prevent audio peaks that could distort the sound.
The modular design of the microphone capsules lets you swap out the standard stereo XY pair of unidirectional condenser microphones for more specialized microphones, like the large diaphragm XY mic capsule, a shotgun mic capsule, or a Mid-Side mic capsule. Alternatively, you can fit the dual combo XLR/TRS input module that allows you to use a total of four professional XLR microphones.
Clean and clear audio
The audio quality is great. The H5 uses low-noise preamps, in fact, the same ones that you'll find on Zoom's flagship H6 recorder. So, if you need to crank up the input level on a dynamic microphone, you can do that without it also cranking up some noise.
The audio quality is selectable, right up to a sample rate of 96kHz and a bit depth of 24bits.
Recording media and file type
The H5 records to a single 16Gb or 32Gb SD card, which allows many hours of recording. Unless you use external power, it's likely you will run out of battery power before you fill-up the SD card. Note that the larger the SD card the longer the H5 takes to boot up when you turn it on.
The H5 can record BWF Wav files or mp3 files. If necessary, you can use the recorder to convert Wav files to mp3.
Recording battery life
When using the XY mic at 44.1kHz/16-bit audio quality (1x stereo), the 2 AA batteries should last about 10 hours.
When using multi-file mode with XY mic, plus Inputs 1 and 2 at 48kHz/24-bit audio quality (2x stereo), the two AA batteries should last about 5.2 hours.
Additional Benefits of the Zoom H5
In addition to its recording capabilities, the Zoom H5 is also a great choice if you don't already have an audio interface to record with XLR microphones on a desktop or laptop computer.
Simply connect the H5 to your computer using a USB cable and it will show up as an audio input and output device in your sound settings and in the digital audio workstation (DAW) software you have installed. This allows you to record your voiceover with your preferred professional microphone, straight into your DAW software.
One of the great things about using the Zoom H5 as an audio interface is that it can record in stereo or multitrack mode. In stereo mode, the H5 behaves as a 2-in/2-out interface where you can record two tracks of audio simultaneously, making it perfect for recording voiceovers or other projects that require stereo sound. When doing voiceovers, choose the stereo mode.
In multitrack mode, the H5 will be a 4-in/2-out interface, where you can record up to four tracks of audio simultaneously, allowing you to create more complex audio projects with multiple layers of sound. This makes the Zoom H5 a very versatile and flexible audio interface for a wide range of recording and production projects.
But that's not all – there are also many other things you can use the H5 for, including overdubbing, simple editing, plus mixing and exporting multitrack projects.
What's included when you buy a Zoom H5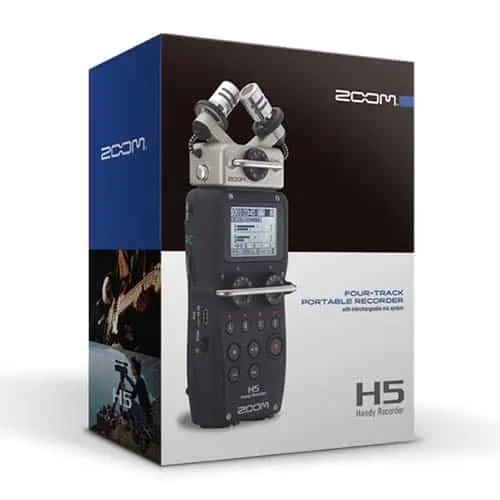 Zoom H5 Recorder
Quick Guide
XYH-5 X/Y mic capsule
USB cable
Foam windscreen
Case
Optional H5 Accessories
PCH-5 Protective Case for H5 Handy Recorder
SGH-6 Shotgun Mic Capsule
SSH-6 Stereo Shotgun Mic Capsule
EXH-6 Dual XLR/TRS Combo Capsule
XYH-6 X/Y Mic Capsule
MSH-6 Mid-Side Mic Capsule
ECM-3 Extension Cable for Zoom Microphone Capsules
HS-1 Hot Shoe Mount Adapter
MA-2 Tripod to Mic Stand Adapter for Handy Recorders
WSU-1 Universal Windscreen
APH-5 Accessory Pack: includes RCH-5 wired Remote Controller, AD-17 USB-type AC adapter, and Hairy Windscreen
Last update on 2023-12-01 / Affiliate links / Images from Amazon Product Advertising API
Final thoughts
Overall, the Zoom H5 is a fantastic piece of equipment for voiceovers and videography. Its high-quality audio recording, versatility, and convenient features make it a reliable choice for recording clean and professional audio.
Whether you're starting out or have been in the industry for a while, the Zoom H5 is worth considering as a valuable addition to your equipment arsenal.
Its ability to record in stereo or multitrack mode, as well as its use as an audio interface, make it a versatile tool that can meet the needs of a wide range of recording and production projects.
The Zoom H5 is a great choice for recording and capturing audio on the go. I always take my Zoom recorder with me whenever I go on a trip. Not only do I use it to record voiceovers that come in while I'm away, I also use it to record sound effects at the locations I visit. When I get back to my office studio, I edit the sounds and upload them to stock sites like Pond5. The sound effects don't make a huge amount of money, but it's extra income for doing something I enjoy and I'm building up my own sound effects library.
Source: 1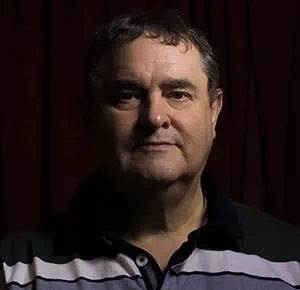 About the author: Tosh Lubek is a multi-award-winning broadcaster, writer, and video producer, with 40 years of experience in professional broadcasting and has been using Canon video and stills cameras since 2010. He has worked with radio and TV broadcasters, advertising agencies, and direct clients on a variety of projects including radio and television advertising, online video production, corporate videos, award ceremony motion graphics, and theme park sound design. Tosh has won numerous awards, including a Radio Academy Awards Gold Sony, a Gold, Silver, and Bronze World Medals in the New York Festivals International Advertising Awards. Since about 2007 he has been creating YouTube videos. Tosh has been a sponsor of the "video booth" at HashTag Business Events across the UK.
Recent Posts