DIY Video Studio is supported by its readers. Please assume links on this site are affiliate links or ads, and that I get commissions for purchases made through these links. As an Amazon Associate, I earn from qualifying purchases. Thank you if you use any of the links.
In the pandemic environment of 2020/21, the ability to communicate online has become essential. Those who have learned those skills have given themselves a huge advantage in the workplace over others who do not want to step outside of their comfort zone.
Today many businesses insist that their employees use Zoom to conduct important meetings. The same is true of schools and colleges that have replaced traditional face-to-face learning with online classes and lectures. Although there are other online meeting platforms like Google Meet, WebEx, and Microsoft Teams that aim to do the same thing, Zoom has become the most common and popular among users.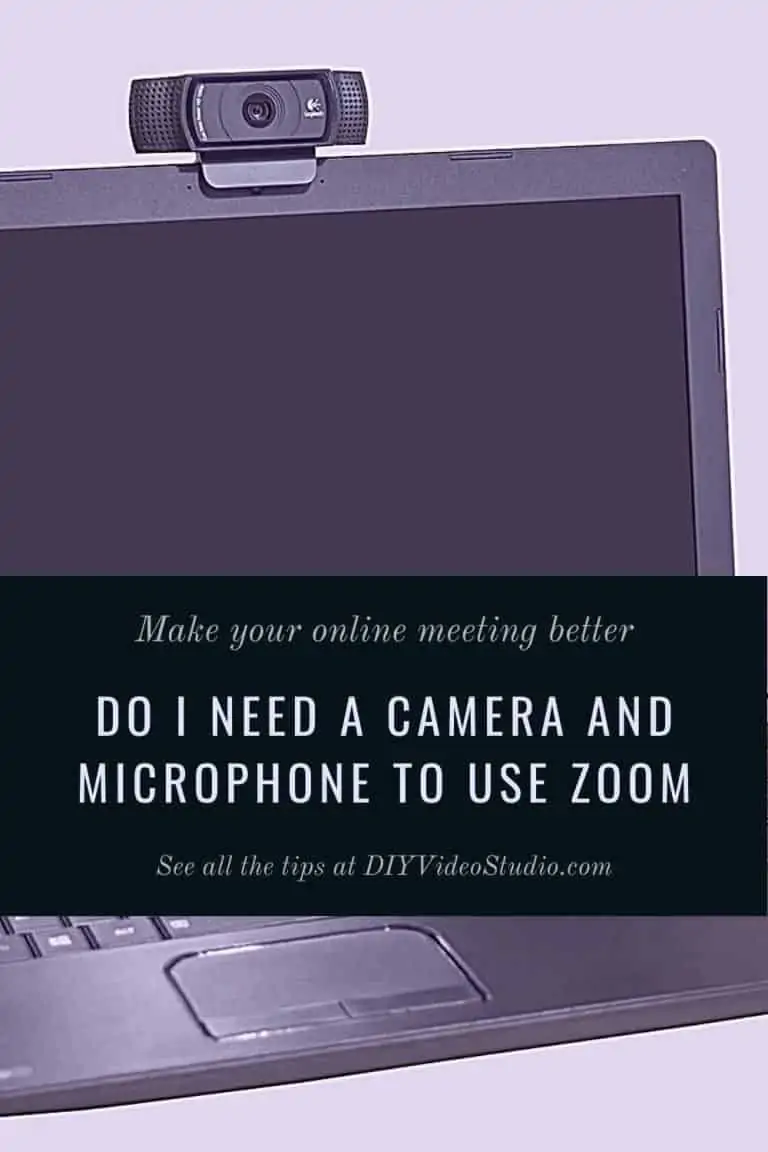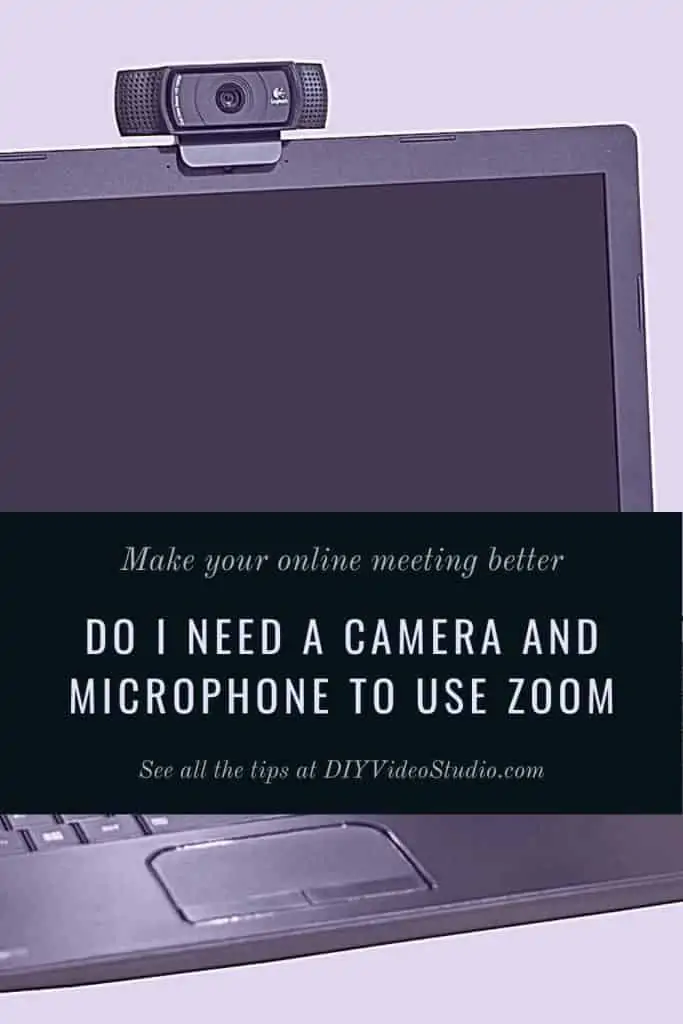 When using the Zoom desktop or mobile app you do not need a camera or microphone. Although a camera and microphone are not essential, they do enrich the online meeting experience. They will make the meeting more personal, and allow you to fully interact and participate in the Zoom call.
You may not want to use a camera and microphone when using Zoom if you are attending a virtual webinar or exhibition where the audience only submits questions via text.
Alternatively, you may wish to conduct a Zoom meeting without a camera but still use a microphone if your internet or mobile connection is slow. This will help minimize the necessary data bandwidth without freezing or stuttering audio.
Do I need a camera for zoom?
While a camera is not necessary, there are a few things to keep in mind. One is that you can begin to establish a relationship with new clients when meeting for the first time over zoom with a camera. Without a camera, it can be hard to establish the same relationships or for them to be as strong.
The ability to see each other also adds to your understanding of the other person's meaning. Speech is only part of how we communicate. Body language and facial expressions help our ability to communicate.
Although many people find that they do not enjoy being seen on camera this is more about seeing ourselves on the screen of our computer or phone, rather than other people seeing us.
If you think about it, people "see" much more of us in a physical meeting than on a Zoom call. When we are in a physical meeting people can see every little detail. They notice what we are wearing, whether we have a physical disability, and countless other details. Whether you like it or not, whether it is politically correct or not, all these details contribute to the impression we make on others.
On camera, we can control the information that we share about ourselves. We can manipulate how others see us and use that to our advantage. I'm not suggesting that you mislead and try to deceive people. I'm merely saying that you can prevent something minor from becoming a speed hump in developing a new business relationship.
In business and work, there are real benefits to using a camera on a Zoom call. The biggest advantage is that seeing each other can lead to an increase in business and stronger longer-lasting client relationships.
If you are looking to buy a webcam, I would recommend getting a Logitech webcam. Logitech is a Swiss-American manufacturer of computer accessories. As well as producing excellent webcams the company also owns Blue Microphones, the company that makes the very popular range of Yeti USB microphones.
I've been using Logitech webcams for many years, and still have the C920 since it still offers great performance at a very respectable price. It's the webcam I would start off with since it can do most of what I need. But for extra features, such as a wider field of view, higher video quality, and better low light performance the Logitech Brio Ultra HD is the one to go for.
Brand
Streaming Choice
Logitech
Last update on 2023-12-01 / Affiliate links / Images from Amazon Product Advertising API
Do I need a microphone for Zoom?
While you do not have to have a camera to participate in Zoom meetings or calls, you cannot participate efficiently without having a microphone.
Yes, you can attend a Zoom meeting without a microphone, but your attendance would be passive. You could attend and hear what others have to say, but you cannot interject your comments without a microphone.
Many different types of microphones can work with Zoom. You can use your computer's built-in microphone, a microphone that is built-in to a webcam, an external desktop USB microphone, and a USB headset with a microphone. For guidance see my article, Best microphone for better Zoom calls: Buyers Guide.
A camera and microphone will help enrich your online meeting experience.
Zoom vs Skype vs Facetime vs Webex – Which is better
Whichever service you choose, Zoom or Skype, you'll find their features very similar. Both programs allow you to blur the background, record the meeting, share files, and more. I have used both platforms in my video business, connecting with individuals to small groups from multi-million-dollar corporations. Overall, I prefer the features Zoom offers.
Although personally, I find Zoom easier to use, I would encourage you to try the various platforms available. You should see how you like zoom vs skype vs facetime vs Webex, not to mention the other online meeting platform out there.
I'm not encouraging you to do this just for the sake of it. If you're using teleconferencing in a work environment it's useful to know how each of the online meeting platforms works.
One day you might find that a customer or another team prefers something other than Zoom. You don't want your first experience of that new software the day you have a meeting with a new client. Not knowing what you're doing could easily undermine your business authority.
5 Zoom Tips for Success
The new Zoom-heavy world is different, and people find that they are experiencing a new form of being tired with "Zoom Fatigue". Having success with Zoom can be as simple as implementing a few simple tips to ensure that everyone is ready.
Auto-Schedule Meetings – Instead of setting up new meetings each week, consider auto-scheduling your meetings. This will alleviate a lot of time from you and if a meeting isn't needed, it can always be canceled. There are also ways to import all Zoom meetings into calendars which can be helpful for groups, teams, and classes.
Learn How to Use Meeting Reports – Meeting reports allow you to see who attended the Zoom event. They also allow you to see how long someone was in attendance. This can be particularly helpful for teachers and instructors who use attendance for a grade. This way students cannot just log on for a minute or two and get credit as if they were there the whole time.
Gather Information – You can also get necessary feedback and/or information from the attendees. This can be done with a form that requires attendees to fill it out before entering the meeting.
Record the Call – You can also record the call to use as future training or to use for other purposes, like to allow your team to remember everything that was discussed or happened. Some find that adding a video link to the meeting notes is very helpful. A recording can also be invaluable for any team member who was unable to attend.
Know the Shortcuts – Some keyboard shortcuts can make participation and the Zoom experience easier. Some leaders find that sharing this with their team is a helpful way to ensure that everyone can get involved in the Zoom meeting. Here are just some that you may find useful.
Command + I (macOS) or Alt + I (Windows) – Allows you to invite people with a link or by email.
Command + Control + M (macOS) or Alt + M (Windows) – Allows you to mute everyone else when you are the host.
Command + Shift + S (macOS) or Alt + Shift + S (Windows) – Allows you to share your screen.
These simple tips will help you enjoy more success with Zoom in your meetings.
Is it rude to use Zoom without video? & other Zoom etiquette tips
While the first thought might be that it is rude to enter a Zoom call without video, there are a few circumstances where this might happen.
The first is that you might find that there are times when your internet is slow, or your data plan is low. In these two cases, while it is always polite to reach out to the host before-hand to explain, there is no reason to struggle to keep your camera on. Also, if you do not have a camera, just let the host know.
To know how to act appropriately in this new environment check out these tips for etiquette:
Do not make a private meeting public.
Be sure that your screen shows nothing except what you want to share when you choose to share a screen.
Manage the participants who can enter. Lock the meeting after it has started so that no one can join late if you need people there the entire time. Remove participants who are being disruptive.
Stay muted when you are not speaking.
Be mindful of background noise when you are speaking.
Avoid multi-tasking.
Limit distractions.
Let others know you are in a meeting.
Have all the materials you need for the meeting prepared.
Even if you are convinced that your mic and video are muted, assume they are actually live. Countless people have been caught out by this in television interviews. In October 2020 it was reported that a high-profile New Yorker writer accidentally exposed himself during a Zoom video teleconference. The writer incorrectly believed the Zoom video was muted.
It is not hard to be conscious of others while attending a Zoom meeting.
Even after vaccines for Covid19 manage to mitigate the effects of the global pandemic, there will still be a need for services like Zoom. Many argue that as a result of the lockdown the way of doing business has changed forever. Video meetings and calls are here to stay. Being familiar with the program and using these tips will help you find success in business and education.
Tosh Lubek runs an audio and video production business in the UK and has been using the Canon EOS R since it was released in the Autumn of 2018. He has used the camera to shoot TV commercials for Sky TV, promotional business videos, videos of events and functions, and YouTube creator content. He has also won international awards for his advertising and promotional work. You can meet him by visiting his "video booth" at HashTag business events across the country.
Recent Posts